Cambodia 2023: Sailing's young guns make the most of their maiden Games outing
by ActiveSG Circle, on May 9, 2023
Monday (8 May) was the day of reckoning at Sihanoukville with nine gold medals on the line in Sailing, and Singapore in firm contention for two and possibly more.
And as the tides settled on the competition, Singapore secured two gold medals in the Men's ILCA7 and ILCA4 Open events, through Ryan Lo and Isaac Goh respectively, and added one more from the Mixed 29er pairing of Ellyn Tan and Chia Teck Pin who raced their hearts out despite physical discomfort and overtook the overnight leaders from Malaysia to lock in the welcome Gold.
Bringing a young squad to the Games, all were debutants except for Lo, the veteran of the team at the tender age of 26. Team Manager Chung Pei Ming had been at pains to maintain a good camp spirit so that all team-mates relied on one another for support, and he must have been pleased to see a return of seven medals (3 Gold, 4 Silver) from the limited number of nine events at these Cambodian Games.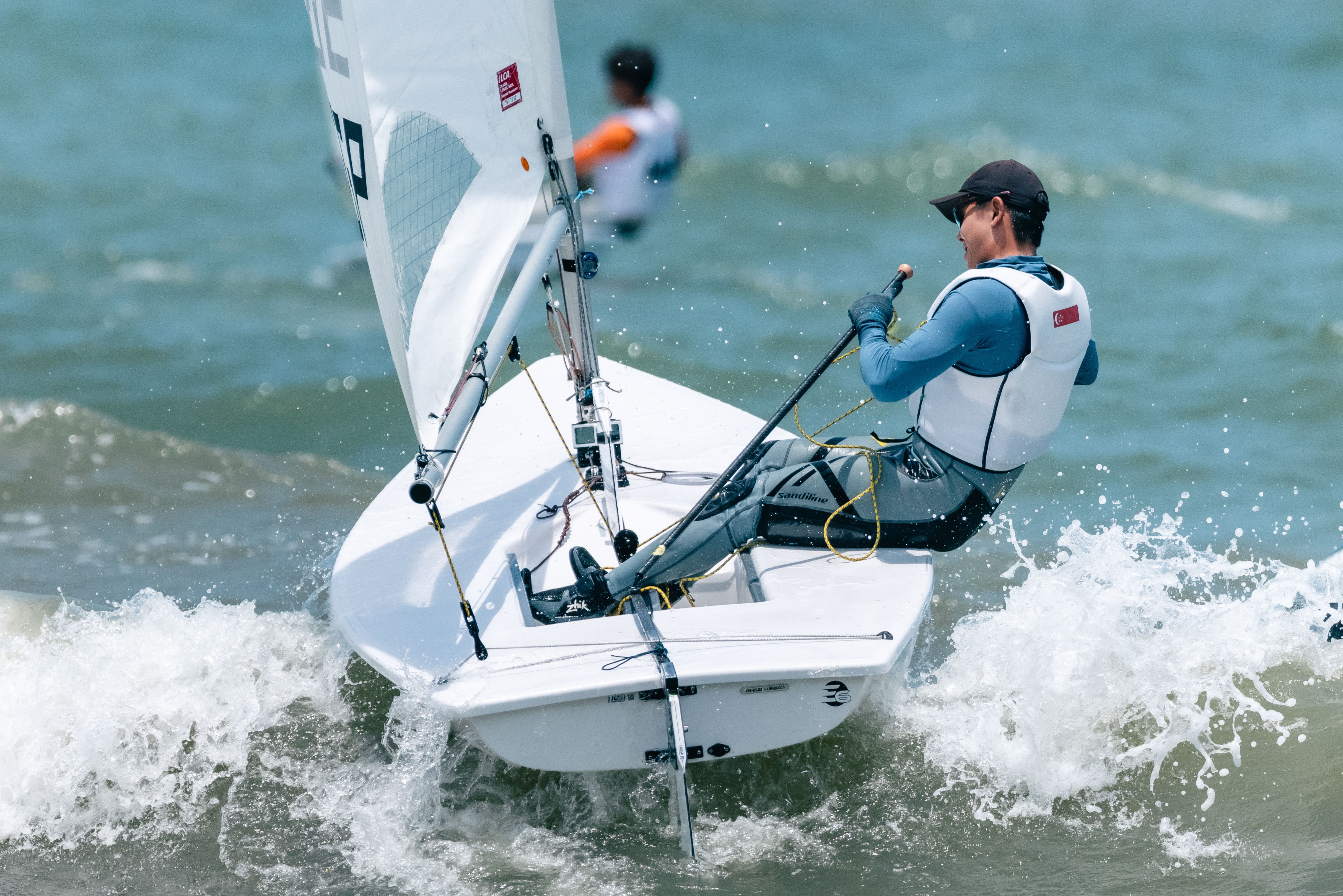 The veteran of the squad at 26, Ryan Lo proved that old is gold. Photo: SNOC/Eng Chin An
Lo proved to be Mr Reliable, as the team's only Olympic sailor made it three gold medals from four Games with his emphatic win in the ILCA7.
But it was his young 16-year-old teammate Isaac Goh who proved the revelation, as he too recorded a runaway victory in the ILCA4 Open, having graduated from the Optimist.
Isaac said: "It feels good to make a successful transition. I have done well in both classes and so I'm quite satisfied with the performance."
On winning gold, he commented: "I'm not very surprised to secure the gold but I'm definitely very happy about it. I knew the competition was going to be tough but I managed to hold it together."
As for future plans: "I've not looked that far in the future but the Olympics is definitely a possibility. Right now, I'm focused on making it to the Asian Games squad and doing well in Hangzhou."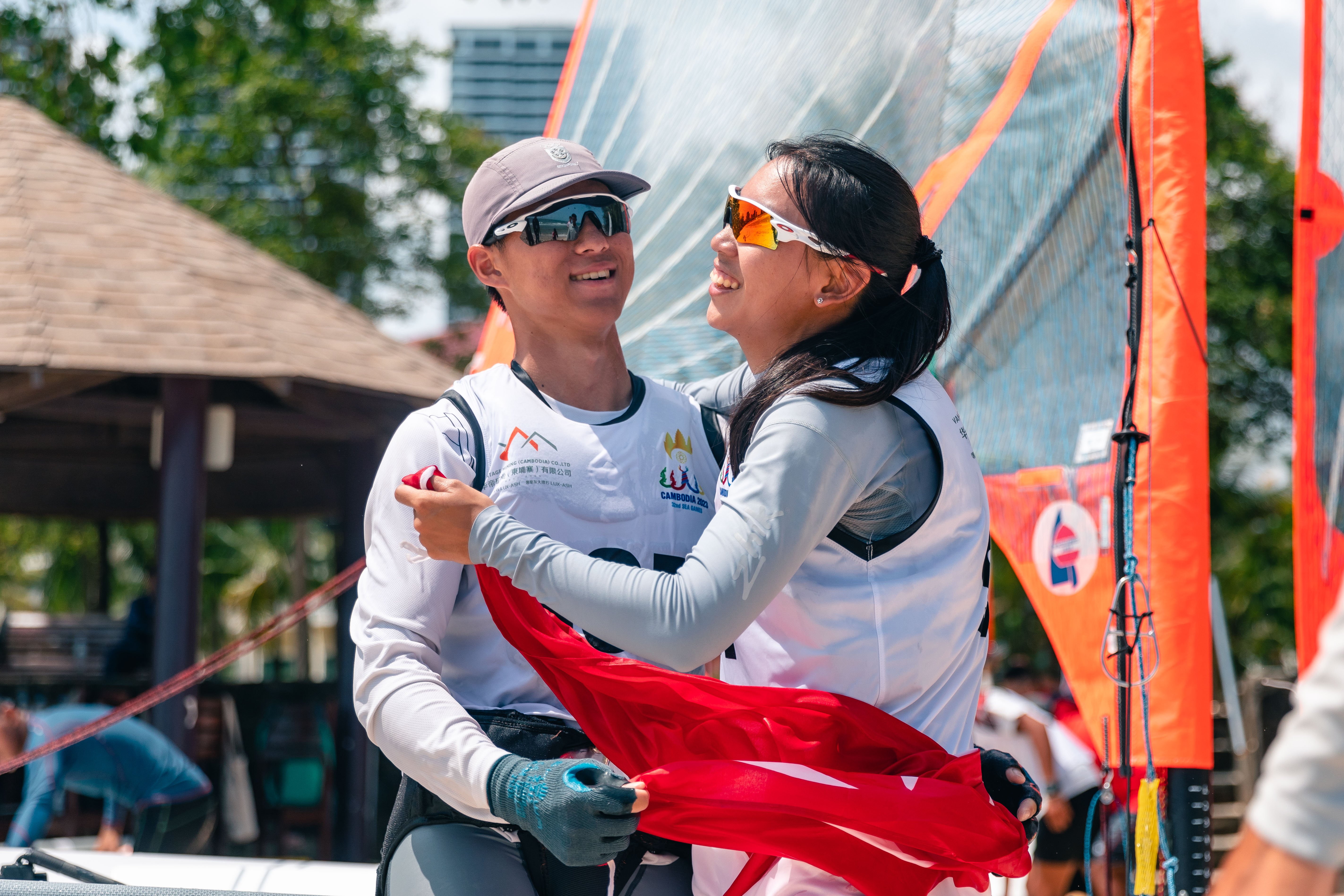 Ellyn and Teck Pin celebrate turning silver into gold. Photo: SNOC/Eng Chin An
Ellyn Tan and partner Chia Teck Pin had been battling illness throughout this entire campaign but had managed to keep themselves in the running for the top medal. They still went into the final Medal Race with an open mind, knowing full well that focusing on the end result would add stress to the process.
"Right before we launched, our coach, Jackson, gave us a quick pep talk, and feedback on the course, and a reminder on the steps we needed to do to have a good race." said Ellyn.
"It helped that the final chat we had with our coach was about the process rather than the results; I went into the race thinking about the controllables (process) rather than the process uncontrollables (results).
"I would say the start was the most difficult part of the race, trying to make sure that we were staying clear of our competitors but also being ready to attack. Once we managed to get ahead of our competitors, it was definitely much more manageable. I also kept telling myself to stay calm and not get excited too early because the race is not over until we cross the finish line.
"Securing the Gold feels very satisfying, especially since it's been a long journey from the start of the regatta, where we have slowly worked our way up from the third position. It is also a relief, as much as the racing was enjoyable, it came with stress. Now that the racing is done and we managed to meet our expectation, there certainly is a lot of relief."
Now that the Games is done, it looks likely that the successful pairing will be heading their own ways. Chia will be enlisting for National Service following this outing, while Tan will continue with her final year of university and her quest to master windsurfing. So do not be surprised to see Tan back for the 2025 SEA Games in Thailand which will feature more events for Sailing, and more in Windsurfing as well.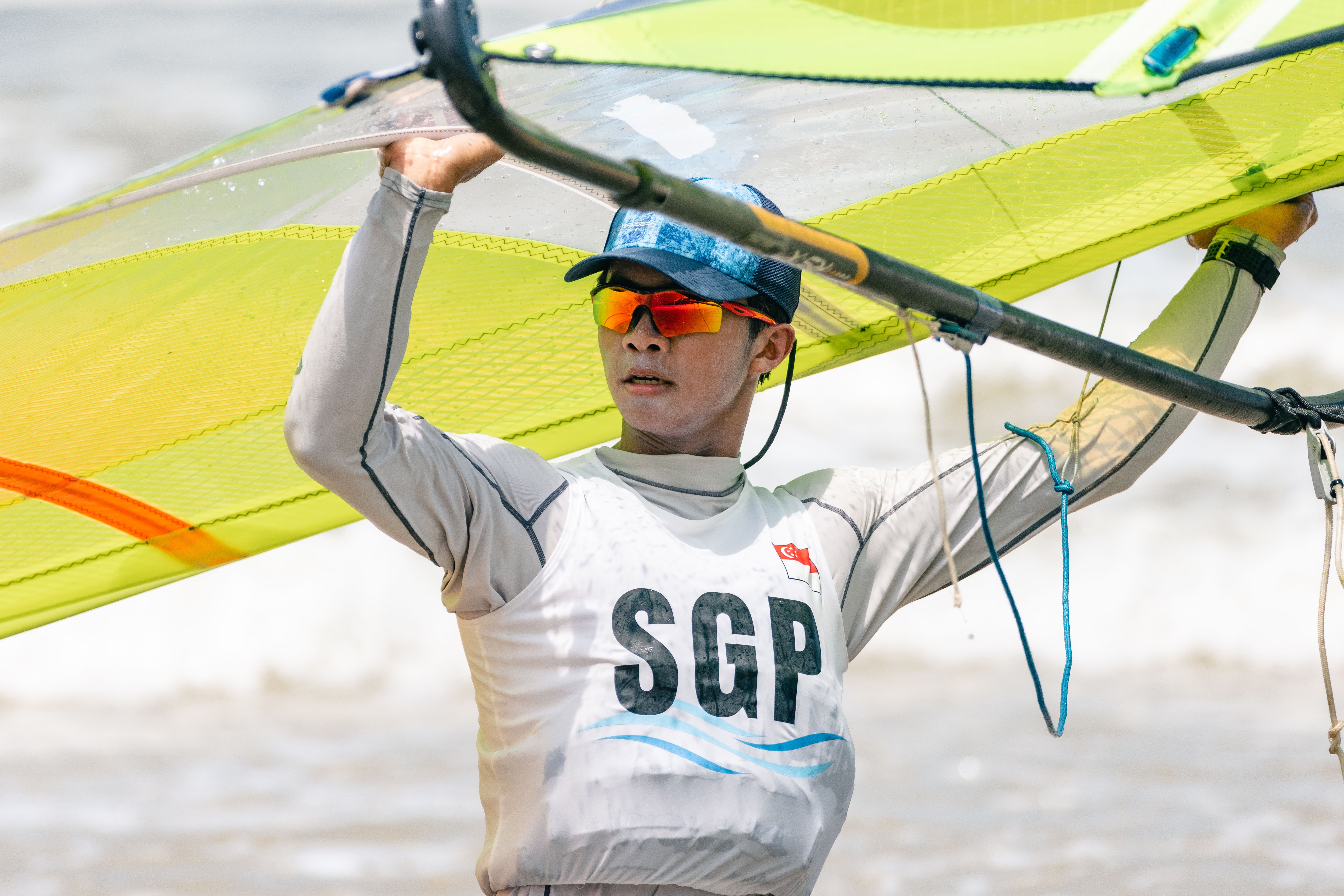 Jayson Tan earns a silver in the RS:X event on his SEA Games debut. Photo: SNOC/Eng Chin An
To make it a more successful day for Sailing, Singapore also secured silver medals through Jania Ang in the Women's ILCA6, Elkan Oh in the Men's Windfoil IQ:Foil, Jayson Tan in the Men's Windsurfing RS:X and through Ethan Chia and Cheryl Yong in the Mixed Optimist event.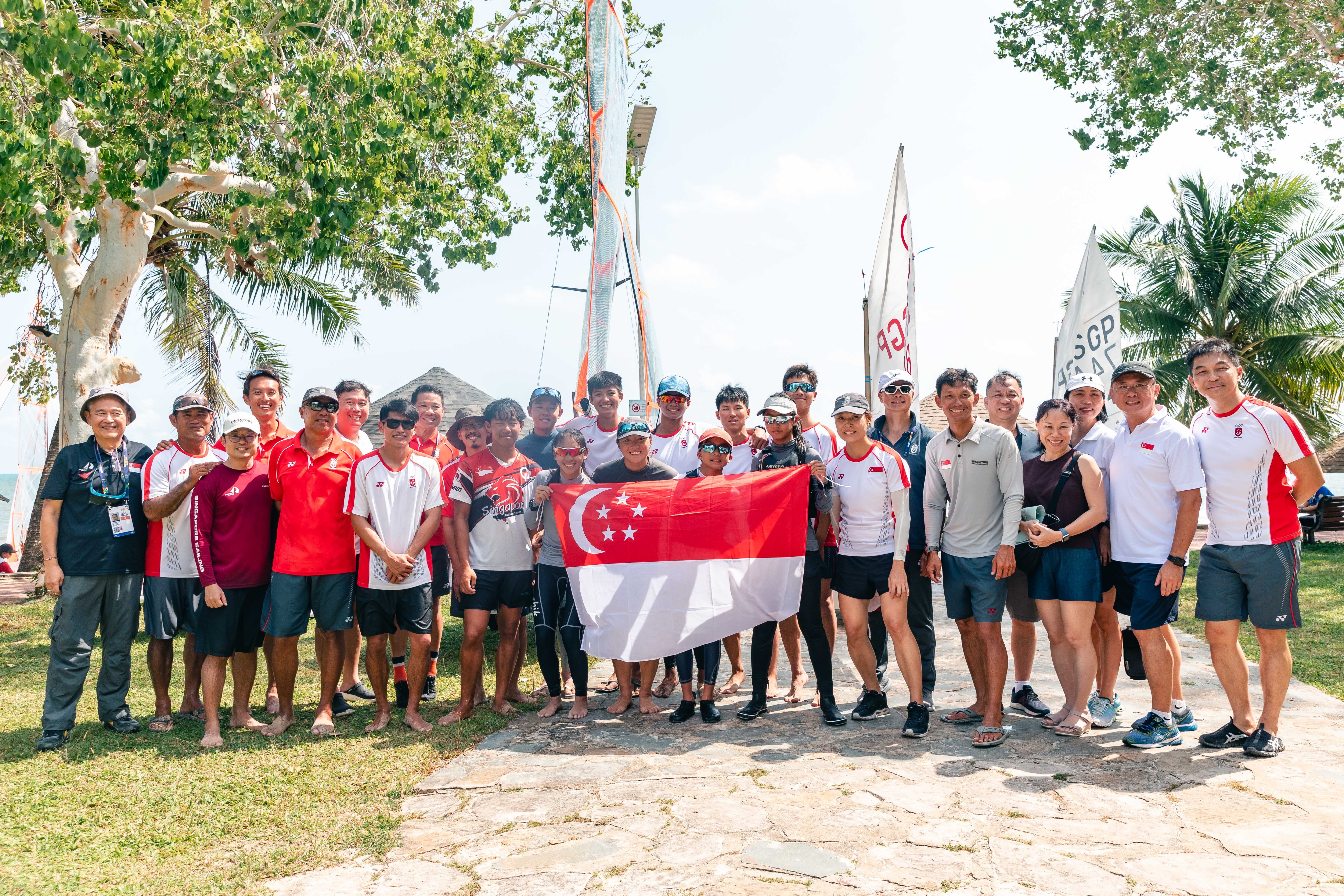 Team Singapore Sailing celebrates a successful campaign in Sihanoukville. Photo: SNOC/Eng Chin An
For a brief post-Games performance review, here's 3-time gold medallist Ryan Lo (see below)
Post-Games review by TeamSG's Ryan Lo. Photo: SNOC/Eng Chin An. Video Credit : Singapore Sailing and Sport Singapore
The 32nd SEA Games are held in Cambodia from 5 to 17 May 2023. For the latest Team Singapore coverage and news, follow Team Singapore on their social media channels (Facebook, Instagram, TikTok) or visit the official Team Singapore website.
Related Topics
Related Events & Programmes
Related Topics