Cambodia 2023 : Tributes pour in for TeamSG's 1,000th SEA Games Gold medal winners!
by ActiveSG Circle, on May 11, 2023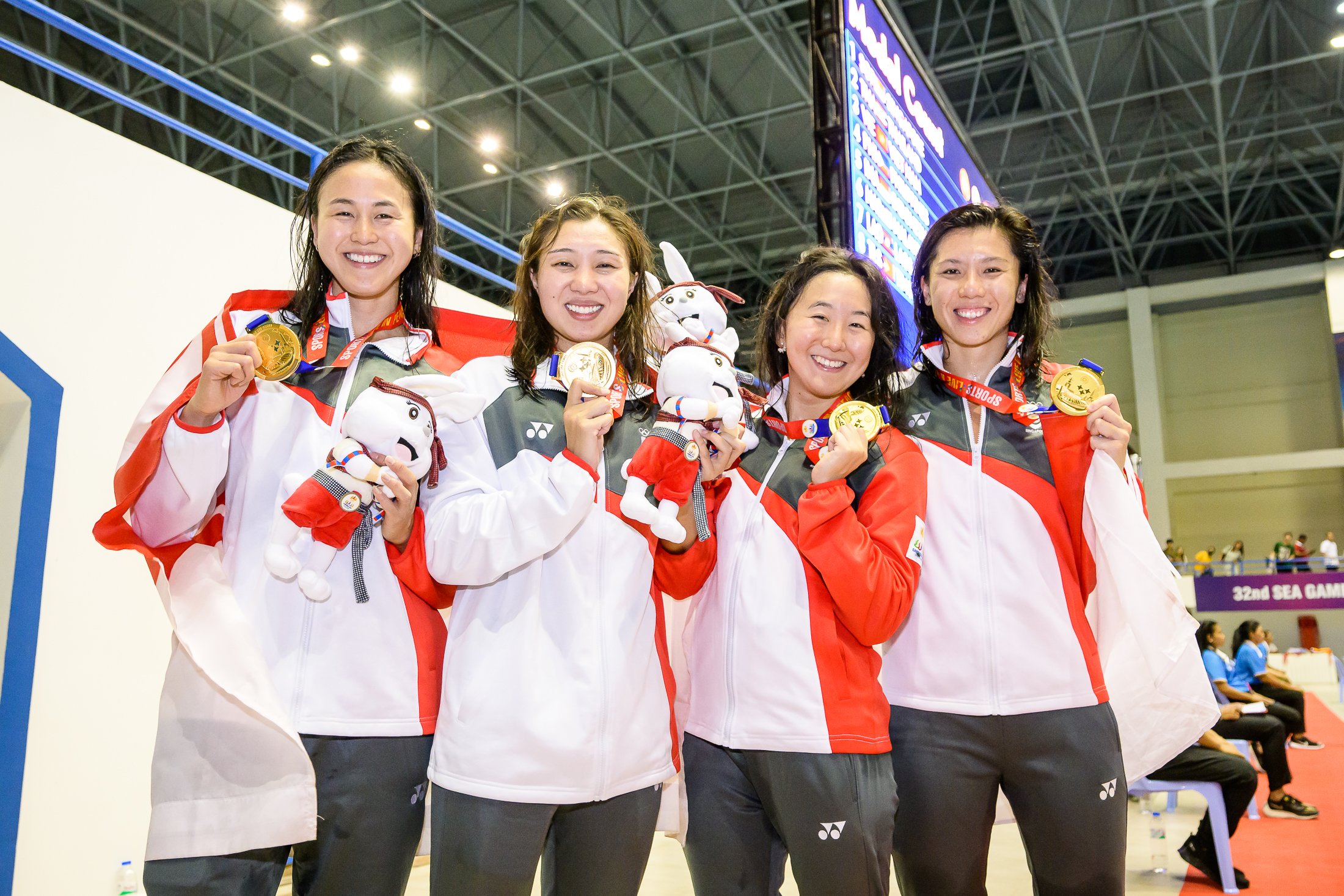 TeamSG's Quah Ting Wen, Nur Marina Chan, Quah Jing Wen and Amanda Lim won Singapore's 1,000th SEA Games gold medal. Photo Credit : Andy Chua/SNOC
6 May 2023 will be long be remembered in the history books, as the day which our Team Singapore athletes fought and won their 1,000th GOLD Medal at the Southeast Asia Games (SEAG)! The monumental achievement took place almost 65 years since the Republic won its 1st gold at the inaugural regional event in 1959. Known as the Southeast Asian Peninsular (SEAP) Games back then in Bangkok, it was Singapore's track and field legend, the late Tan Eng Yoon, who had the distinction of claiming the country's first gold medal via his victory in the 400m Hurdles final.
40 years later (Brunei 1999) and competing in her 5th SEA Games campaign, Joscelin Yeo's victory in the glamour event of the swimming programme ie the 50m Freestyle final, helped the Republic to claim its 500th SEAG Gold. And after almost a quarter of a century later, it would take 4 swimmers to carve their names in history, with the 1,000th gold achieved via a victory in the women's 4x100m freestyle relay in Phnom Penh. The quartet of Quah Ting Wen, together with her younger sister Jing Wen, Nur Marina Chan and Amanda Lim, delivered a commanding performance time of 3 mins 44.29 secs to reach the milestone.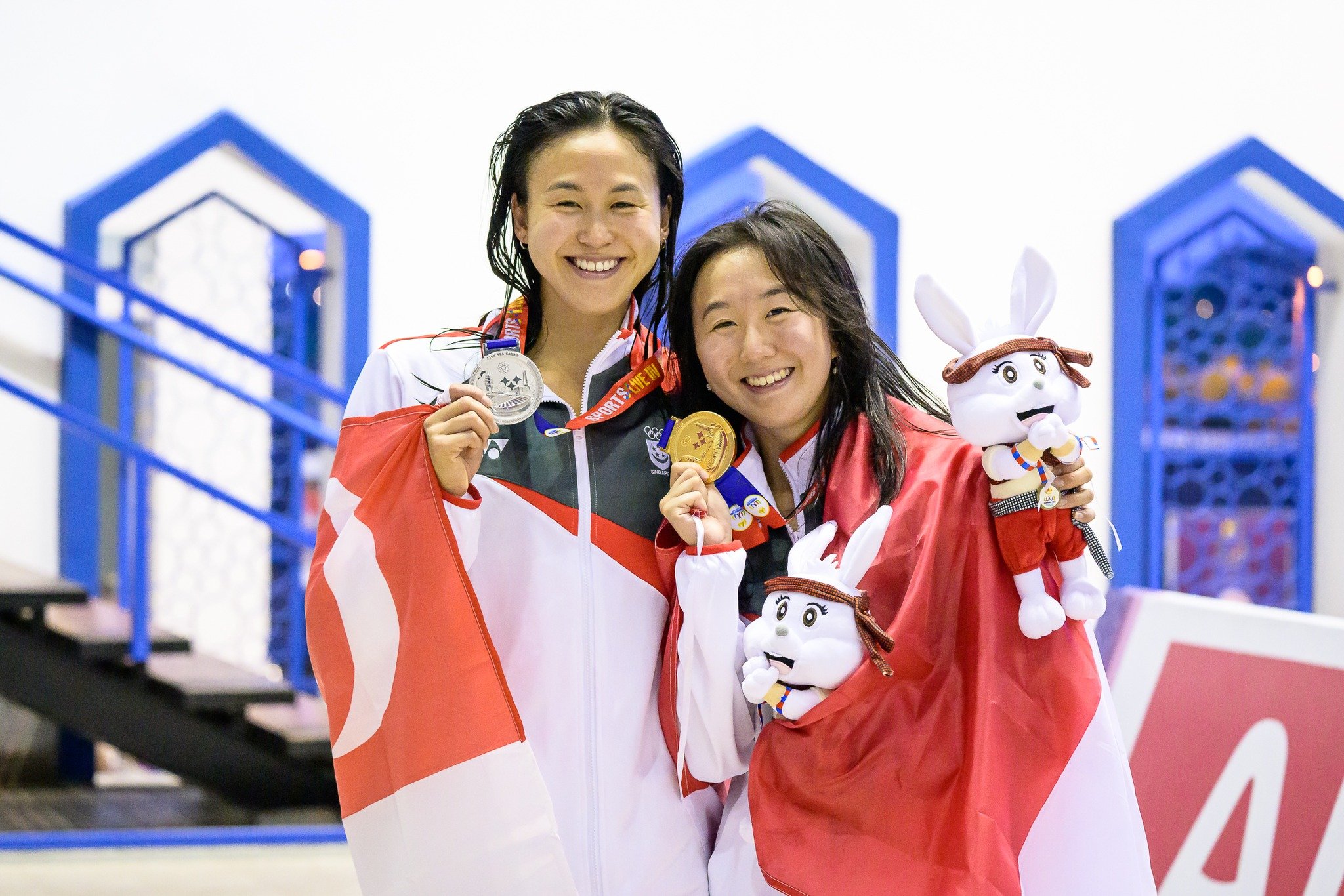 TeamSG's Quah Ting Wen and sister Jing Wen in Cambodia 2023. Photo Credit : Andy Chua /SNOC
6 May will also be remembered fondly by the Quah family as Jing Wen clinched Singapore's 370th gold medal for Swimming at the SEA Games, while her older brother Zheng Wen, won his 5th straight championship title in the 100m backstroke event across the last 10 years! Team Singapore arrived in Cambodia on the back of 995 gold medals won in previous editions. And with the traditional swimming programme starting on the 1st day of the Games, it was only a matter of hours, before the 1,000th gold was secured. Meanwhile, within less than a day of the glorious achievement, ActiveSG Circle received congratulatory messages from the Republic's legends and current stars!
Joscelin Yeo (Won 40 SEA Games Gold medals for TeamSG in swimming)
"As a swimmer, I'm extremely proud of our relay team for such an outstanding performance. Winning the 1,000th gold medal is a testament to years of dedication and hard work by all of our national athletes, but also of the amazing support from Singaporeans from all walks of life. It's taken a team effort as a nation, to achieve this feat and I'm proud of how far we have come".
James Wong (Won 10 SEA Games Gold medals for TeamSG in track and field)
"Every gold medal counts and every single athlete who's contributed to the success of reaching this milestone, deserves to be celebrated. The 1,000th Gold for Singapore is no easy feat and I'm very happy to hear that out 4 swim princess did it in a spectacular way for all of us to celebrate with them and the nation. Great job ladies. Keep it up".


Loh Kean Yew (2021 World Number Champion, Badminton)
"I think it's a significant achievement to gain 1,000 Gold Medals. So a huge Congratulations should go to each and every TeamSG athlete over the years and to our relay swimmers as well".
C Kunalan (Won 4 SEAG Gold & an Asian Games silver medal for TeamSG in athletics)
"1,000th is significant. Any SEAG Athlete (individual or team) deserves some recognition for achieving it. BUT these 4 girls deserve it even more ....they have been through a lot".
Lee Wung Yew (Won 16 SEA Games Gold medals for Team SG in shooting)
"In our hearts, we know it was gonna happen on 6 May (but by who). After Zheng Wen secured the 999th Gold, the historic 1,000th gold was surely going to be the women's 4x100 relay".
Noah Lim (Won TeamSG's 1st gold in Cambodia 2023 and his 3rd consecutive Ju-jitsu title win in 3 SEAG campaigns)
"I'm so happy for the swim team for clinching the 1,000th SEA Games gold medal for Singapore, especially since my cousin (Marina Chan) was part of the relay squad. This is just the beginning and there will be many more medals to come!
Shanti Pereira : (2-time SEAG Gold medal winner in Women's 200m sprint)
"Amazing stuff from the Women's swimming relay team and what an incredible milestone! Lets keep that streak going!"
At the end of the penultimate day of competition (10 May), Team Singapore's swimmers garnered a total of 19 Gold, 12 Silver and 9 Bronze medals.
Watch the Games LIVE on Singtel TV, Singtel TV GO, Singtel CAST and mewatch.
For the latest on our TeamSG athletes, visit https://www.teamsingapore.sg