Cambodia 2023: Day 8 wraps with Xiangqi taking first gold at 32nd SEA Games
by ActiveSG Circle, on May 13, 2023
With podium finishes in fencing, xiangqi, taekwondo and judo, Team Singapore won another three golds, one silver and four bronzes on Day 8 of competition.
This takes the contingent's tally to 41 gold, 34 silver and 45 bronze medals, with just days left before the 32nd SEA Games draws to a close.
Xiangqi athletes contend with illness, heat to win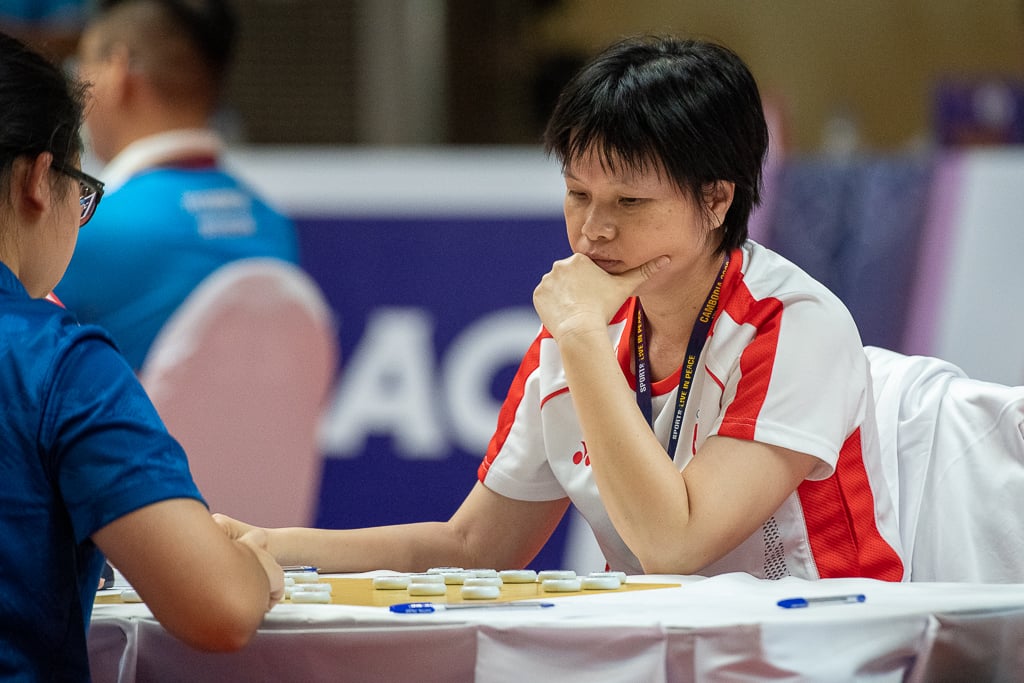 Ngo Lan Huong, a bronze medallist in the women's standard single at the last Games in Hanoi, is now SEA Games champion. Photo: SportSG/Flona Hakim
Singapore's xiangqi athlete Ngo Lan Huong's way to the SEA Games podium this time round came with more than a few challenges.
On top of a tough schedule with games played out from 9am to 10pm in a warm and humid venue, the 43-year-old was also ill, and had to take some medication before her last game to manage.
Still, the bronze medallist from the last Games found a way to cope with that and returned with a gold medal in the women's standard single.
She said: "At the last Games, the pressure got to me and I could not find my form, which is very important in a xiangqi event like this. This time, I managed to follow my team coach's advice and adjust my mindset toward each game.

"Now that I've won gold, I feel very relieved and it's like a big burden has been lifted off my shoulders."
Teammate Fiona Tan added a bronze in the same event.
Meanwhile, defending champion Alvin Woo finished with a silver in the men's standard single.
Another bronze in Taekwondo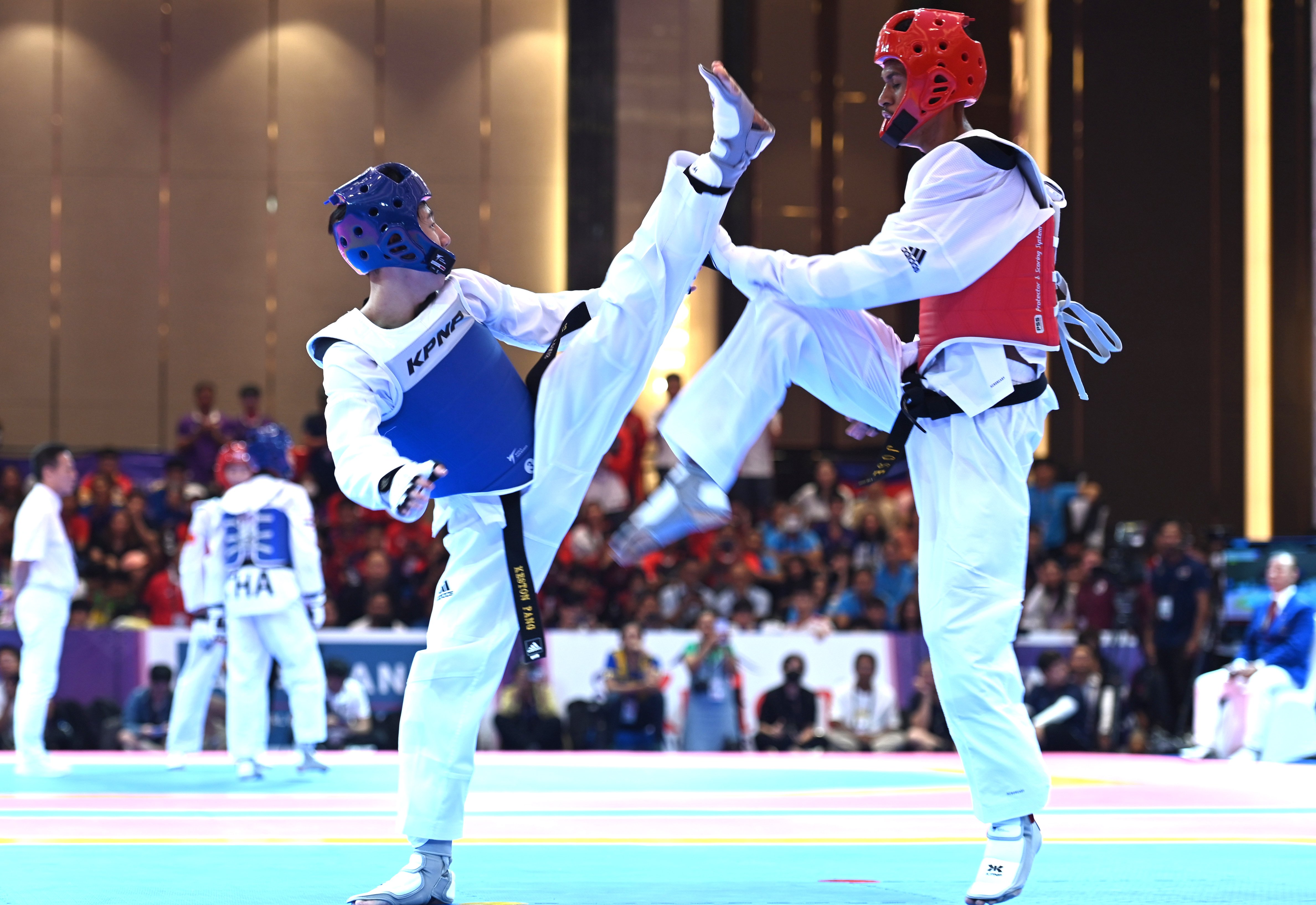 Keston Pang got as far as the semi-finals. Photo: SNOC/Danny Toh
In Taekwondo, Keston Pang started the day strongly in the Men's Under 54kg Kyorugi event, defeating Jose Da Costa E Silva 2-1 to advance into the quarter-finals. That was where Pang's campaign came a-scupper with a 2-0 defeat to Kurt Bryan De La Vage Barbosa of the Philippines, a result which secure Pang a joint-Bronze medal.
Judo campaign starts with a bronze
Song and Tan put on their best show which was good enough for a bronze. Photo: SNOC/Lim Weixiang
Over in Judo's Men's Kime No Kata event, Song Heng Chuan and Benny Tan secured passage into the final with a score of 449.5. The duo managed to improve the score to 507.5 in the final but that was only good enough for fourth place and a share of the Bronze medal.
No returns in Kickboxing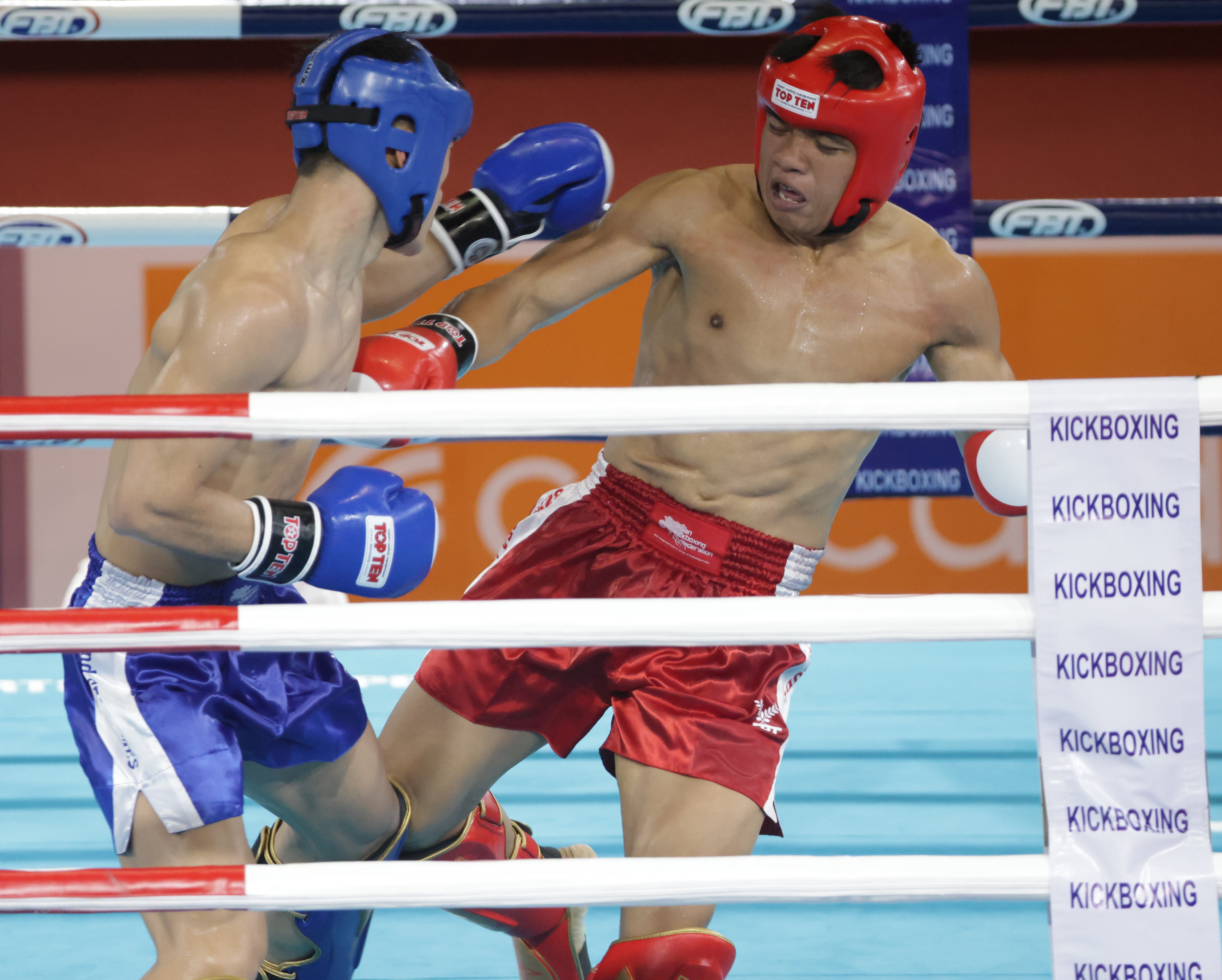 Nazri Sutari did not have a good day at the office. Photo: SNOC/Dawn Chua
In Kickboxing's Men's Below 71kg low kick quarter-finals, the Republic's Muhammad Nazri Sutari was beaten 3-0 by Vietnam's Quan Kieu Duy, and did not advance into the medal rounds.
Paddlers book berths in doubles' final four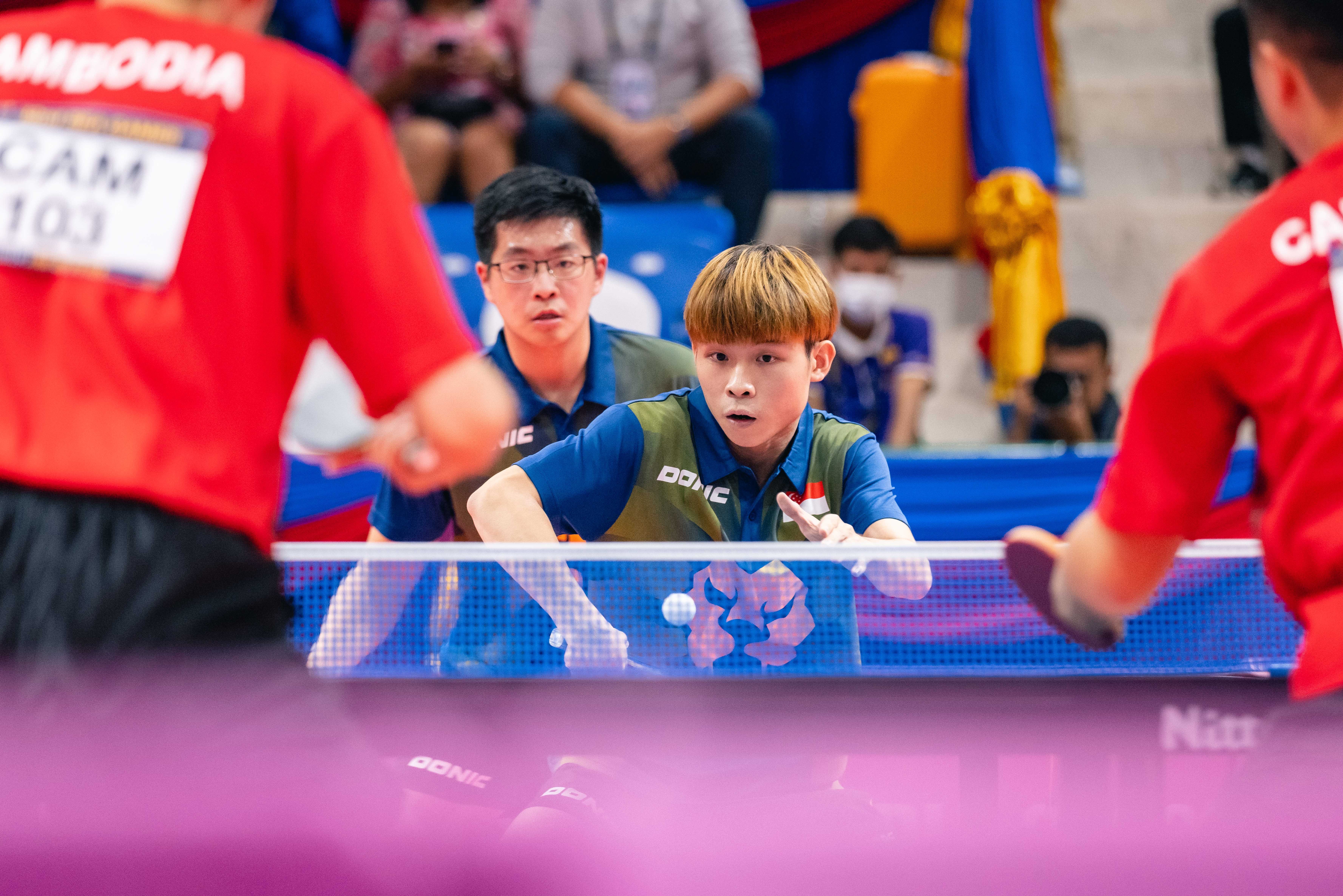 Beh Kun Ting returning a backhand in his men's doubles round of 16 match against Cambodia. He partnered Ethan Poh (background) and will meet Malaysia in the semi-finals on Sunday. Photo: SNOC/Eng Chin An
Singapore's chances in the men's and women's doubles events look promising.
Beh Kun Ting and Ethan Poh defeated their Thai opposition 3-2 in the quarter-finals and will meet Malaysia's Javen Choong and Wong Qi Shen.
Teammates Koen Pang and Izaac Quek, meanwhile, also took down their Thai rivals and won 3-1. They will play Richard Gonzales and John Misal of the Philippines.
In the women's doubles event, Zhou Jingyi and Wong Xin Ru will meet Alice Chang and Im Li Ying of Malaysia in the final four. Teammates Goi Rui Xuan and Ser Lin Qian will play Thailand's Suthasini Sawettabut and Orawan Paranang.
Finswimmers make splash with national mark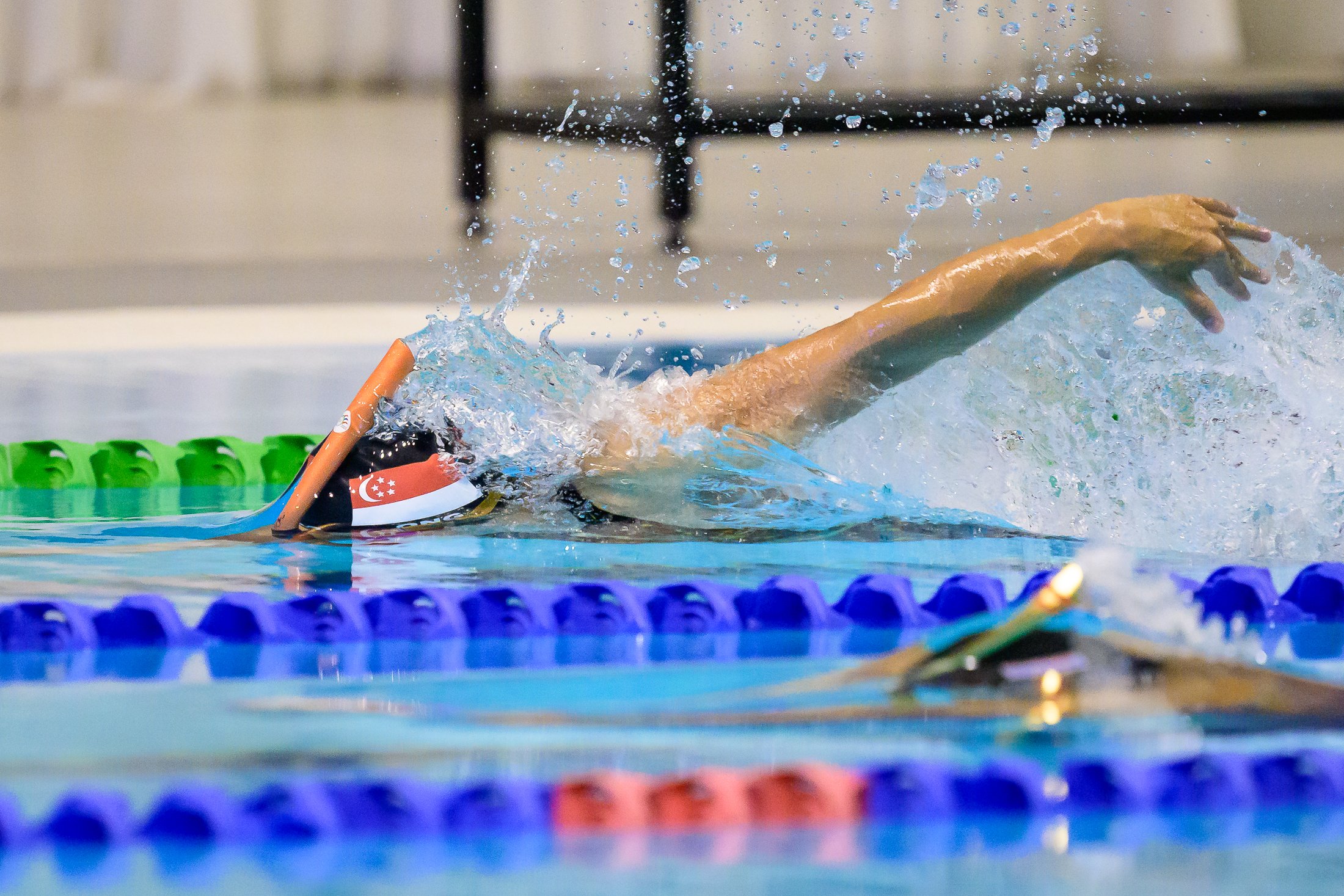 Finswimmer Rayen Ong in action on Saturday (13 May) in Cambodia. Photo: SNOC/Andy Chua
Jordan Ong, Rayen Ong, Lucas Chew and Nicholas Choon set a new national record in the men's 4x100m surface event, clocking 2min 55.59sec to finish fifth.
Field Hockey
TeamSG's Enrico Marican's post-match interview after 4-1 win over Cambodia. Photo Credit : SNOC/Lim Weixiang. Video Credit : Singapore Hockey Federation and Sport Singapore
Singapore's Men's team defeated Cambodia 4-1 in their 3rd round-robin match. And after 3 matches, the Republic has 1 win, 1 draw and 1 loss. On Sunday 14 May, TeamSG will face Thailand in a must-win match, if they're to stand any hopes of featuring in next Tuesday's Gold medal final. Currently in 3rd place, the Republic will also need table-toppers Malaysia to beat 2nd ranked Indonesia in the other round-robin match.
Meanwhile, here's a post-match interview with Men's No 5 player, Enrico Elifh Marican (see above)
TeamSG' s Vice Captain Laura Tan's post-match interview after 2-2 draw over Cambodia. Photo Credit : SNOC/Danny Toh. Video Credit : Singapore Swimming Association and Sport Singapore
Onto the women's team and after 1 draw and a loss, the Republic were looking for their 1st win, when they faced Cambodia on 13 May. But the host nation did well and held the Republic to a 2-2 draw. TeamSG's next match is against the Thais 2 days later. Meanwhile, here's a quick post-match interview with vice captain, Laura Tan (see above).
Water Polo
TeamSG's Darren Lee's post-match interview after 14-1 win over Malaysia. Photo Credit : SNOC/Danny Toh. Video Credit : Singapore Swimming Association and Sport Singapore
Singapore's men's squad faced Malaysia in their 2nd round-robin match. And the final score was 14-1 in favour of the Republic. The team will next meet defending champions Indonesia on 14 May.
Meanwhile, check out the brief post-match interview with TeamSG's Darren Lee (see above).
Indoor Volleyball
TeamSG's No 7 Chan Yao Yi's post-match interview after 3-2 over Myanmar. Photo Credit : SportSG/Bryan Foo. Video Credit : Volleyball Singapore and Sport Singapore
With 1 win in 3 matches, TeamSG took on Myanmar in a clash which will determine, if they'll feature in a top-6 finish playoff clash on 14 May. And following an intense battle, TeamSG prevailed 3-2 to book their next match against Malaysia.
Meanwhile, catch the post-match interview with TeamSG's setter, Chan Yao Yi (see above).
The 32nd SEA Games are held in Cambodia from 5 to 17 May 2023. For the latest Team Singapore coverage and news, follow Team Singapore on their social media channels (Facebook, Instagram, TikTok) or visit the official Team Singapore website.
Related Topics
Related Events & Programmes
Related Topics