Day 1 of the 2022 Commonwealth Games saw Team Singapore stake their claim for some pet events as title hopefuls like Teong Tzen Wei, the women's Table Tennis Team, and the Mixed Badminton team all cruised into the next round.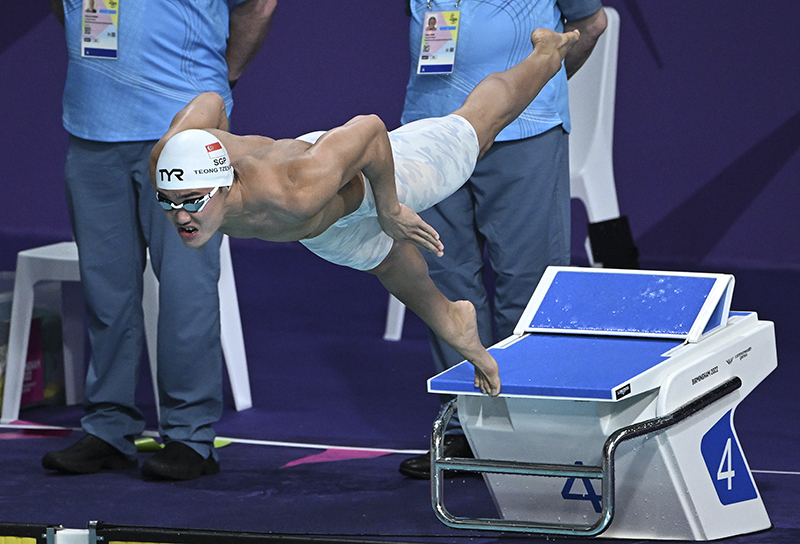 Teong Tzen Wei in the men's 50m butterfly heats swimming event at the Sandwell Aquatics Centre. (Photo Credit: Sport Singapore/Oli Scarff)
Making A Splash
Making his Commonwealth Games debut, 24 year old Teong Tzen Wei was again in scintillating form as he qualified for the 50M butterfly final with a time of 23.24 seconds in the Semi-Finals - The second fastest time recorded on the day at the Sandwell Aquatics centre. This puts the 24-year old just behind England's Benjamin Proud (23.06) going into the final. Tzen Wei clocked in a time of 23.88 seconds in the Heats.
Mikkel Lee, who qualified at a faster time (23.79 seconds) than Tzen Wei in the Heats, bettered his time in the semi-finals at 23.76 seconds, but ultimately finished in 12th out of 16th place and did not advance to the final.
Making A Change
Eager to right the country's disappointment in 2018, Singapore's Mixed Badminton team rolled over their two group stage opponents (Mauritius, Barbados) with 5-0 wins in both instances.
Loh Kean Yew started slow in the first match of the team event and found himself neck and neck with Mauritius' Julien Paul in the opening stages. But the 25 year old regained his composure to secure a victory. Teammates Crystal Wong, Jin Yujia, Yeo Jia Min, Jessica Tan, Andy Kwek, Loh Kean Hean and Terry Hee all romped to victories.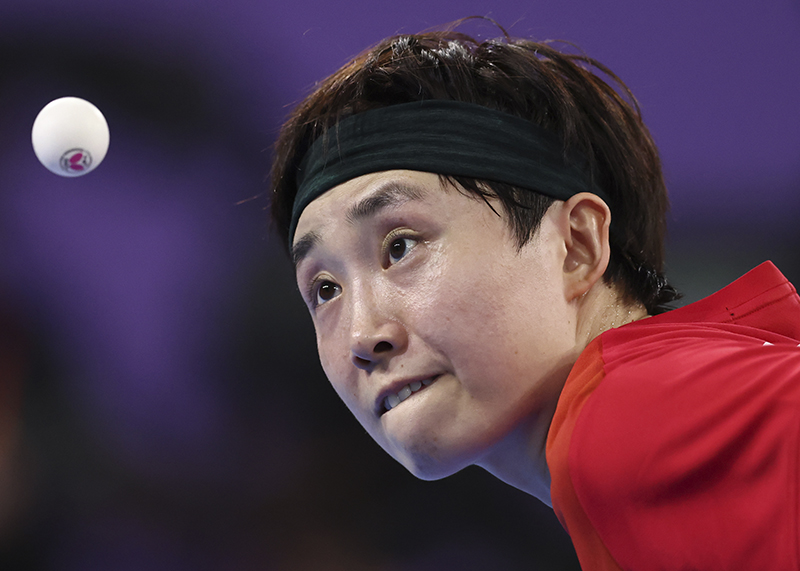 Feng Tianwei serves to England's Tin-Tin Ho in their table tennis teams match on day one of the Commonwealth Games. (Photo Credit: Sport Singapore/Darren Staples)
Led by the event's top ranked player Feng Tian Wei, the women's Table Tennis team made up of Wong Xin Ru, Zhou Jingyi and Zeng Jian also started strong with comprehensive 3-0 wins over England and Nigeria.
Zeng Jian and Jingyi are making their debuts at the Commonwealth Games and will be buoyed by this successful first outing after securing a spot in the quarter-finals, but world number 16 Tian Wei will demand focus from the team as they seek redemption for 2018.
The 22nd Commonwealth Games is held in Birmingham, England from 28 July 2022 to 8 August 2022. For the latest Team Singapore coverage and news, follow Team Singapore on their social media channels (Facebook, Instagram, TikTok) or visit the official Team Singapore website.