Bright And Shiny Future: Men's Table Tennis Team Gains Respect With Silver Win
by Circle Stories, on August 3, 2022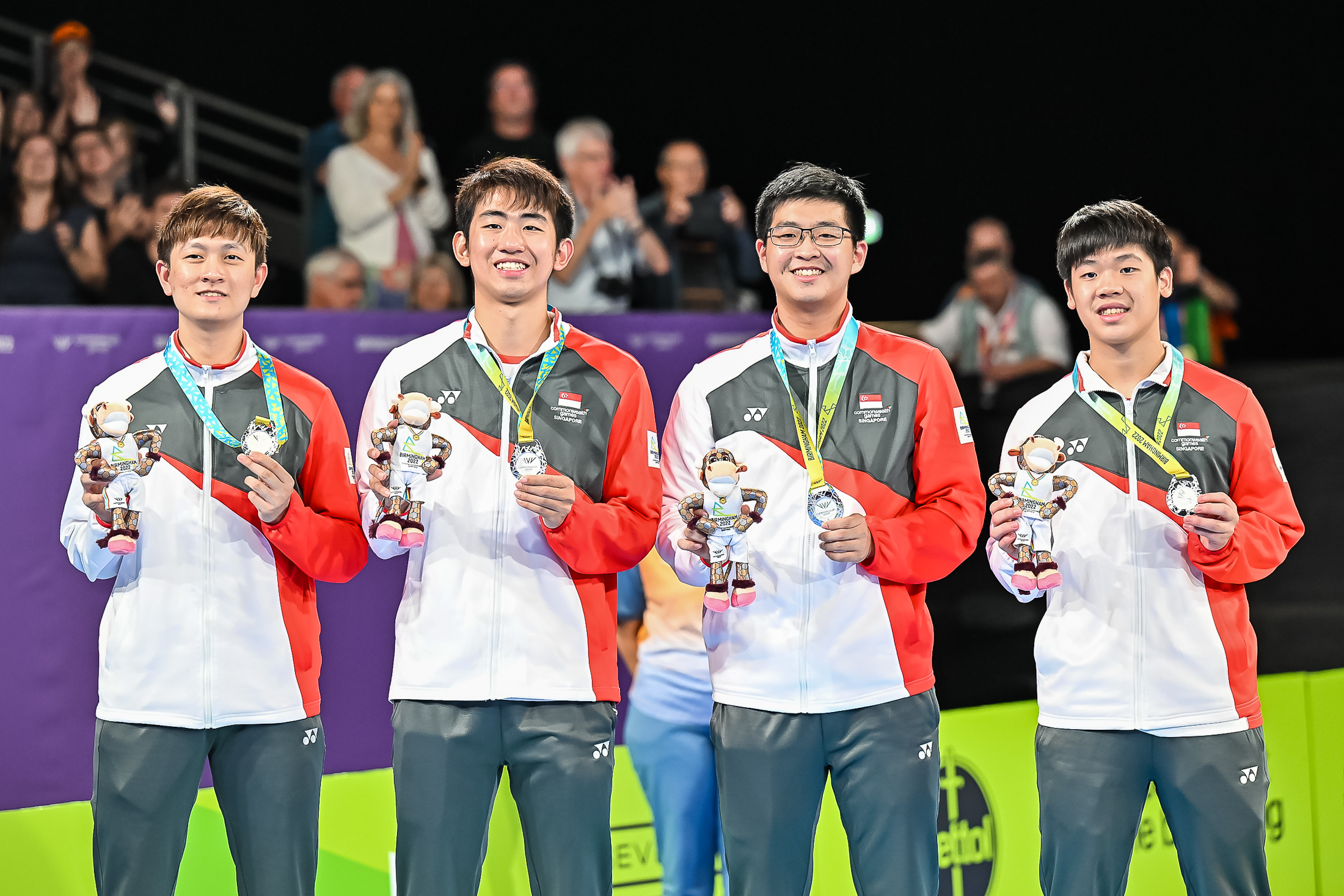 Clarence Chew, Koen Pang, Ethan Poh and Izaac Quek (Left to right) posing with their silver medals after a wonder run in the men's team event. Photo Credit: Commonwealth Games Singapore/Andy Chua
The quartet of Koen Pang, Clarence Chew, Izaac Quek and Ethan Poh have earned Singapore a silver in the men's Table Tennis team event after an impressive run in the event.
On their way to the Final, Singapore had only lost to one single team, India in the group stage. And it was India they had to face for a first gold medal in the men's team event since Clarence and head coach Gao Ning did it in 2014.
The doubles segment of the team event has been dominated by Singapore this year, with opponents like England and Canada succumbing to straight-game defeats in earlier rounds. But Koen and Izaac found it tough against the experienced indian duo of Harmeet Desai and Sathiyan Gnanasekaran and would concede without a single game.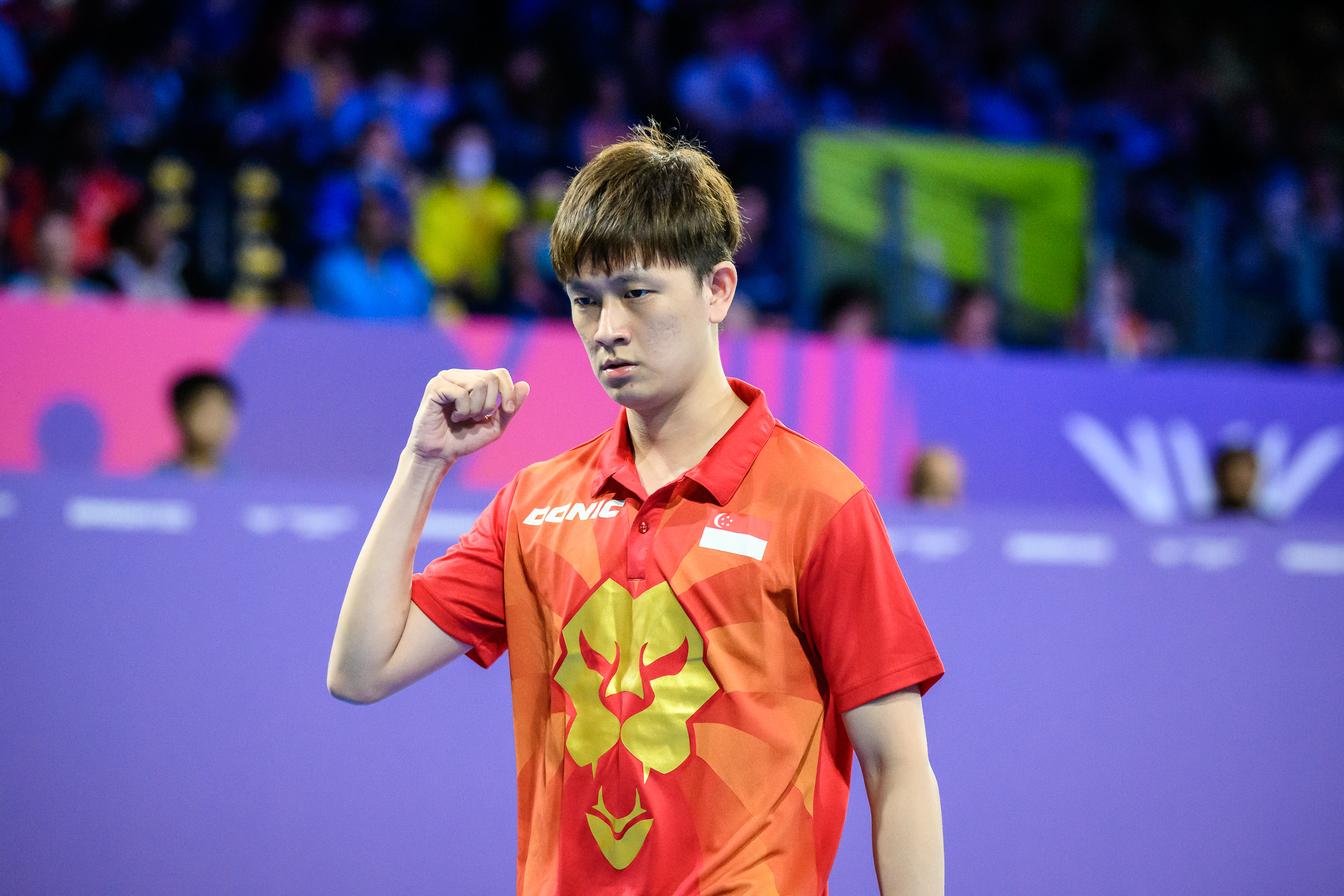 Clarence Chew wins to give Singapore their only point in the men's gold medal match. Photo Credit: Commonwealth Games Singapore/Andy Chua
Clarence then stepped up against Sharath Achanta in the second encounter with a dominant 3-1 win.
If both teams kept trading wins, there was a real possibility that Izaac would have to shoulder the expectations of the nation alone; the 16 year old's name was pencilled in as the tie-breaker match 5 and would have to take on Achanta for the gold medal.
And that possibility increased as Koen Pang was unable to navigate his way past Gnanasekaran in encounter three. The top ranked player in the team at 119, Koen at times seemed like the better player but was no match for the consistency of his opponent.
With India having all the momentum and needing just one more win to seal the matchup 3-1, Desai then blew past Clarence 11-8, 11-5, 11-6, ending Izaac's hopes of an appearance in the last match.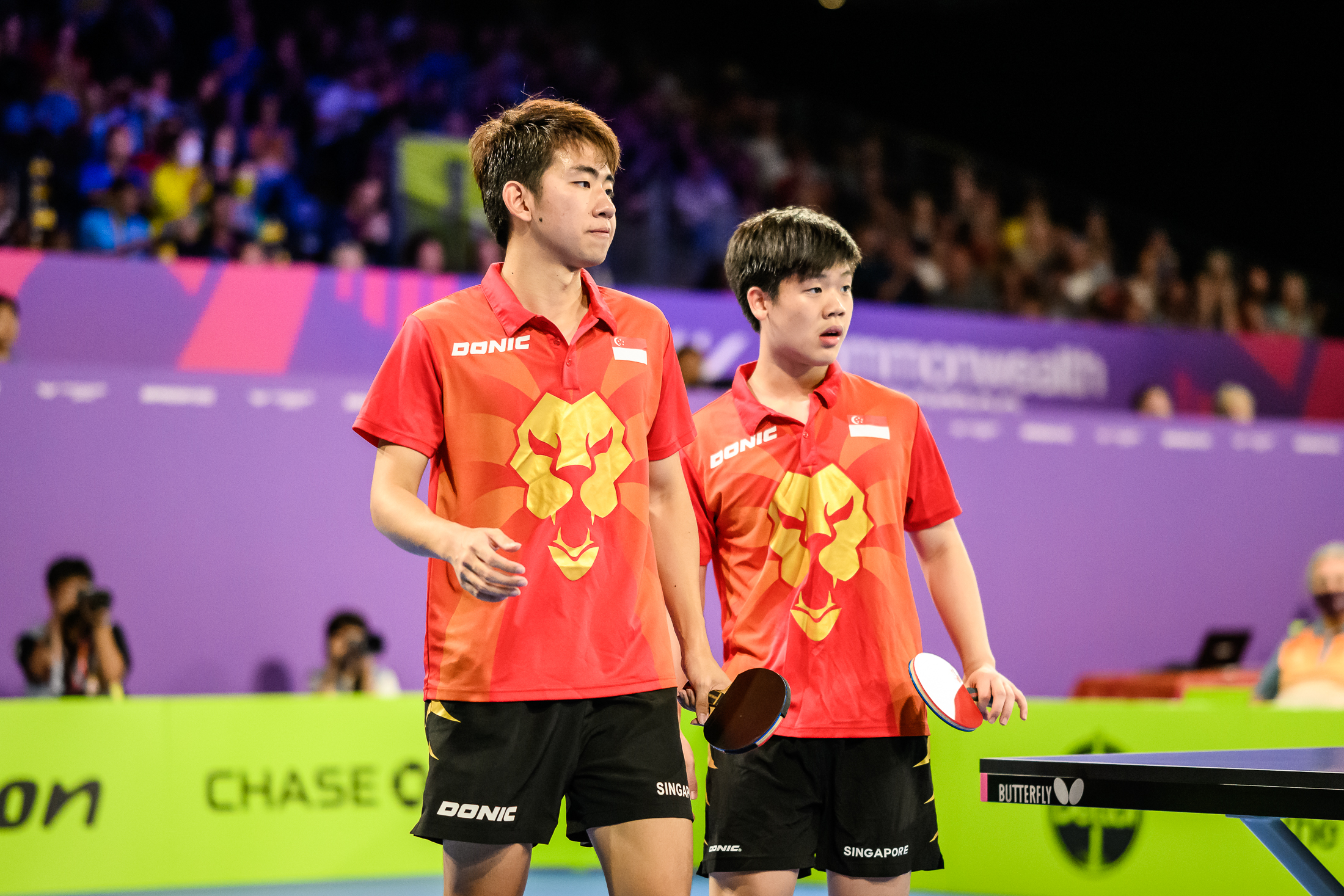 Koen Pang and Izaac Quek team up in the first encounter of the men's gold medal match. Photo Credit: Commonwealth Games Singapore/Andy Chua
It was always going to be tough against defending champions India, a side that had two top-40 players in the team, but Singapore's run to the final has been nothing short of inspiring for the nation and the country will definitely look forward to their professional careers with great interest and support.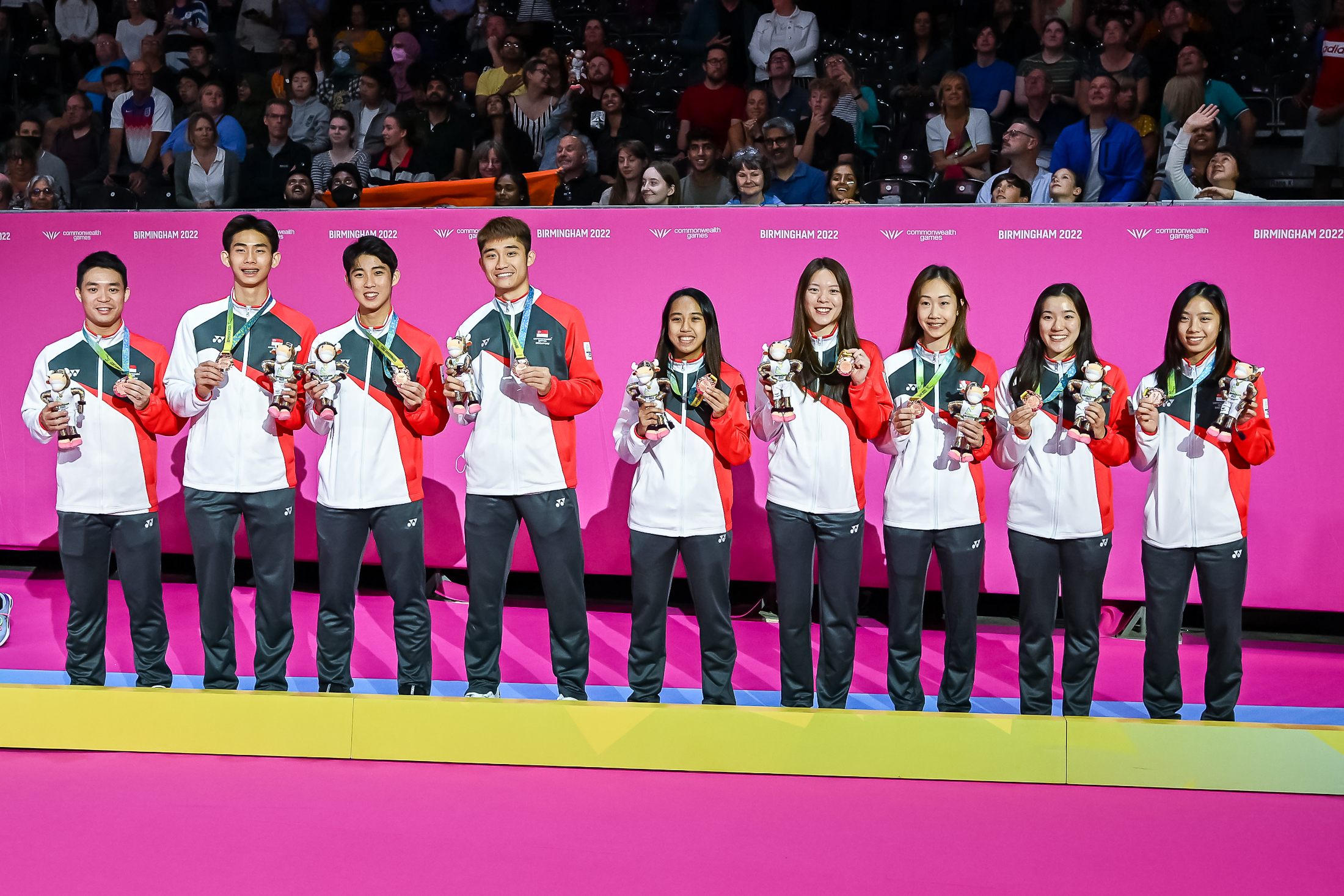 The mixed badminton team take home bronze after beating hosts England.
Photo Credit: Commonwealth Games Singapore/Andy Chua
The badminton mixed team event saw Loh Kean Yew, Terry Hee, Jessica Tan and Yeo Jia Min take on England in the third place play-off. Despite losing in their group state encounter earlier on, Kean Yew and team were not fazed as they romped to a 3-0 victory to secure bronze.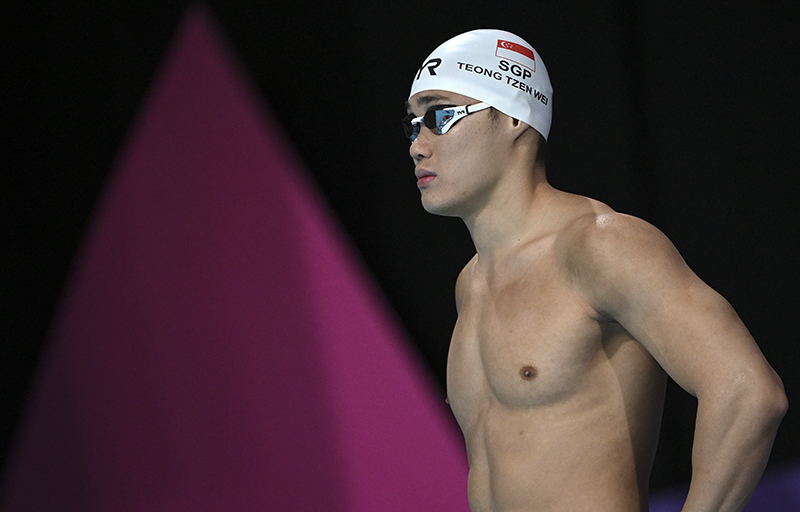 Teong Tzen Wei readies himself before the men's 50M Freestyle heats at the Sandwell Aquatics Centre. Photo Credit: Sport Singapore/Oli Scarff
In swimming, Teong Tzen Wei's desire to add on to his silver medal in the 50M Butterfly was clear for all to see as he clocked in a time of 22.36 seconds in the 50M Freestyle event to make it to the Final. Jonathan Tan could only finish in 22.57 seconds, putting him 9th out of 16, he will be the first reserve for the final.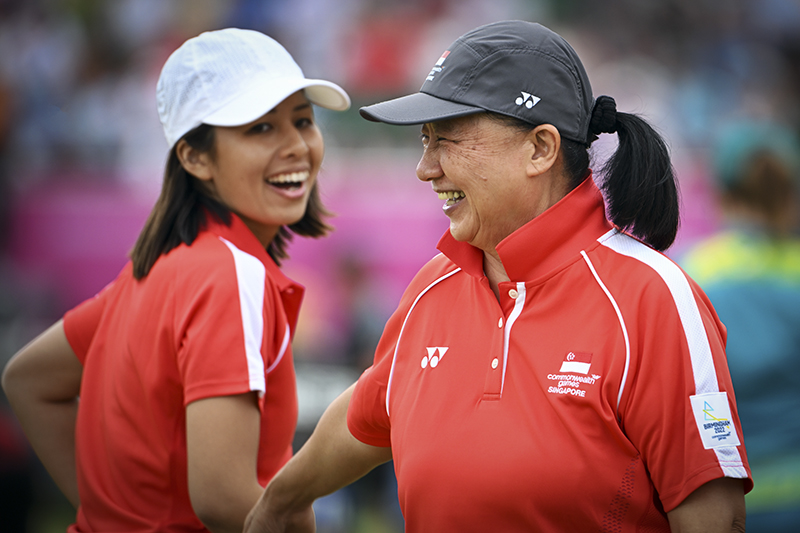 Lawn bowlers Shermeen Lim and Goh Quee Kee share a moment at Victoria Park.
Photo Credit: Sport Singapore/Andy Buchanan
Meanwhile, Shermeen Lim, Goh Quee Kee and Lim Poh Eng have beaten Falkland Island 23-10 in the Lawn Bowls Women's Triples. The result was a much needed one for Singapore to keep their title hopes alive after a 22-11 loss to Australia in their first match. The 2019 SEA Games gold medal winners will be looking to repeat that feat in their debut showing at the Commonwealth Games.
Over at the Alexander Stadium in the women's 100M, Shanti Pereira broke her own national record, clocking 11.48 seconds to finish fifth in her heat. The 25-year-old was 21st in the 49-women field and has qualified for the semi-finals.
The 22nd Commonwealth Games is held in Birmingham, England from 28 July 2022 to 8 August 2022. For the latest Team Singapore coverage and news, follow Team Singapore on their social media channels (Facebook, Instagram, TikTok) or visit the official Team Singapore website.