Former TeamSG Lions & Stakeholders in Full Support, to Uplift Singapore Football at UTR! Football Conversation
by ActiveSG Circle, on May 28, 2023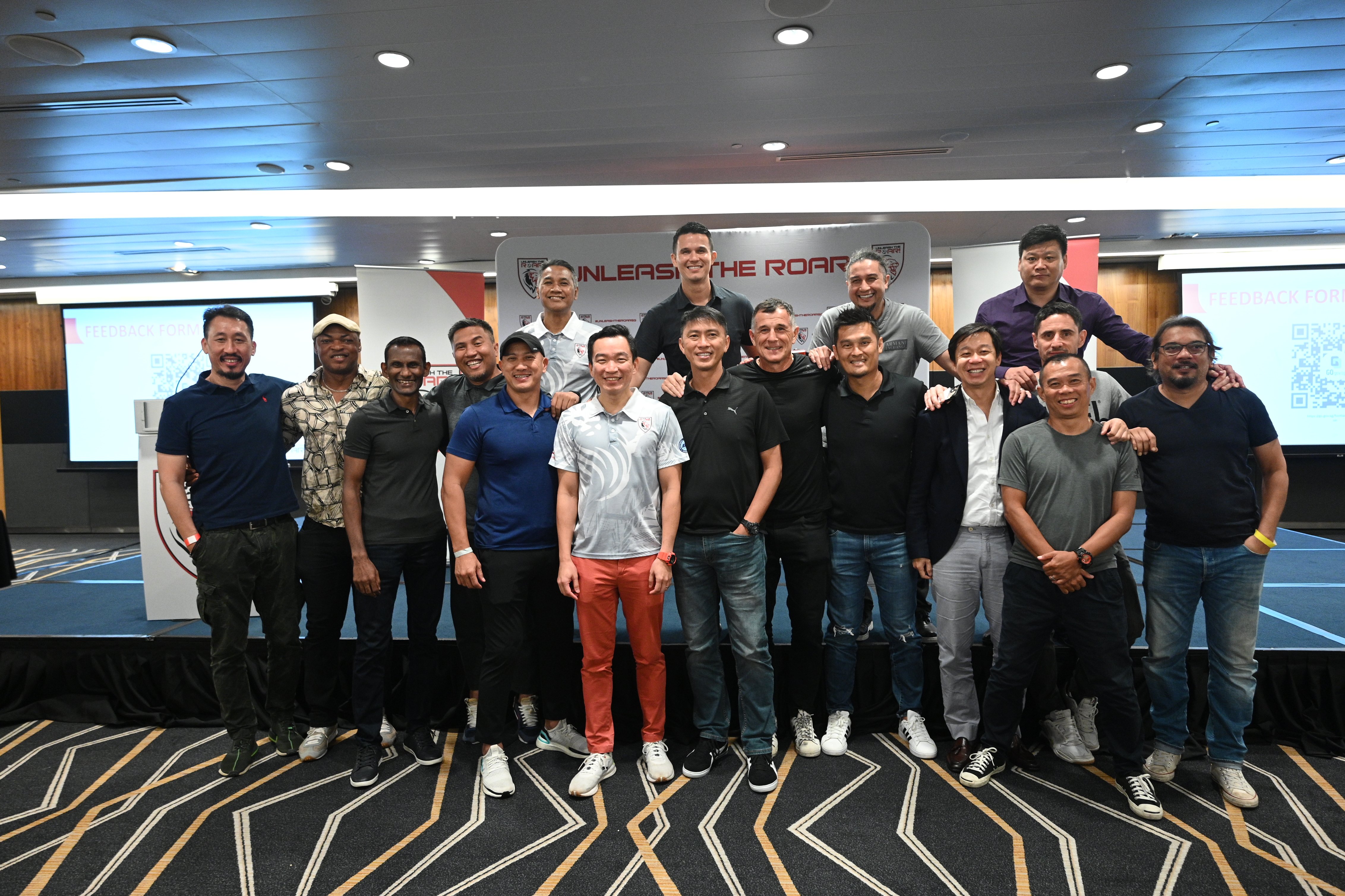 (Back Row L to R) In attendance at UTR!'s very first Townhall session were ex-Lions Razali Saad, Baihakki Khaizan, Aide Iskandar and Qiu Li. (Front Row L to R) Ex-Lions Manager Eugene Loo followed by former internationals Precious Emuejeraye, S Subramani, Noh Alam Shan, Robin Chitrakar, SPS Eric Chua, UTR! Executive Committee Chairman, ex-Lions Lim Tong Hai, Aleksandar Duric, Winston Yap, Goh Tat Chuan, Daniel Bennett, Steven Tan & Rafi Ali. Photo Credit : Don/Unleash The Roar!
Since the launch of "Unleash The Roar!" (UTR!) in 2021, the national programme to uplift Singapore football standards at all levels has made significant strides forward. Conceptualised by the Ministry of Culture, Community and Youth, Sport Singapore and the Football Association of Singapore, UTR! has seen the formation of 12 School Football Academies (SFA) islandwide. And since last year, close to 700 male and female footballers aged 13 to 16, are part of the training programmes handled by coaches from Spain's LaLiga Academy and from Singapore. The partnership with the LaLiga Academy also saw the very first batch of UTR! footballers in Spain last November, on a month-long training stint. The trip comprised boys aged 12 and 13 from the SFA programme, the ActiveSG Football Academy Development Centres and the Football Association of Singapore's talent identification programme.
As the UTR! programmes continue to develop and evolve, the Republic's recent football campaign at Cambodia 2023 came into spotlight, especially after the 7-0 defeat to Malaysia. That compelled our Young Lions to miss out on the semi-finals at the SEA Games for the 5th straight edition. Football fans in Singapore were hurting, disappointed and called for answers.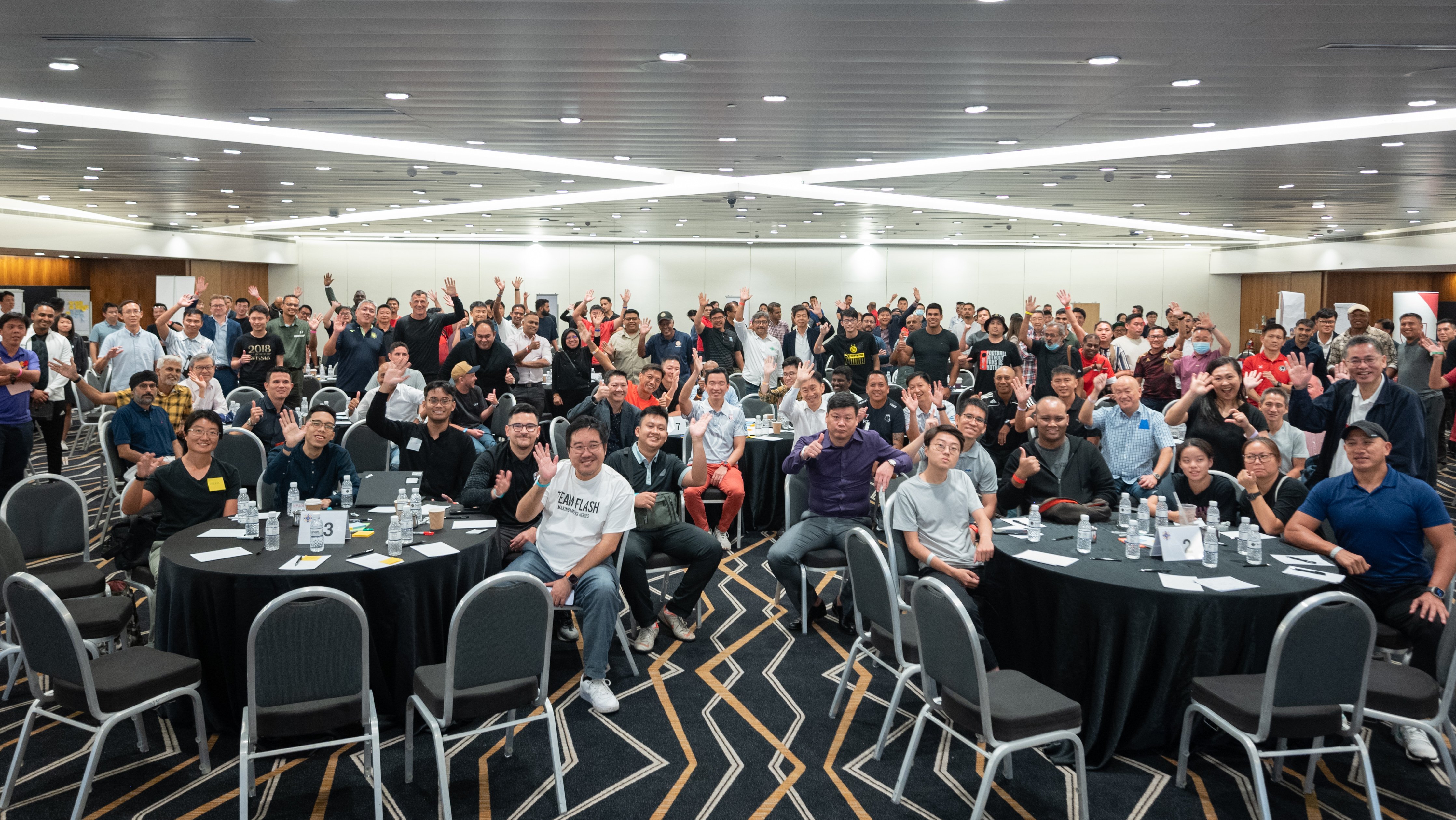 More than 170 guests in attendance for UTR!'s first large-scale dialogue session on 25 May 2023, with stakeholders regarding Singapore football. Photo Credit : Don/Unleash The Roar!
On 25 May 2023 at Suntec City Convention Centre, the UTR! team held its very first large-scale dialogue session. The "Football Conversation" is part of UTR!'s engagement series where opinions from stakeholders are solicited in both small and large settings. Helmed by Mr Eric Chua, Chairman of the UTR! Executive Committee and Senior Parliamentary Secretary (SPS) for Culture, Community and Youth, and Social and Family Development, the 2.5 hour event saw more than 170 parents, coaches, ex-national players, teachers, industry professionals, media etc in attendance.
Mr Eric Chua, Chairman of the UTR! Executive Committee said that, in light of the disappointing recent SEA Games campaign, it's time to return to the basics. (see video below)
Highlights from the speech by Mr Eric Chua, Chairman of the UTR! Executive Committee. Video Credit : Bruce/Unleash The Roar!
With the main focus on youth development, several points during the townhall discussion were raised concerning the current training pathway programmes for promising national footballers, coaching standards, scouting for talented youths, international exchange programmes, support for football in schools and much more. It was an evening of open-hearted sharing by the various stakeholders and the exchange of information, ideas and hopes - all with the aim of improving the current and future generations of our footballing sons and daughters.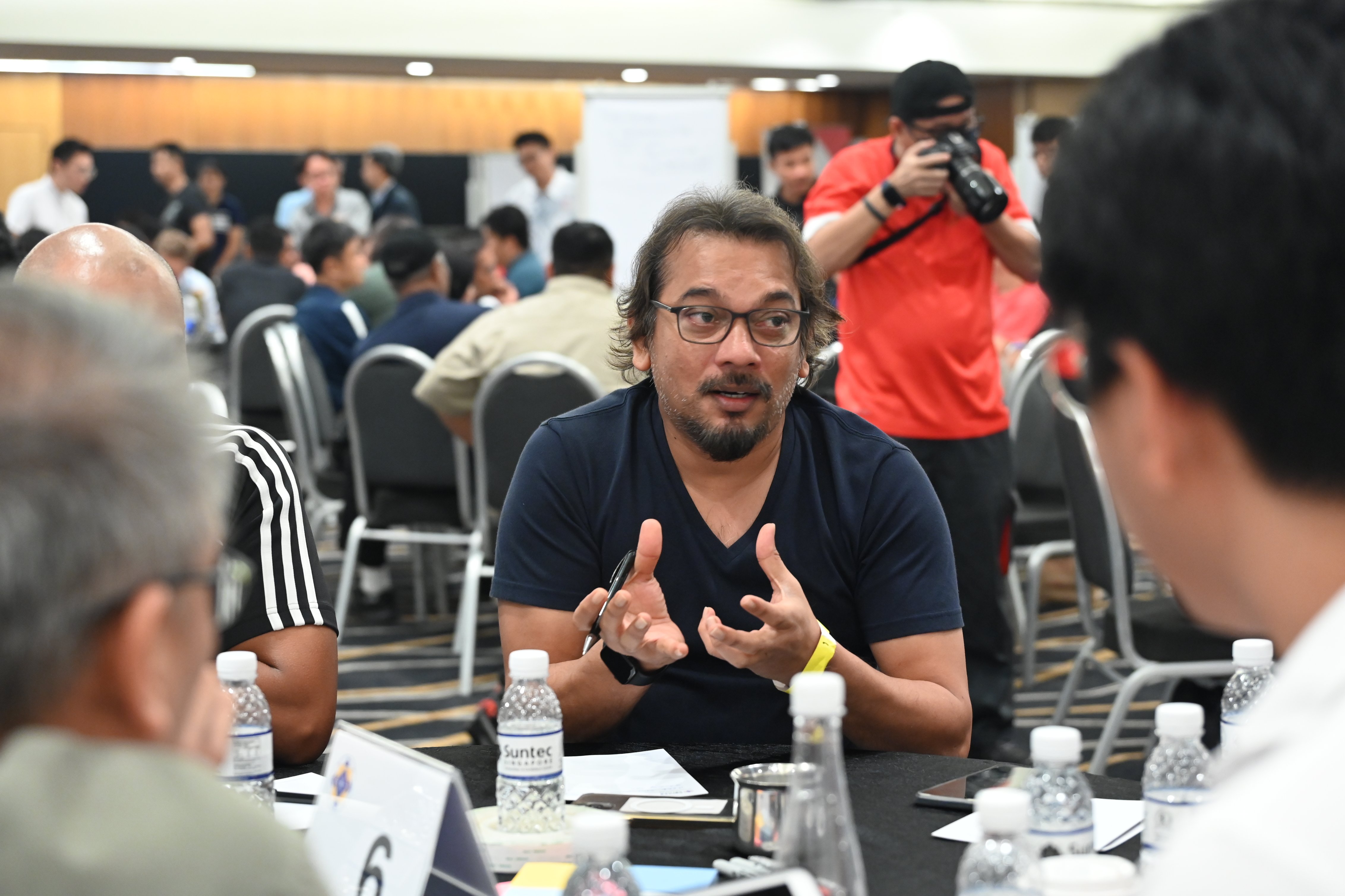 UTR! Ambassador and ex-Singapore international midfielder, Rafi Ali, provided his insights into the development of youth football. Photo Credit : Don/Unleash The Roar!
UTR! Ambassador and ex-Singapore international midfielder, Rafi Ali highlighted to ActiveSG Circle, "I believe we should have more of these open discussions with the various stakeholders. More talks about youth development and other ways of improving our local football standards. On the whole, this event was very good and positive. As to where we head next, I am a firm believer in youth development and we need to keep trusting in that process. Let's focus on the next generation of youth players and get them to compete in Asian Football Confederation-sanctioned U15 to U19 tournaments".
With a football playing career that lasted almost 20 years, Rafi further stressed, "These teenage boys need to play as many competitive matches as possible, need proper and better training, and they need to fully understand the intensity and challenges which comes with playing international football. Our boys need to read the game better, understand their opponents' weaknesses and they need to adopt a positive mindset for every match. On that note, when they are talent-identified and arrive at the National Training Centre, they should come with a fully serious mindset to learn and put in the time to work. Their attitudes have to change, everyone will have to fight for their playing positions and not assume that their places in the team are guaranteed. If they don't perform, they're out! We're also intending to cast our net wider and go see young players in action and if they're good, I will recommend them to be included in the national training programme. They could be playing on the basketball court or a grass patch in the middle of nowhere. That doesn't mean they're not good enough to play at a higher level".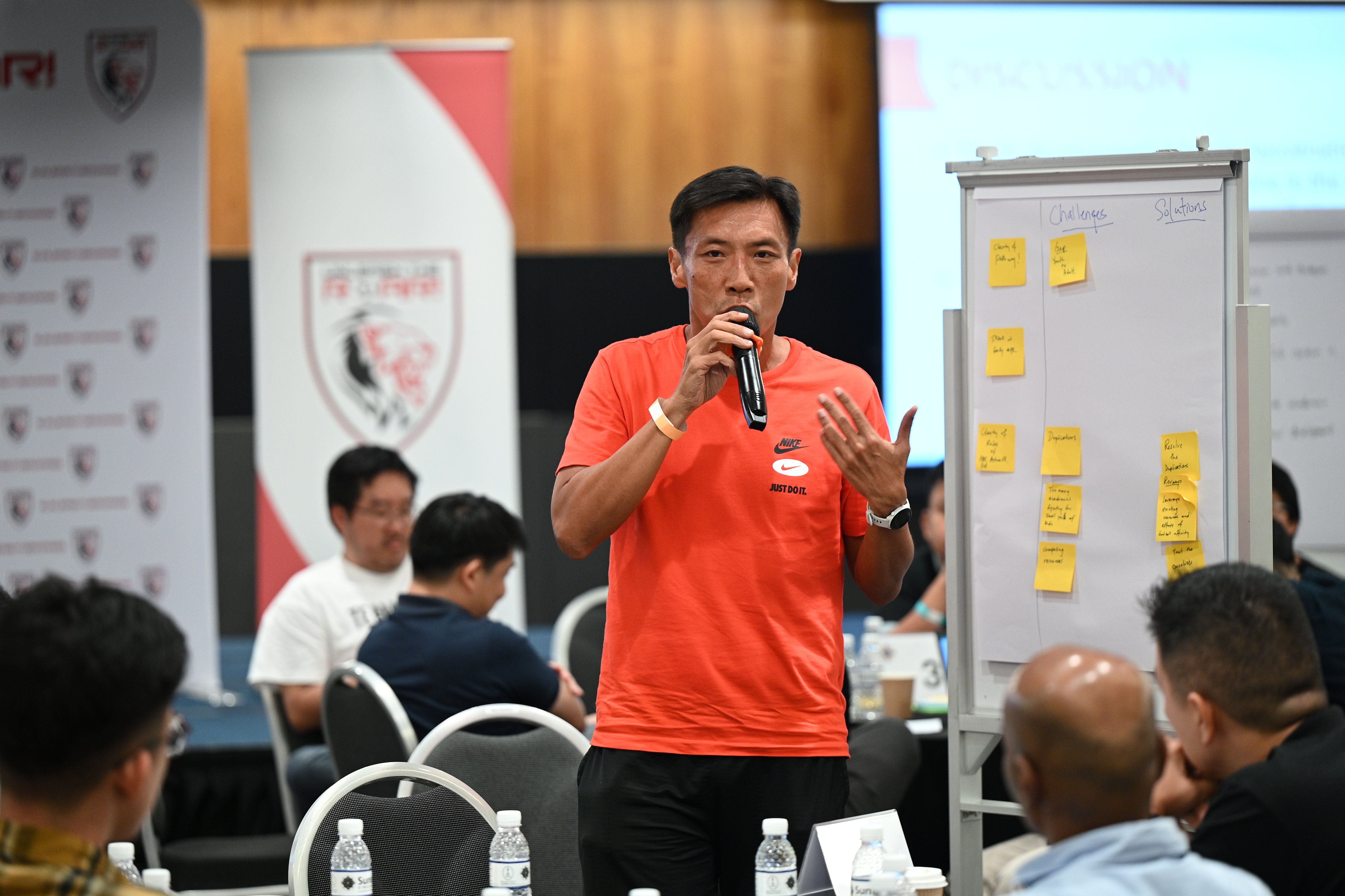 Melvin Quek (Coach, St. Michael's Soccer Association) also presented his thoughts on youth football development. Photo Credit :

Don/Unleash The Roar!
Also in attendance at UTR!'s public event was Melvin Quek, a Coach with St. Michael's Soccer Association (independent non-profit organisation). And he commented, "The biggest key change that I wish to see coming from a coach's point of view is that UTR! will extend their arms to the primary schools. Personally, I feel very strongly that the formative years for any child will be from 6 to 11 years of age. Picking up kids when they reach the age of 13 or 14 is way too late, as these kids would have already been lacking a few years in the footballing development spectrum.
If the panel can look into tackling the problem from the younger age groups, I reckon that it can improve our chances. Of course, the efforts of the UTR! panel alone aren't sufficient. It requires the efforts of everyone and I mean everyone, from coaches to parents to players to other government bodies".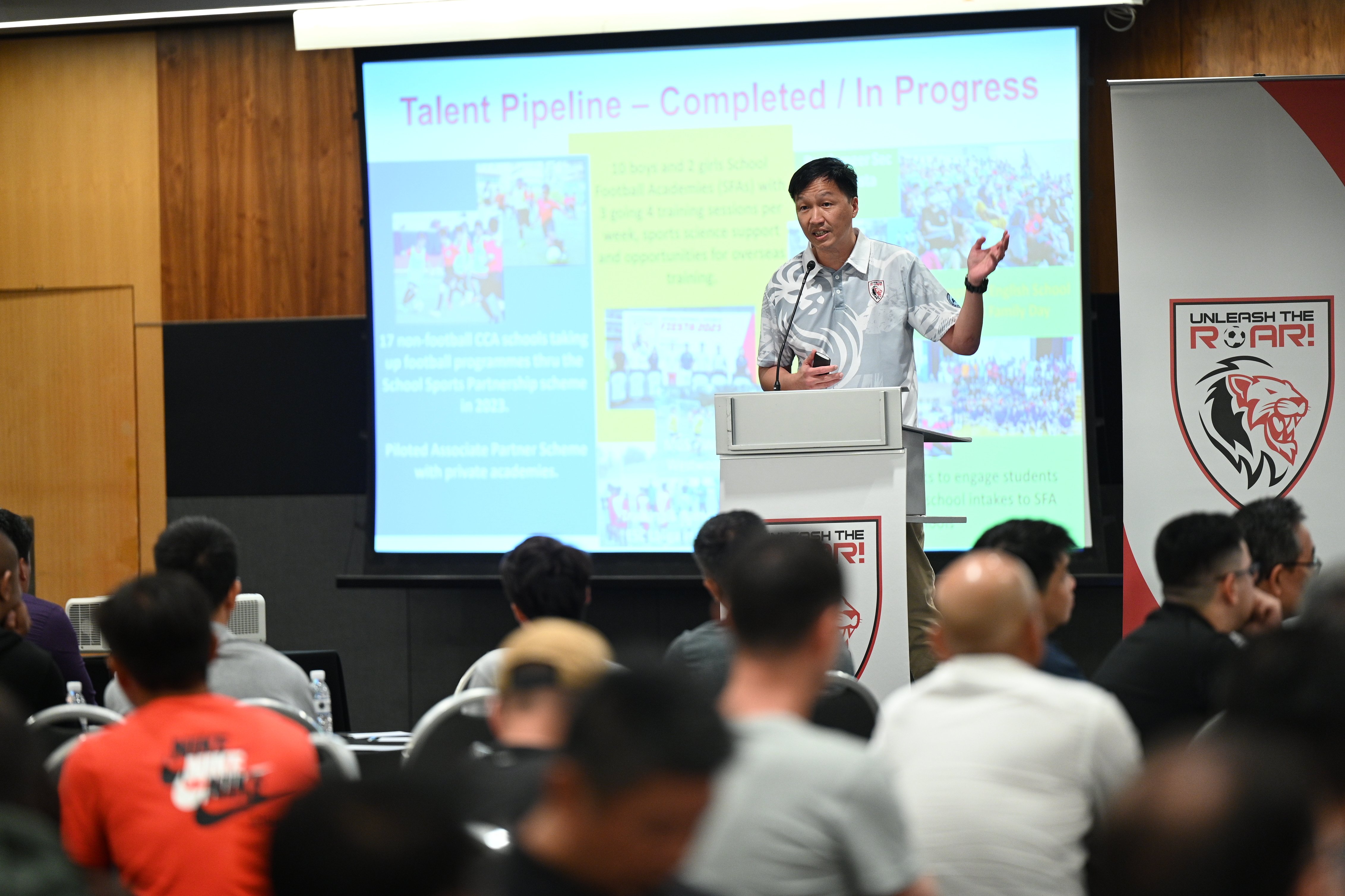 Marcus Tan (Chief, Sport Development Group/SportSG), provided an update on UTR!s current initiatives. Photo Credit : Don/Unleash The Roar!
Financial Advisor Mdm Mashari also expressed her desire to see changes in schools. "I think this first UTR! event was very good. At least we get to speak to the coaches, ex-internationals, and other parents to know what's happening on the ground. And we get to share the challenges which we are facing, as well as what we'd like to see happen more in Singapore football. As a parent of a 16-year-old daughter who's been playing football since she was 8, I truly hope to see more girls taking up the sport, more parents supporting their kids' dreams and more schools offering football to the girls as CCAs. And at Primary School level, the students should not be separated by gender during PE lessons for football, as they should all be playing together," said Mdm Mashari.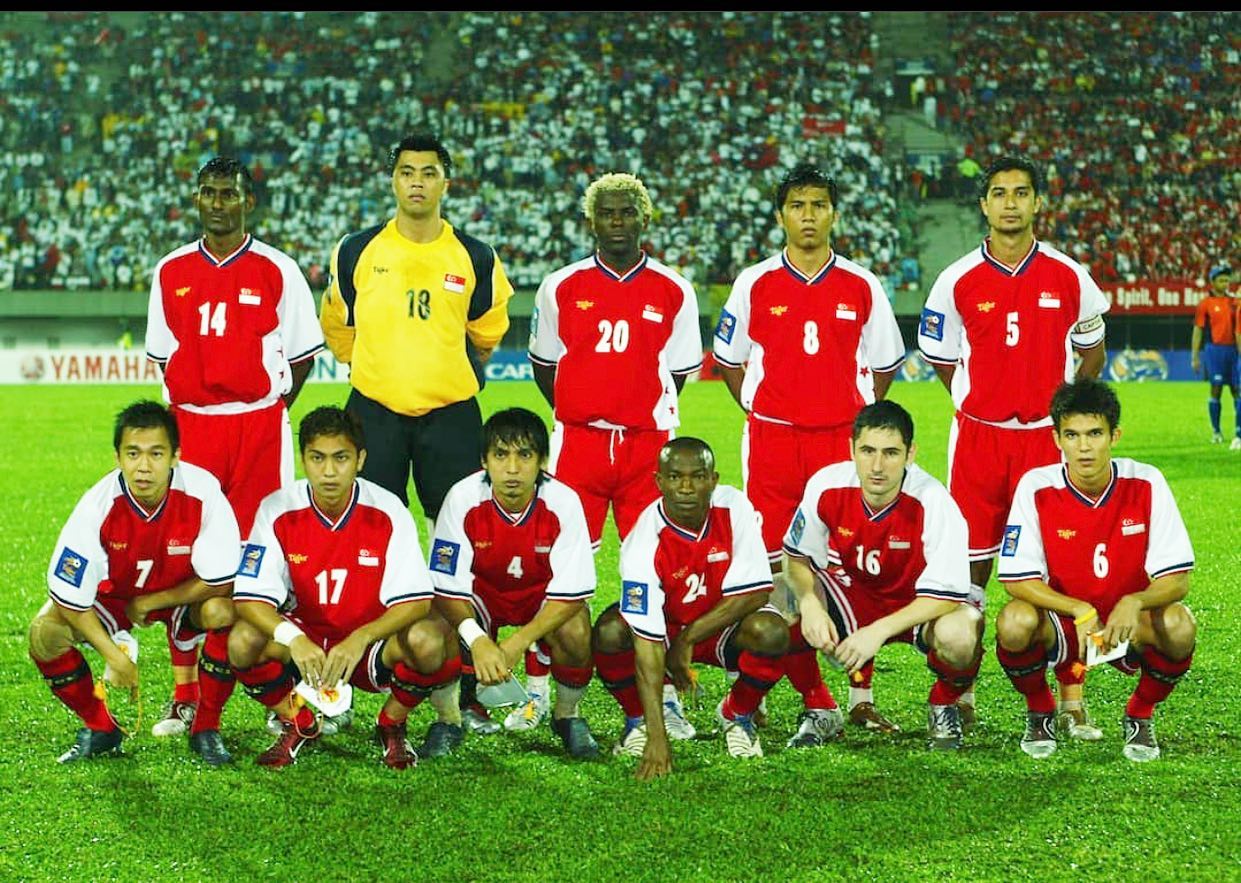 (Back Row 1st from Right) Singapore Team Captain Aide Iskandar in the 2004 AFF Championship. Photo Credit : Aide Iskandar FB Page
UTR! Ambassador and ex-Singapore Captain, Aide Iskandar highlighted, "This public discussion is a great initiative by UTR! And it's a good platform to engage the fans, coaches parents etc. It's also an eye-opener for them regarding the entire UTR! programme, whereby they can clarify issues in an open manner. We saw several passionate people speaking tonight, and we also heard constructive criticisms which is OK, if we are looking to improve our current methods and processes. And I've been told that this series of conversations and engagements will continue, as Singaporeans become more aware of the merits and future plans of UTR!"
As the former head coach of TeamSG's 2013 SEA Games bronze medal-winning squad and the 2015 SEA Games team, Aide also added,
"As for all the ex-Lions in attendance tonight, we're here to fully support the UTR! programme in whichever manner possible because, it's also our way of giving back to the community and we all want to see Singapore football, reach ever greater heights in the near future".
The UTR! Team will study each suggestion, consolidate key points from all group discussions and will share them in a summary report in the near future. There is still much work to do, and the football fraternity stands united to improve Singapore football for fans and all stakeholders of the game.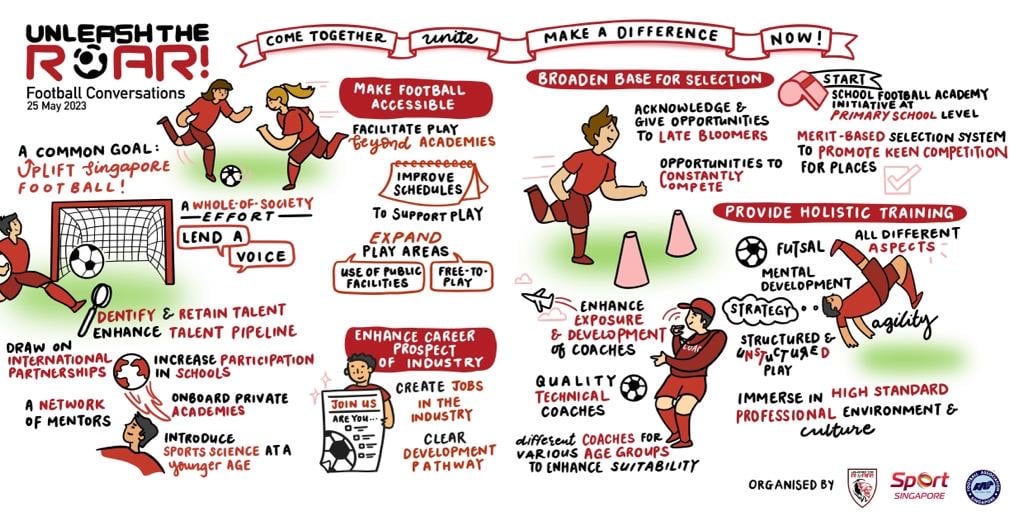 Infographics summary of UTR! Football Conversation, 25 May 2023. Image credit : Unleash The Roar!
Recent Events & Programmes