By Patrick Johnston
The standards are set high for Singapore's swimmers. So much so that freestyle specialist Jonathan Tan was left upset and disappointed after just missing out on an Asian Games medal on Monday (Sep 25) .
Tan, the first Singaporean swimmer to qualify for the 2024 Olympics, suffered from a sticky start to finish fourth in the men's 50 metre freestyle with a time of 22.11.
"I've really got to work on my starts," Tan said. "My swim wasn't too bad but I started not too good and I think it just carried on from there.
"Overall I'm a little bit upset, it wasn't the time I'd wished it would be. But life is up and down. When I'm down, the only way is up."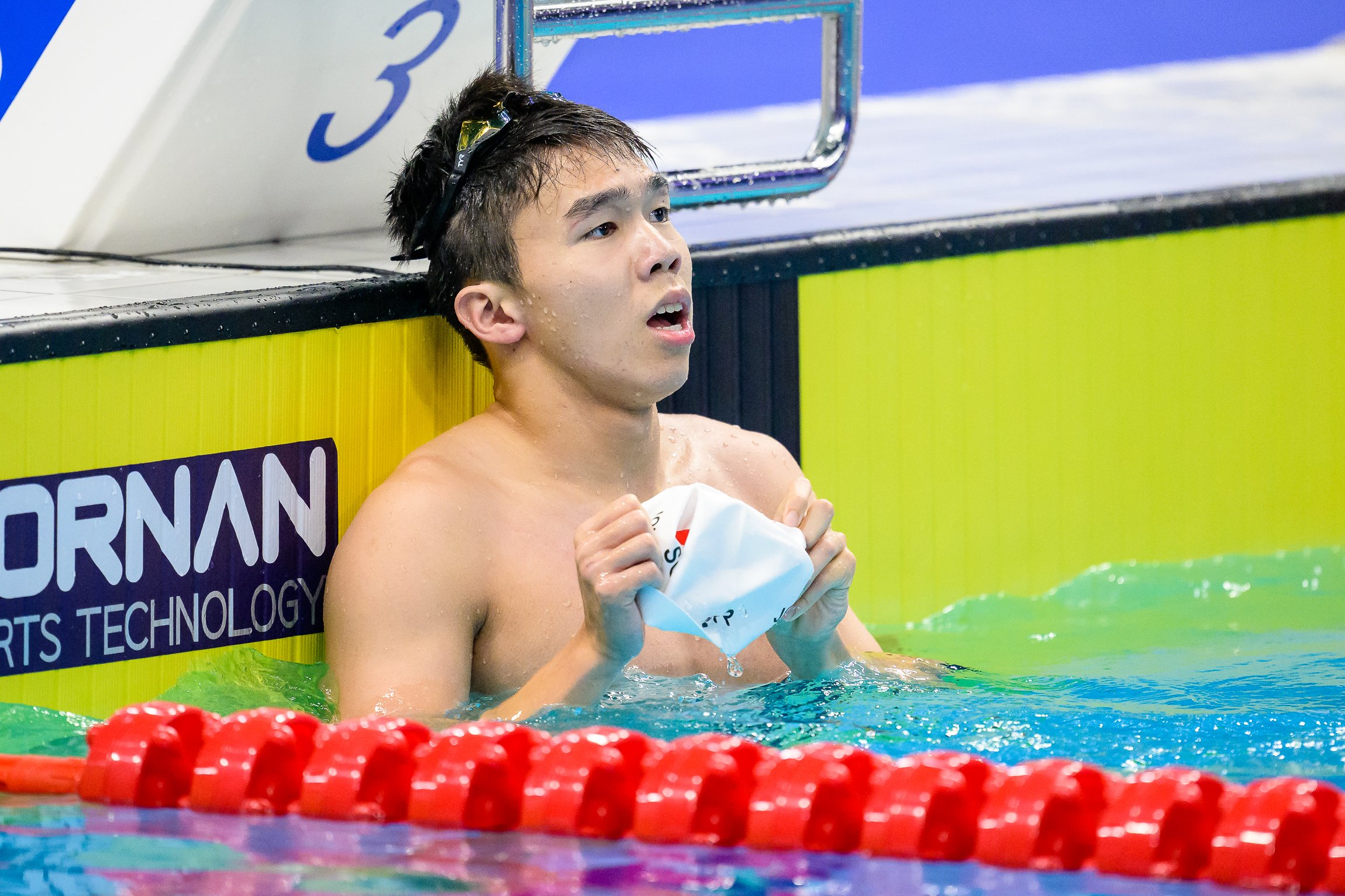 Singapore's Jonathan Tan reacts after finishing fourth in the final of the Asian Games men's 50m freestyle at the HOC Aquatic Sports Arena. (Photo: SNOC/Andy Chua)
The 21-year-old had arrived in China confident of a medal in the 50m after picking up four golds at the SEA Games in Cambodia, clocking the second fastest time in Asia for the 50m this year and achieving the Olympic qualifying mark.
But Tan had little time to dwell on his individual performance, as he took to the HOC Aquatic Sports Arena pool later in the evening for the 4x200m freestyle relay. He anchored home the team featuring Glen Lim, Ardi Azman and Jerald Lium to finish fourth in a time of 7:17.98.
"I think in 4x2 we did really well," he added. "We have a new swimmer on board and so it is good to see that we are moving forward and more swimmers are coming up and I think we can build on this momentum for the world championships next year."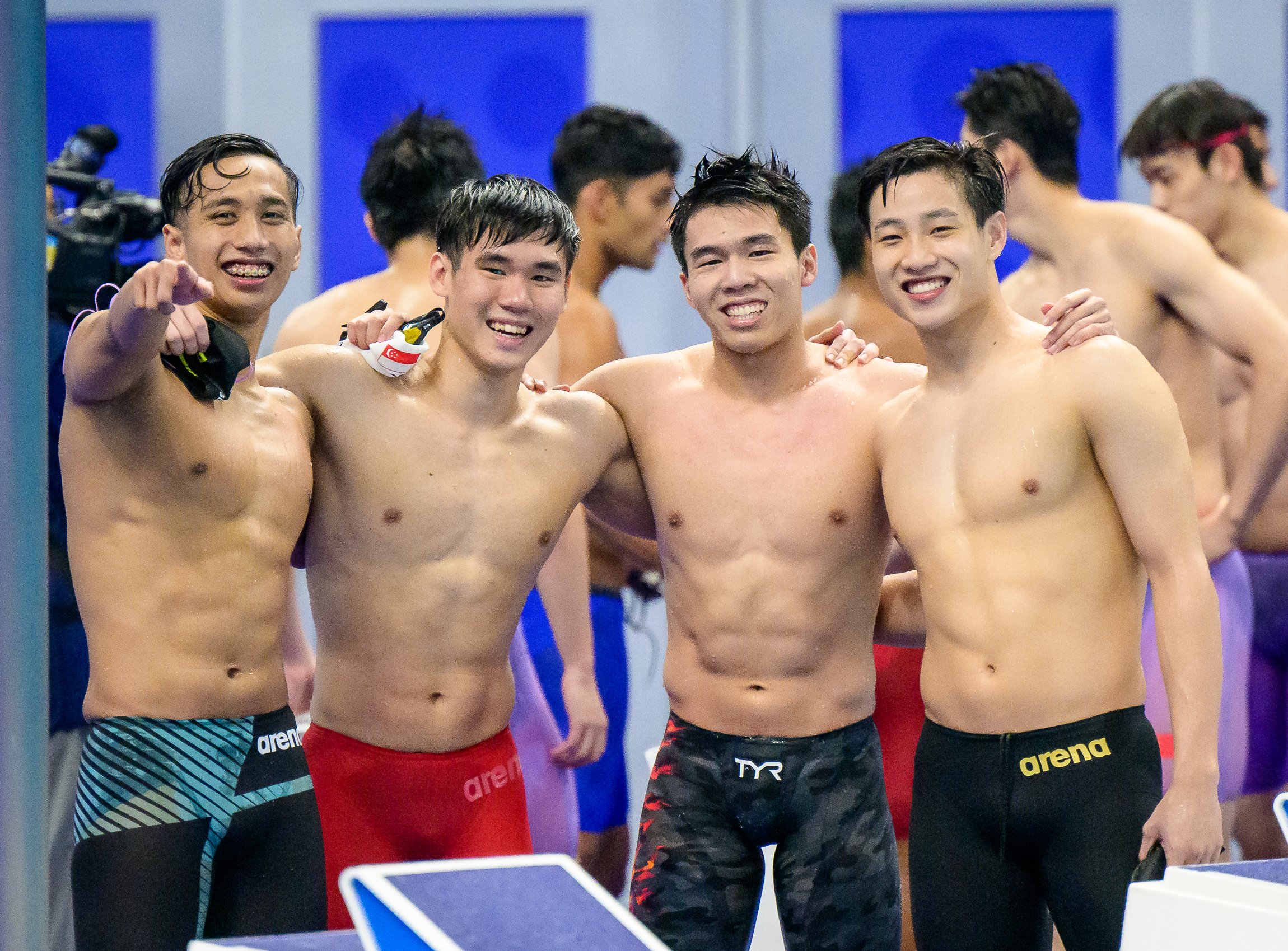 Singapore's men's 4x200m freestyle relay team: (from left to right) Ardi Azman, Glen Lim, Jonathan Tan and Jerald Lium celebrate after finishing fourth in the final at the Asian Games. (Photo: SNOC/Andy Chua)
Teong Tzen Wei raced against Tan in the men's 50m freestyle. He continued his return from an arm injury with a solid sixth place finish and a season's best time of 22.26 seconds.
"Step-by-step," Teong said. "I think with these times and three swims today it puts me in a good spot for the 50m butterfly (on Thursday)."
Also in action on Monday night were Letitia Sim and Gan Ching Hwee who managed seventh place finishes in the women's 200m individual medley and 200m freestyle, while Maximilian Ang and Quah Zheng Wen were eighth in the 100m breaststroke and 50m backstroke.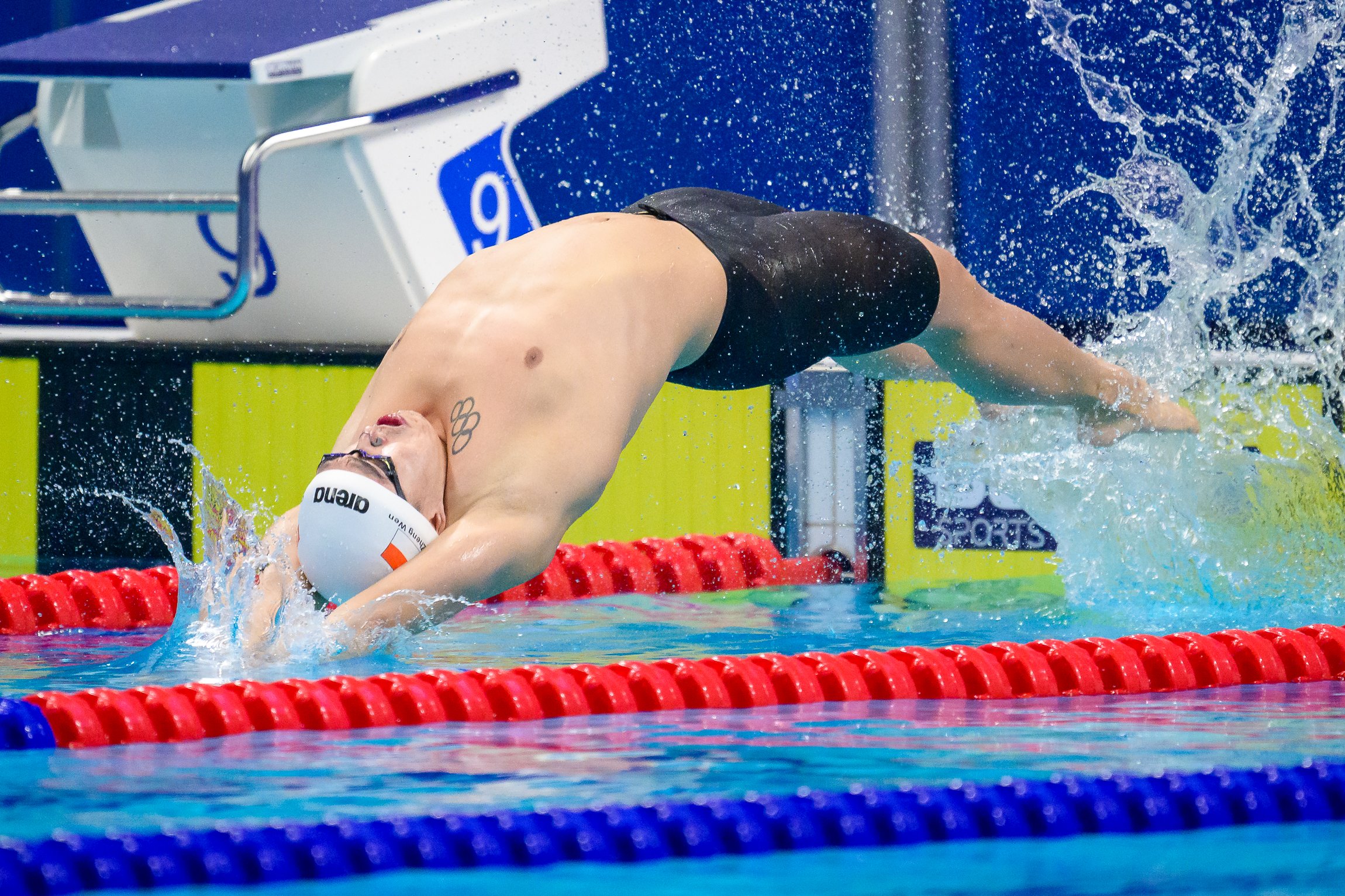 Singapore's Quah Zheng Wen launches off to start his Asian Games men's 50m backstroke final at the HOC Aquatic Sports Arena. (Photo: SNOC/Andy Chua)
The 19th Asian Games are held in Hangzhou, China from 23 September to 8 October 2023. For the latest Team Singapore coverage and news, follow Team Singapore on their social media channels (Facebook, Instagram, TikTok) or visit the official Team Singapore website.
Related Topics
Recent Events & Programmes
Related Topics