Hangzhou 2022: Specialist supporters cheering Singapore to success
by ActiveSG Circle, on October 6, 2023
By Patrick Johnston
Even when standing on top of the Asian Games diving board, or way out at sea in a solo-piloted boat, Team Singapore athletes are never alone.
They are boosted by their coaches, support staff and family and friends who have supported them on every step of the Asian Games journey to Hangzhou, offering hope, help and hugs to get them through the rollercoaster ride of being an athlete.
And adding to that amazing support network are a couple of extra special supporters in China. Ones who know exactly what it takes to compete and win medals at the highest level.

Former canoeist Andrea Chen, who won two SEA Games medals, is in Hangzhou to support her sister Stephenie, who won Singapore's first silver medal in canoe sprint at the Asiad. Andrea knows full well, having competed in such an individual sport, the value of her new role.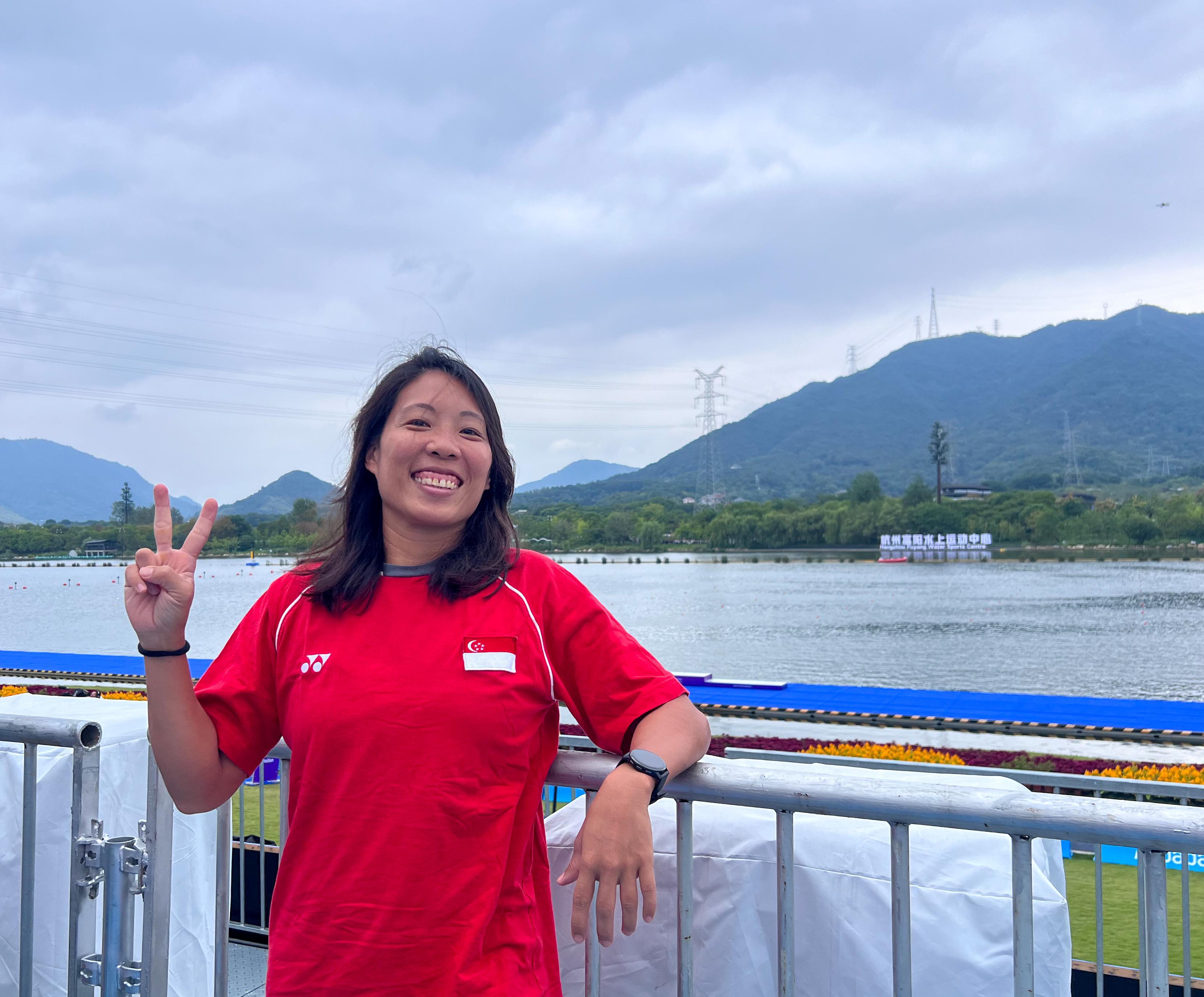 Former canoeist Andrea Chen poses for a photo at the Asian Games canoeing venue in Hangzhou where she cheered on her sister, Stephenie, and the canoe team. (Photo: Andrea Chen)
"I think it is great to have the physical presence of the Team Singapore support," she explained.
"But to have known you've enjoyed the support of Team Singapore throughout your entire training in the lead up to it is even more powerful. Because it is that consistency, it has been a journey together. Not someone who has just come in to celebrate with you, it has been more of a journey."
Chen competed herself at an Asian Games, before training as a physio and coming back to work with Singapore's canoe team at the 2018 Games. In Hangzhou, she was looking forward to attending purely as a spectator, unless, of course, she gets a call.
"If the team needs help because the race site is really far from the Games Village, I will be really happy to help, physio-wise, but I'm really looking forward to being a spectator."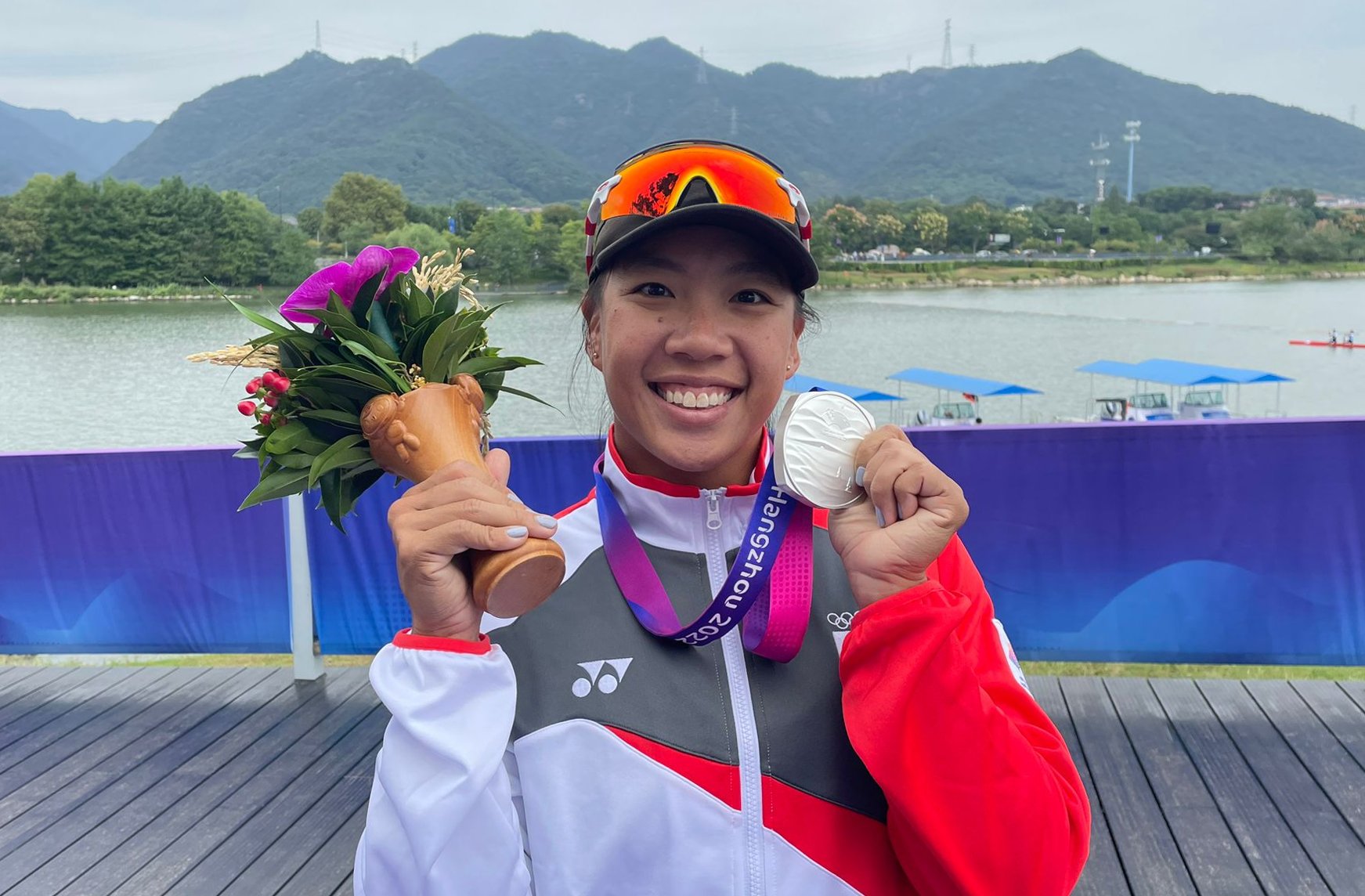 Stephenie Chen poses with her Asian Games silver medal after finishing second in the K1 500m. (Photo: Sport Singapore/ Patrick Johnston)
Chen said that the support network at a multi-sport event is a unique element of competing at a Games, something cherished by the athletes, particularly in solo events. Knowing you have a team of fellow Singaporean competitors coming to cheer you on can really make the difference.
Another Singaporean athlete who knows that all too well is former diver Jonathan Chan.
The 26-year-old 10 metre platform specialist won numerous SEA Games medals and competed at the 2020 Olympics in Tokyo and the World Aquatic Championships in his career.
He is also in Hangzhou, firstly as an anti-doping ambassador for WADA and now as a supporter for his former Team Singapore colleagues.
"What we do is engage athletes to go down to this anti-doping information booth," Chan said about his role. "When you hear about anti-doping you think: 'ah, no, don't come and check my urine' so it was more talking to athletes from an educational standpoint. There were athletes from South Korea, Japan, India, China and then me."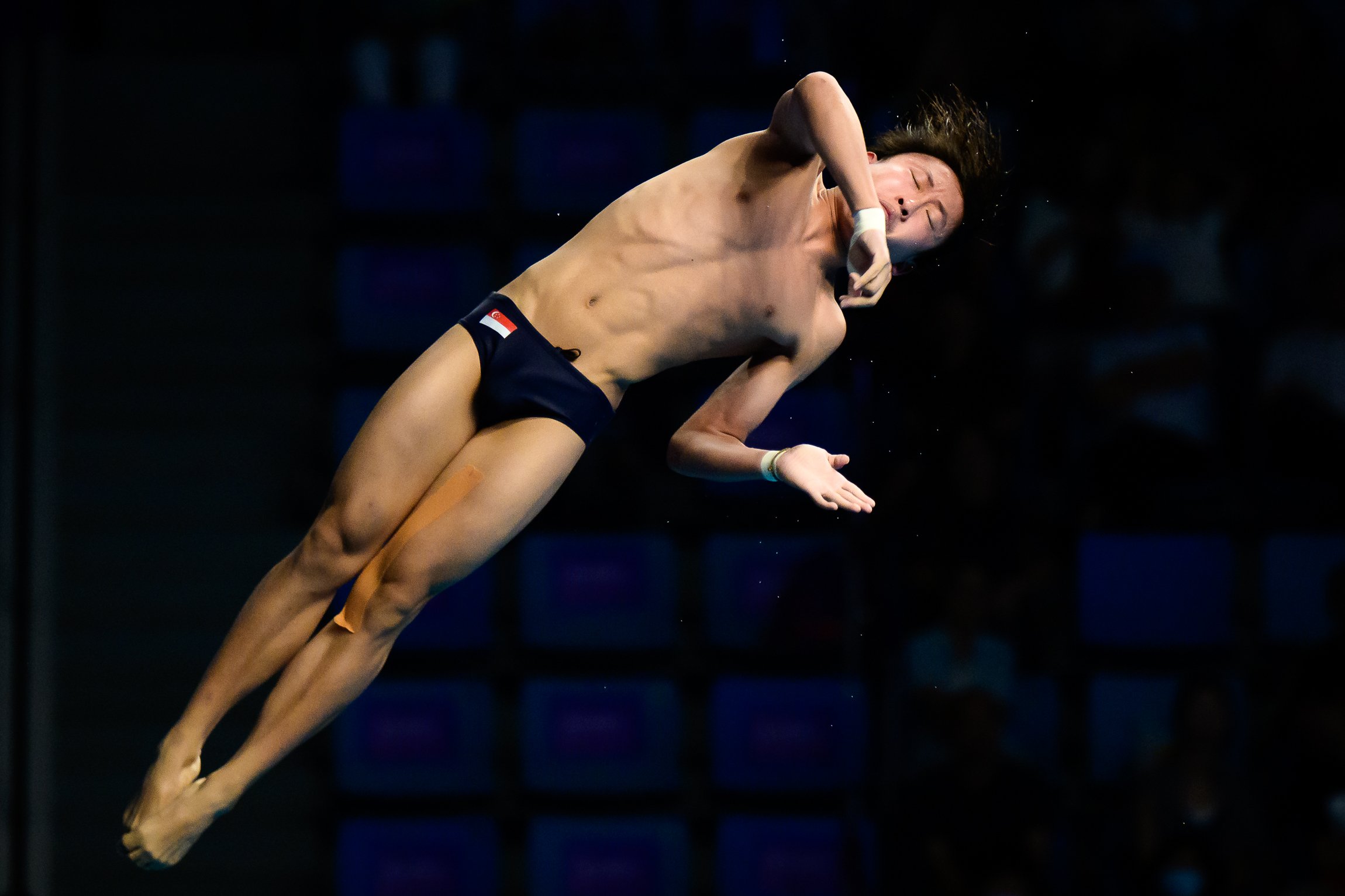 Max Lee is pictured mid twist as he takes part in the preliminary heat of the men's 10 metre platform at the Asian Games in Hangzhou. (Photo: Sport Singapore/Andy Chua)
Chan has already been cheering Team Singapore at the gymnastics, diving and, such was his appreciation of what is required at a Games, said he had offered his services in any way for the team while in China.
"It is quite important because it is always nice to know if you do well or not, there are people you can rely on at the end of your event," he said.
"To me the Team Singapore spirit is supporting the team, no matter what sport. (As an athlete seeing the support) it is the same feeling as when you go overseas and hear someone speaking in a Singapore accent and you smile.
"Same at the Games, we have people representing the country so it is always nice to watch and show your support."
But does he not want to trade in his new supporting roles for a return to the diving board?
"I think the best part is I'm not competing so I don't have to worry about competition stress or other things," he joked. "It's just very nice to come back and see all my friends who I have competed with, reconnecting."
The 19th Asian Games are held in Hangzhou, China from 23 September to 8 October 2023. For the latest Team Singapore coverage and news, follow Team Singapore on their social media channels (Facebook, Instagram, TikTok) or visit the official Team Singapore website.
Related Topics
Recent Events & Programmes
Related Topics