Latest One Day video serves as Tribute to TeamSG Athletes in Tokyo and a rallying call for National Day!
by Circle Stories, on August 7, 2021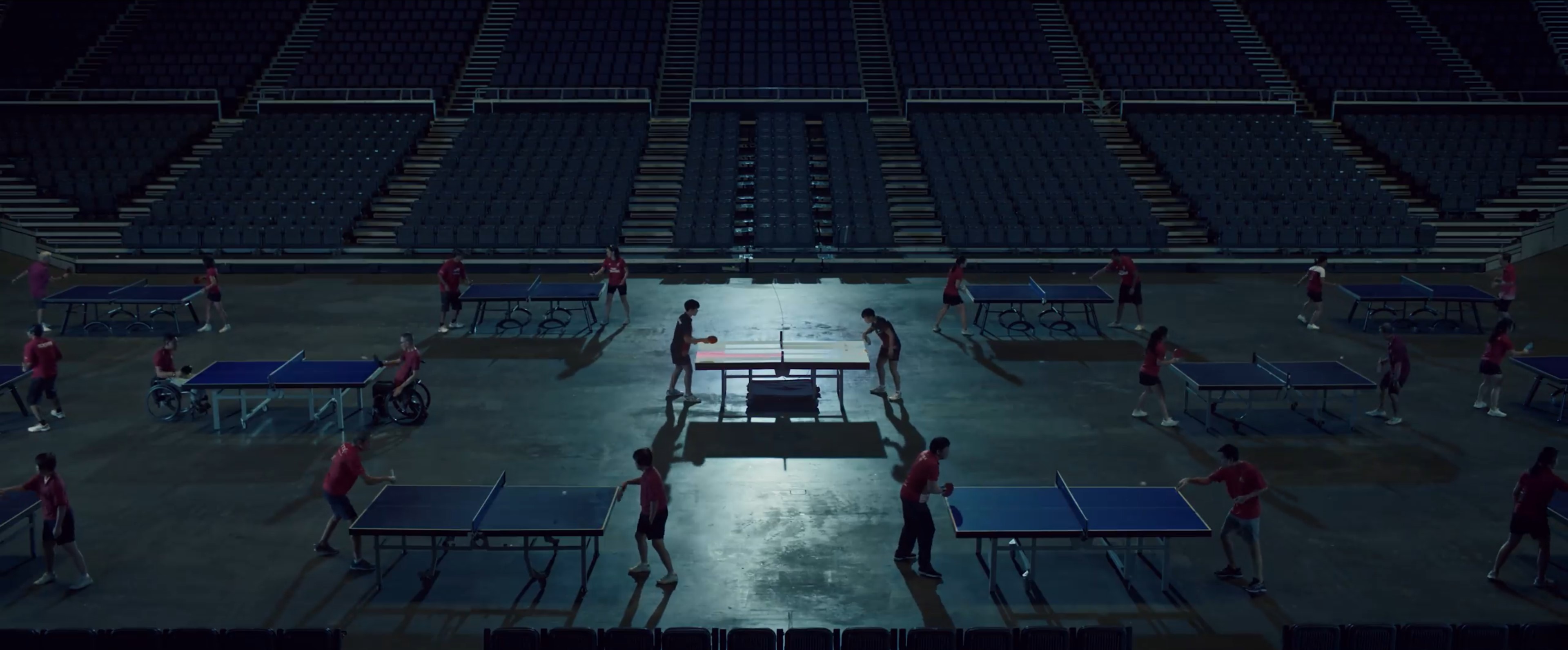 (Extract from One Day Campaign's 3rd Video - Table Tennis at the Singapore Indoor Stadium)
By Raj Kumar
Team Singapore launched a campaign in late April, entitled "One Day". It's about hope and it's a statement of empowerment. It's a tribute to all Singaporeans who display the Olympic values in them, in a show of resilience over what has transpired in the last 18 months, owing to the global pandemic.
In the latest One Day Campaign (ODC) video released on 4 August, the focus turned towards rallying the nation ahead of Singapore's 56th Birthday (9 Aug). With the theme of "One Day, One Nation, One Roar", the overall setting of the new video was the iconic Singapore Indoor Stadium. Featuring 2 of Team Singapore's rising table tennis players Izaac Quek and Zhou Jingyi, the minute-long video opens with both paddlers engaging in a 1-on-1 session.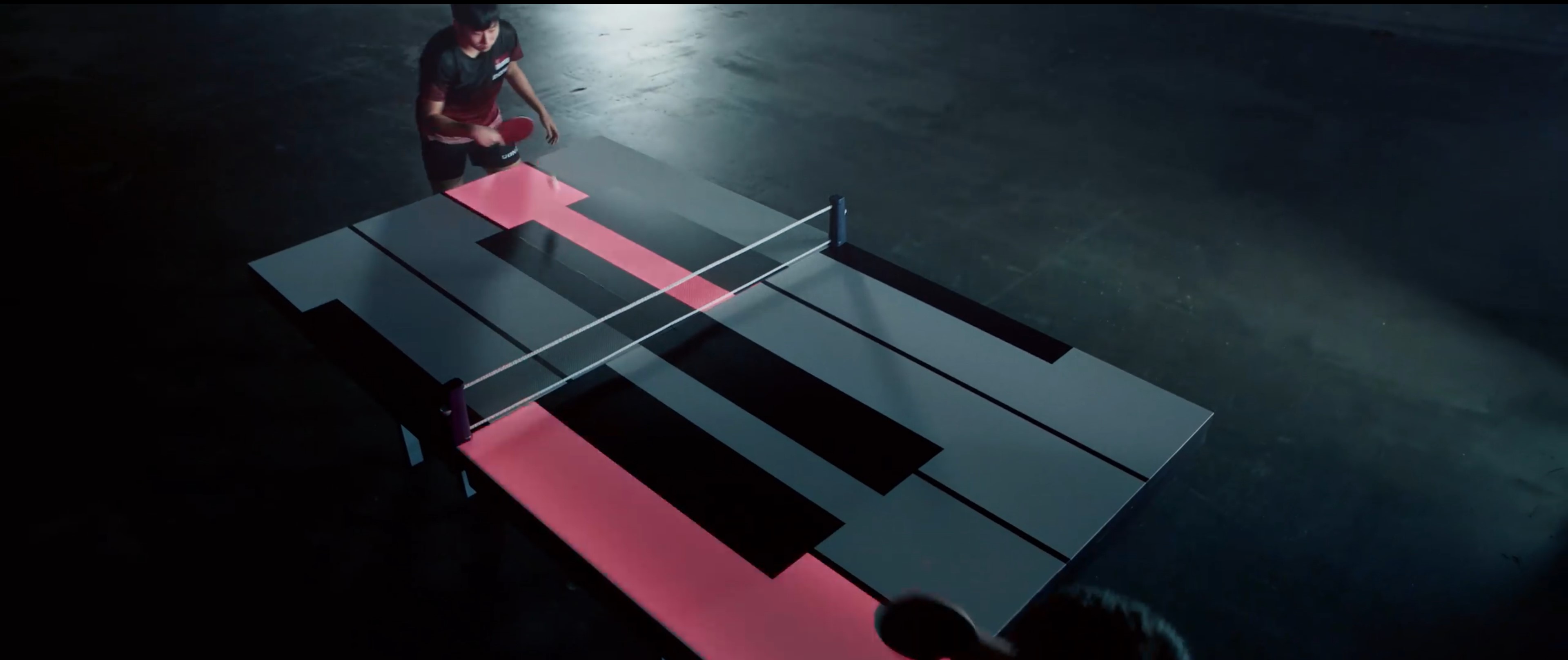 (Extract from One Day Campaign's 3rd Video - Table Tennis at the Singapore Indoor Stadium)
The unique part was the table in which they played on, comprised piano-like keys which lit up, when the ball landed on that specific area. For the keen observers, they would have noticed the Indoor Stadium's image from the opening shot. Then cut to the visuals of 2 players walking into a dark indoor setting, followed by the short game between the 2 young TeamSG paddlers on piano keys which light up. It has that retro throwback look to the 1988 Hollywood blockbuster "Big", with Tom Hanks dancing on a floor-mounted 5-metre long, large "Piano keys" which light up, when he jumped and danced on them!
As for the new ODC video and with no words spoken or exchanged, there is a unique music track in the background (which most Singaporeans would be able to recognise) which "drove" the video forward, till the camera zooms out to reveal several tables of players engaged in table tennis games on the floor of the Indoor Stadium. We see Singaporeans of all ages, both young and old, from various races, the able-bodied and disabled, all engaging in 1 of the Republic's most played sport, "Ping Pong" or table tennis. Plenty of smiles all around, building up to the final message of rallying our national athletes at the Olympics and Paralympics, as well as wishing Singapore, Happy National Day!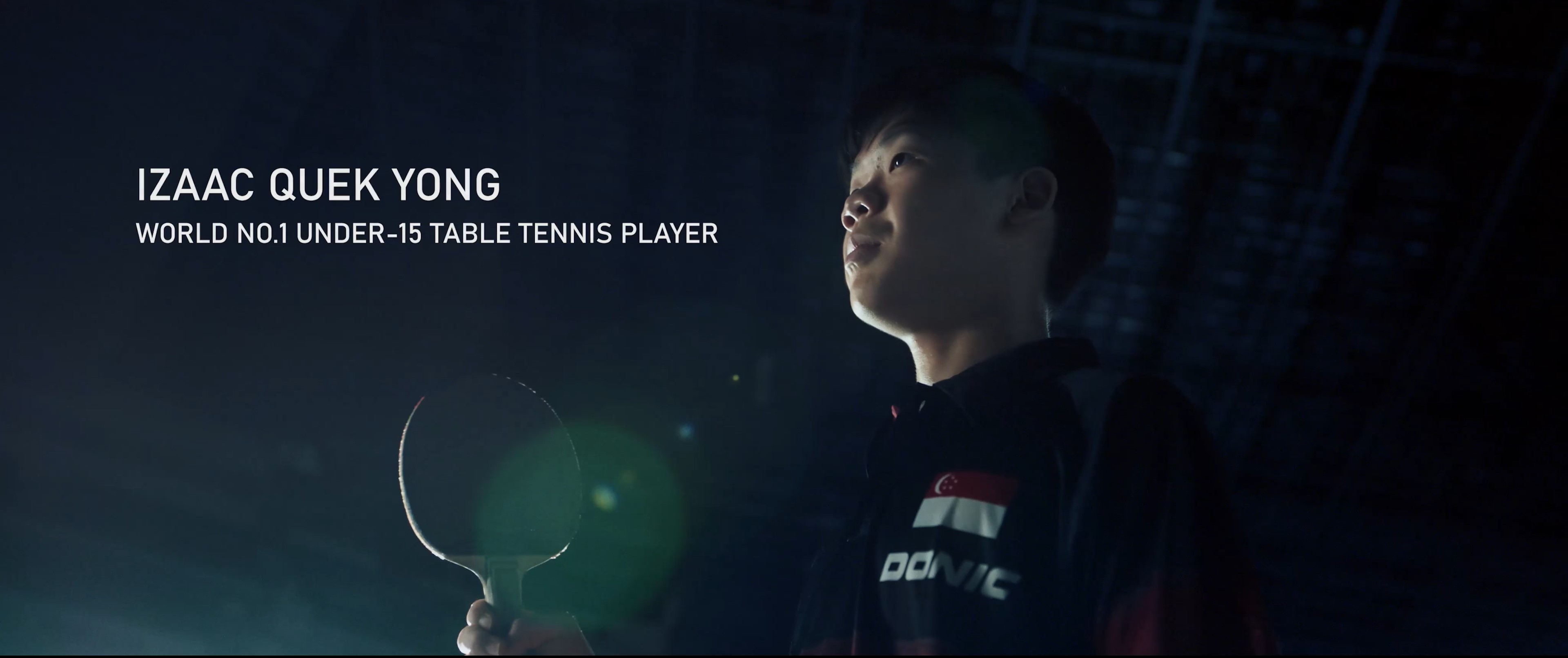 15 year old Izaac is ranked Number 1 in the Boys Under-15. And regarding his role in this video, he said, " I feel very honoured to represent the Table Tennis fraternity, as part of the One Day campaign. I am inspired to work hard towards achieving my goals ONE Day. It was fun (the video filming) to see the table tennis ball bouncing to the "Stand Up for Singapore" song. It's an eye opener to see the transformation of ideas into virtual effects!"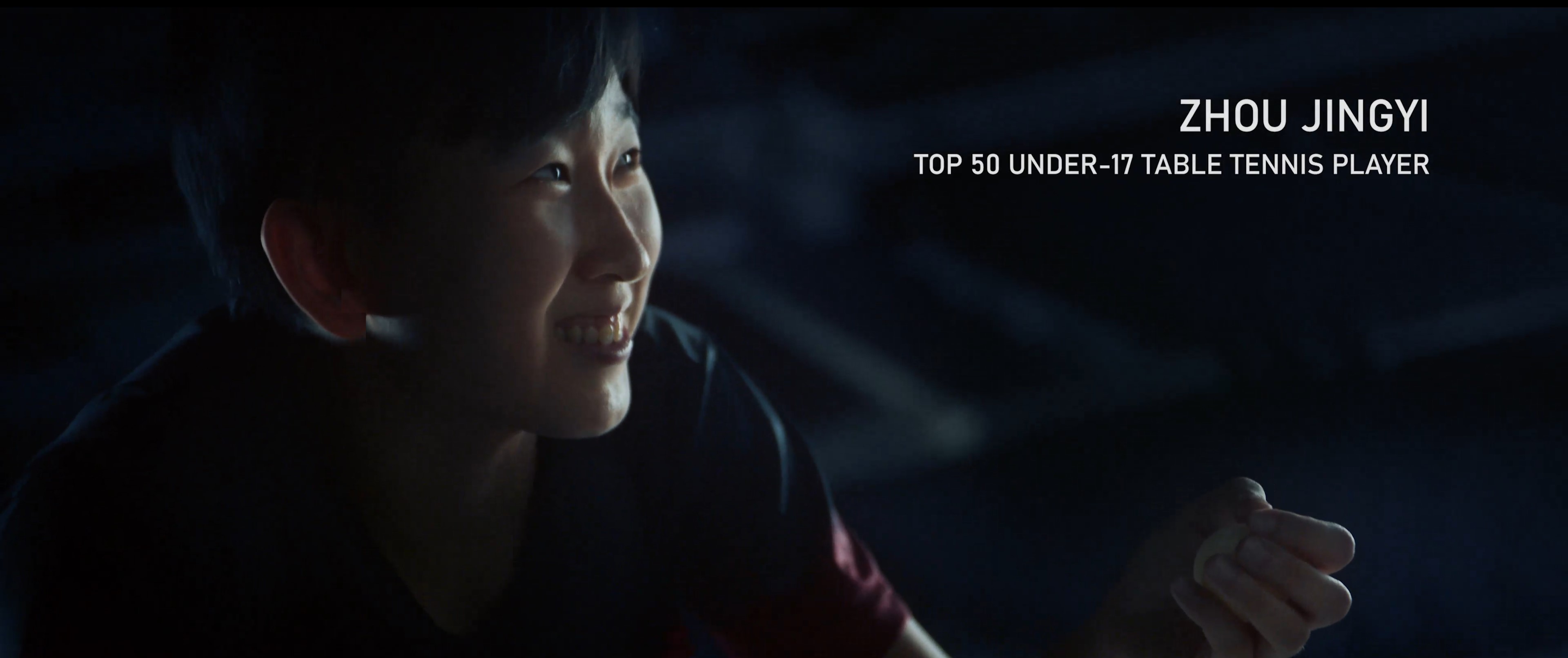 17 year old Zhou Jingyi is ranked within the world's top 50 in her age group. And regarding the most challenging part of filming the 60-sec video, she said, "I think it was playing on the special table. As it was very different from the table that we train on daily, we took quite some time to get use to the bounce of the ball on the table. Thankfully, everyone on the shoot was very patient and understanding, which made it easier and encouraging for us to get used to it."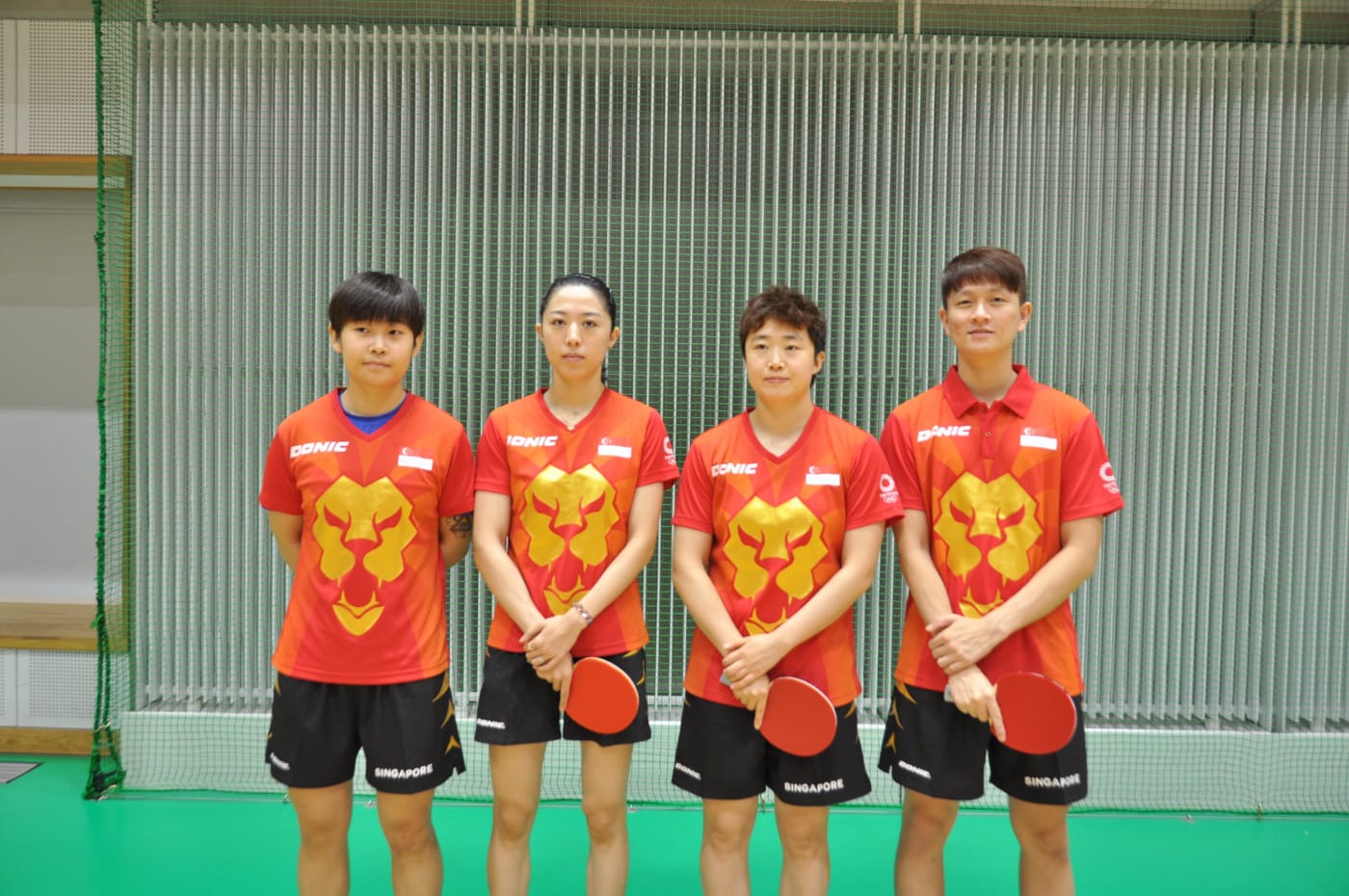 (TeamSG's Lin Ye, Yu Mengyu, Feng Tianwei and Clarence Chew - Photo by STTA)
Team Singapore's paddlers in Tokyo comprised 3-time veteran Feng Tianwei, Yu Mengyu in her 2nd campaign, with debutants Lin Ye and Clarence Chew. The 4 of them displayed the fighting spirit of Lions (which were proudly displayed on their jersey tops), but they couldn't medal for the 2nd straight time at the Games.
18 year old national paddler Andy Wong said, " I watched Yu Mengyu play in the Singles event. She played every point to her best abilities. She displayed world class mentality in the face of difficulty. Even though her injury flared up during the semi finals, she persevered on! And I always feel fired up whenever I watched Clarence Chew play. He always has the burning passion whenever he plays. He would always "cho" whenever he wins a point and that would make me feel pumped up. He has the never-give-up mentality."
Echoing his sentiments is 15 year old TeamSG paddler, Ser Lin Qian :
"After watching all 4 of them play at the Tokyo Olympics, I feel very motivated. This was a a golden opportunity to be able to watch them play at such high level. It was very impressive. They showed great fighting spirit and i definitely look up to them. I was really heartened to see Yu Mengyu continuing to fight in spite of her injuries. As an athlete, I should learn to be as resilient and determined as her."
Mr Zhou (Father of Zhou Jingyi) in relation to his daughter's involvement with the One Day Campaign said, " As parents, we feel very happy to see her enjoying herself and grateful at the same time, for the opportunity given to her. And we hope that one day, she can represent Singapore in the Olympics too and hopefully, win a podium finish for Singapore."
Mdm Quek (Izaac's Mother) shared similar sentiments saying, " We feel honoured that Izaac is part of the Team Singapore family. We are inspired and heartened that Singaporeans come together and emerging strong as a nation. Majulah Singapura! And we hope ONE DAY, he would bring sporting glory to Singapore in major international Games."
Summing up the significance of National Day, Izaac Quek said, "It has a pretty deep meaning to me because this year - the Tokyo Olympics managed to commence despite the ongoing pandemic. I feel very inspired and proud of the many athletes who are representing Singapore in the Olympics. And at the same time, it is really heart-warming to see the whole of Singapore come together to cheer these athletes on through different ways, as we cannot be present physically. Hence, this 56th National Day feels quite special to me because through all these events, I have an even greater sense of belonging to Singapore."
Catch the latest One Day Campaign video by clicking
here
HAPPY 56TH BIRTHDAY, SINGAPORE :)
The 32nd edition of the Olympic Games is from 23 July to 8 Aug 2021. For all coverage and news of the Republic's national athletes who're competing at the Games, check out the official
Team Singapore Tokyo 2020
website.
Remember to also Show your support for Team Singapore at the Olympic Games!
Team Singapore athletes have worked tirelessly over the last 12-20 months, especially under strict safety management measures to train and prepare. They've had to step up, pivot and adopt new and innovative methods to train especially with their preparations confined to the Lion City. With no international competitions or training stints, these athletes have had to adopt and maintain a positive mindset as well, throughout this entire journey to reach the grandest stage in Sport!
Simply click here to pledge a few words of encouragement and send positive vibes, as our TeamSG athletes continue to fly the national flag proudly in Tokyo.
Raj Kumar's been in Singapore's sports reporting and broadcasting scene since 1997. He was the former Sports Editor and Presenter on Power 98FM (SAFRA Radio) and 938LIVE (Mediacorp Radio). Over the years, he travelled to report on Team Singapore at the 2008 Beijing Olympics and 2012 London Olympiad, including 4 SEA Games cities. As a familiar voice and face on Radio, TV and online sports, he has produced and hosted more than 650 talkshows and programmes.
Recent Events & Programmes