NSG B Div Boys' Table Tennis: Victoria Sch are 2-for-2 with 5-0 win over Pasir Ris Crest!
by Circle Stories, on April 7, 2021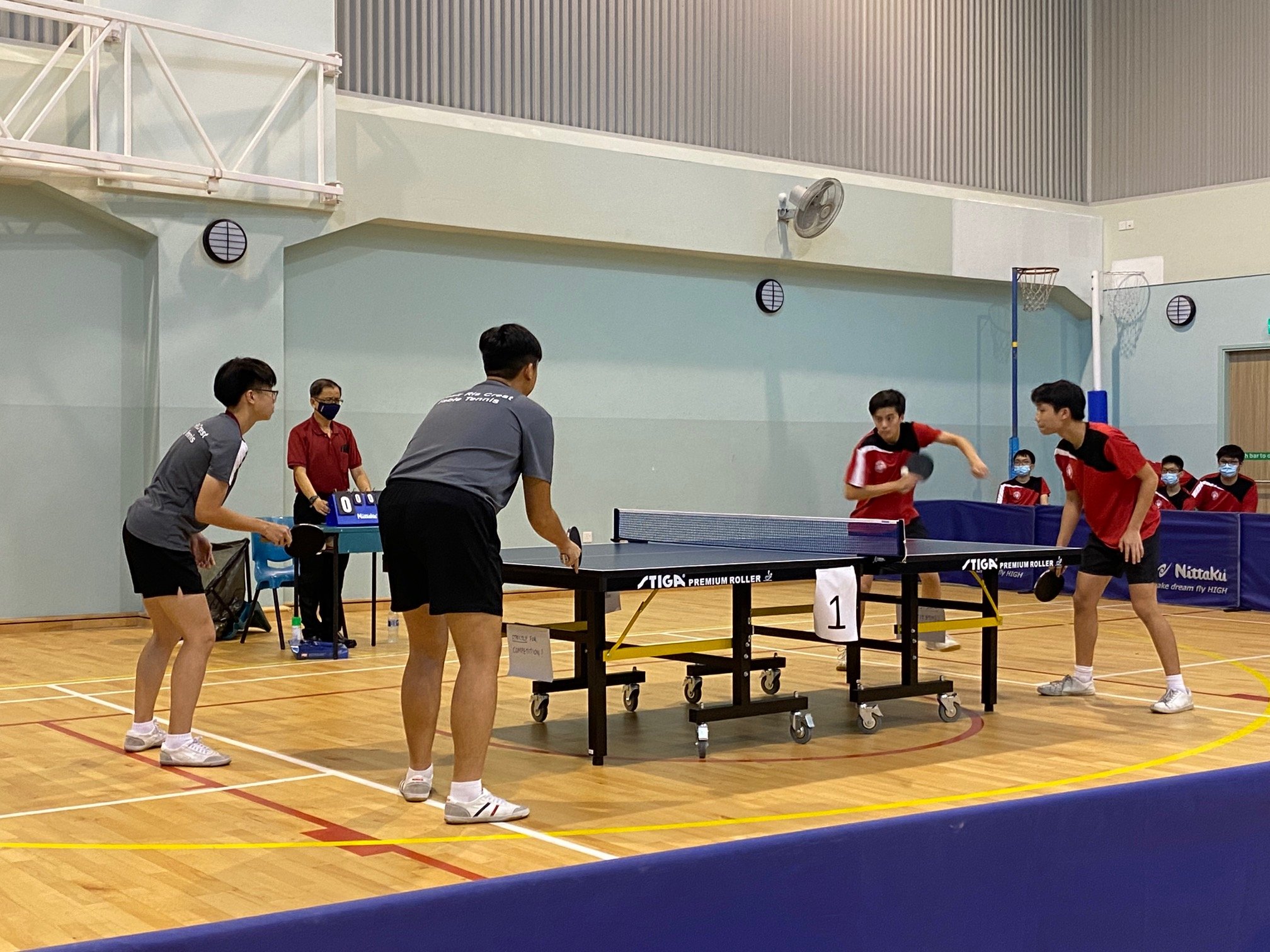 (Photo by Chia Han Keong)
By Chia Han Keong
So far, so good. Victoria School recorded their second 5-0 win in as many matches in the National School Games (NSG) B Division Boys' table tennis competition, maintaining their ambition to win the division title this year.
At Loyang View Secondary School on Wednesday (7 April), the paddlers defeated their counterparts from Pasir Ris Crest Secondary School in Group A of the preliminary stage, adding to their previous win over Geylang Methodist Secondary School.
(For the latest schedules on live streams, news updates and stories, do check out our official website, National School Games 2021)
The Victorians will next play Manjusri Secondary School, before finishing their group against possibly their toughest opponents, Chung Cheng High School. Should they advance from the group stage, the matches are set to get much tougher, as they attempt to break Raffles Institution's long-time stranglehold on the division title.
Second doubles player Jordan Pang said he and his teammates had executed their game plans well against Pasir Ris Crest, but added that there is always room for more improvement and polishing up of their skills ahead of their next matches.
(Interview with Jordan by Chia Han Keong)
Indeed, while both schools' representatives are evenly-matched skillswise, Victoria paddlers displayed better poise throughout their matches, and were rarely rattled during key points.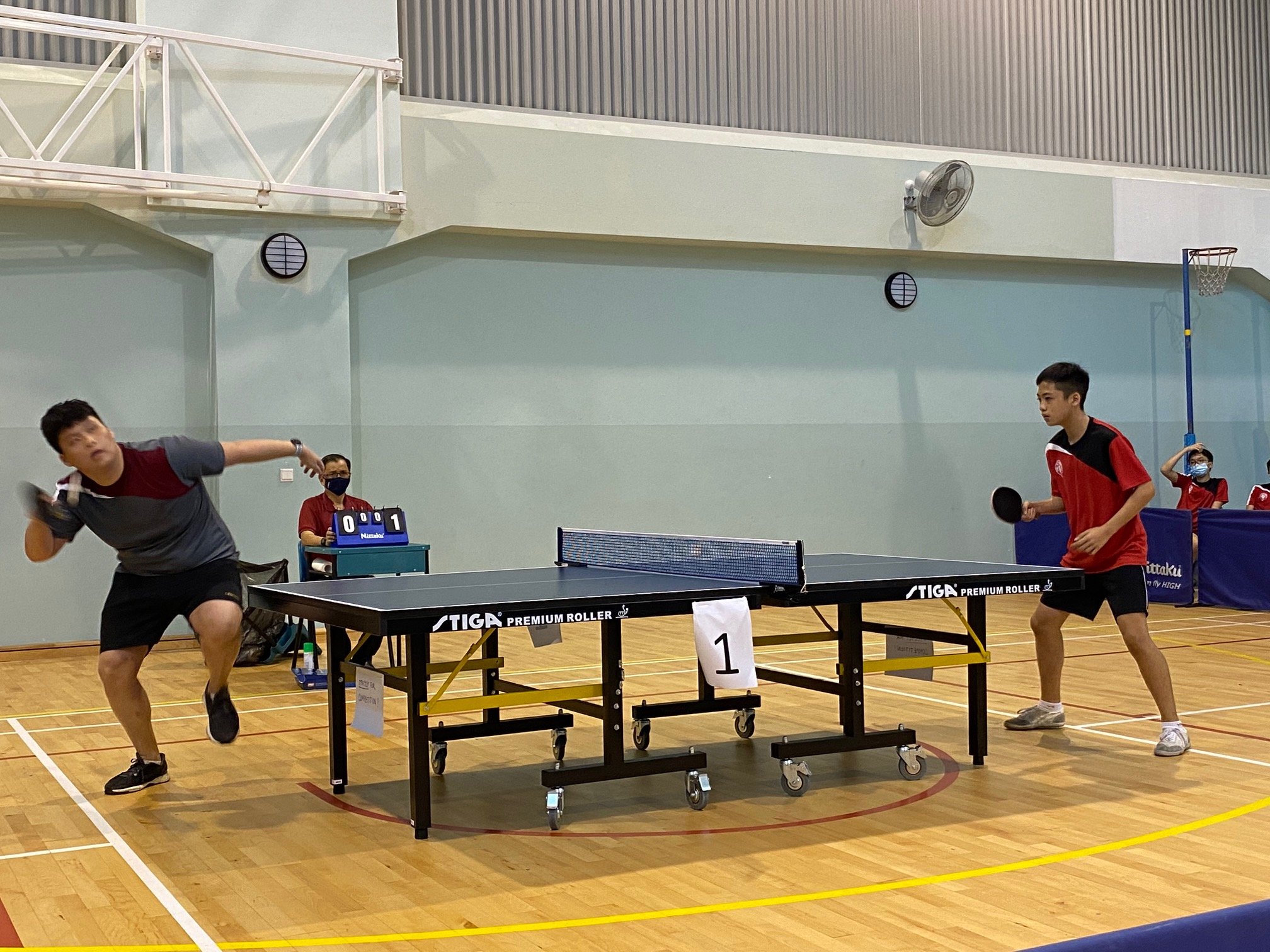 (Photo Credit : Chia Han Keong)
The first singles tie saw Victoria's Brian Tan taking on Pasir Ris Crest's Jaydon Choy, and while Jaydon battled hard, Brian emerged a comfortable winner in three games, 11-8, 11-5, 11-5.
Any hopes of Pasir Ris Crest putting some pressure on Victoria by winning the first doubles match were quickly dispelled, as the Victoria duo of Juin Yong and Daryl Tan quickly ran out winners over Pasir Ris Crest's Muhammad Firdaus Fadzil and Joseph Teo, also in three games, 11-3, 11-3, 11-5.
With Victoria leading the series 2-0, Pasir Ris Crest's Stanley Leo was tasked to stop Victoria's Ng Kawei from gaining the winning point in the second singles tie.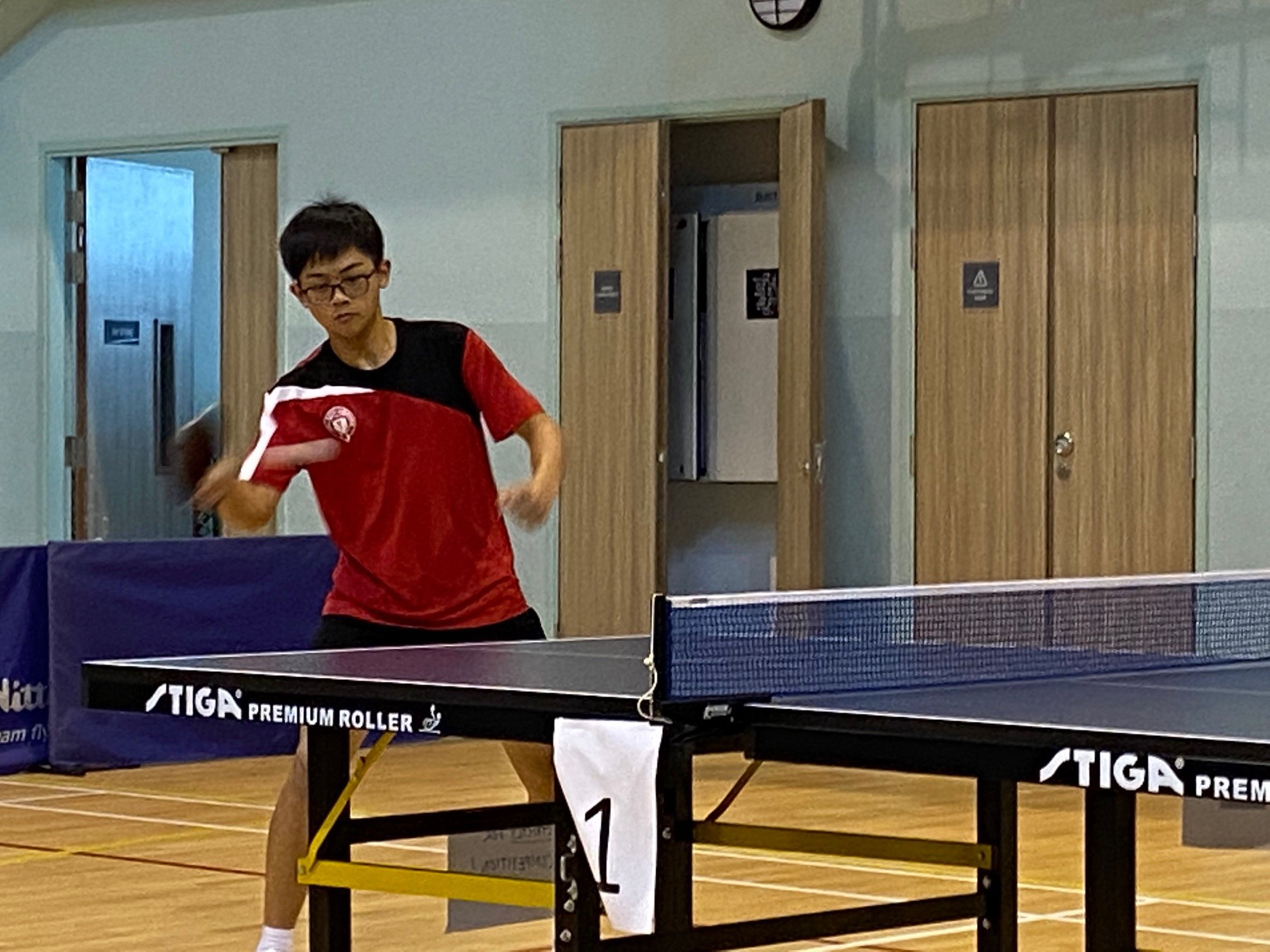 (Photo of Kawei by Chia Han Keong)
And this match was easily the most competitive among the five ties. Both players displayed tenacity and verve in several key rallies that had their respective teammates clapping raucously in support.
Kawei took the first game 11-6, with Stanley disputing the umpire's call with the score tied at 6-6 and subsequently losing momentum. However, the Pasir Ris Crest student roared back in the second game, this time showing cool nerves with the score tied at 9-9 to win the next two points and take the game 11-9.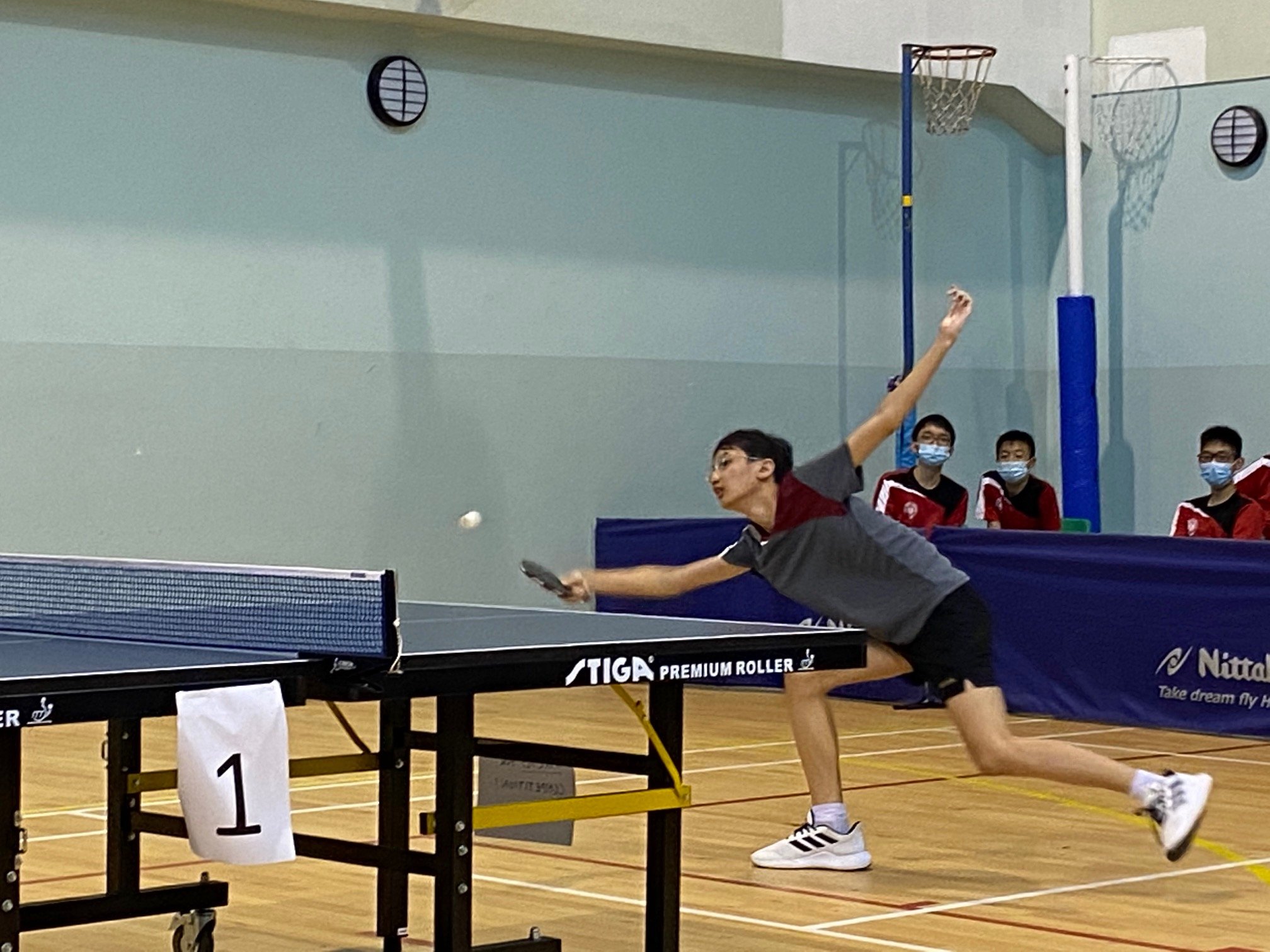 (Photo of Pasir Ris Crest's Stanley Leo by Chia Han Keong)
However, any hopes of Pasir Ris Crest mounting an unlikely comeback were quashed by the unflappable Kawei, who took care of business by winning the next two games 11-4 and 11-7, thereby clinching the series' winning point for Victoria.
As this was the preliminary stage where scorelines count in the group standings, both sides continued to play their two dead rubbers, the second doubles and third singles.
In the second doubles, Jordan and Reuben Yap had little trouble defeating Pasir Ris Crest's Fabian Tan and Darren Soh in straight games, 11-7, 11-8, 11-4.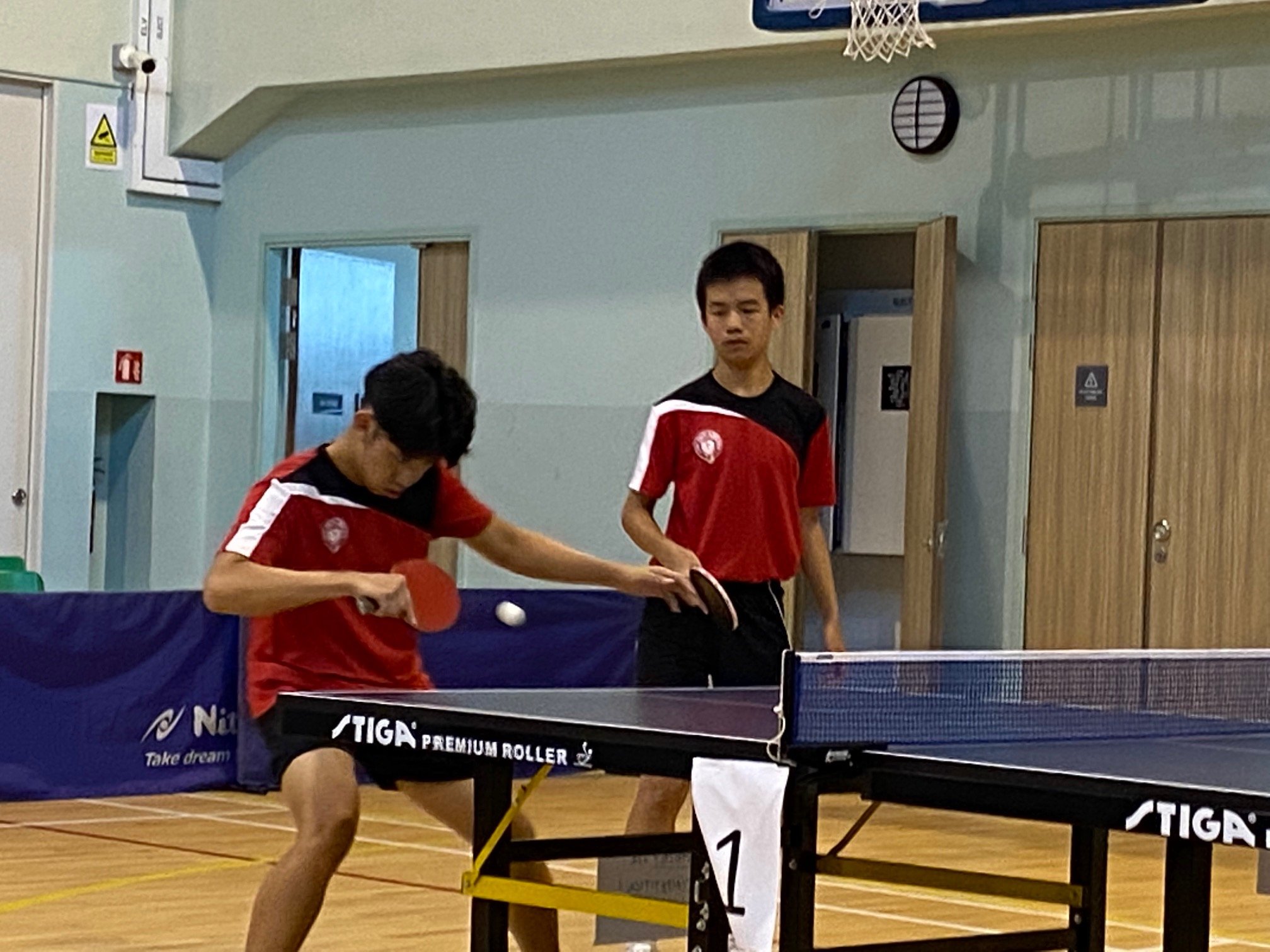 (Photo of Jordan and Reuben Yap by Chia Han Keong)
The third singles match saw Victoria's Christian Lam battle it out with Pasir Ris Crest's Loh Zi Xian, with the former clinching the 5-0 victory, after emerging the winner after four games, 11-2, 9-11, 11-5, 11-5.
Speaking after his match, Zi Xian said that he and his teammates found it tough going against Victoria, and some of them were quite nervous during the matches. Nonetheless, it was a valuable experience for them, and Zi Xian hopes they can become more consistent in their shot-making.
(Interview with Loh Zi Xian by Chia Han Keong)
This year's NSG, which started on 29 March and ends on 27 May, features 12 sports across the secondary-school A and B divisions, as well as the primary-school Senior division.
Chia Han Keong is a freelance journalist who has covered both Singapore and international sports extensively for the past 18 years. He was the sports editor of bilingual tabloid My Paper, and has also worked for The Straits Times and Yahoo News Singapore. He has covered four SEA Games (2009, 2011, 2013, 2019), two Asian Games (2010, 2014) as well as the 2008 Beijing Summer Olympics. He counts himself as a massive Liverpool, LA Lakers and Rafael Nadal fan.
Related Events & Programmes