NSG Table Tennis : Kong Hwa School's paddlers display grit to retain championship title!
by Circle Stories, on April 28, 2021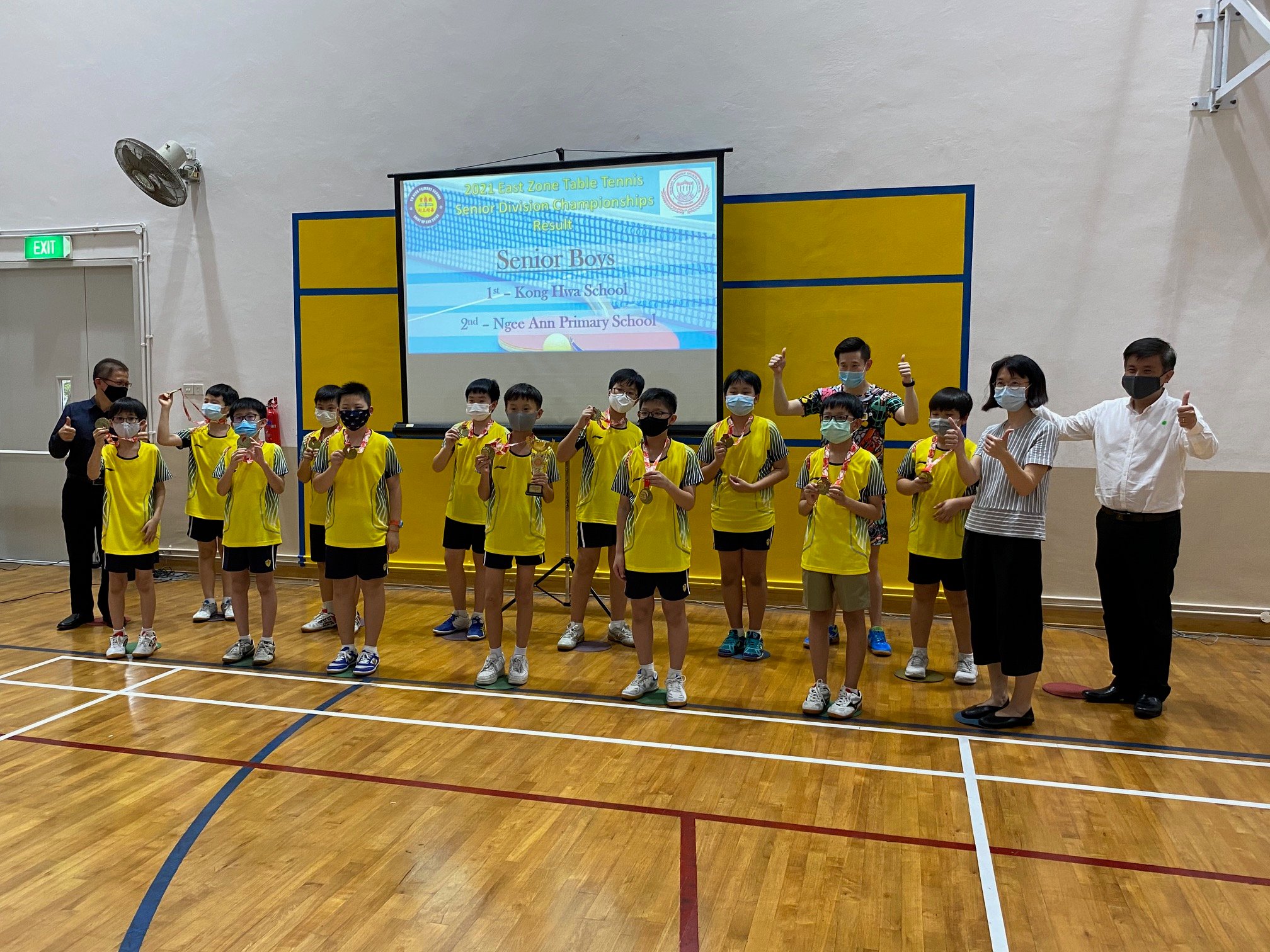 (Photo of Kong Hwa School by Chia Han Keong)
By Chia Han Keong
The two finalists of the National Sports Games (NSG) East Zone Senior Division boys' table tennis competition had already faced each other in the preliminary group stage just a week ago. Back then, Ngee Ann Primary School had narrowly beaten Kong Hwa School 3-2.
In the final at Yu Neng Primary School on Thursday (29 April) however, the Kong Hwaians turned the tables on their rivals, with their paddlers putting in top-notch performances as they emerged 3-1 winners to clinch the coveted East Zone title.
Their coach credited the players for making full use of the week-long gap between their two clashes with Ngee Ann to hone their match sharpness, with each of the players being able to perform at their best during the crucial points in their matches.
Kong Hwa's second doubles pair Wang Zelin and Nathen Teo, who clinched the all-important match for their final victory, spoke about how they responded from their recent defeat by Ngee Ann, and worked hard to earn this sweet victory.
(For the latest schedules on live streams, news updates and stories, do check out our official website, National School Games 2021)
(Interview with Wang Zelin and Nathen Teo by Chia Han Keong)
Kong Hwa School had to earn their final ticket the hard way -- being the second-place team in their preliminary group, meant they faced the top team of the other group, Elias Park Primary School, in the semi-finals. Yet they proved their mettle by winning that tie 3-1 on Tuesday to reach the final, where Ngee Ann awaited, after they defeated Red Swastika School 3-0.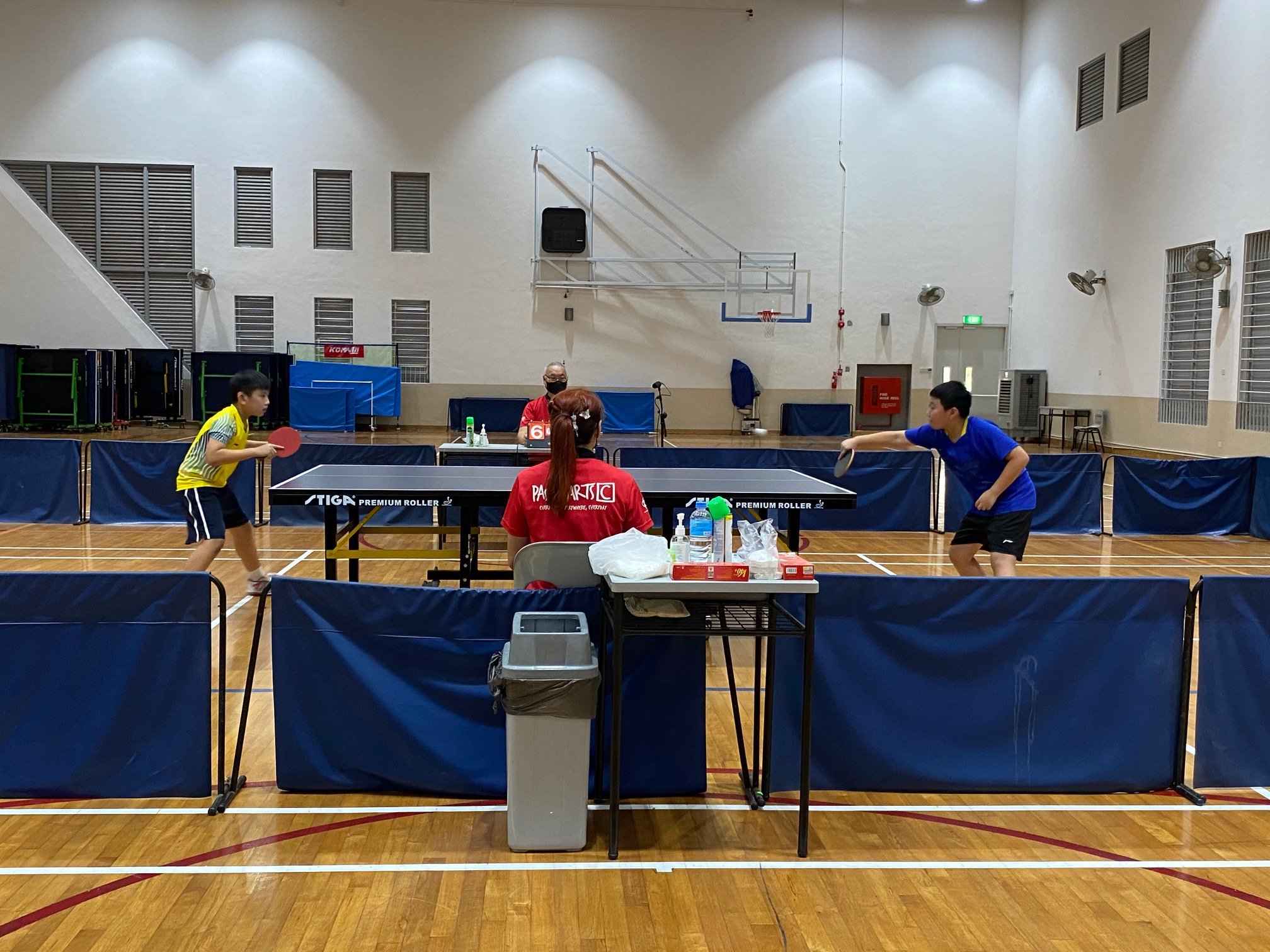 (Photo of 1st Singles match by Chia Han Keong)
The first singles match saw Kong Hwa's Ang Ray Tze coming up against Ngee Ann's Chong Phok Kai, and it was a crucial tie that set the tone for the rest of the final.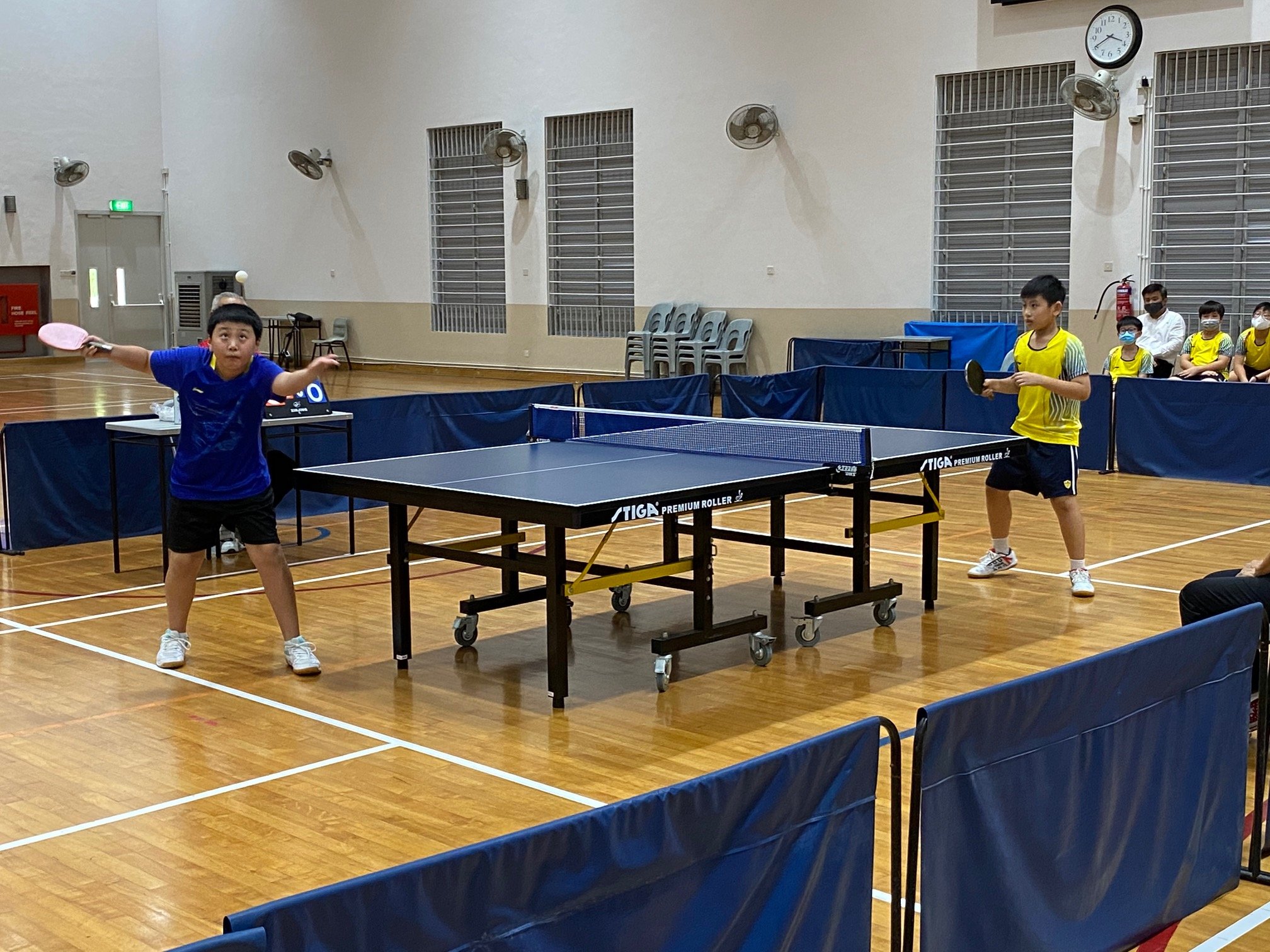 (Photo of 1st Singles match by Chia Han Keong)
Phok Kai raced out of the blocks to claim the first two games 11-8, 11-9, but was suddenly put on the back foot as Ray Tze upped his game in the third. The Kong Hwa player was patient while his opponent rushed his shots and took the next two games 11-5, 11-9.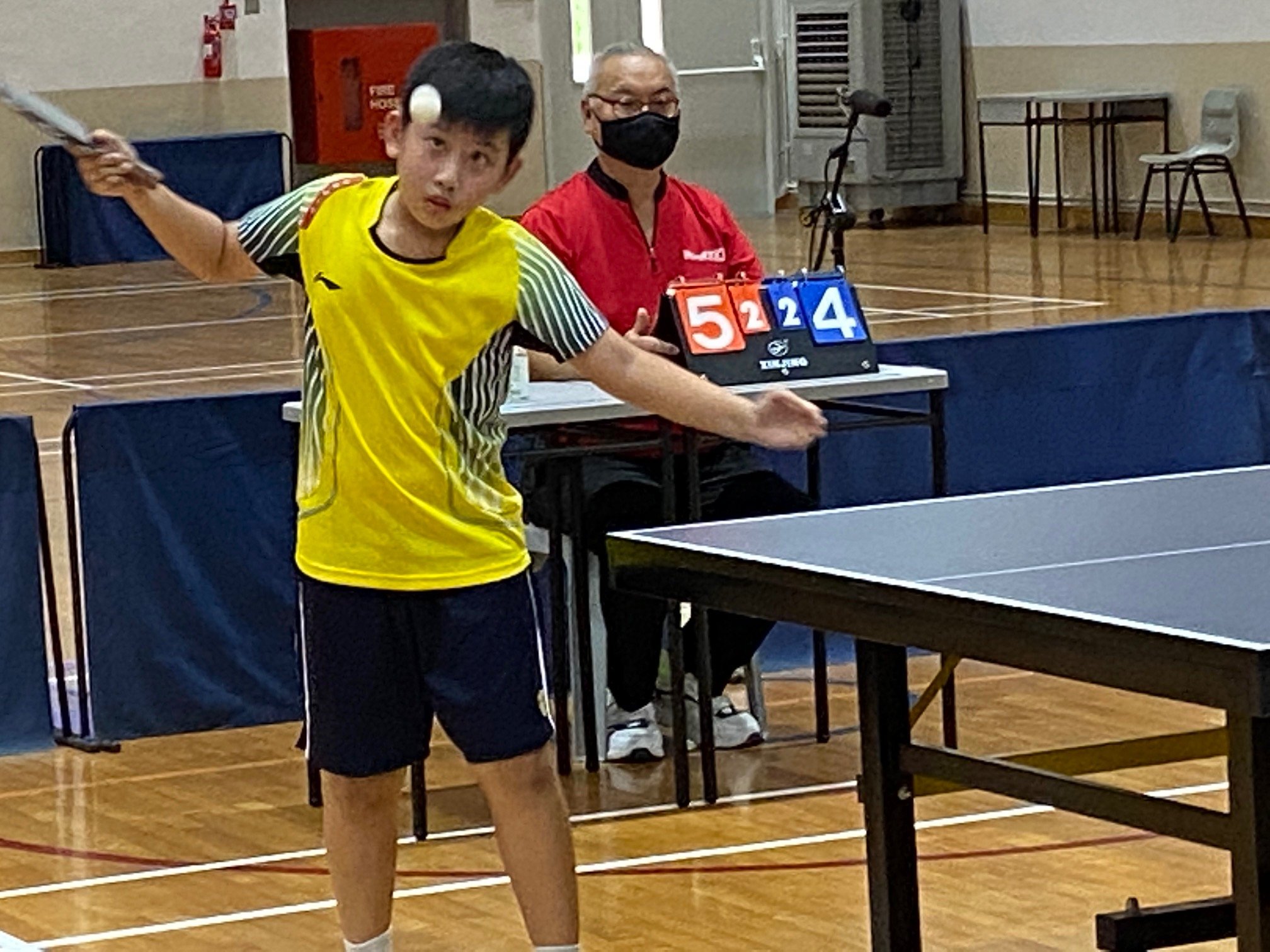 (Photo of Ray Tze by Chia Han Keong)
The decisive fifth game was a tight affair until the end, and Ray Tze was able to control the crucial points to clinch the game 11-8 and earn the precious opening point for Kong Hwa. A despondent Phok Kai buried his head in his towel after his agonising loss, while Ray Tze beamed at his teammates as they applauded his superb come-from-behind victory.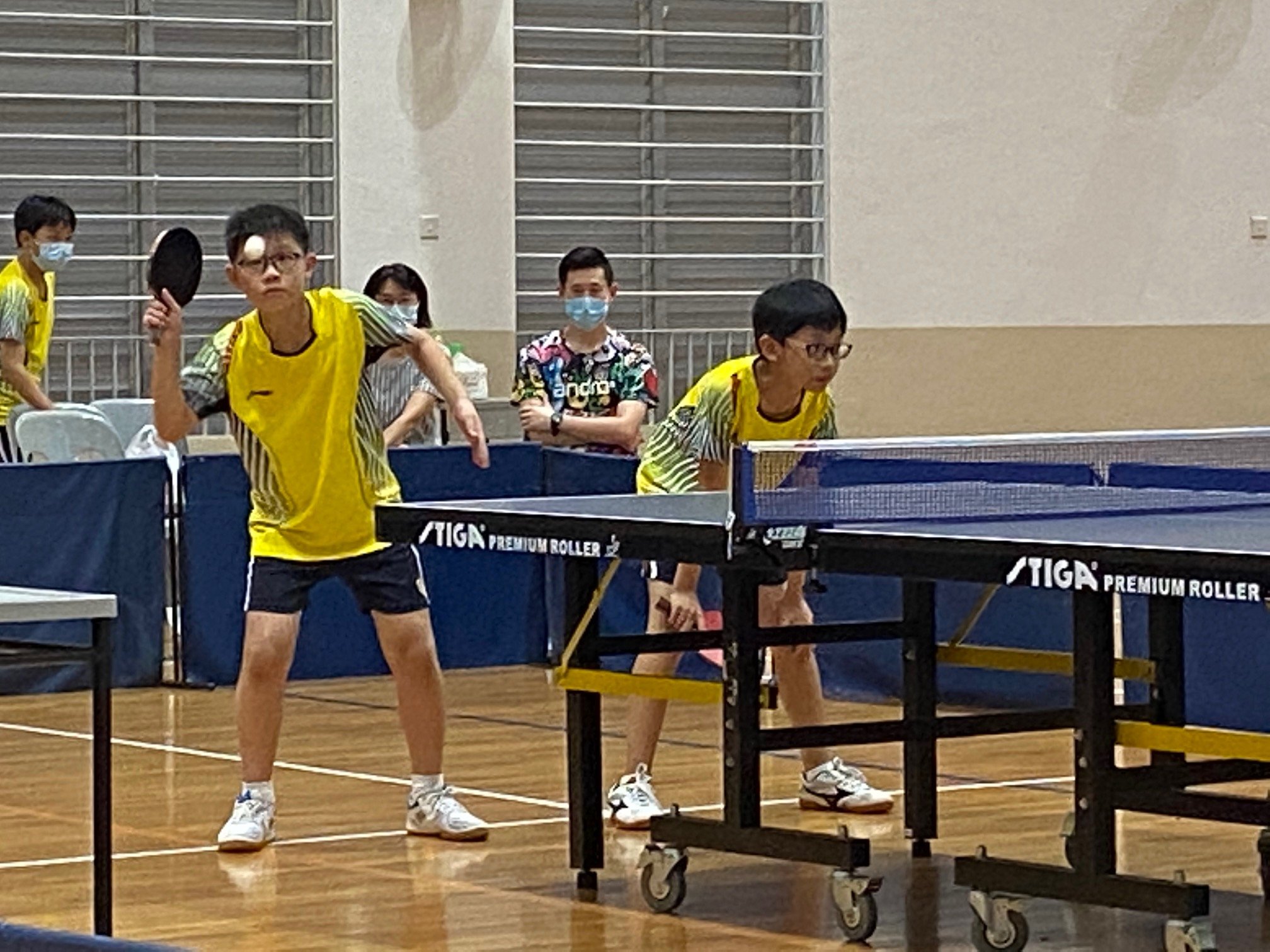 (Photo of Kong Hwa's Lee Rong Xuan and Lim Kai Ler by Chia Han Keong)
Buoyed by that opening win, Kong Hwa's first doubles pair of Lee Rong Xuan and Lim Kai Ler took to the court eager to pile the pressure on Ngee Ann with another win for a 2-0 series lead.
Against Ngee Ann's Ryan Koh and Caleb Quek, it was another tight tussle for supremacy. However, just like Ray Tze, the Kong Hwa duo earned the crucial points to frustrate their opponents, eventually wearing them down to win the tie 12-10, 11-8, 9-11, 11-4.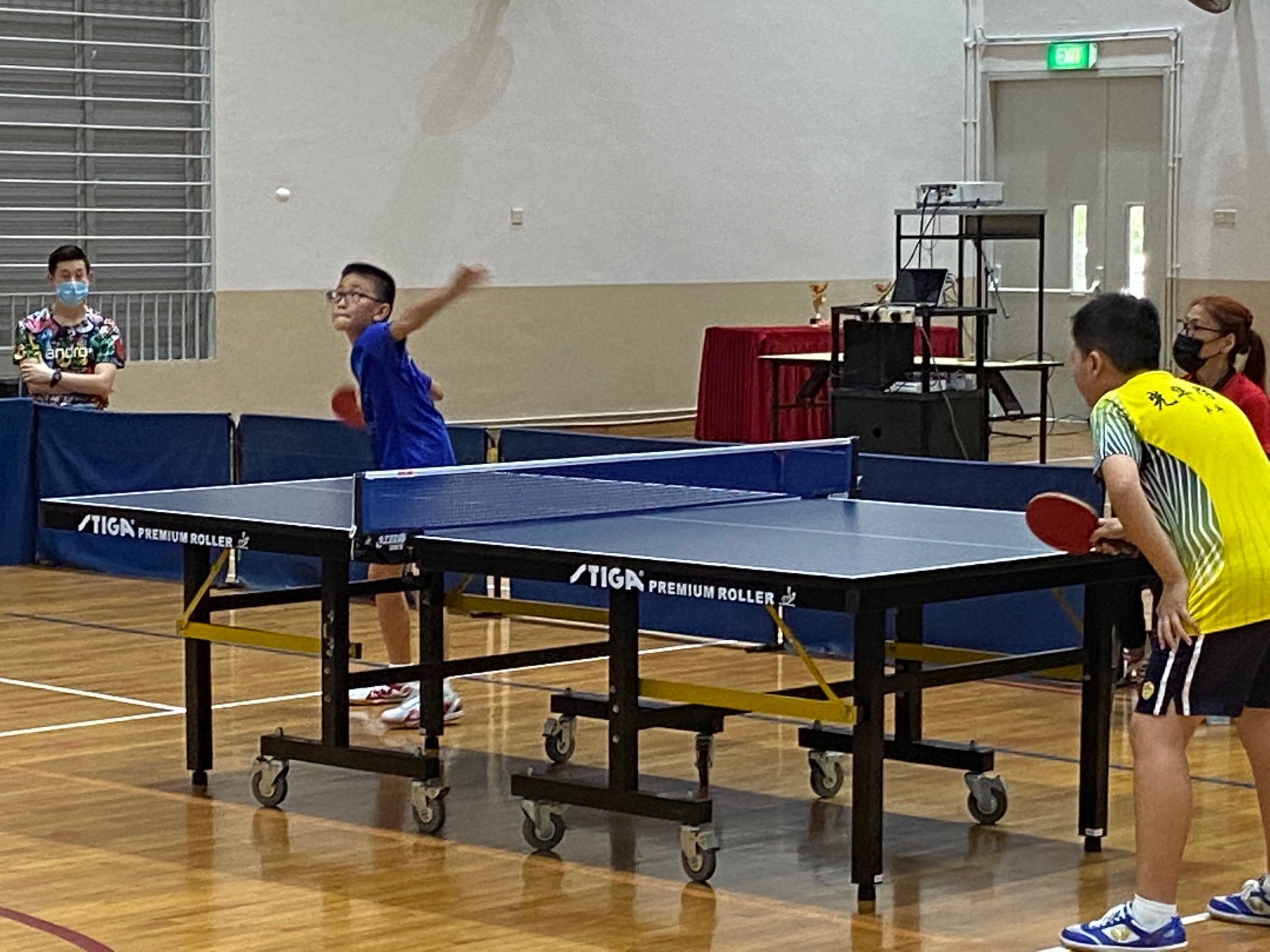 (Photo of 2nd Singles by Chia Han Keong)
Trailing 0-2, Ngee Ann refused to give up, as their second singles player Heng Yeow Leng received last-minute instructions from his coach before entering the playing court to face Kong Hwa's Daniel Zhao. And Yeow Leng played an aggressive game, always looking for the smash and putting his opponent under constant pressure. It was good enough to earn an 11-7, 13-11, 11-8 victory and give Ngee Ann a lifeline in the final, closing the series gap to 1-2.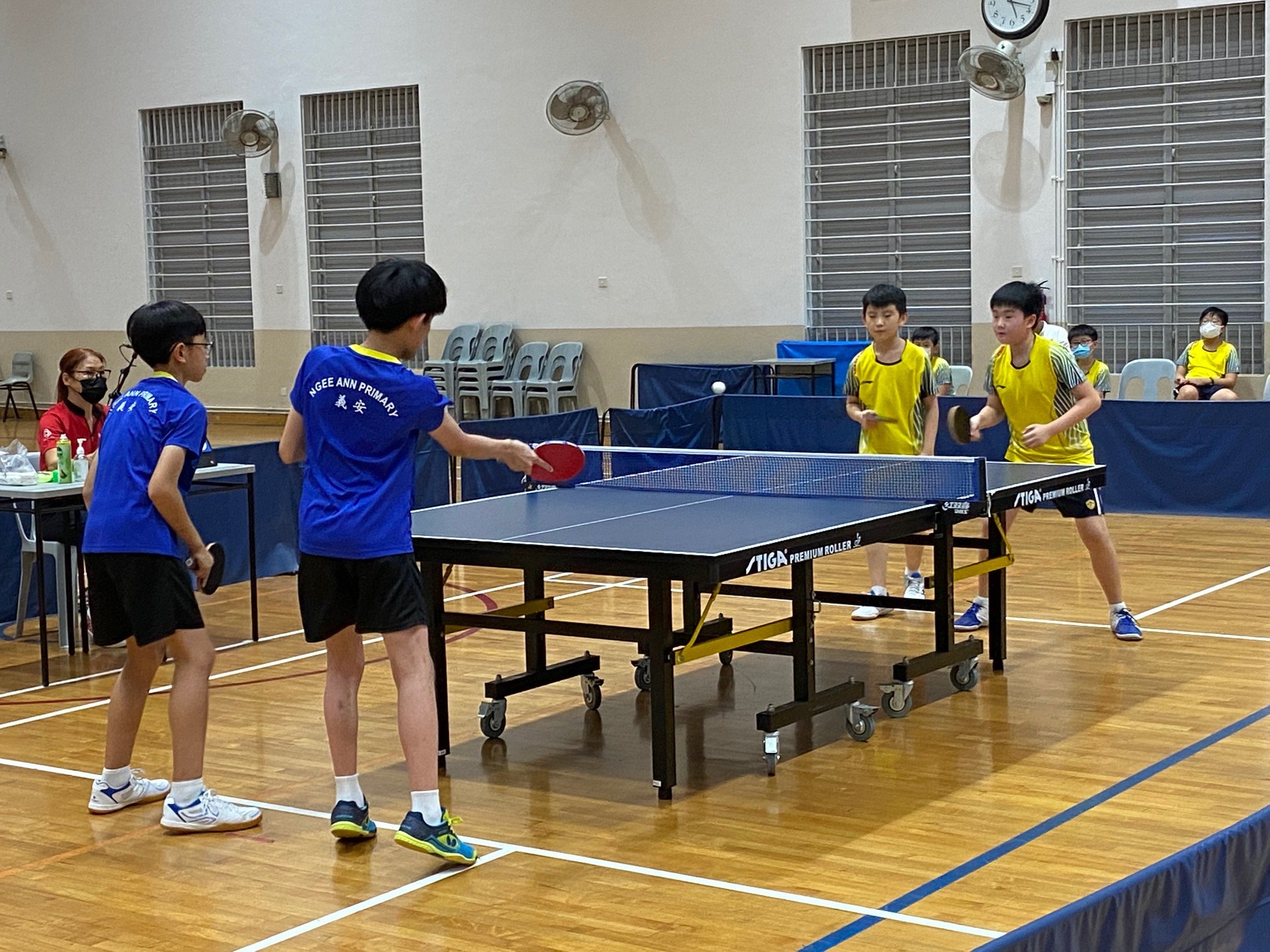 (Photo of the 2nd Doubles by Chia Han Keong)
Could Ngee Ann's Zachary Goh and Chen Zhiqi send the final into a winner-takes-all third singles by emerging victorious in the second doubles? Kong Hwa's Nathen and Zelin stood in their way, and they proved far too strong for the Ngee Ann pair, sweeping to an 11-7, 11-5, 11-4 win to clinch an extra-sweet East Zone title triumph. Yesterday's victory was their 2nd straight Senior Division title, after having also won the Zonal showcase Finale in 2019!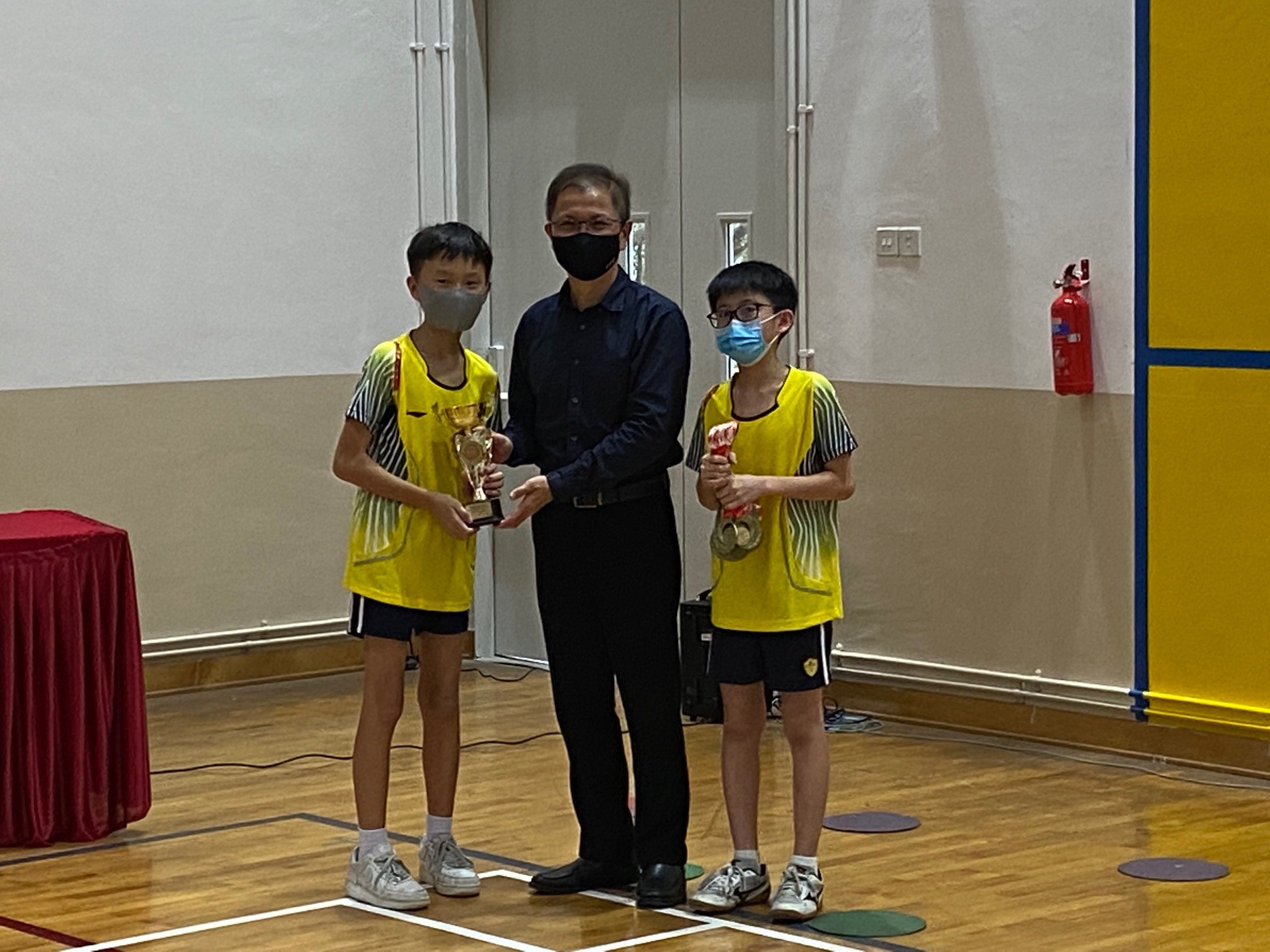 Photo of Mr Ng Yeow Ling (Principal, Yu Neng Primary School) and Kong Hwa players, by Chia Han Keong
Chia Han Keong is a freelance journalist who has covered both Singapore and international sports extensively for the past 18 years. He was the sports editor of bilingual tabloid My Paper, and has also worked for The Straits Times and Yahoo News Singapore. He has covered four SEA Games (2009, 2011, 2013, 2019), two Asian Games (2010, 2014) as well as the 2008 Beijing Summer Olympics. He counts himself as a massive Liverpool, LA Lakers and Rafael Nadal fan.
Related Events & Programmes