Saudi Arabia's 3 late goals deny Singapore a commendable showing!
by Circle Stories, on June 11, 2021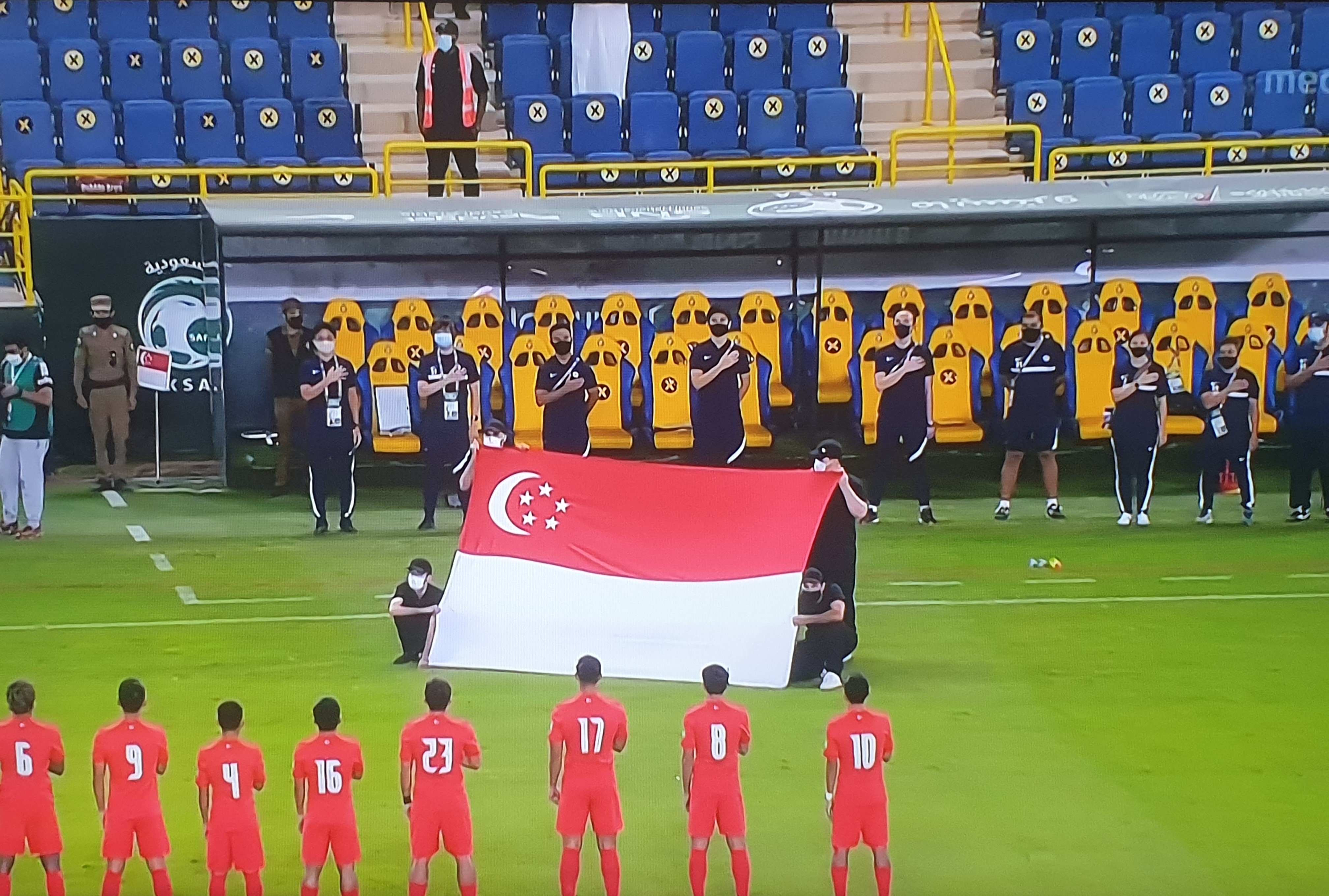 (Photo of Team Singapore before kickoff)
By Chia Han Keong
For 83 minutes, Singapore's national team looked as if they could produce an unlikely draw against Saudi Arabia - one of the giants of Asian football - on their opponents' home ground.
Yet, the Lions conceded not one, not two but three times in the remaining 12 minutes of the 2022 World Cup qualifying match in Riyadh on early Saturday (12 June). That made the eventual 0-3 loss seem a little cruel, after all the stellar defensive work earlier in the match.
The Republic's national head coach Tatsuma Yoshida would have been pleased to see the battling qualities of his side as they had to play their three qualifiers without the services of key players such as captain Hariss Harun, defender Safuwan Baharudin, striker Ikhsan Fandi -- and most recently left-back Shakir Hamzah, who left the team after the Uzbekistan loss due to personal family reasons. However, the Japanese would note that massive improvements would be necessary for the Lions to compete at this international level. While their defensive organisation was decent, far too often their offence fizzled out before they even reached the attacking third of the pitch, leaving them under constant pressure from their opponents.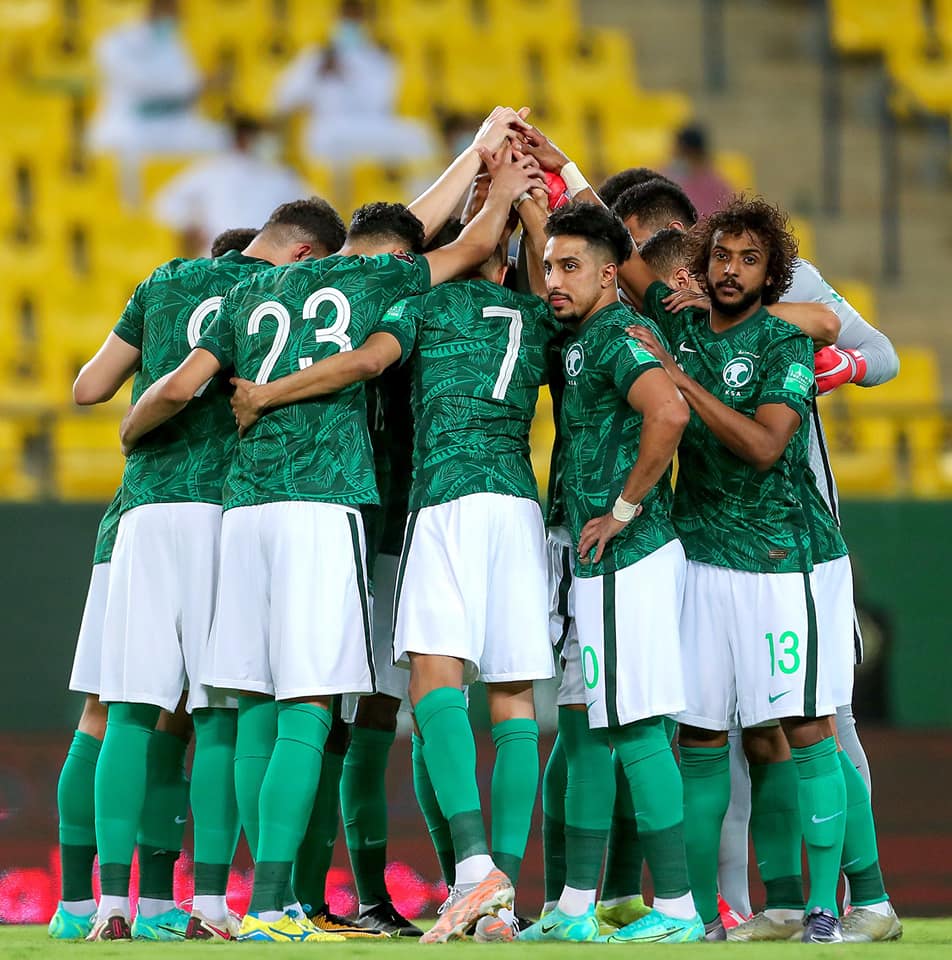 (Photo of Saudi Arabian Team)
Against Saudi Arabia, that constant pressure finally told on the exhausted Lions, who were playing their third match in nine days. The three late goals came amid tired and cramped legs as the defenders were constantly swamped by the Saudi forward line.
Yet, for long stretches of the match, it had seemed that the Lions - 159th in the Fifa rankings - could do the unthinkable against the 65th-ranked Saudis, who are three-time winners of the Asian Cup and five-time qualifiers for the World Cup Finals.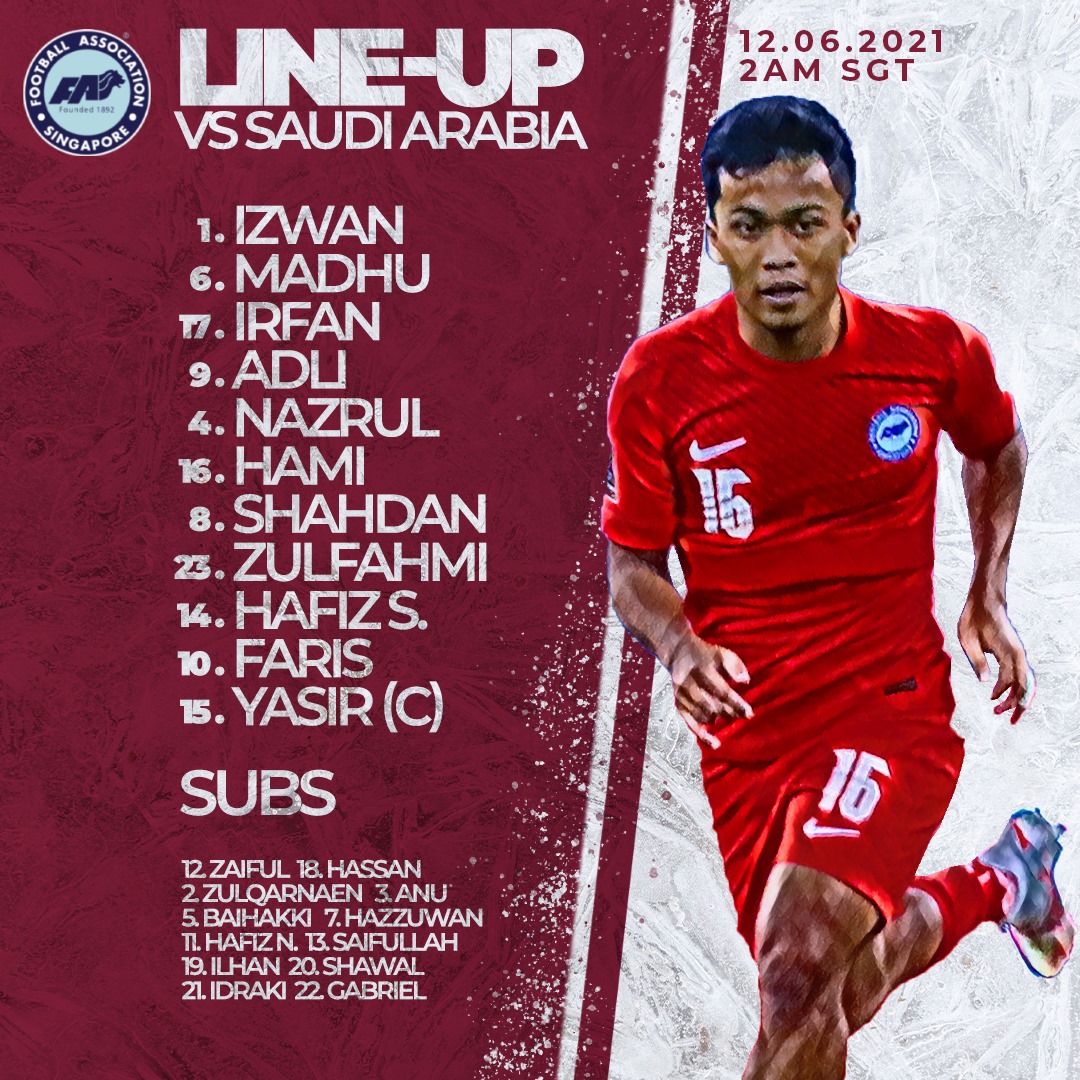 The Lions frustrated their opponents and the sizeable crowd at the King Saud University Stadium, staying composed and organised as the Saudis ran into hordes of Lions defenders hounding their every move. Yoshida again rang changes in the starting line-up after their exertions in the Uzbekistan loss four days ago, opting for Irfan Fandi, Amirul Adli and Hami Syahin in place of Shakir, Baihakki Khaizan and Hazzuwan Halim.
Unsurprisingly, they let the Green Falcons have the majority of possession in the first half. But while they could not stop the inspired Palestinians and Uzbeks in their previous games, TeamSG were comfortable against the Saudis as the hosts looked short of attacking ideas.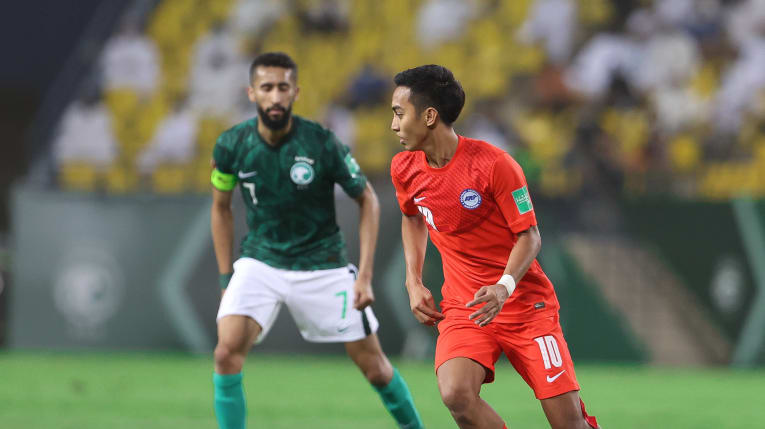 (Photo credit of Faris Ramli - Asian Football Confederation)
Defender Mohammed Khubrani did find the net in the 28th minute, but he was adjudged correctly to be offside when heading in from a corner. Meanwhile, Singapore's lone forward Faris Ramli almost produced a surprise goal a minute later, when his shot from the edge of the penalty area fizzled just wide of the right post.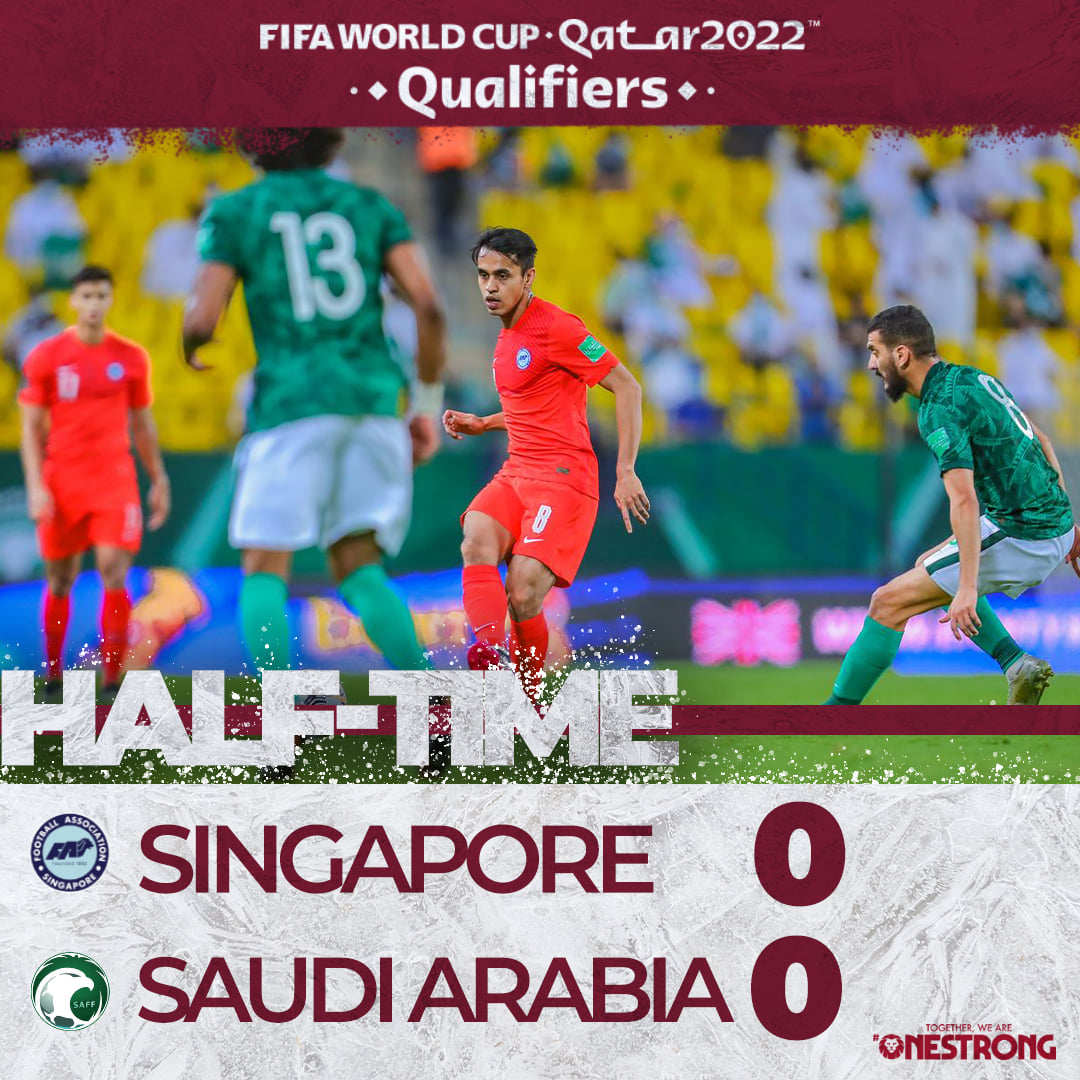 Saudi Arabia's French coach Herve Renard was visibly unhappy with his side's performance, and tried to change things around by bringing on Sami Alnaji and Saleh Al-Shehri for Ali Alasmari and Abdullah Al-Hamdan for the second half.
Al-Shehri immediately proved an inspired substitution, as he dribbled past the Lions defence before his shot was saved by goalkeeper Izwan Mahbud just two minutes into the half. He was a constant thorn among the Lions defenders with his speedy footwork and willingness to shoot.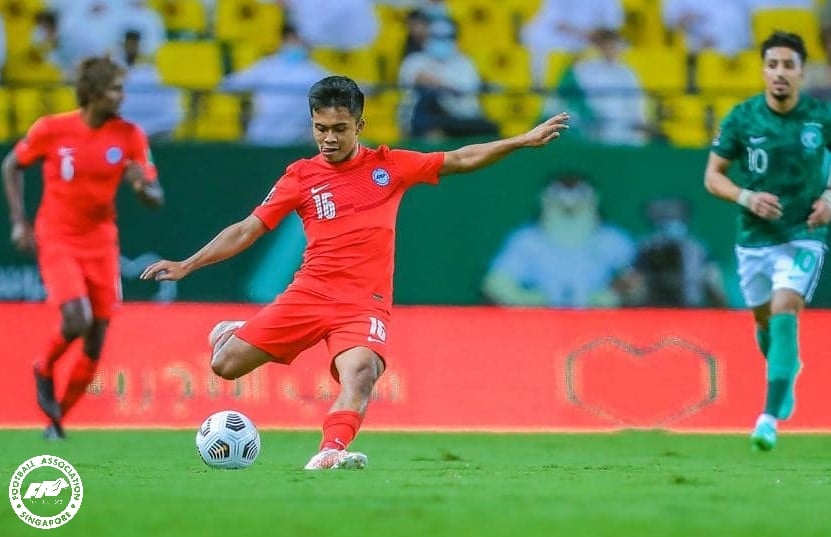 (Photo of Hami Syahin - Football Association of Singapore)
Singapore yet again, could have taken a shock lead against the run of play, as substitute Shawal Anuar's stinging shot from a tight angle hit the right post and bounced clear in the 72nd minute. By then, the match had descended into a series of niggly fouls and yellow cards, as the Saudis grew increasingly frustrated by their inability to break through.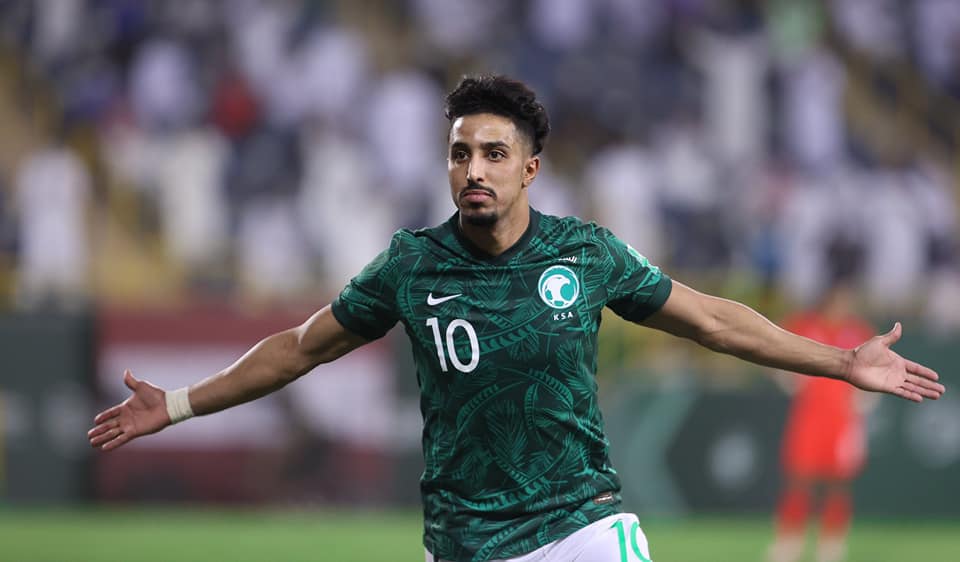 (Photo of Salem Al-Dawsari - Saudi Arabia FA Facebook Page)
Just when the hosts seemed to have run out of ideas, they finally breached the Lions defence in the 83rd minute. Captain Salman Al-Faraj slipped a clever pass to Al-Shehri just outside the box, and the substitute's shot came off the left post, only for Salem Al-Dawsari to ram home the rebound amid much glee and relief from the Saudi fans. The Lions defence was guilty of ball-watching and did not see the Number 10 racing through from outside the box and was virtually unmarked as all eyes were on Al-Shehri.
It was a demoralising blow to the gallant Lions, and they duly lost their focus to allow the Saudis to go 2-0 up just two minutes later. A weak back-pass by substitute Hafiz Nor to Amirul Adli in a dangerous area was intercepted by Fahad Al-Muwallad, who cut in from the right flank. And the Number 19 took on Singapore goalkeeper Izwan 1-on-1, by rounding him and slotted into an empty net. Coach Tatsuma quickly made a substitution that saw Baihakki Khaizan replace Madhu in the backline. And the appearance of the 37 year old veteran defender, is Bhai's 140th international match - making him just 2 caps shy of Singapore's all-time capped player, Daniel Bennett (142).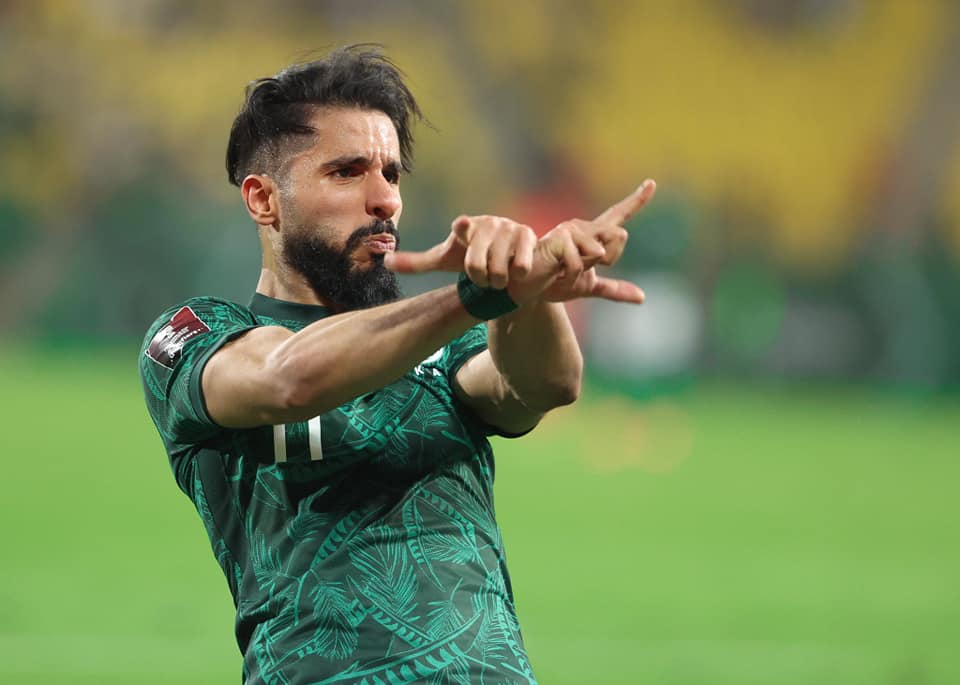 (Photo of Salem Al-Shehri - Saudi Arabia FA Facebook Page)
Then with virtually the last kick of the game in the 96th minute, the Saudis made the scoreline tough to swallow for Singapore with a third goal, as Al-Shehri got his reward for a superb showing. He slammed home from inside the box, after fine interplay from substitutes Mohamed Marzouq Al-Kawikbi and Saud Abdulhamid. And once again, Izwan was beaten at his near-post in this World Cup campaign.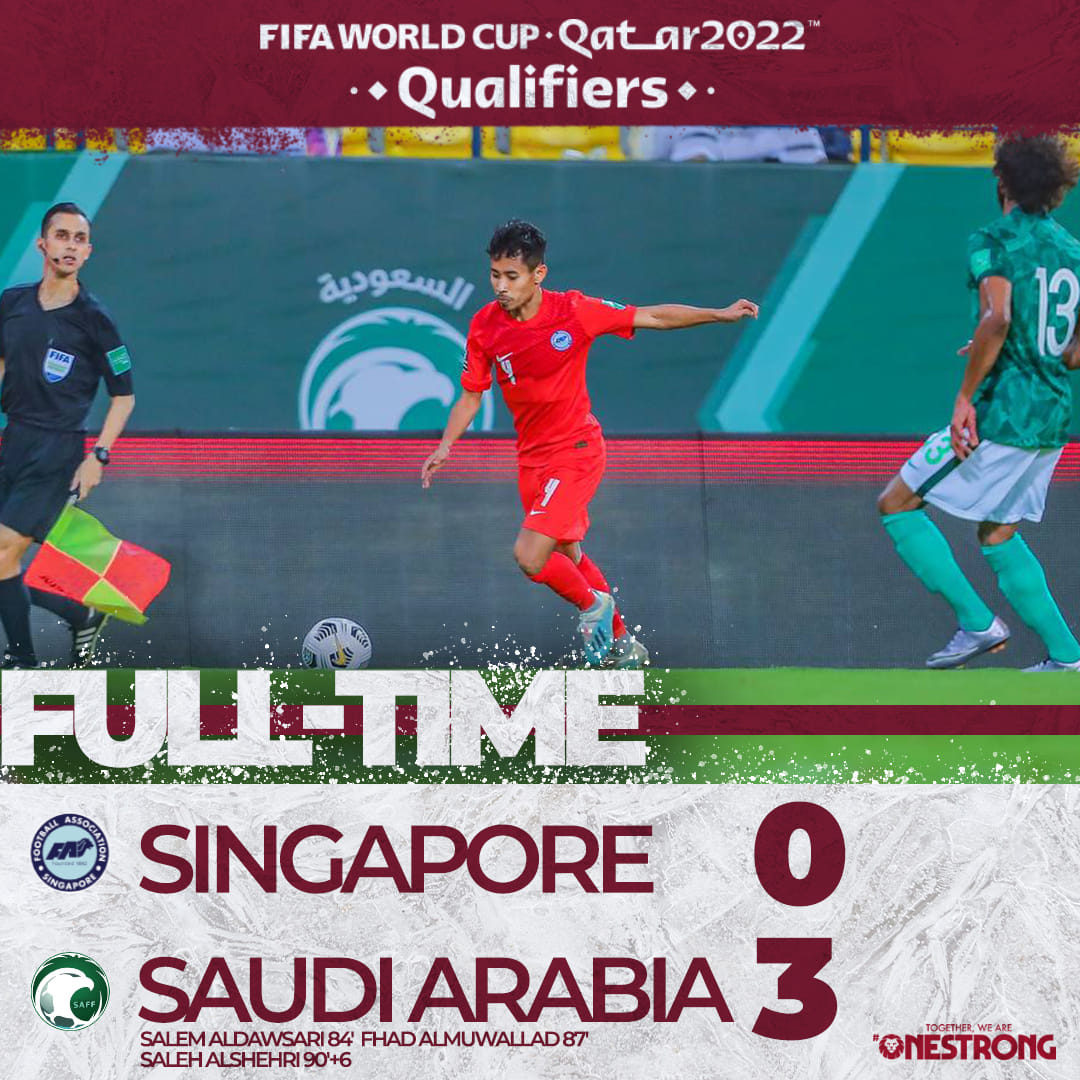 The bitter finale meant that Singapore had lost all their three World Cup qualifiers in Riyadh, after previous defeats by Palestine (0-4) and Uzbekistan (0-5). They completed their Group D fixtures with seven points from two wins, one draw and five defeats, and will not advance to the next stage of the Asian Zone qualifiers.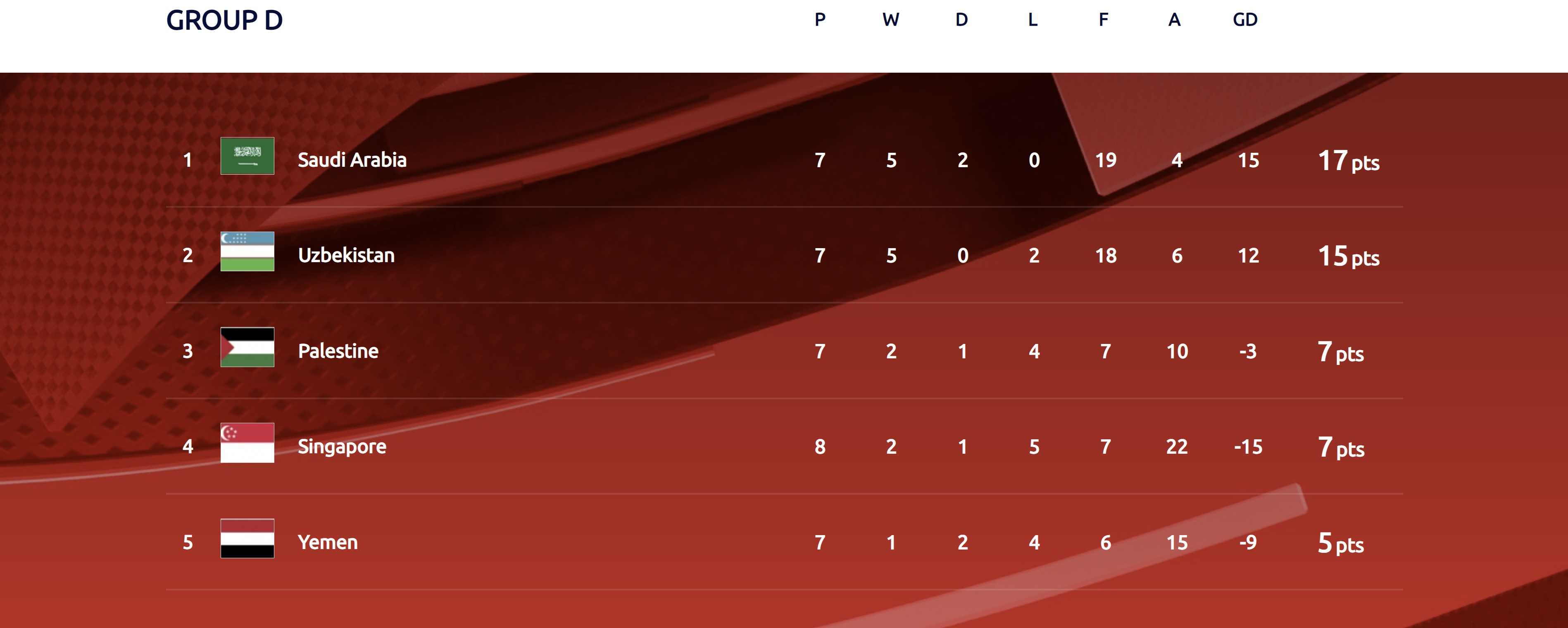 Coach Tatsuma admitted that the Lions still have to improve in order to compete at international level, but was pleased that they gave their all.
"In the previous two matches, our boys were not used to playing at (the intensity of) international level (again), but finally they got used to it (tonight)," he said. "They were not scared and tried to do something and fought together. But we can improve more, we are not enough (currently) and we have to understand that and know that we can do more. After we go back to Singapore, we have to keep on going with the same intention and intensity."
Captain Yasir Hanapi added: "It (the performance) shows that if we want to do it, we can do it; it is just that we can't deny that we need (to also put in) a lot more work. We put our bodies on the line, we fought, we competed with them and those are things I am very proud of."
It was a harsh lesson for the Lions, in what has been a tough nine days in Riyadh, and Yoshida will be left under no illusion the magnitude of his task to turn Singapore's fortunes around in future World Cup qualifiers.
Singapore: Izwan Mahbud (GK); Nazru Nazari, Irfan Fandi, Amirul Adli (Baihakki Khaizan 87th), Madhu Mohana, Hafiz Abu Sujad (Hafiz Nor 58th); Shahdan Sulaiman, Zulfahmi Arifin (M. Anumanthan 93rd), Hami Syahin, Yasir Hanapi (captain) (Shawal Anuar 58th); Faris Ramli (Saifullah Akbar 93rd).
Unused substitutes: Hassan Sunny (GK), Zaiful Nizam (GK), Zulqarnaen Suzliman, Idraki Adnan, Gabriel Quak, Hazzuwan Halim, Ilhan Fandi.
In other Asian World Cup qualifiers :
Australia defeated Nepal 3-0 while Kuwait and Jordan ended goal-less in Group B. Over in Group A, China thrashed Maldives 5-0 and the Iraqis edged out Hong Kong 1-0 in Group C.
Onto Group G, the UAE hammered Indonesia 5-0, as Vietnam triumphed 2-1 over Malaysia.
Additional reporting by Raj Kumar
Chia Han Keong is a freelance journalist who has covered both Singapore and international sports extensively for the past 18 years. He was the sports editor of bilingual tabloid My Paper, and has also worked for The Straits Times and Yahoo News Singapore. He has covered four SEA Games (2009, 2011, 2013, 2019), two Asian Games (2010, 2014) as well as the 2008 Beijing Summer Olympics. He counts himself as a massive Liverpool, LA Lakers and Rafael Nadal fan.ad