Shooting's debutants shine for TeamSG, contributing 5 of eight medals won in Hanoi!
by Circle Stories, on May 21, 2022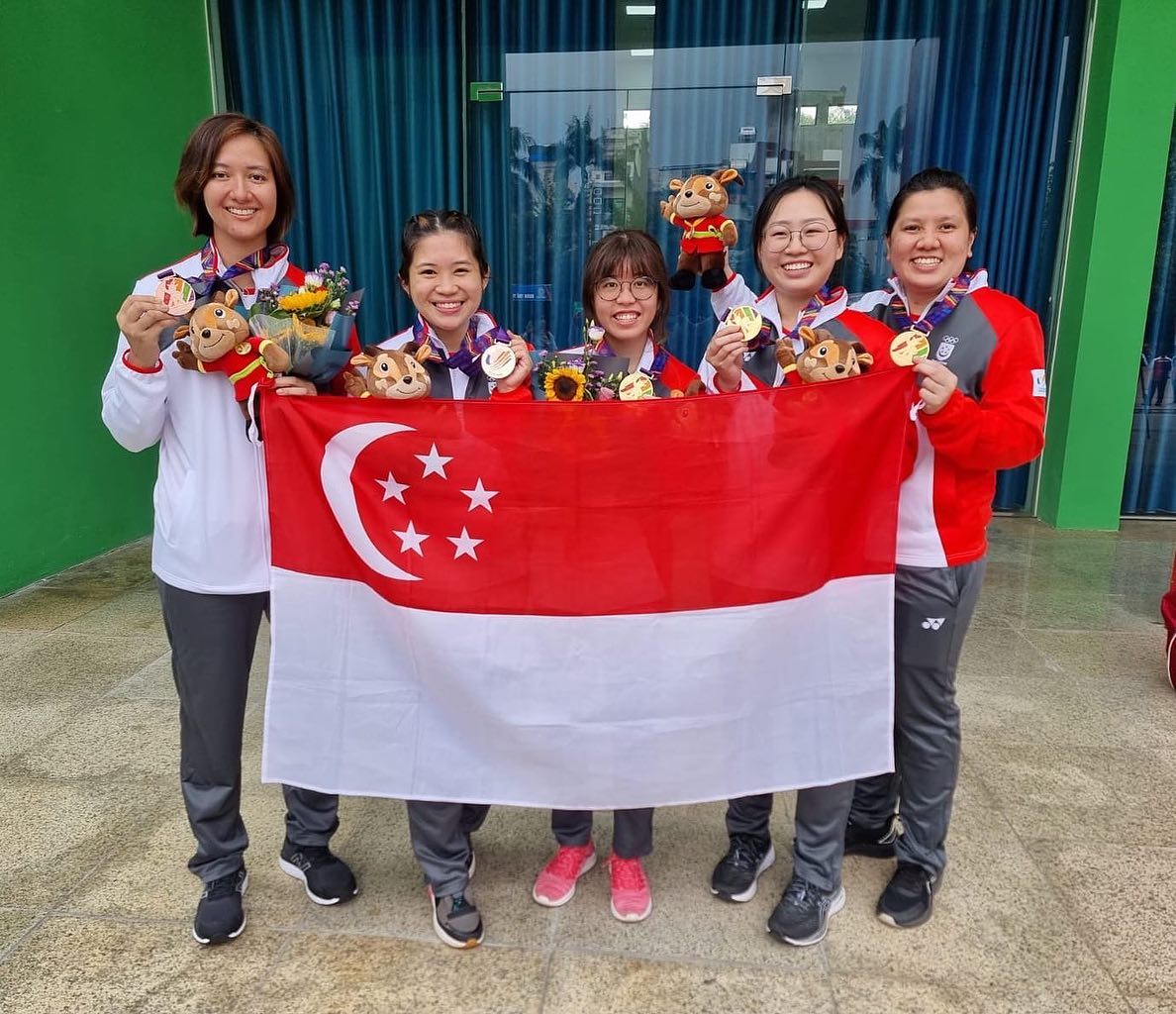 (Singapore's Women's shooters at the Hanoi SEA Games. Photo Credit : Singapore Shooting Association)
By May Chen

One thing that stood out about TeamSG's shooters competing at the 31st Southeast Asian (SEA) Games is the number of new faces: 10 out of the 21 are competing at the biennial Games for the first time.

It is the same quality that strikes one, when surveying the list of athletes that now go home with a medal around their necks. Out of the sport's haul of 2 gold, 3 silvers and 3 bronze medals as competition drew to a close on Sunday (May 22), debutants have contributed to five of these medals. It is an improvement over the one silver and four bronzes won at the last Games in 2019.

Notably, newcomers in the air rifle discipline this time round have put in a commendable performance to withstand the pressure cooker environment of a shooting final, while competing in any major competition for the first time in years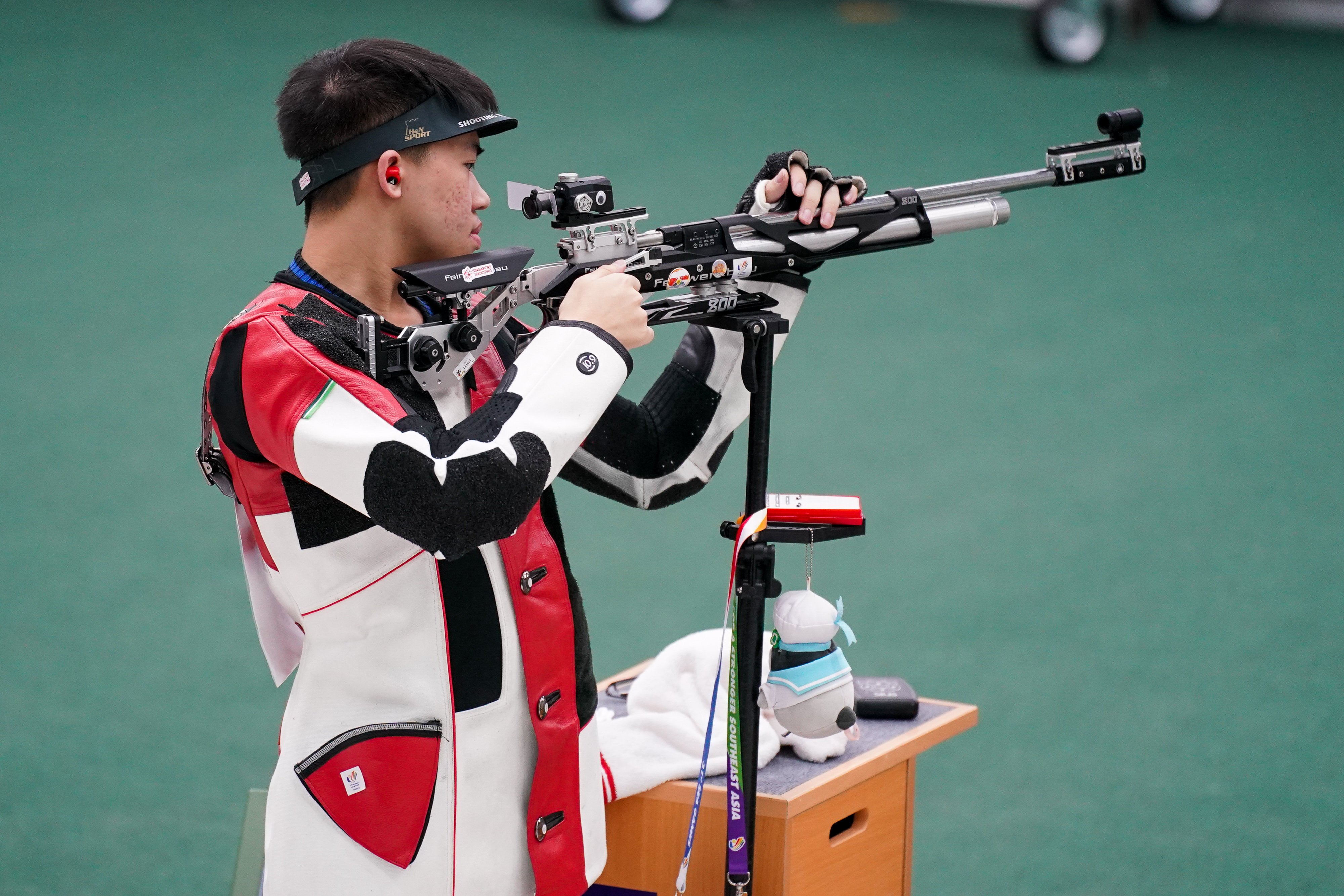 (Team Singapore's Lionel Wong in action. Photo Credit: Sport Singapore/ Lim Weixiang)
Each of the air rifle medals featured debutants: Lionel Wong (men's 10m air rifle silver), Fernel Tan and Gai Tianrui (mixed team 10m air rifle silver), and Fernel Tan and Nantanya Tan (women's 10m air rifle team bronze).

A long-awaited medal also came through a debutant: Siti Mastura Rahim's bronze is the first women's trap medal in almost 20 years.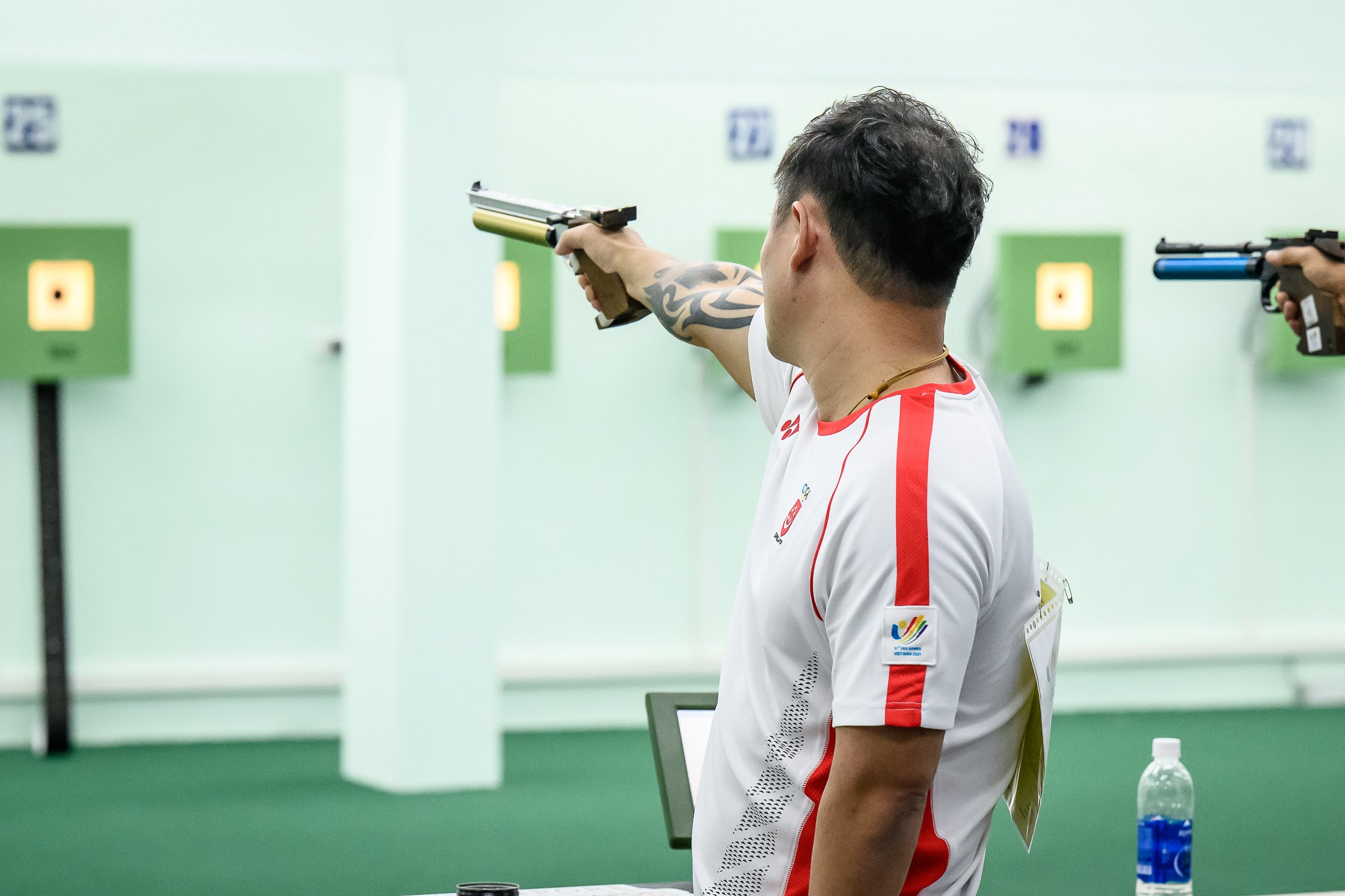 (Singapore's Gai Bin in action. Photo Credit: Sport Singapore/ Andy Chua)


Team veteran Gai Bin said having a healthy influx of shooters constantly coming through is good for the sport's development.

The 53-year-old, a multiple medallist at the Commonwealth Games and Asian Games, has been competing at the SEA Games as early as at the 2007 edition. He has, quite literally, helped to contribute to TeamSG's next generation of sharp shooters: 18-year-old Tianrui is his son.

Said the elder Gai: "We have many young shooters this time doing well, and this is a very encouraging thing to note. For every event to be able to develop healthily, it's crucial that we have young people coming through."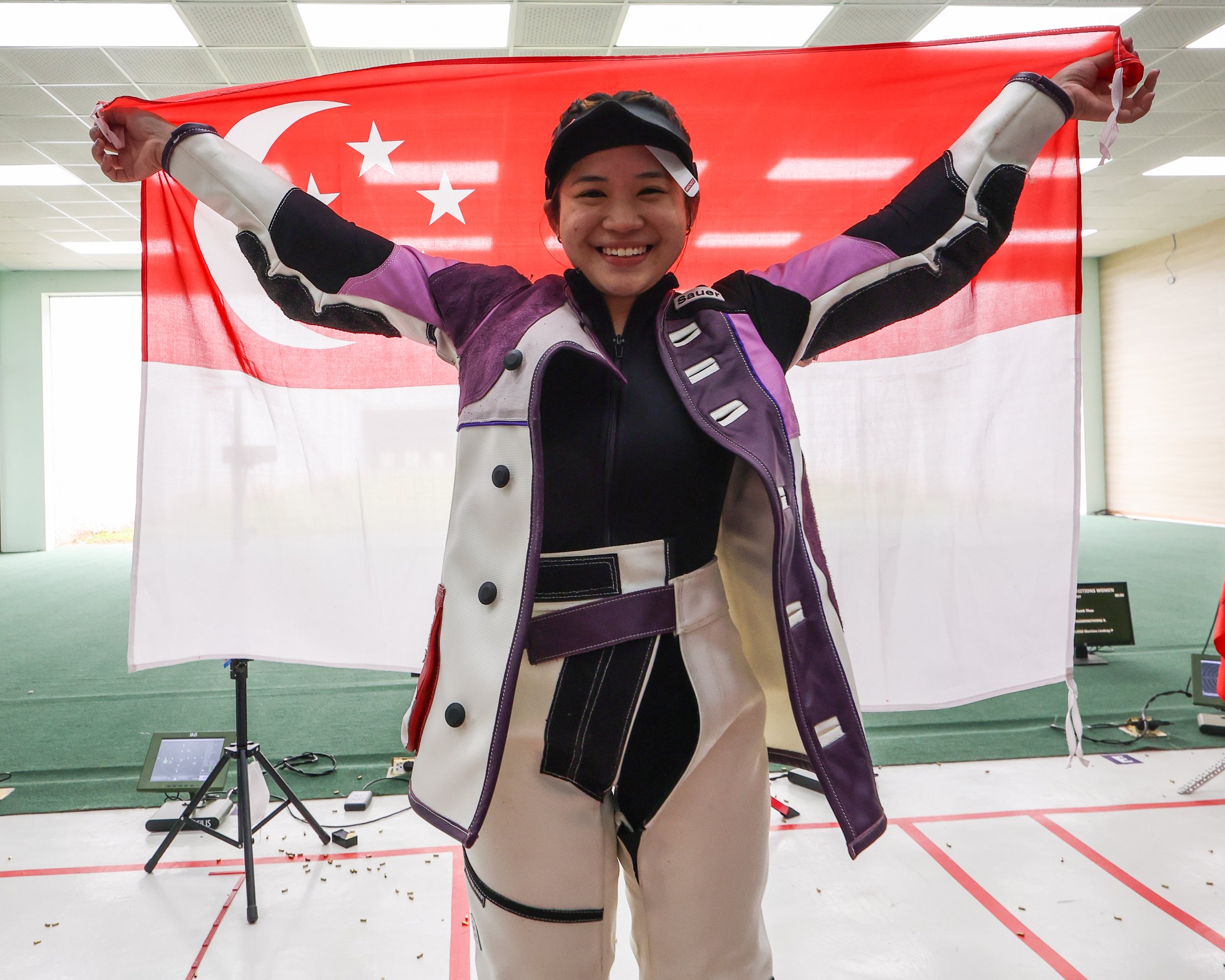 (Team Singapore's Martina Veloso won a bronze. Sport Singapore/Stanley Cheah)
As a relatively young athlete but seasoned competitor on the national team, Martina Veloso also welcomed having a deep squad, even if it meant stiffer competition to earn a place on the team.

Said the 22-year-old: "It's very nice to see. I started on the high performance side very young, so I kind of understand how the younger shooters feel. It's very heartening to see new faces.

"The pressure is different at a SEA Games. Expectations are definitely high. The scores at a SEA Games are not spectacular because I believe everyone feels the pressure. Everyone wants to do well, but everyone faces the same issue where everyone at the firing line is nervous."

The 2014 Youth Olympic silver medallist, who won her first World Cup when she was just 14, earned a hard-fought bronze when she battled from seventh in the 50m 3 positions in the elimination final – all while nursing a painful wrist injury.

She said: "It's quite wild that I pulled that off. It's uncommon in a final for someone to jump from seventh to third in the deciding shots. I was able to fight for a medal in the last few shots, so it's pretty dramatic. I gave everything I could. No regrets."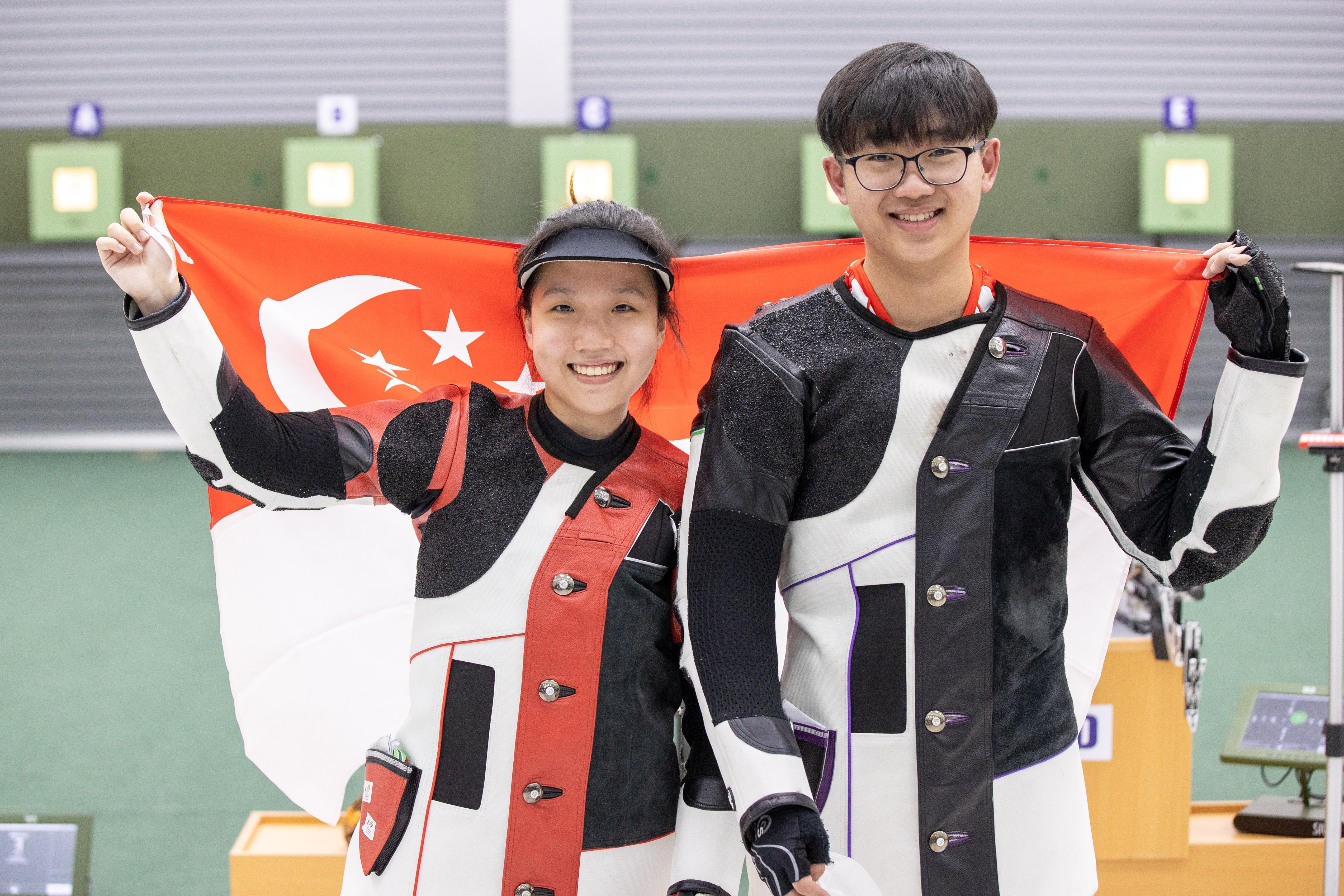 (TeamSG's Fernel Tam and Gai Tianrui clinched a silver medal. Photo Credit: Sport Singapore/ Dyan Tjhia)


The final day of competition at shooting came with another silver. Nigel Lim, also a former Commonwealth and Asian Games medallist, took silver in the men's 25m standard pistol.
For the latest Team Singapore coverage and news, follow Team Singapore on their social media channels (Facebook, Instagram, TikTok) or visit the official Team Singapore website.