Short-handed Singapore Lions dealt 0-4 defeat by Palestine in World Cup qualifier!
by Circle Stories, on June 3, 2021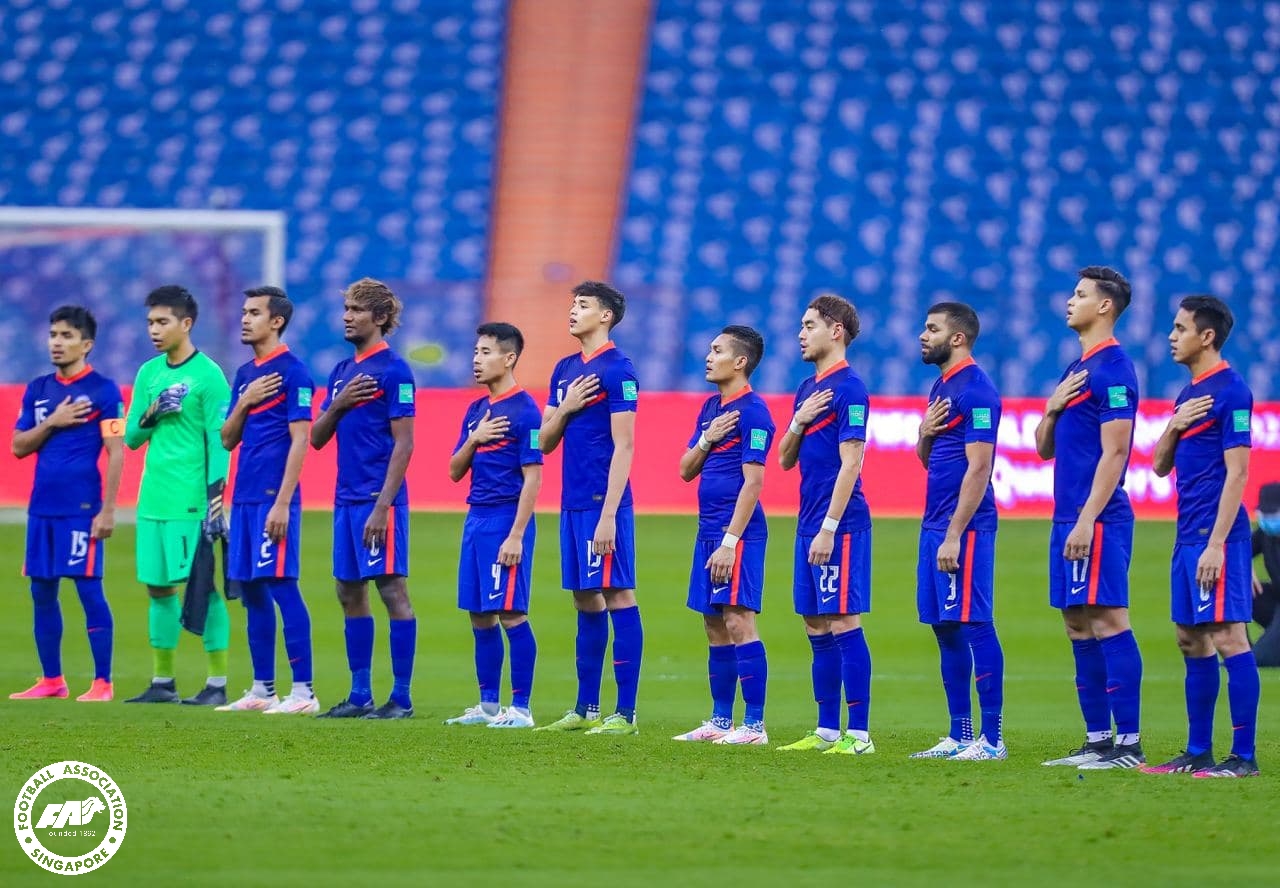 (Photo Credit : Football Association of Singapore)
By Chia Han Keong
Any football team would struggle without three of their best players in the starting 11. And Singapore's national team got a harsh dose of reality in the first of their three 2022 World Cup qualifiers in Riyadh on Friday morning (4 June Singapore time).
The Lions had hoped to get a win against a Palestine side which were rooted at the bottom of Group D, to reignite their hopes of advancing to the next stage of the Asian Zone qualifiers. Back in September 2019, the Republic defeated the Palestinians 2-1 at Jalan Besar Stadium. But this morning at the King Fahd International Stadium, they capitulated in a first-half horror show to eventually lose 0-4, in what has to be, the most damaging result in head coach Tatsuma Yoshida's two-year tenure.
The absence of influential captain Hariss Harun (personal family reasons) and of stalwarts Safuwan Baharudin and Ikhsan Fandi (injuries) were keenly felt as the Lions were all at sea against a highly pumped-up Palestinian side in the opening 45 minutes. They conceded three goals in that nightmarish half, and while they improved after the break, they offered little attacking edge against their robust opponents, who added insult to injury with a late fourth goal.
In the Lions' first competitive match since November 2019, Anumanthan Kumar (Hariss' stand-in) had a torrid first half, as Palestine swarmed forward and pressed hard with their high-tempo approach. Without adequate midfield cover, Singapore's back line was put under severe pressure from the get go, as the defenders were not given a second's reprieve by their opponents. Meanwhile, the Lions' front line of stand-in captain Yasir Hanapi and 18-year-old Ilhan Fandi - who was making the first competitive start of his international career - had precious little support to work with.
The warning signs were already there as early as the 10th minute, when goalkeeper Izwan Mahbud's casual clearance was charged down by Palestine's danger man Oday Dabbagh, and Irfan Fandi had to make a last-ditch clearance.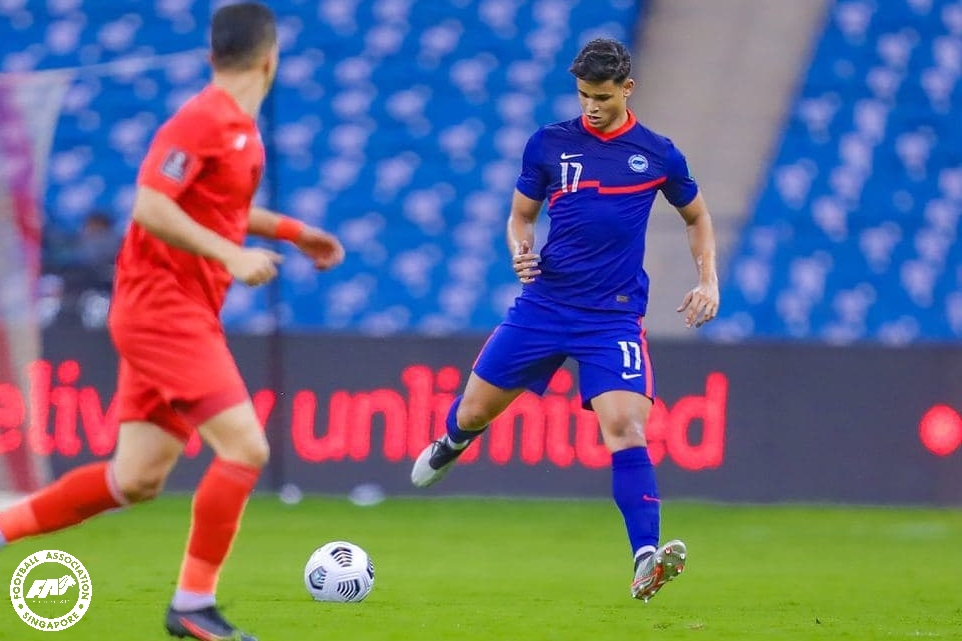 (Photo of Irfan Fandi : Football Association of Singapore)
Onto the 19th minute of play in Riyadh, the Lions' goal was breached. Dabbagh was released by an accurate cross and through on goal, when he was bundled over by the trailing leg of Madhu Mohana in the penalty box. Referee Mohammed Abdulla Hassan pointed to the spot immediately. And while Izwan dived in the correct direction, he had a touch of the ball, but couldn't prevent Tamer Seyam from slotting into the bottom left corner for Palestine's opener.
If the first goal was a setback for the Lions, the second just three minutes later put them in a full crisis. Palestine's left winger Mahmoud Abuwarda, who had a superb match, put in one of his many accurate crosses. And Irfan miscued his clearance with Dabbagh in close proximity. The Palestinian took one touch before shooting, and the ball squirmed agonisingly below Izwan and into the goal. Once again, the Singapore custodian had the last touch of the ball, as he scrambled to hold onto the ball. Unfortunately, the ball slipped under Izwan for Goal Number 2.
By now, the shell-shocked Lions were misplacing their passes and running into walls of determined Palestine players, unable to stem the formidable tides of attack from their opponents. And on the half-hour mark, they were made to pay again for their defensive mistakes. An inswinging corner from the right, and the ball hit the outstretched hands of Irfan as he was put under heavy pressure by the Palestine players. Again, the referee whistled and pointed to the spot. Television replays showed Irfan having jumped to head the ball away. But the Number 17's right fist touched the ball as he was trying to gain his balance when landing on his feet. And despite protests from the Lions, the Referee maintained his stand and Seyam placed his shot into the same corner as Izwan dived the other way.
3 goals conceded in 9 minutes and it could have easily been 0-4 to their Middle Eastern opponents as 37 year old Bahdari had a point-blank header attempt in the 40th minute. But it was the sheer split-second instincts of Izwan, which prevented the skipper from scoring, when he cleared off the goal-line.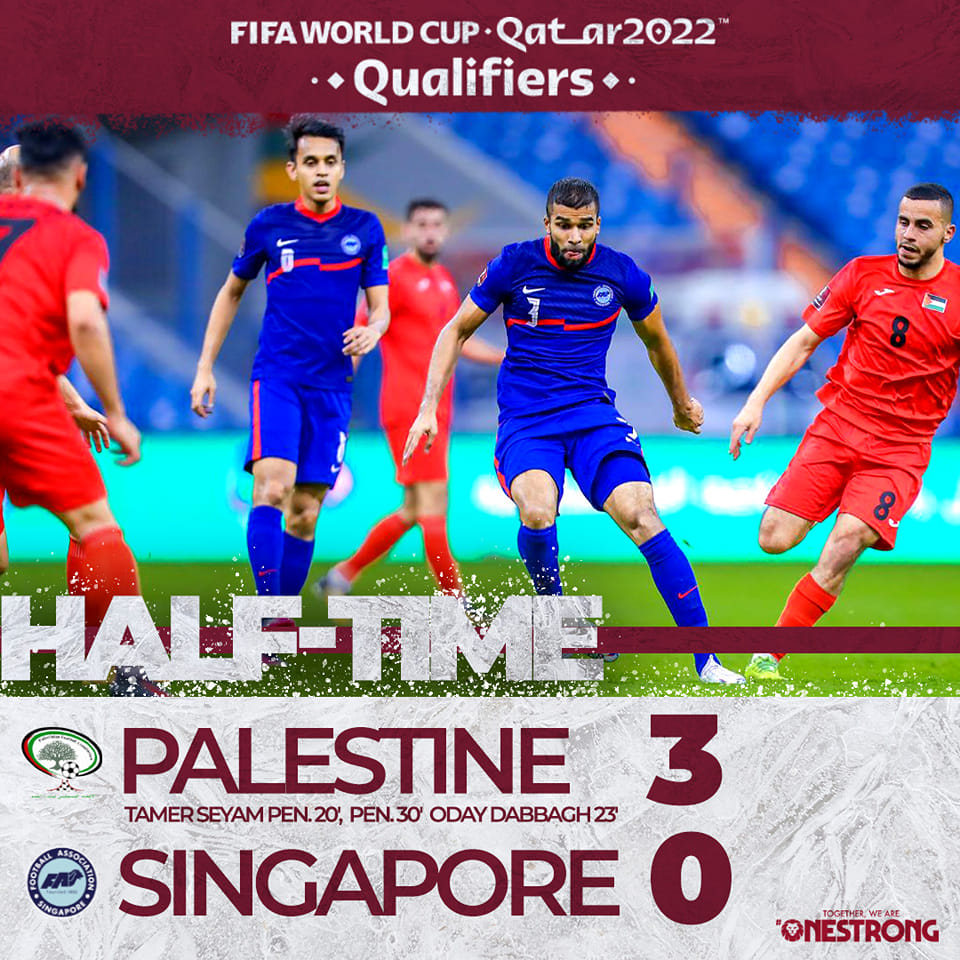 Down 0-3 at the break and coach Yoshida had to make adjustments to limit the damage. Out went Ilhan and Gabriel Quak, and in came winger Faris Ramli and veteran defender Baihakki Khaizan, as the coach opted for a three-man central defence.
With fullbacks Shakir Hamzah and Nazrul Nazari pushed forward into wing-back roles, the Lions at least showed glimpses of sleek interplay and well-timed runs behind the defence to pressure the Palestinians. But by then, their opponents were no longer too concerned about scoring, and stayed well-organised enough to nullify the Lions.
As the Republic searched in vain for a consolation goal, Palestine rubbed salt into their wounds with their fourth goal in the 85th minute. Abuwarda put in another of his wondrous crosses from the left, and hulking captain Abdellatif Bahdari leapt high for a thumping header which was once again, well blocked by Izwan. However, the deflection landed on defender Yaser Hamed right in front of goal, and he gleefully thumped the ball in from point-blank range.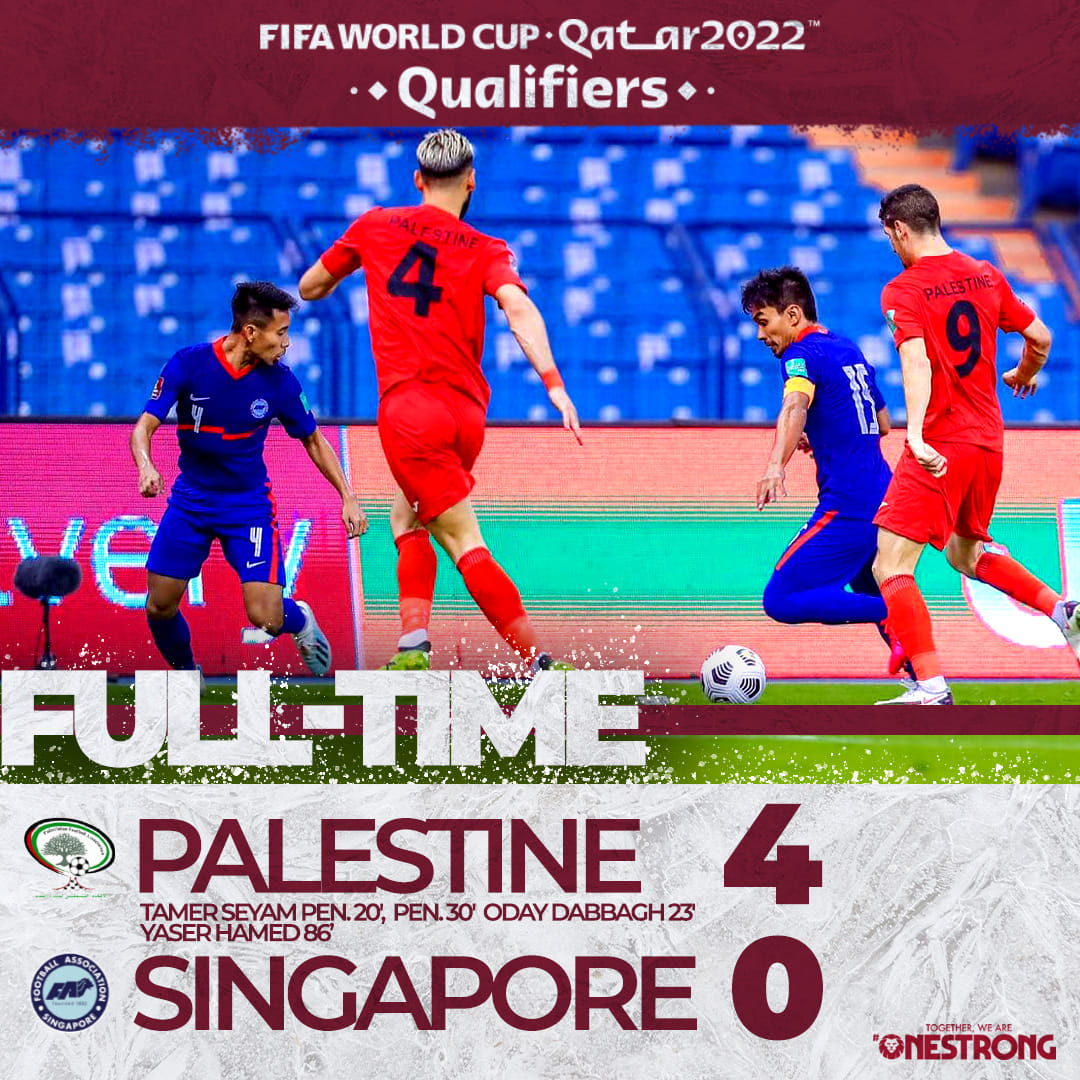 The demoralising 0-4 defeat means the Lions remain two points behind second-placed Uzbekistan (nine points) and four behind top-placed Saudi Arabia, but have played a game more.

The result meant Palestine - who are 55 places above 159th-ranked Singapore in the FIFA standings - pulled level on points with third-placed Singapore in the group on seven points, with the same -7 goal difference, but having played one more match. (The Palestinians have one final qualifier remaining)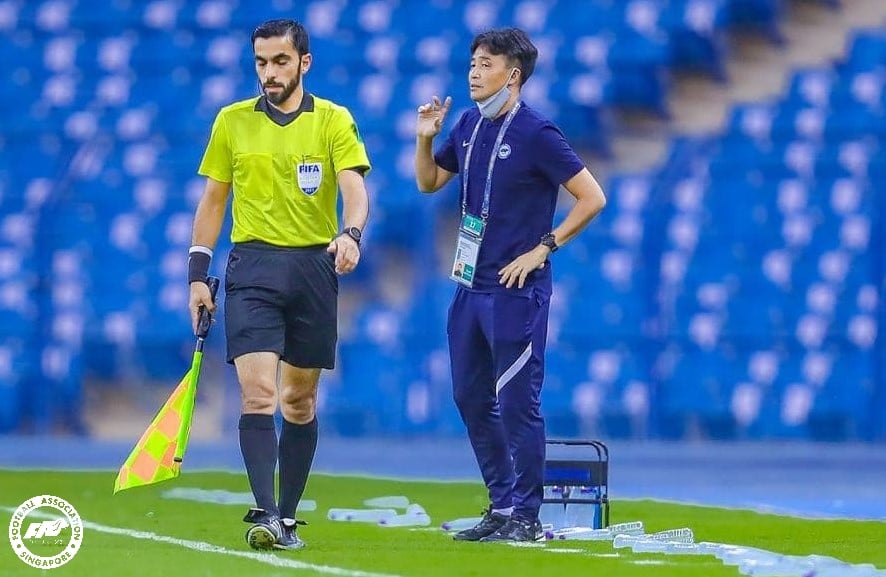 (Photo of Coach Tatsuma Yoshida - Football Association of S'pore)
As for Team Singapore, coach Yoshida will have little time to pick up the pieces, as the wounded Lions have two daunting matches against Uzbekistan and Saudi Arabia - the top two sides in the group - next week in the same venue. The second-placed team in Group D, has a chance of joining the eight group winners in the next round of Asia's World Cup qualifiers, while also earning a spot at the 2023 Asian Cup in China.
In other selected results from the World Cup Qualifiers on 3 June :
UAE 4 - 0 Malaysia
Thailand 2 - 2 Indonesia
Bahrain 8 - 0 Cambodia
Australia 3 -0 Kuwait
Additional reporting by Raj Kumar
Singapore:
Izwan Mahbud (GK), Nazrul Nazari (Zulqarnaen Suzliman 77′), Madhu Mohana, Irfan Fandi, Shakir Hamzah (Hafiz Sujad 88′), Shahdan Sulaiman, M. Anumanthan, Yasir Hanapi (C), Gabriel Quak (Baihakki Khaizan 46′), Hafiz Nor (Saifullah Akbar 65′), Ilhan Fandi (Faris Ramli 46′).
Unused subs:

Zaiful Nizam (GK), Hassan Sunny (GK), Hazzuwan Halim, Amirul Adli, Hami Syahin, Shawal Anuar, Zulfahmi Arifin
Chia Han Keong is a freelance journalist who has covered both Singapore and international sports extensively for the past 18 years. He was the sports editor of bilingual tabloid My Paper, and has also worked for The Straits Times and Yahoo News Singapore. He has covered four SEA Games (2009, 2011, 2013, 2019), two Asian Games (2010, 2014) as well as the 2008 Beijing Summer Olympics. He counts himself as a massive Liverpool, LA Lakers and Rafael Nadal fan.