SPL : Hougang United crush Tampines Rovers 7-3 for their biggest win of the season!
by Circle Stories, on September 11, 2021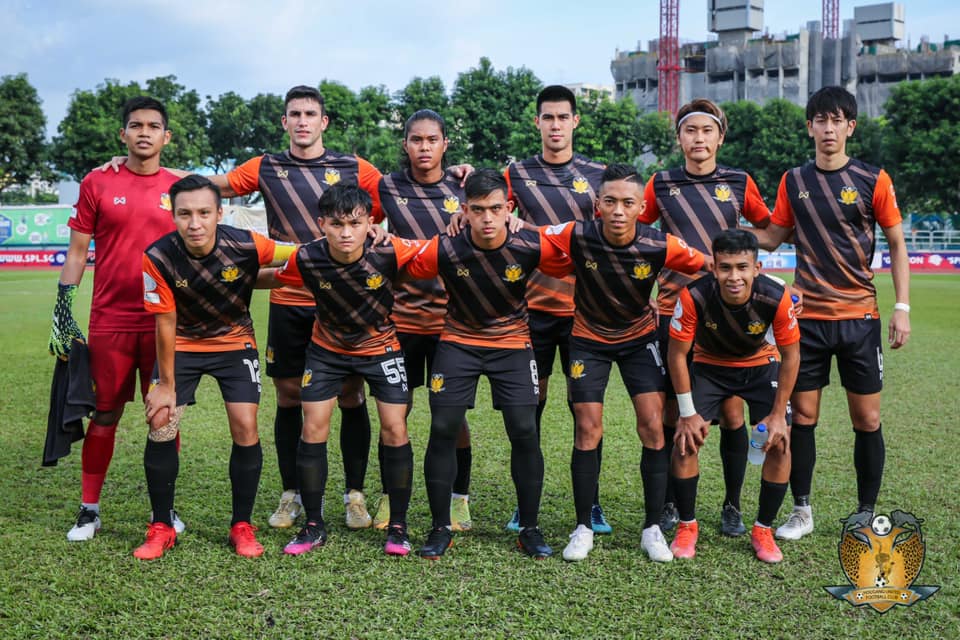 (Photo of HGFC - By Hougang United FC)
By Chia Han Keong
A high-scoring league match may be great entertainment for the spectators, but for the 2 teams involved, it usually means that both have glaring weaknesses that need to be addressed before they move further up the standings.
Such was the case in Hougang United's 7-3 thumping of Tampines Rovers in their Singapore Premier League (SPL) encounter at Hougang Stadium on Saturday (11 September). The hosts led 4-1 inside 35 minutes, allowed their rivals to catch up to 4-3, before stamping their class again with 3 second-half goals.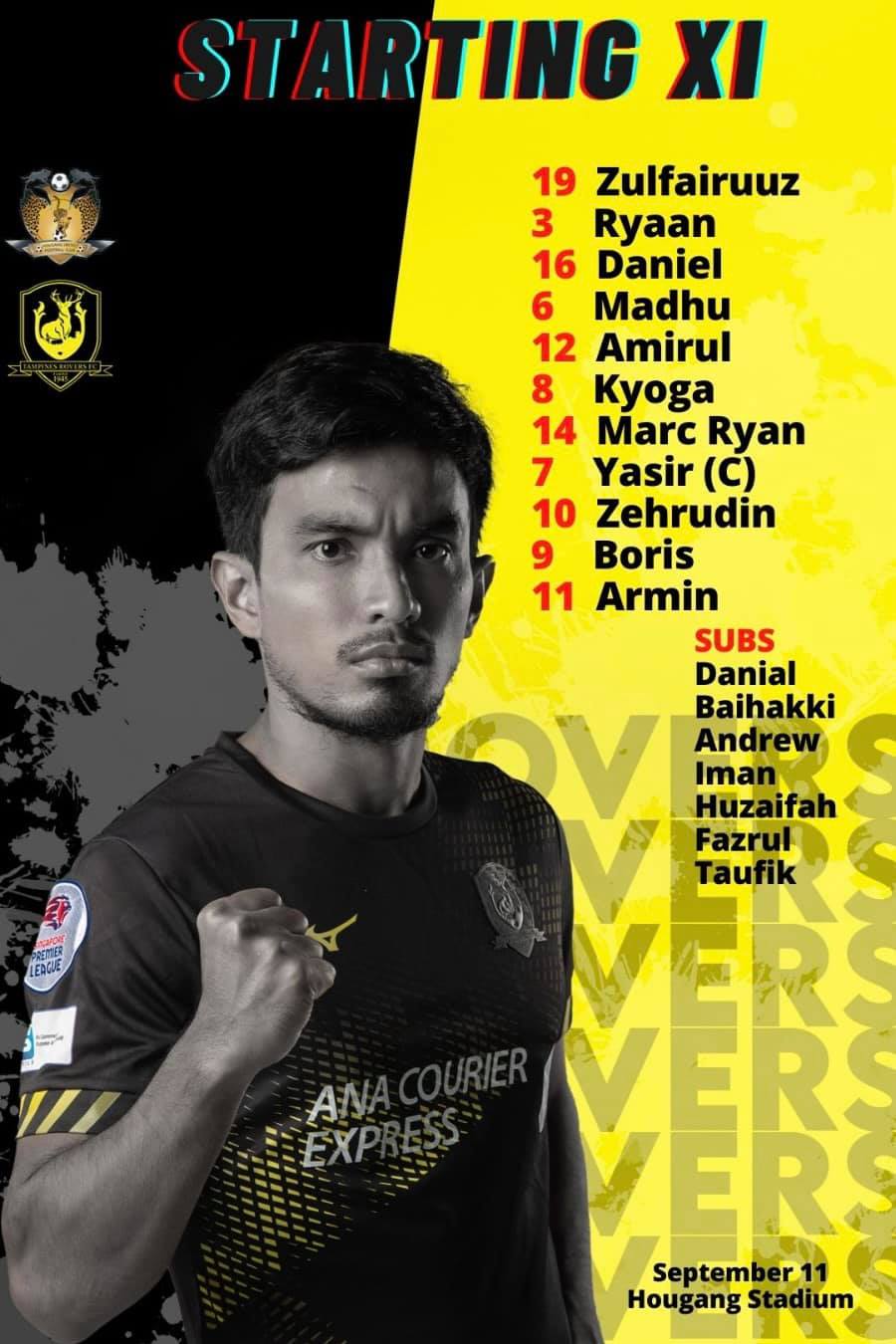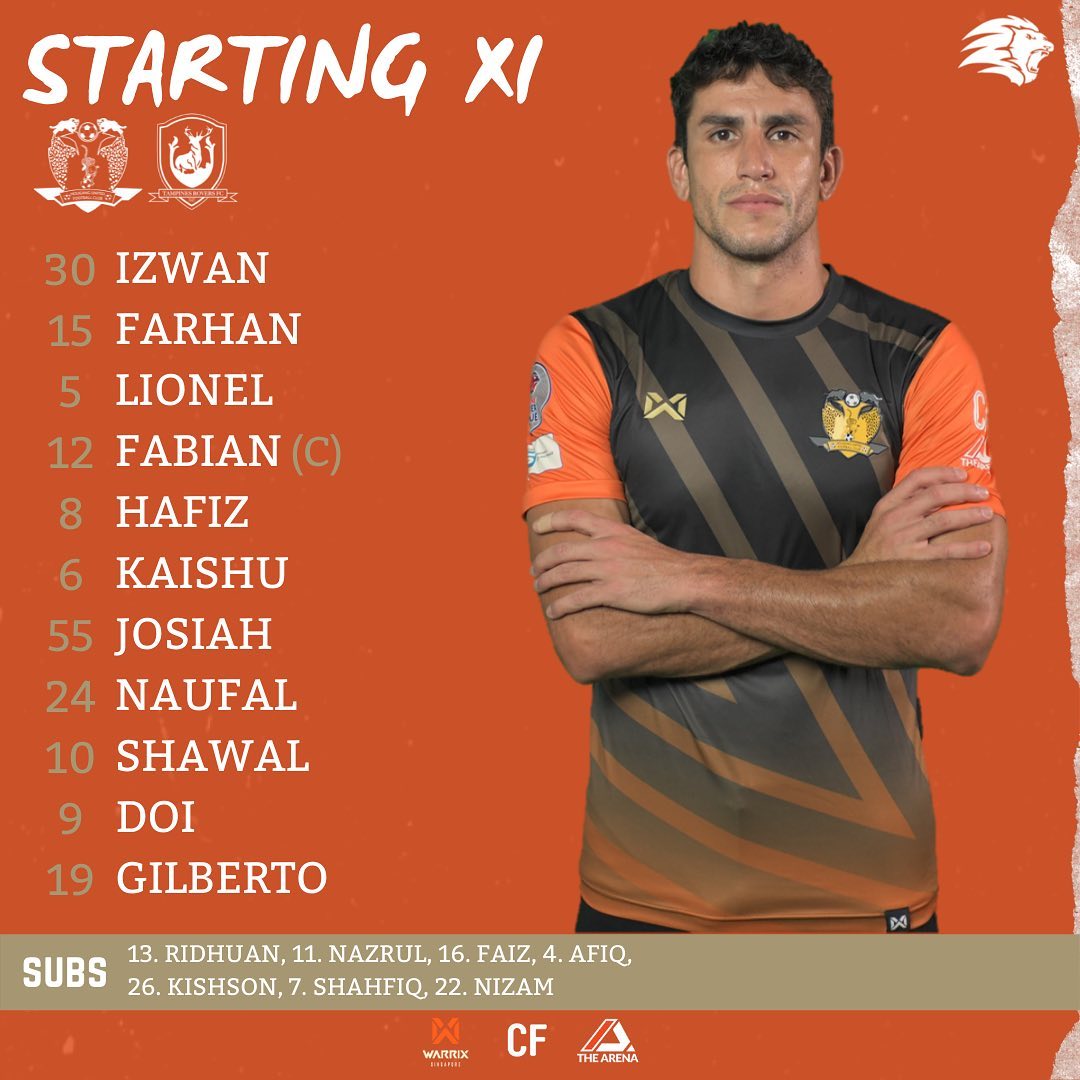 Both Hougang and Tampines went for each other's throat from the opening whistle. The fans at the Stadium barely had time to settle down before the hosts opened accounts with a superb goal from their captain Fabian Kwok in the 4th minute! 1-0 to HGFC.
Tampines' coach Gavin Lee had opted to give second-choice goalkeeper Zulfairuuz Rudy a rare start ahead of Syazwan Buhari. But the custodian's hasty clearance under pressure from Hougang's high pressing went straight to Kwok, about 30 metres away from goal. Without a 2nd thought, the veteran midfielder hit a sweet lob with his first touch that looped past Zulfairuuz and nestled into the top right corner of goal for a sensational opener.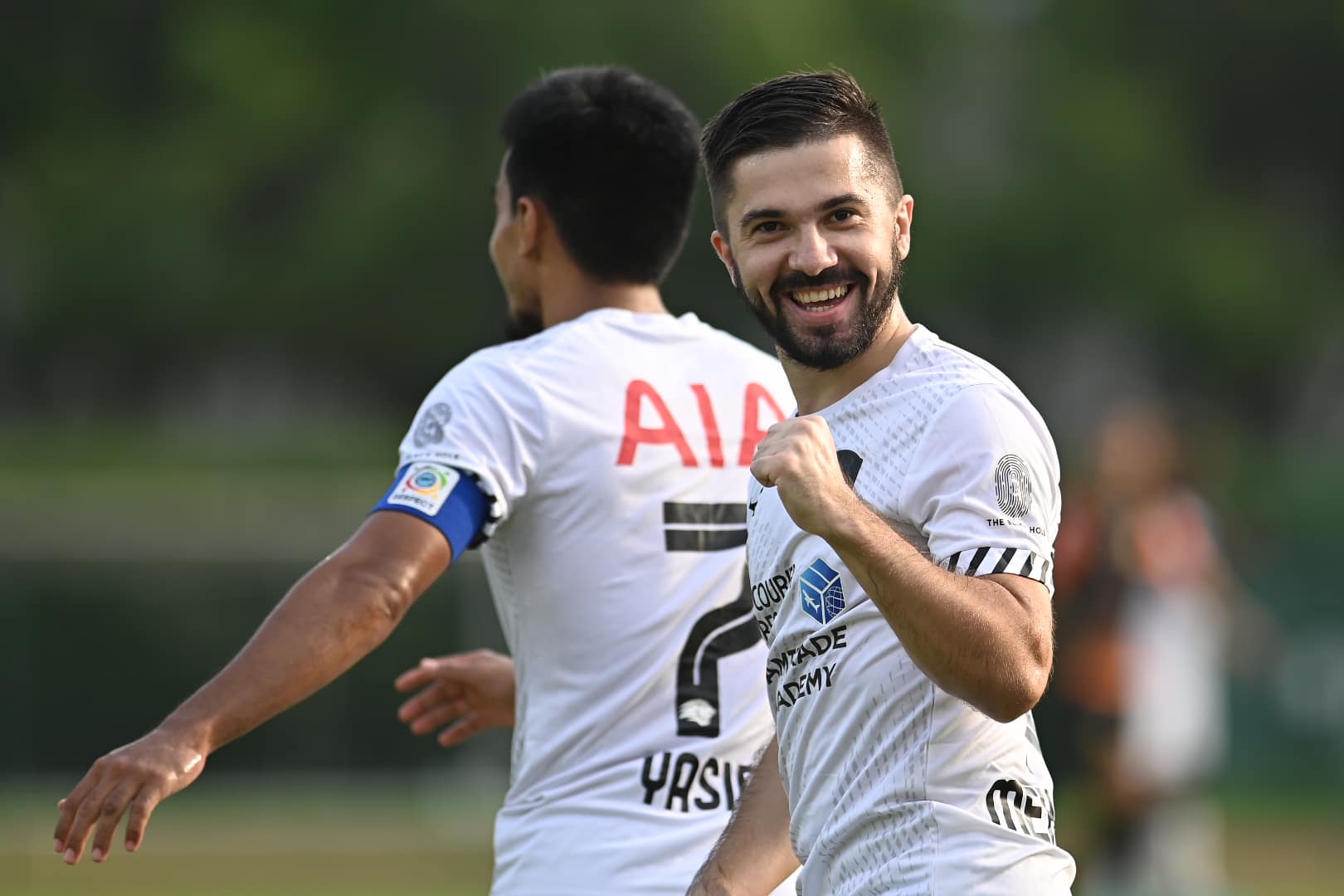 (Tampines Rovers' Zehrudin Mehmedovic - Photo by TRFC)
Within 8 minutes, Tampines regrouped and drew level (1-1), courtesy of an astute decision by referee Juherman Zaiton. Stags striker Boris Kopitovic was bundled to the ground in the penalty area. But as the ball bobbled towards an unmarked Zehrudin Mehmedovic, Juherman allowed play to carry on instead of awarding a penalty, and the Serbian evaded Lionel Tan's challenge before scoring from close range.
Then came the Tomoyuki Doi show. The league's top scorer had been going through a lean patch, without a goal for Hougang since 7 August. But with Tampines' aging defence unable to keep up, the pacy striker gleefully made the visitors pay with a 15-minute hat-trick.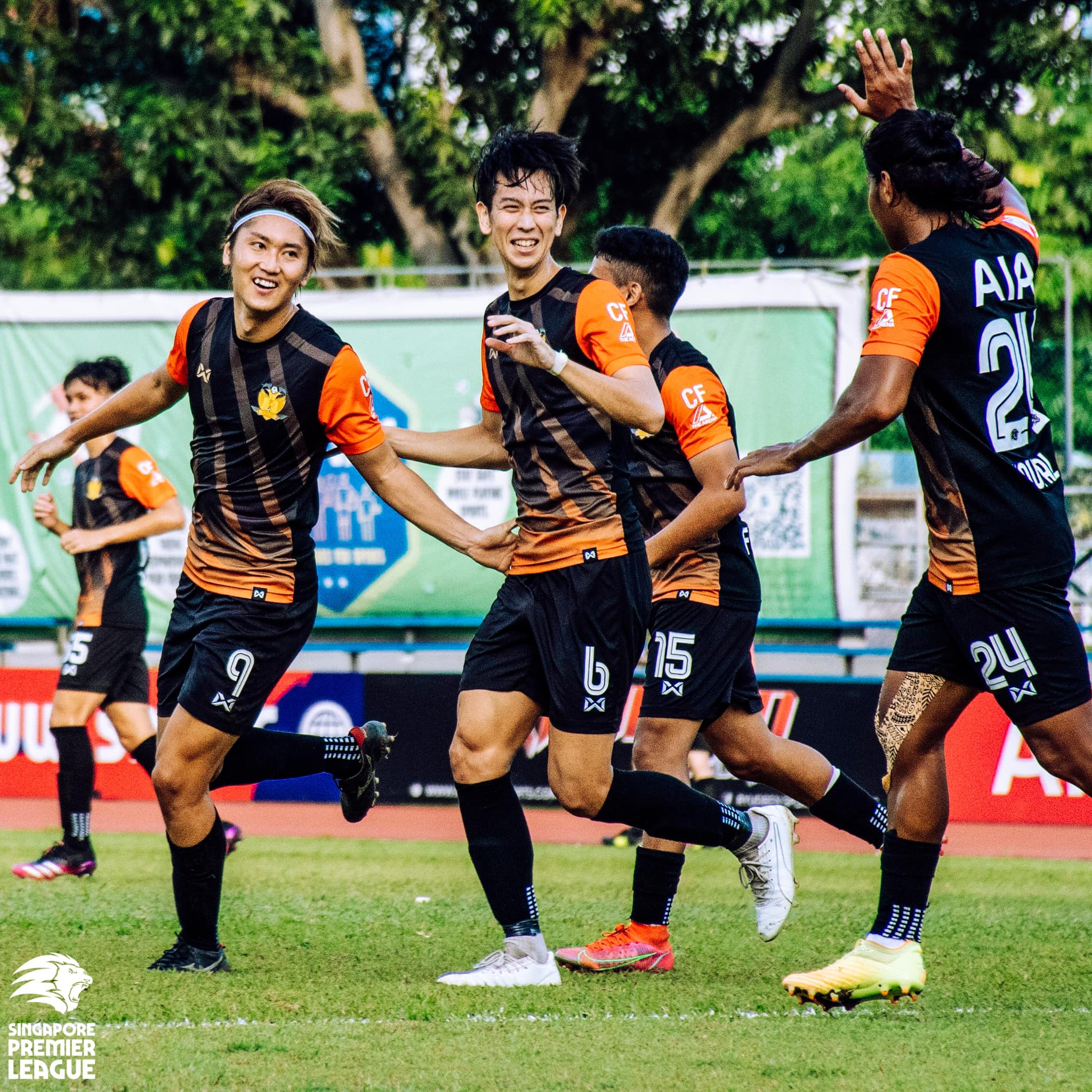 (HGFC's Tomoyuki scores - Photo by Football Assn of Singapore)
In the 18th minute, Doi latched onto Hafiz Abu Sujad's delightful lob pass, brushed past the challenges of Madhu Mohana and Ryaan Sanizal, and slammed a low and accurate shot past Zulfairuuz into the bottom right corner of goal. 2-1 to the Cheetahs.
5 minutes later, another lob by Brazilian forward Gilberto Fortunato found Doi unmarked in the box, and the Japanese did brilliantly in smashing in a first-time volley past Zulfairuuz's despairing dive.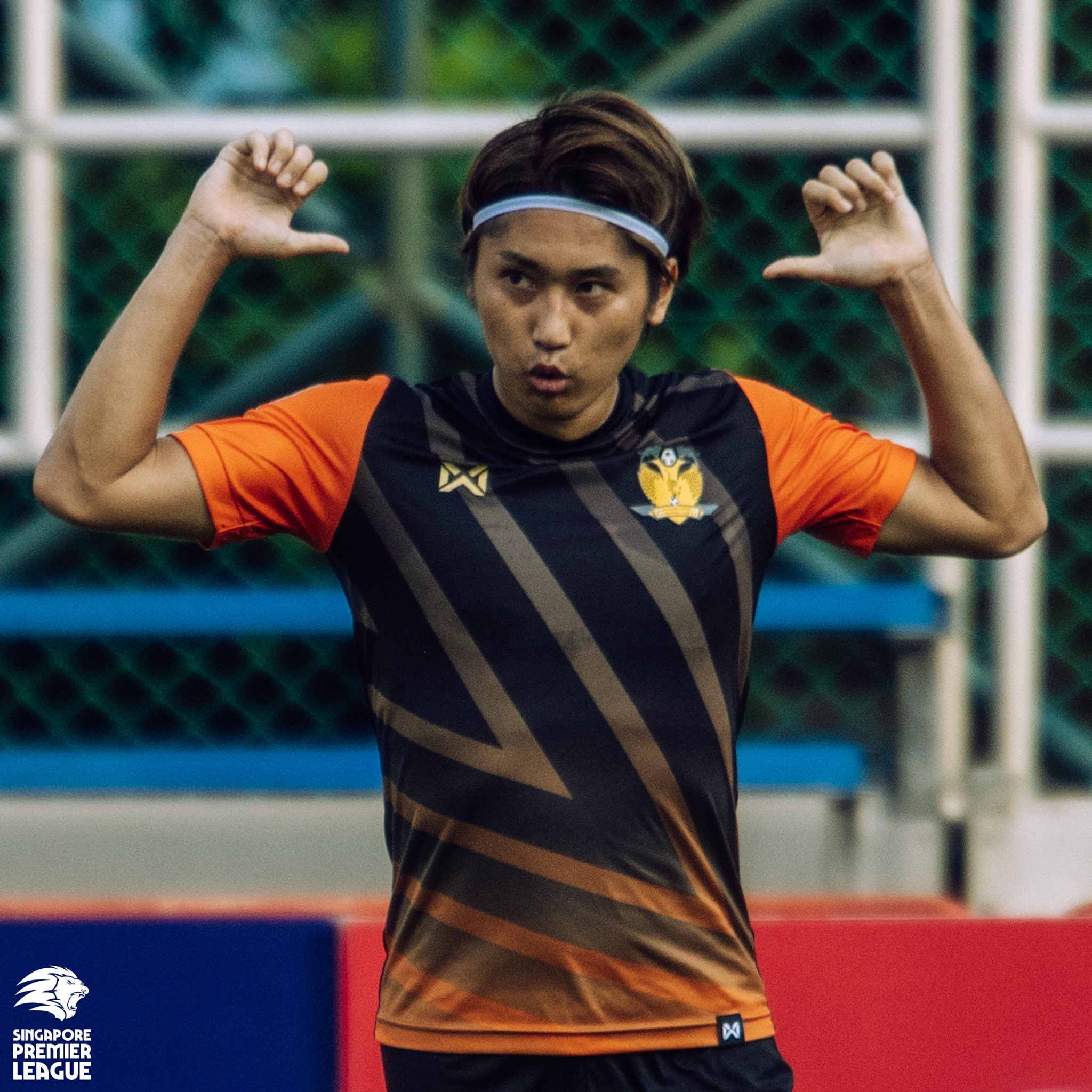 (HGFC's Tomoyuki scores - Photo by Football Assn of Singapore)
In the 33rd minute, Hougang earned an indirect free kick inside the penalty area after Zulfairuuz handled Mehmedovic's long back pass. Despite the Stags crowding the goalmouth, 23 year old Doi somehow managed to smash a stinging shot past the sea of bodies for his 19th goal of the season.
Up 4-1, Hougang should have tightened up their backline to consolidate their lead into the break. Instead, they conceded a soft goal three minutes before half-time.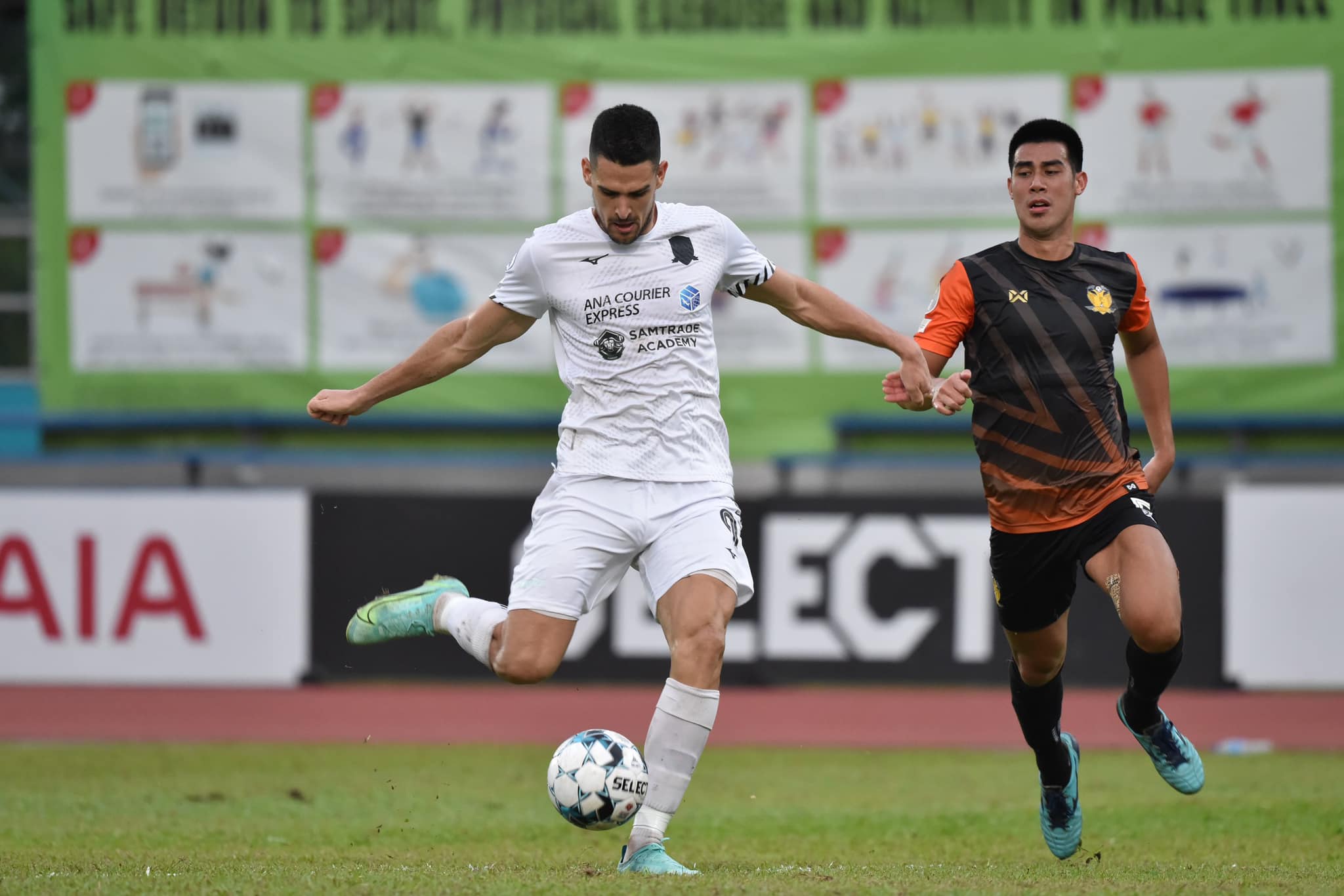 (Tampines Rovers' Boris Kopitovic - By TRFC)
Stags winger Armin Bosnjak was tripped by Farhan Zulkifli near the centre line, but still managed to hook a pass towards an unmarked Kopitovic. Again referee Juherman played the advantage, and Kopitovic easily rounded Izwan Mahbud to slot home.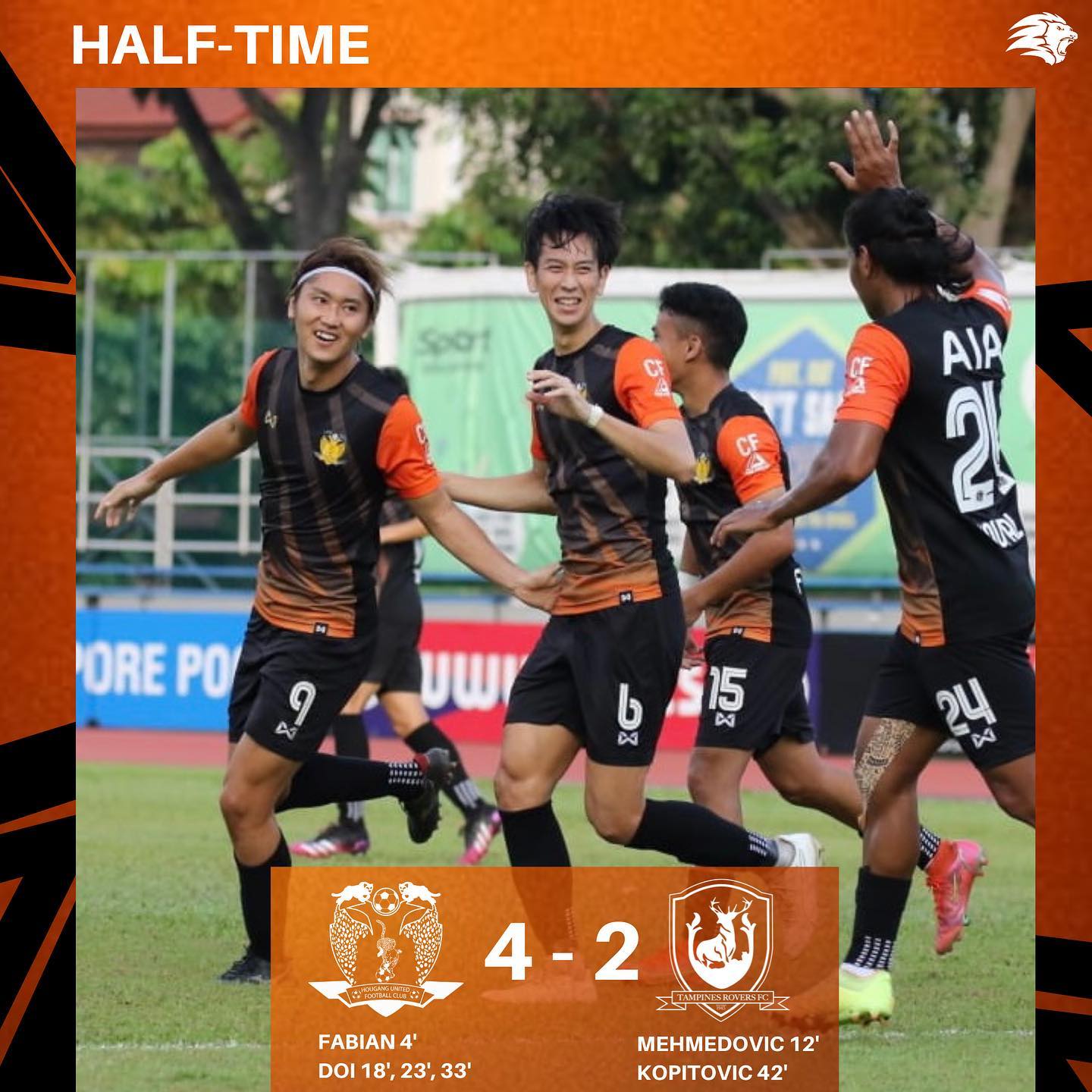 Thing went even better for Tampines in the 59th minute, when Kopitovic beat Hougang's high line in receiving Bosnjak's superb through pass and fended off Tan's challenge to score again. The Stags have pulled back to 3-4, and an unlikely comeback looked on the cards.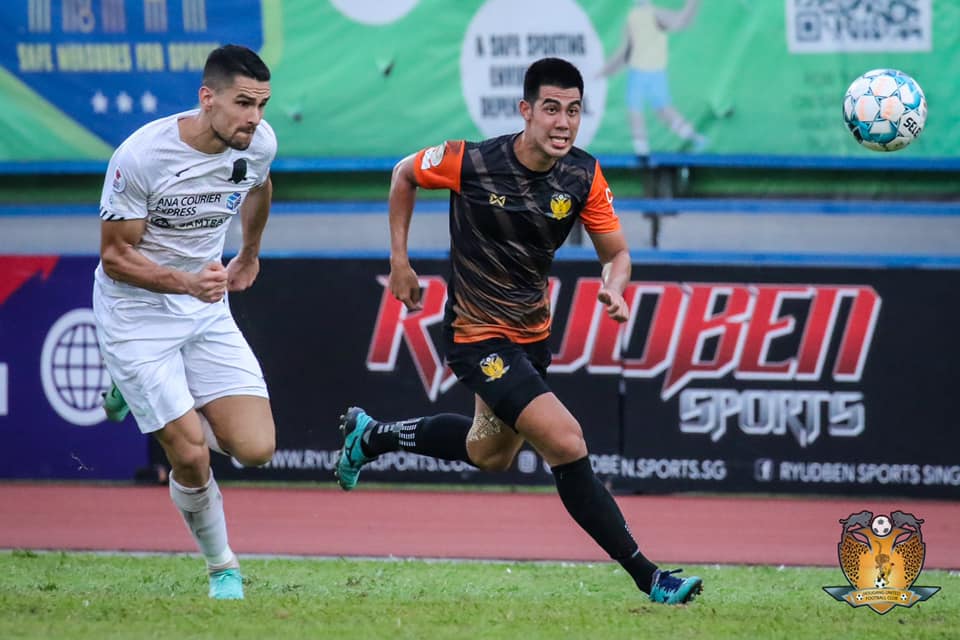 (HGFC's Lionel Tan - By Hougang United FC)
Hougang, however, had other thoughts. In the 64th minute, after Tampines failed to clear a long free kick from Kaishu Yamazaki, Shawal Anuar's rasping shot was blocked but bobbled to Lionel Tan, who made no mistake from close range.
Zulfairuuz, who had a torrid game, was at fault for Hougang's 6th goal, as he could not hold on to a deflected shot by Doi and allowed Gilberto to zip in and flick home.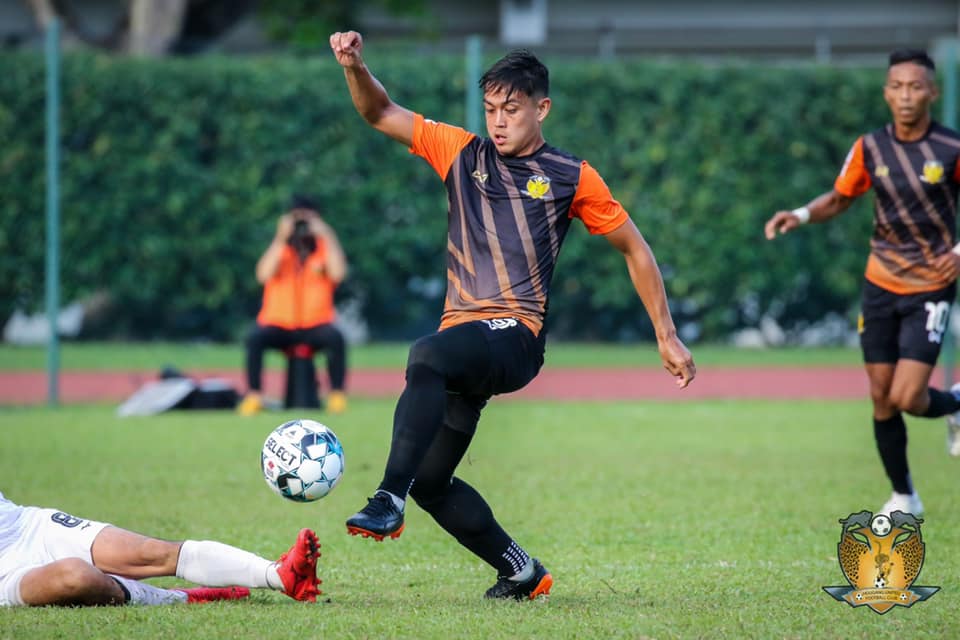 (HGFC's Hafiz Sujad - By Hougang United FC)
Coach Gavin responded by substituting Zulfairuuz for another inexperienced goalkeeper, Daniel Iliya Khairuddin. Yet, Daniel's first action was to pick the ball from the net in the 79th minute, as Hafiz made it 7-3 with a skewed shot which somehow looped over Daniel into goal.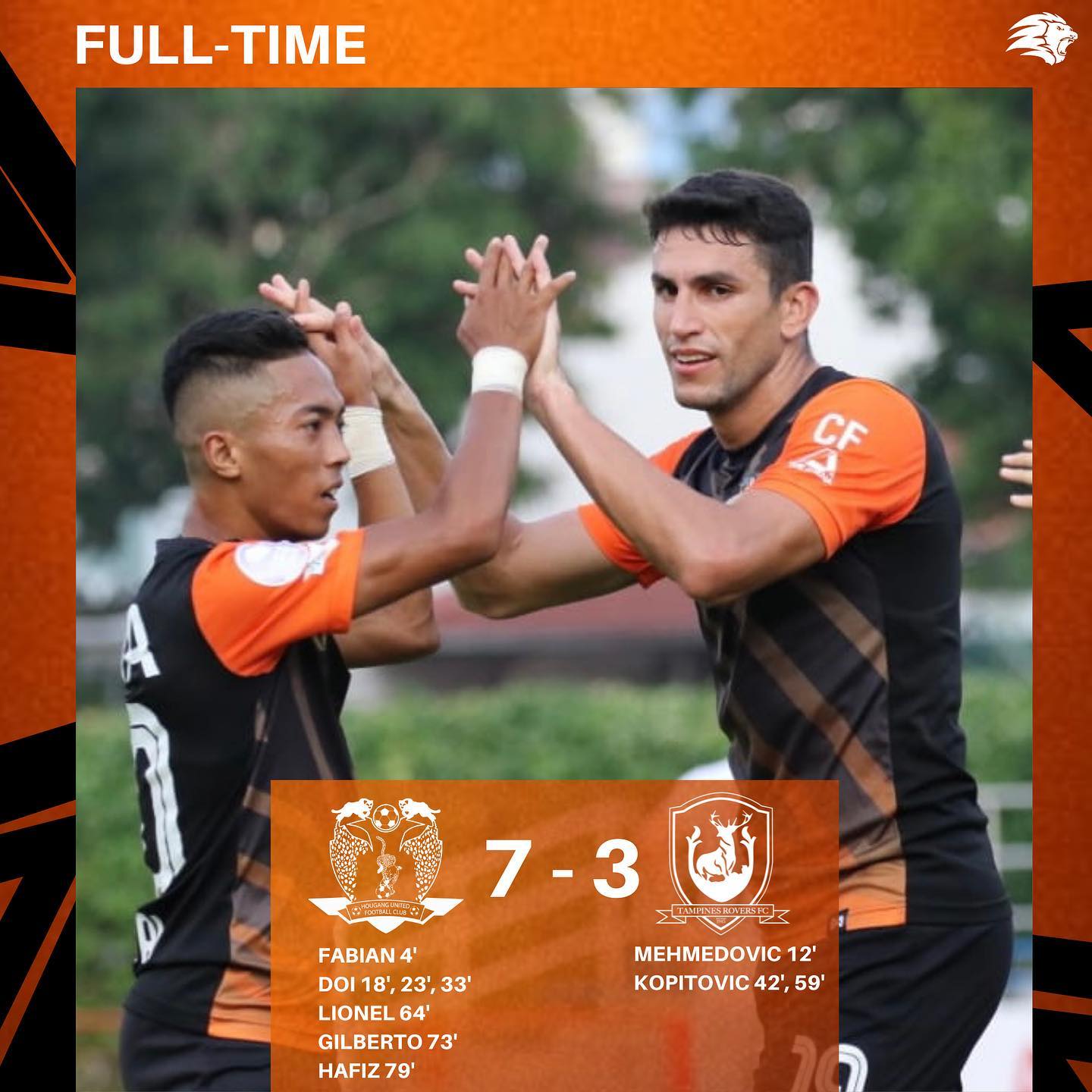 Both sides were terrific going forward - the Cheetahs living up to their nickname with swift attacks and clinically-taken goals, and the Stags preferring to pass their way into goals. But Hougang's lightweight midfield and Tampines' porous backline meant they had trouble stopping goals all season long.
It's a shame, as they are in 3rd and 4th places in the league largely because they let in too many goals (33 for Hougang and 43 for Tampines) compared to the top two sides, Albirex Niigata Singapore (14) and Lion City Sailors (17).
With the resounding win, Hougang - who are assured of AFC Cup qualification at least - moved within 2 points of the Lion City Sailors (35 points), who have two games in hand over the Cheetahs. Meanwhile, Tampines continued to struggle without a win since returning from their AFC Cup exploits, and are mired in 4th place, 11 points behind HGFC.
With only 3 matchdays to go, Hougang next face Tanjong Pagar United on 18 September, while Tampines take on Young Lions on the same day.
Chia Han Keong is a freelance journalist who has covered both Singapore and international sports extensively for the past 18 years. He was the sports editor of bilingual tabloid My Paper, and has also worked for The Straits Times and Yahoo News Singapore. He has covered four SEA Games (2009, 2011, 2013, 2019), two Asian Games (2010, 2014) as well as the 2008 Beijing Summer Olympics and the Tokyo 2020 Olympiad. He counts himself as a massive Liverpool, LA Lakers and Rafael Nadal fan.