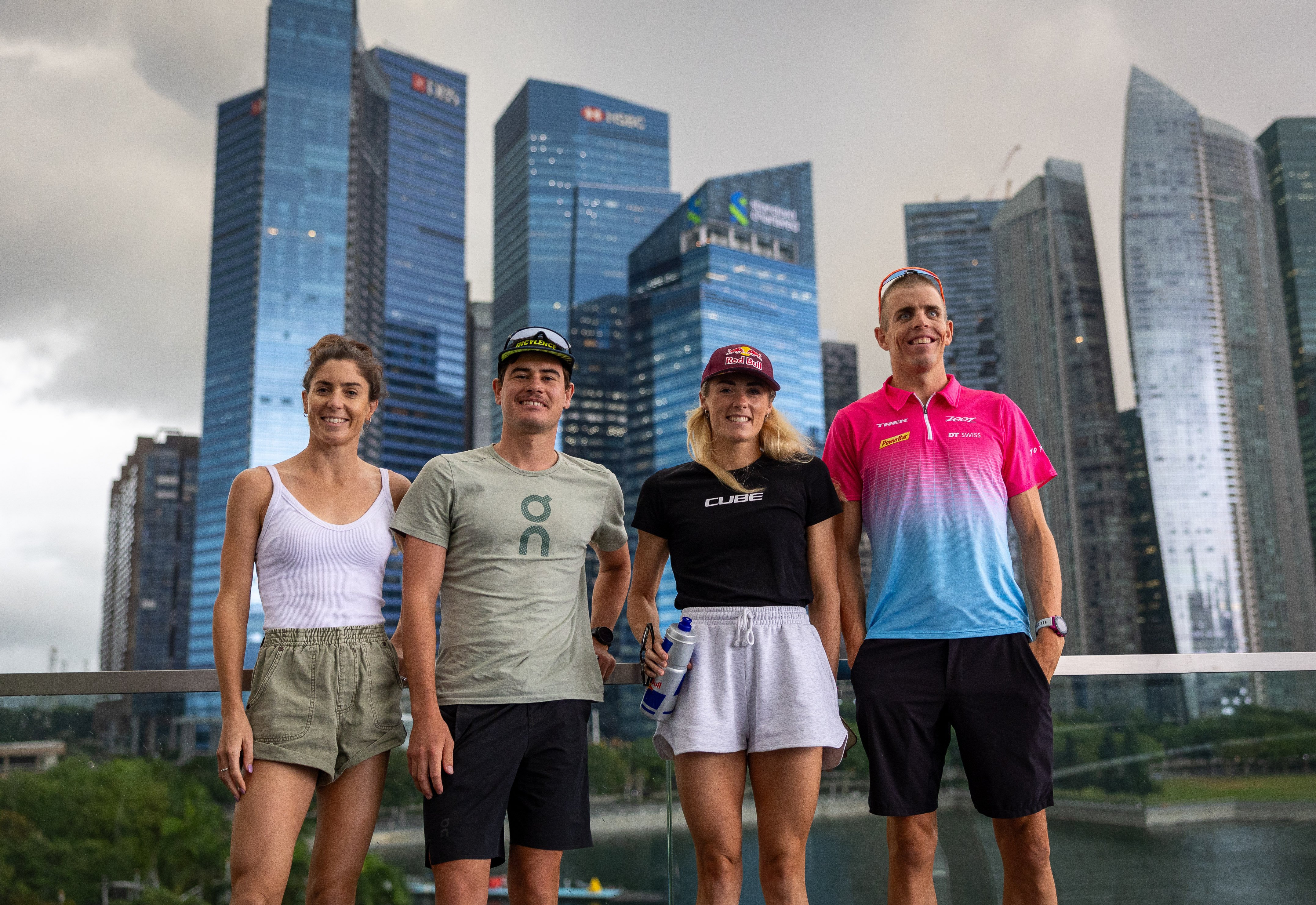 (from left) Ashleigh Gentle, Gustav Iden, Lucy Charles-Barclay and Sam Long spoke about their goals for the Aug 19-20 PTO Asian Open at a media conference on Friday (Aug 18). Photo credit: Professional Triathletes Organisation
After 2 consecutive second-place finishes on the Professional Triathletes Organisation Tour (PTO) this year, PTO World No. 1 Ashleigh Gentle is gunning for a return to the top step of the podium with the Aug 19-20 PTO Asian Open presenting the perfect opportunity to do so.
At today's pre-race press conference at the Sands Expo and Convention Centre on Friday (Aug 18), the Australian shared fond memories of racing in Asia and is relishing the chance to challenge herself.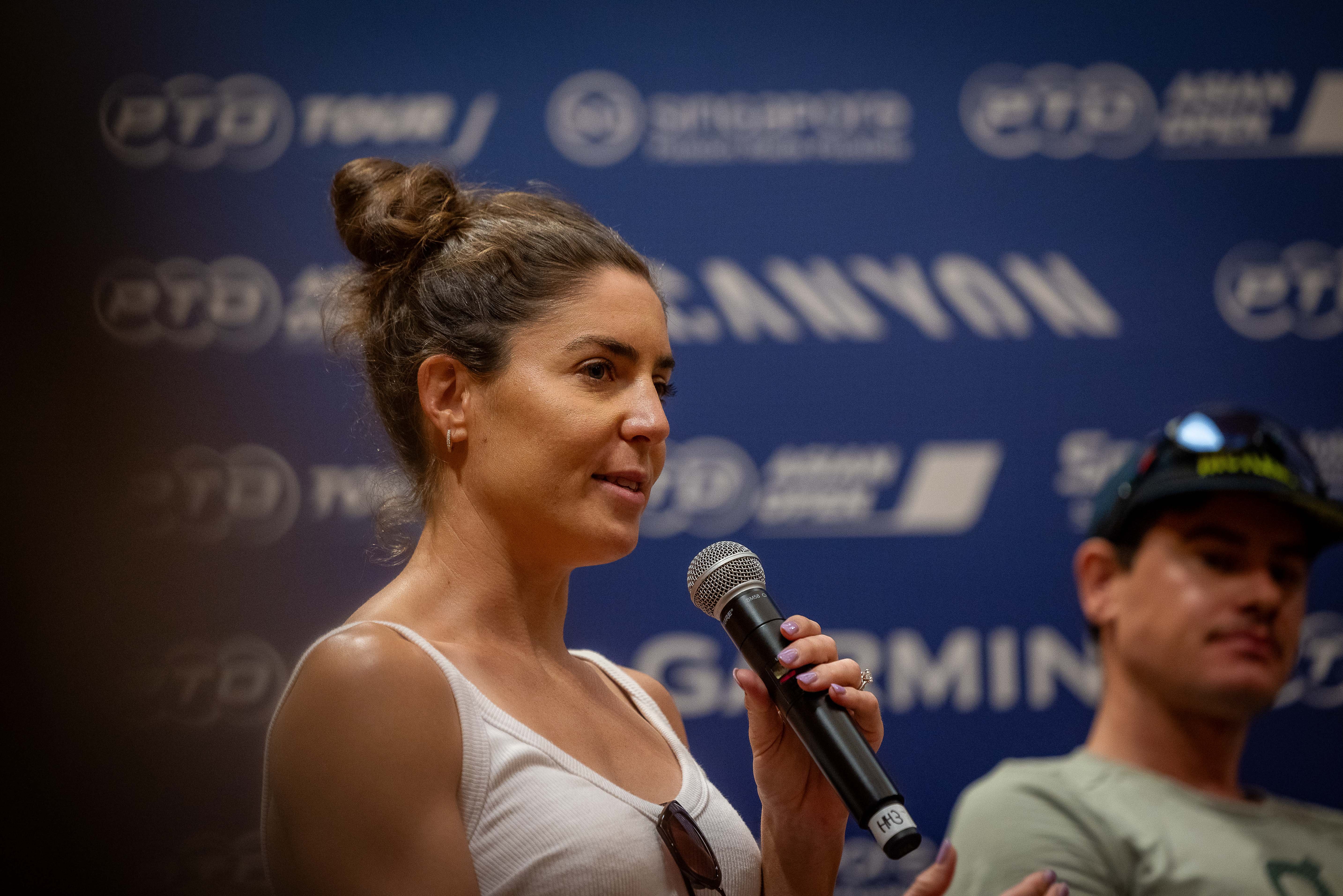 World No. 1 Ashleigh Gentle speaking at the PTO Asian Open media conference in Singapore. Photo Credit : Professional Triathletes Organisation
32-year-old Gentle said: "I've done a good job at coming second this year, so it would definitely be nice to take the top step again. But it's going to be very difficult with the women here who are motivated to also do the same. I definitely feel like my fitness and strength are a lot better than last year, I just haven't been able to get there in time to take the win at a PTO race this year. But I love these conditions, I know it's going to be very difficult, but I feel like a lot of the times, I'm racing on instinct and that helps in a situation like this where you have to make decisions on the race course. I haven't shied away from the fact that the PTO US Open and Asian Open are my two big goals for the year so I definitely hope to be firing on all cylinders tomorrow."
After winning both PTO titles in 2022 at the Canadian Open and US Open, Gentle is still seeking a third PTO win, having finished second at May's PTO European Open in Ibiza and the US Open in Milwaukee two weeks ago. But she will face stiff competition during the Pro Women's Race on Aug 19 with 2023 PTO European Open winner Anne Haug and PTO world No. 4 Lucy Charles-Barclay in the mix.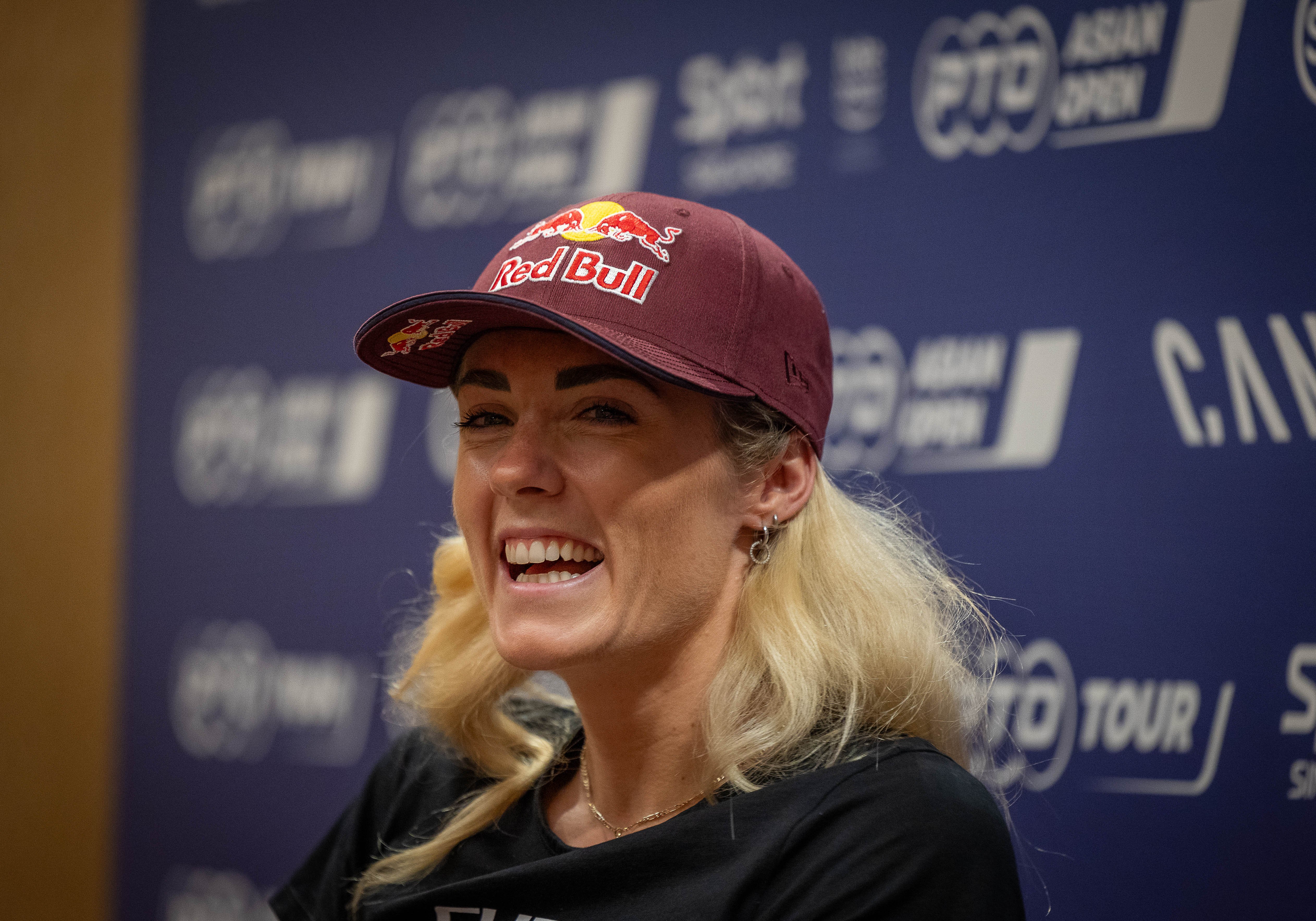 World No. 4 Lucy Charles-Barclay speaking at the PTO Asian Open media conference in Singapore. Photo Credit : Professional Triathletes Organisation
To prepare for the conditions here, 29-year-old Lucy has been training at the hottest point of the day and putting in maximum effort, but she is counting on good swim and bike legs to give her a good start. She said: "I've been trying to get used to how uncomfortable it's going to feel here on race day. I need to have a really solid swim and definitely a strong bike. I'm not quite sure where my run is at off the back of an injury I've had so I feel like having a decent gap before that run will be essential for me, but I'm still confident I can have a good run. Ultimately, I just want to get to the finish line and if I can put together a good race, I'll be happy with that. The conditions will have a big impact on what the result is and if I'm going too hard. It could even mean not finishing, so I just have to see how it goes."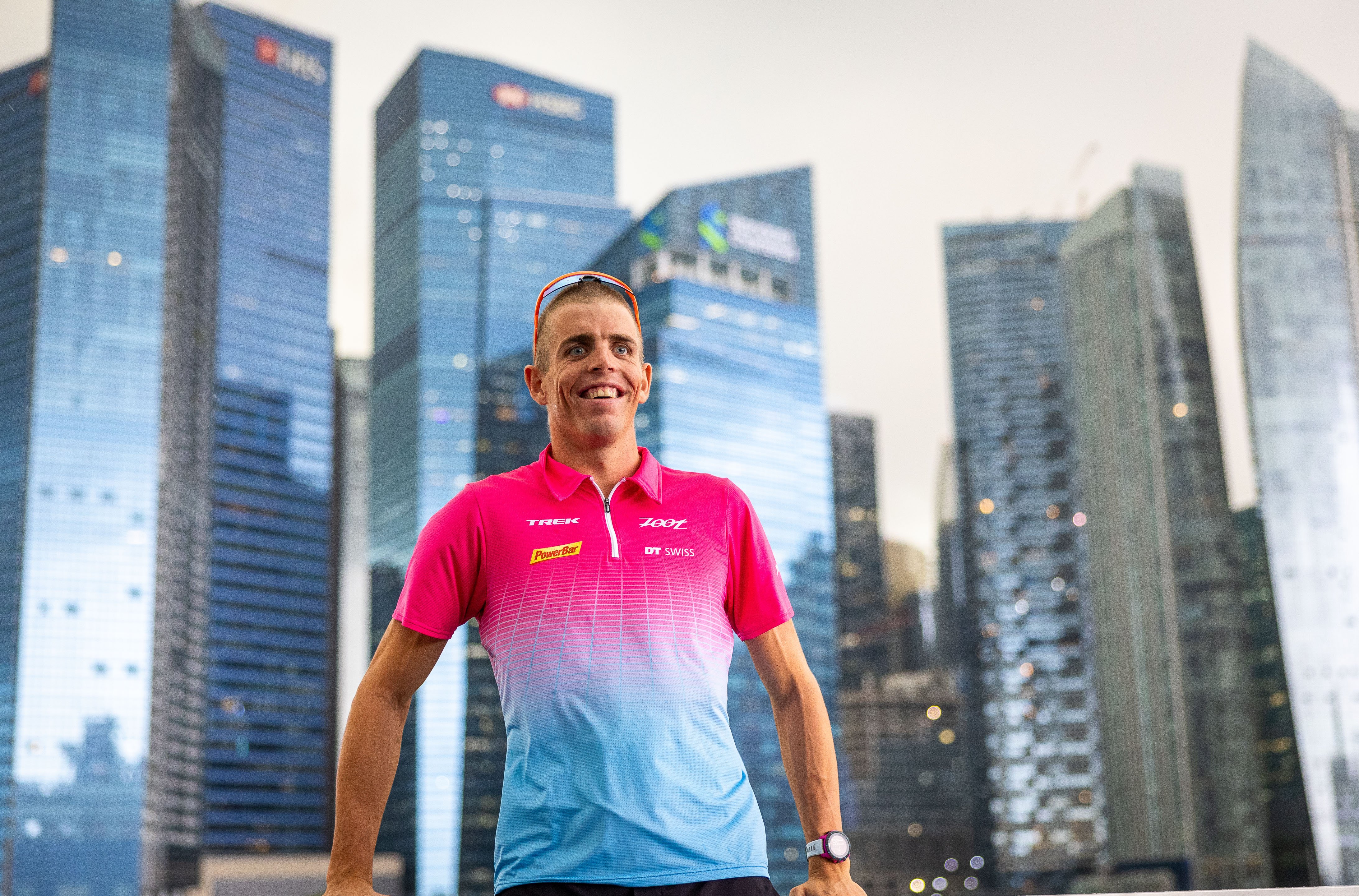 27-year-old American Sam Long is in Singapore for the PTO Asian Open. Photo Credit : Professional Triathletes Organisation
In the Pro Men's race, new father Sam Long is also eyeing a podium finish on Sunday, but also shared how his approach to racing has changed since the birth of his son earlier this month. Despite finishing 5th in Milwaukee, Long still crossed the finish line with a grin.
He said: "My life is different now and I'm taking it all in with a big smile. I feel much happier and more grateful to race and it's giving me more purpose to do triathlons. Normally, we're not too happy with a fifth-place finish, but I had the biggest smile I've ever had at the finish line. I recognise that maybe I had 75 or 80 per cent of my physical capabilities, but I got 110 per cent of myself that day. I was able to find another level to push myself to and the crowd was phenomenal. People were going nuts so I just kind of rode on that. As for this weekend, I want to put my best foot forward and if I'm in the top five or top three, that's a great race. If I can get the win, that's truly an exceptional day."
As for Gustav Iden, he too remained realistic about his targets, aiming for a top-10 finish in the Lion City, as he admitted he has not hit his physical targets. The Norwegian said: "It's very difficult to set goals because I don't know where the others are at. But I hope to surprise myself a little bit on race day and maybe perform better than I think I can at the moment. It's good to be back, I really love the heat and humidity so maybe that can play into my advantage."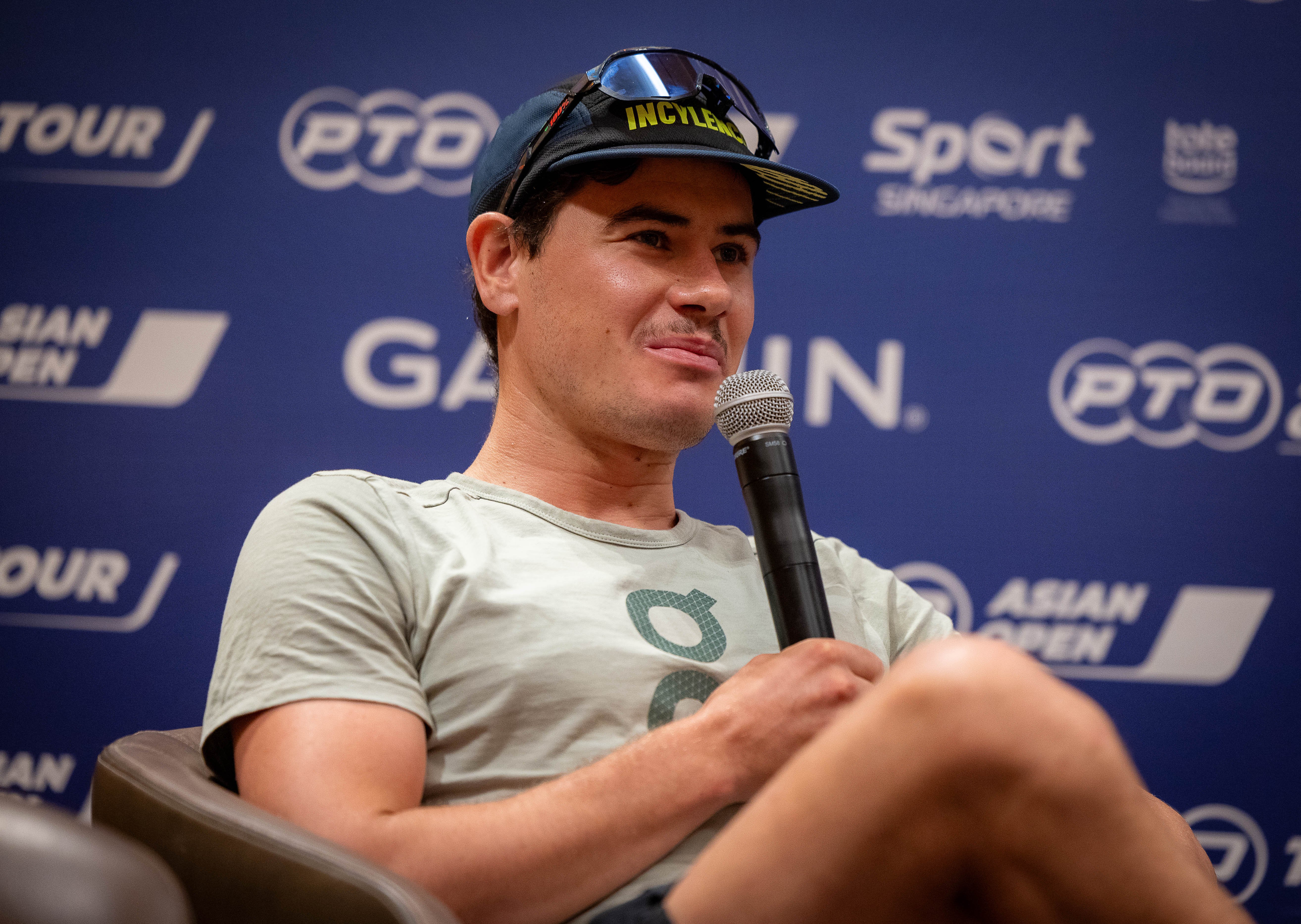 Norway's Gustav Iden speaking at the PTO Asian Open media conference in Singapore. Photo Credit : Professional Triathletes Organisation
The 4 athletes also welcomed the recently announced partnership between World Triathlon and the PTO that recognizes the PTO Tour as the official World Championship tour of long distance triathlon.
The inaugural PTO Asian Open from 19 to 20 August will host the world's top male and female professional triathletes competing for a total prize purse of US$600,000 in the heart of Singapore. Led by reigning Olympic triathlon champion Blummenfelt, the star-studded field will take on a specially designed 100km course – comprising a 2km swim, 80km bike and 18km run – that takes in iconic landmarks, including the Benjamin Sheares Bridge, the Merlion, the Singapore Flyer, Gardens by the Bay and the Marina Barrage. The 100km race for professional athletes and experienced amateurs begins with a 2km freshwater swim in the Marina Bay and ends near the Marina Bay Sands. For more event information, visit here.
All the action will be broadcast live around the world to 195 territories courtesy of the PTO Tour's partnerships. In Singapore, the PTO Asian Open will be shown 'live' on meWATCH, Mediacorp's digital streaming platform.
Recent Events & Programmes