Table Tennis: Women's team wins gold, men edge one step closer to title
by Circle Stories, on August 2, 2022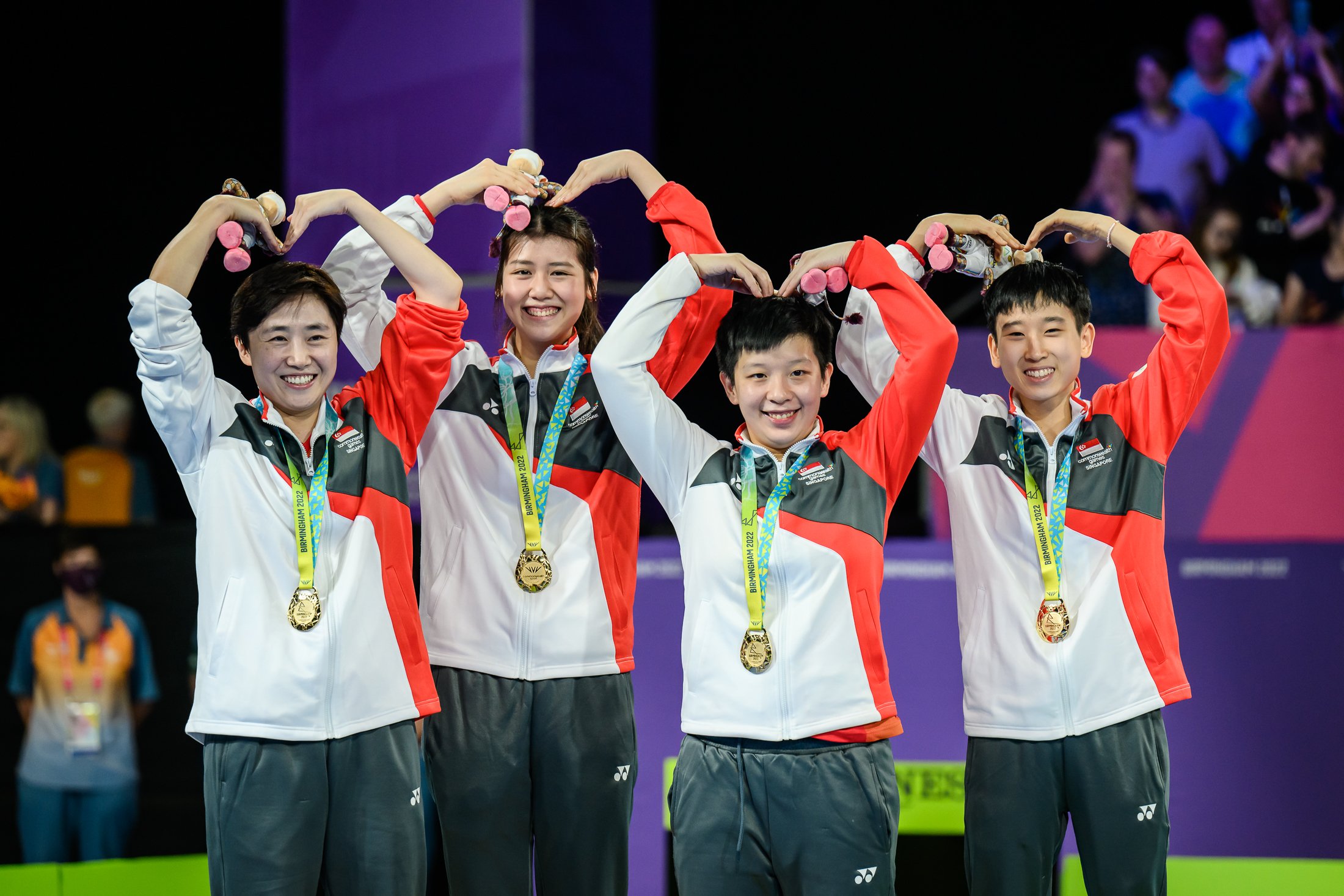 The Women's Table Tennis team sending some love back home after their victory over Malaysia in the Final of the women's team event. Photo Credit: Commonwealth Games Singapore/Andy Chua
Taking it Back
Four years after a crushing defeat to India, Feng Tianwei was at it again in the final of the Women's Table Tennis Team event. She was the only one who knew how it felt, for she was the only one from the team of silver medalists in 2018.
Still, Table Tennis had accounted for 22 of Singapore's 37 gold medals across all Commonwealth Games, and that pressure to add to the number would also be firmly mounted on the shoulders of teammates Wong Xin Ru, Zhou Jingyi and Zeng Jian.
This year, the Indians had already been knocked out by Malaysia in the semis - And it was our causeway rivals that stood in Tianwei's path to a trio of Commonwealth team golds (and her seventh overall).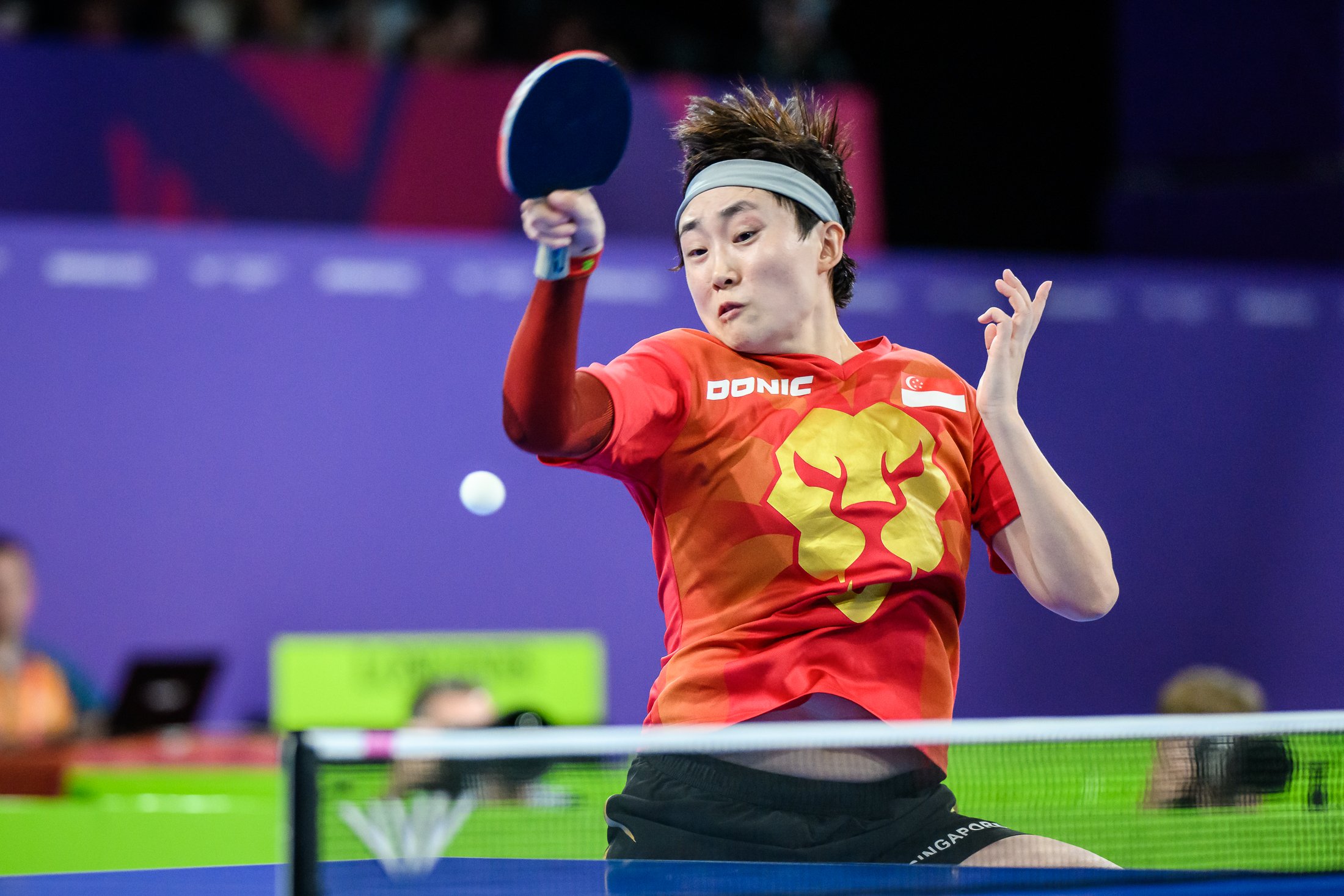 Feng Tianwei taking on Alice Chang in the Women's Team Final. Photo Credit: Commonwealth Games Singapore/Andy Chua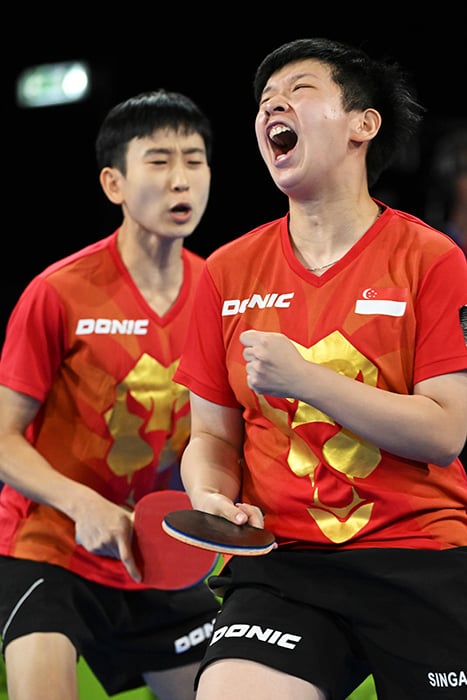 Zhou Jingyi and Zeng Jian celebrating after winning Game 1 of the Women's Team Final. Photo Credit: Sport Singapore/Andy Buchanan
And when the duo of Karen Lyne and Ho Ying took Game 1, there was perhaps some semblance of a doubt… Only for it to be quashed by the excellent Zeng Jian and Zhou Jingyi as the pair recovered to seal the matchup 7-11, 11-4, 11-6 and 11-5.
In the second encounter, team captain Tianwei made light work of her opponent Alice Chang with a 3-0 win, inclusive of an 11-1 Game 2 that highlighted her dominance over the 22 year old Malaysian.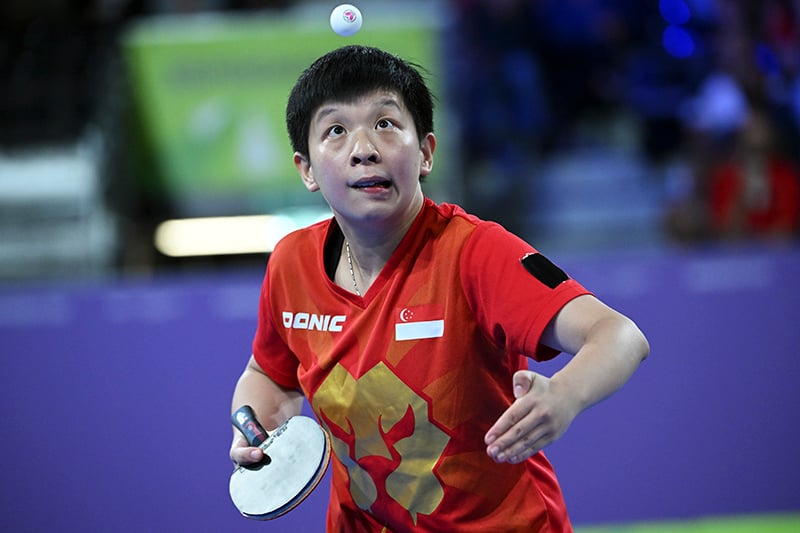 Zeng Jian seals the encounter with a quick win against Malaysia's Ho Ying. Photo Credit: Sport Singapore/Andy Buchanan
With just one more win needed, Zeng Jian found herself up against Ho Ying, a tricky opponent who could capitalise on any loss of concentration. But Zeng Jian came racing out the blocks and her aggression was rewarded with the opening two games.
Ho Ying threw a spanner in the works with an 11-8 upset in Game 3, but there was no stopping Zeng Jian as she finished off the encounter 11-3, 11-4, 8-11, 11-5. Singapore were again the champions.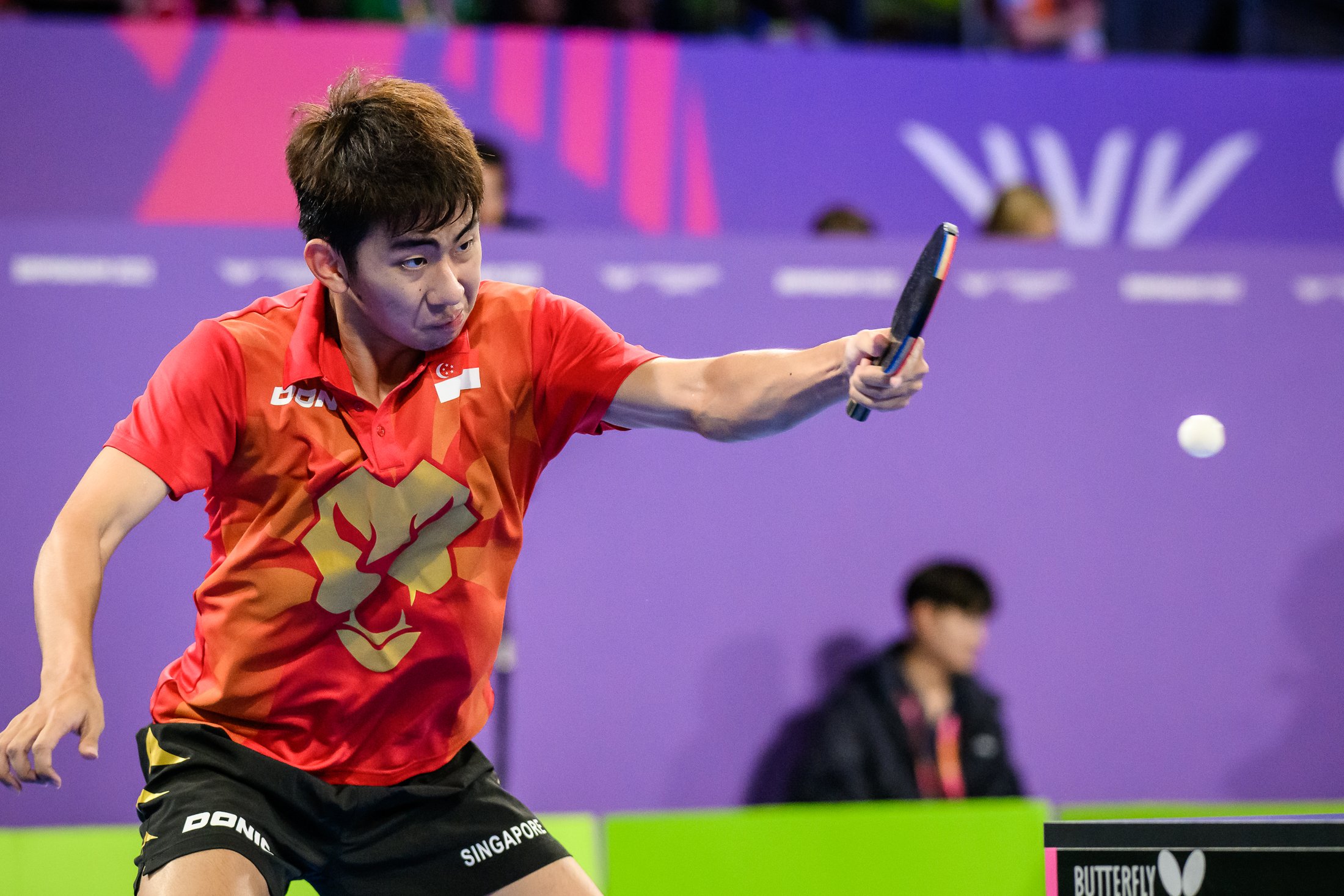 Koen Pang leading the Singapore men's table tennis team. Photo Credit: Commonwealth Games Singapore/Andy Chua

A New Chapter
In the men's Table Tennis team event, Koen Pang, Izaac Quek, Clarence Chew and Ethan Poh upset hosts and tournament favourites England to set up a Final clash with defending champions India.
The encounter against England would turn out to be a classic clash as Izaac and Koen, both ranked outside the top 100 players in the world, reprised their quarter-final partnership to take apart Sam Walker and Liam Pitchford, both ranked within the top 100 players in the world, in straight games. It was a gutsy performance, but Paul Drinkhall evened things by beating Clarence Chew in match 2.
When world number 115 Koen stood to face world number 20 Liam Pitchford in match 3, there weren't too many people in the crowd who gave Koen a chance.And those people would be staring in disbelief as 20 year old Koen smashed Pitchford 11-7, 9-11, 11-8, 11-9.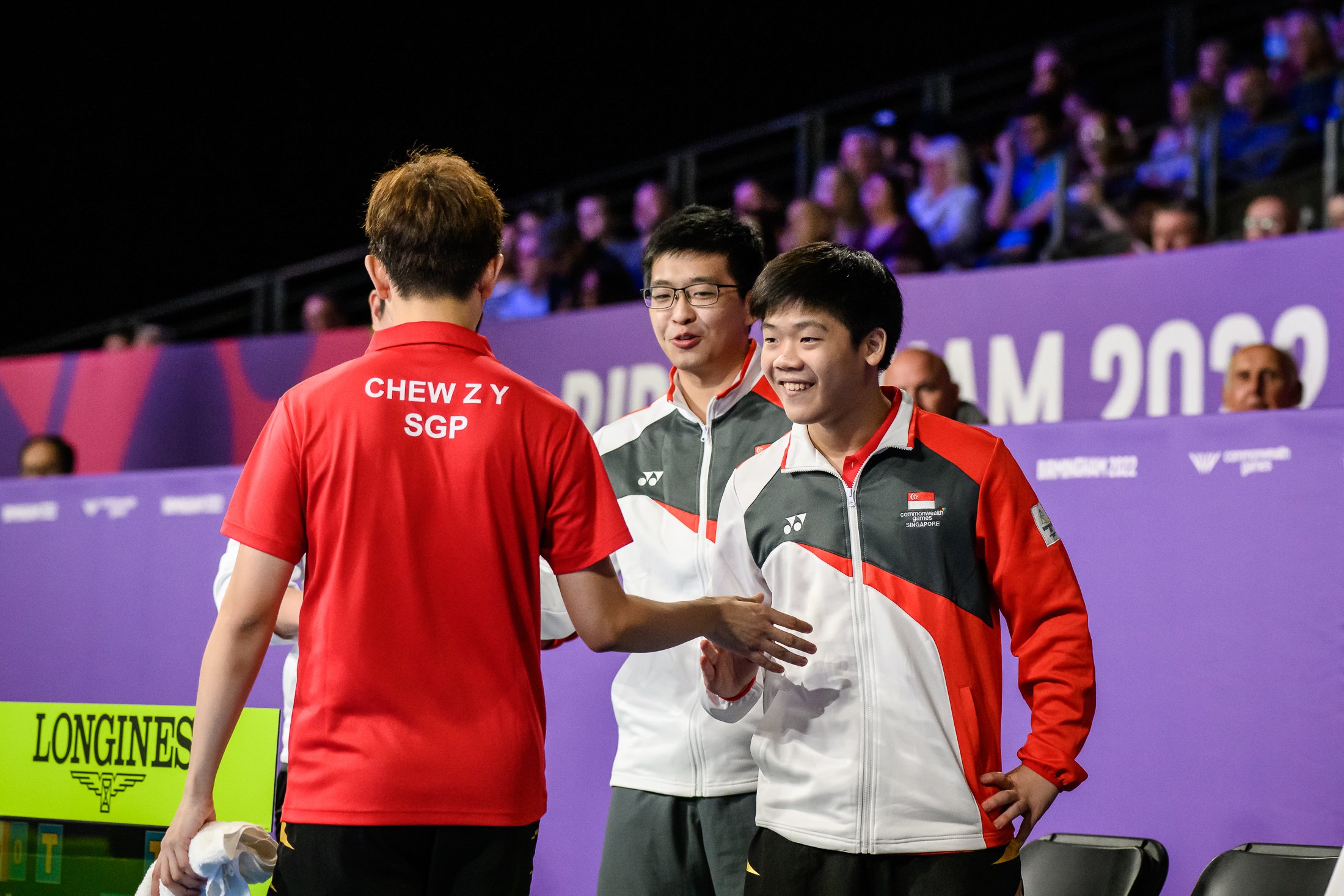 Izaac Quek cheering on teammate Clarence Chew. Photo Credit: Commonwealth Games Singapore/Andy Chua
16 year old Izaac was the wildcard in the Singapore team but Drinkhall was in fine form going into their encounter after just beating Clarence, and he did not find any problem scoring an easy win.
At 2-2, home side England fancied their chances in the last encounter. And that idea would be rubbished by Clarence, the 26 year old completed a huge upset 6-11, 5-11, 11-7, 7-11 to send Singapore to the final of the tournament.
Head coach Gao Ning will expect a similar performance from his team of local-born players in the men's final, who are at least guaranteed silver in the event.
The 22nd Commonwealth Games is held in Birmingham, England from 28 July 2022 to 8 August 2022. For the latest Team Singapore coverage and news, follow Team Singapore on their social media channels (Facebook, Instagram, TikTok) or visit the official Team Singapore website.