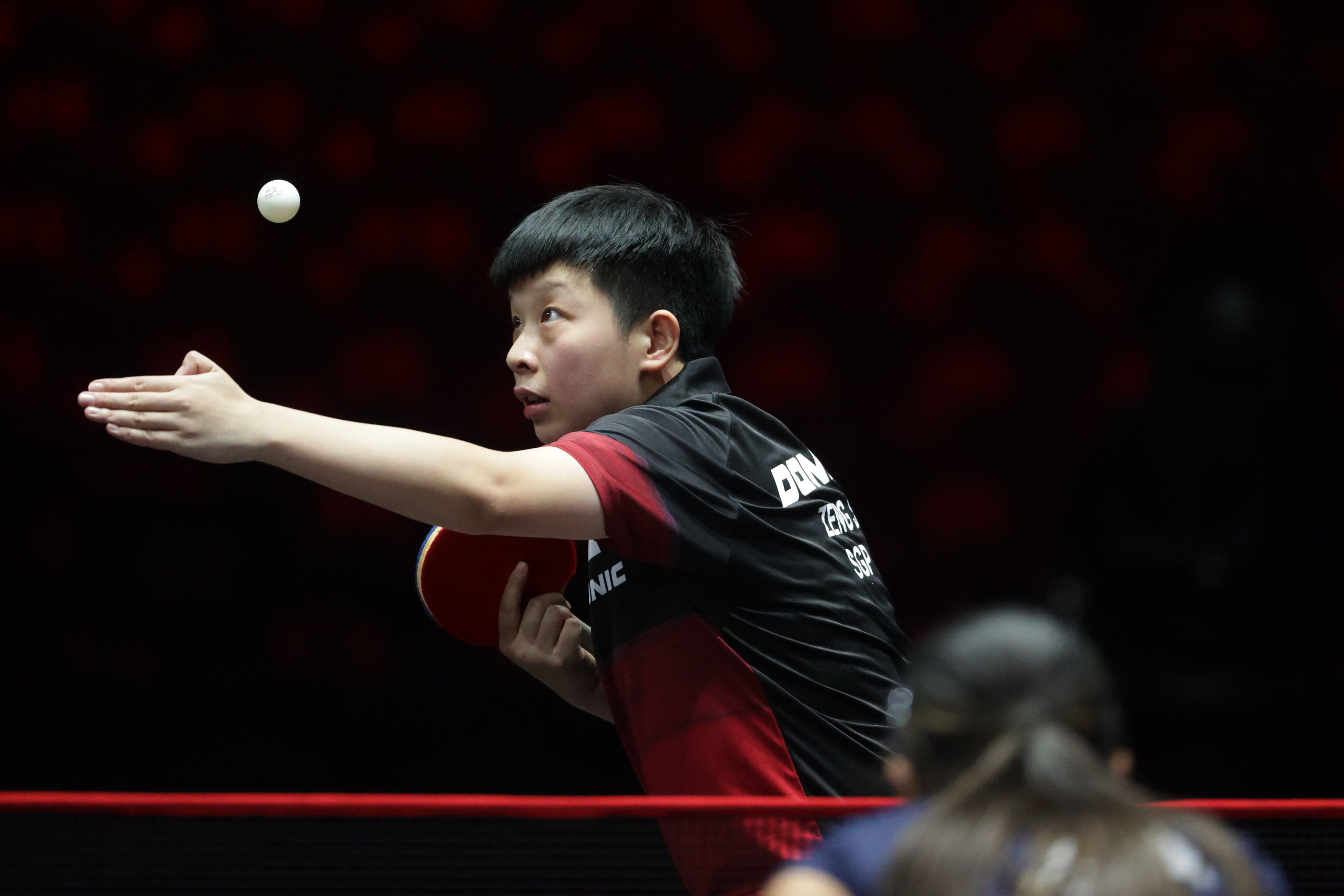 Team Singapore's Zeng Jian. Photo Credit : World Table Tennis
Team Singapore (TeamSG) will be represented in all 5 competitive categories of the US$2 million Singapore Smash. The confirmation came following today's announcement of more wildcards for the March 7-19 event at the Singapore Sports Hub's OCBC Arena.
The Republic's latest wildcards will be led by TeamSG's world No. 55 Zeng Jian, who will compete in the women's singles and mixed doubles events. "I'm very much looking forward to the upcoming Singapore Smash – it's a gathering of the world's best players. I'll prepare well and do my best to enjoy the experience, and I hope spectators in Singapore come out to cheer us on," said 26 year old Zeng Jian.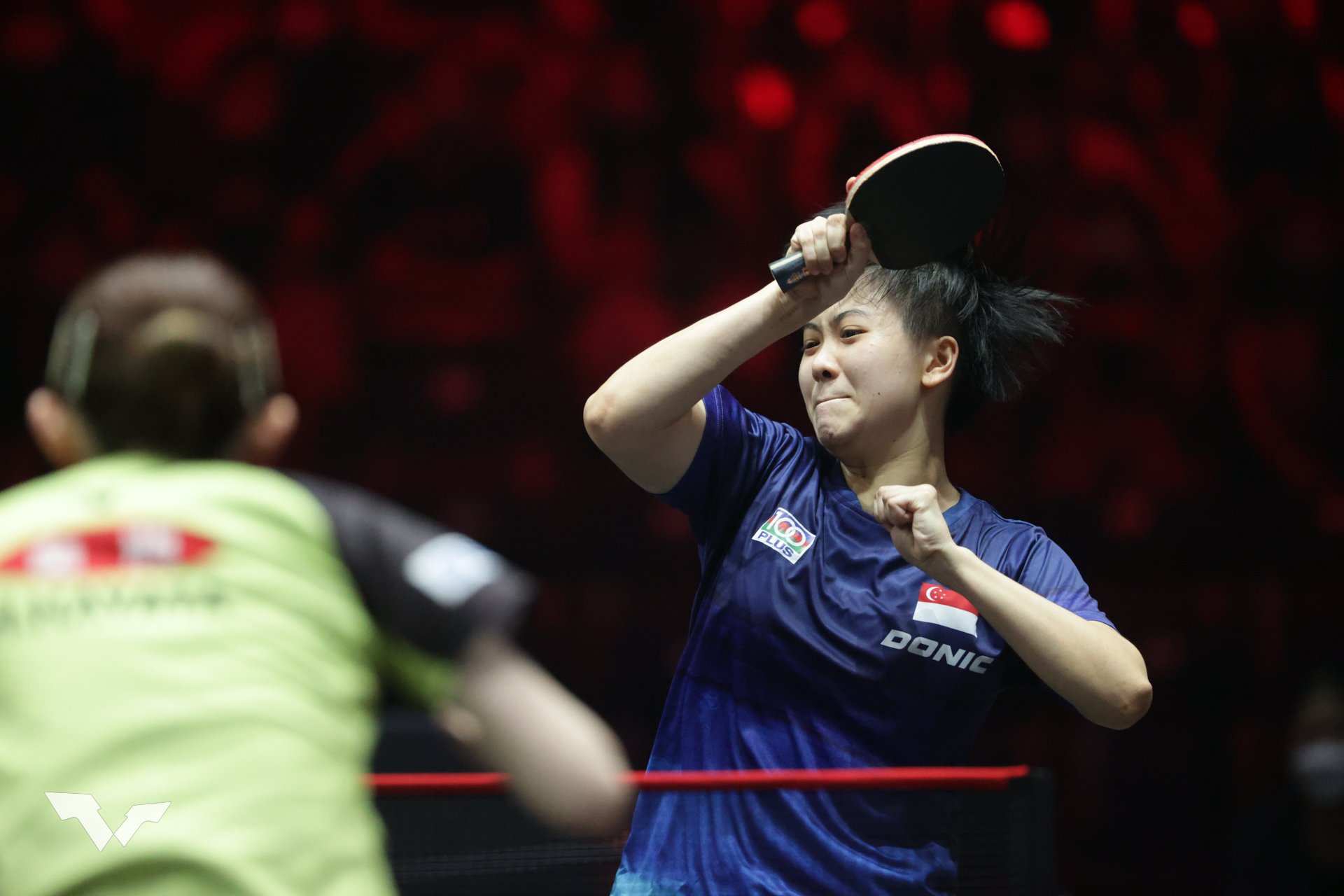 TeamSG's Goi Rui Xuan in action at Singapore Smash 2022. Photo Credit : World Table Tennis
The latest group of wildcards are : Goi Rui Xuan (women's singles main draw), Izaac Quek (men's singles main draw), Tan Zhao Yun (women's singles qualifying), Lucas Tan and Dominic Koh (men's singles qualifying). 16 year old Izaac Quek, part of the men's team that won silver at the 2022 Commonwealth Games, said, "I am very grateful to STTA and WTT for giving me a chance to compete in such a high-level event at such a young age. It is not often that I get to play against or be in the same environment as all the world's top players and I will seize this opportunity to play my best and learn from all the players. I hope to make use of this opportunity to learn as much I can and do my best in the competition."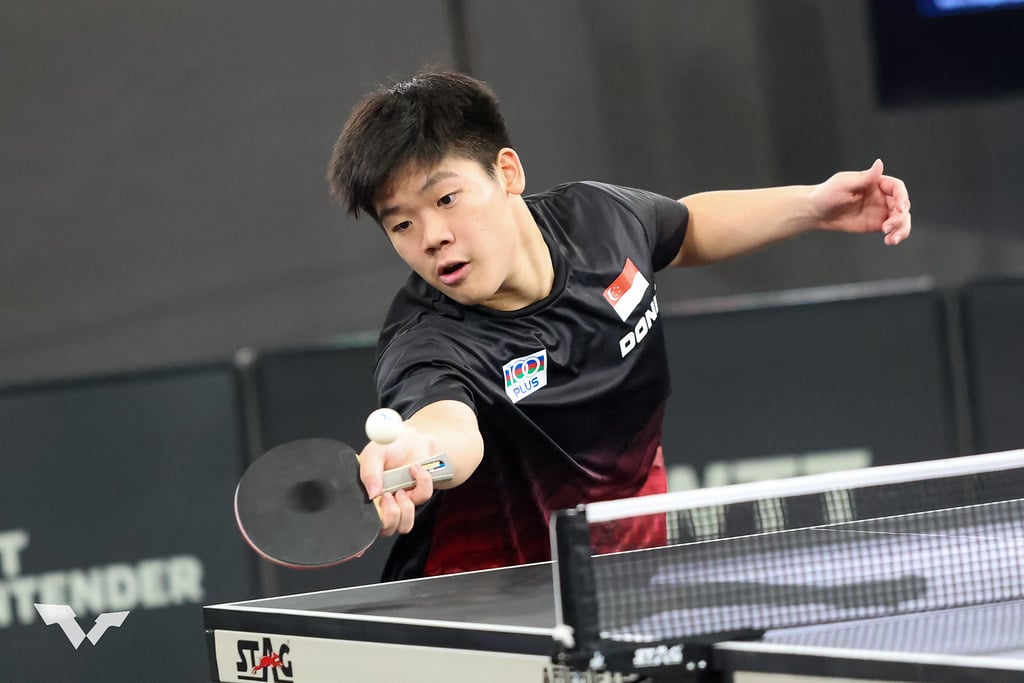 TeamSG's 16 year old Izaac Quek. Photo Credit : Singapore Table Tennis Association


Singapore's doubles roster is also confirmed, with two pairs each in the mixed, women's and men's doubles draws. That includes the giant-killing duo of Clarence Chew and Ethan Poh. A year ago at Singapore Smash 2022, the duo delighted the home fans by stunning the 2019 World Championship doubles silver medallists, enroute to the men's doubles quarterfinals. Meanwhile, the full local wildcard entry list is available in Annex A below.

Singapore Smash 2023 at the OCBC Arena, will feature 64 player men's and women's singles and 24-pair doubles and mixed competitions. A singles qualifying competition featuring a further 64 men and 64 women will be held from 7-9 March. The overall player line-up is listed here.
Tickets for the Qualifying sessions and the Main draw are available here.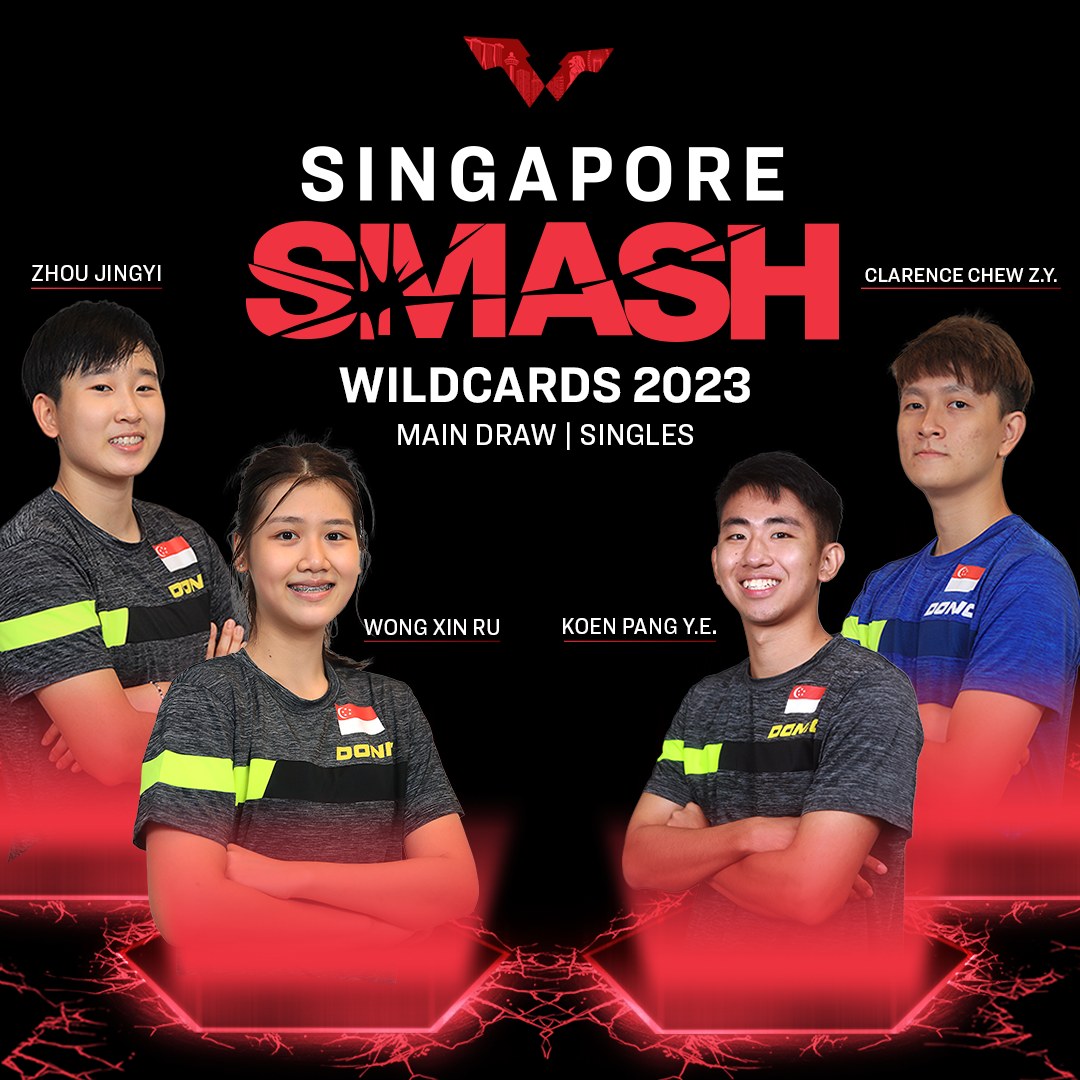 1st group of TeamSG Wildcards announced on 19 Jan 2023. Image Credit : WTT
Annex A
*denotes previously-announced entries

WOMEN'S SINGLES – MAIN DRAW
• Goi Rui Xuan
• Zhou Jingyi*
• Wong Xin Ru*

MEN'S SINGLES – MAIN DRAW
• Izaac Quek Yong
• Clarence Chew Zhe Yu*
• Koen Pang Yew En*

WOMEN'S SINGLES – QUALIFYING
• Tan Zhao Yun
• Ser Lin Qian*
• Zhang Wanling*

MEN'S SINGLES – QUALIFYING
• Tan Lucas
• Dominic Koh Song Jun
• Poh Shao Feng Ethan*
• Josh Chua Shao Han*

MIXED DOUBLES – MAIN DRAW
• Clarence Chew Zhe Yu / Zeng Jian
• Koen Pang Yew En / Wong Xin Ru

WOMEN'S DOUBLES – MAIN DRAW
• Ser Lin Qian / Zhou Jingyi
• Wong Xin Ru / Goi Rui Xuan

MEN'S DOUBLES – MAIN DRAW
• Clarence Chew Zhe Yu/ Poh Shao Feng Ethan
• Koen Pang Yew En / Izaac Quek Yong