Tokyo 2020 : TeamSG Padder Feng Tianwei is just 1 step away from reaching Women's Singles QF stage!
by Circle Stories, on July 25, 2021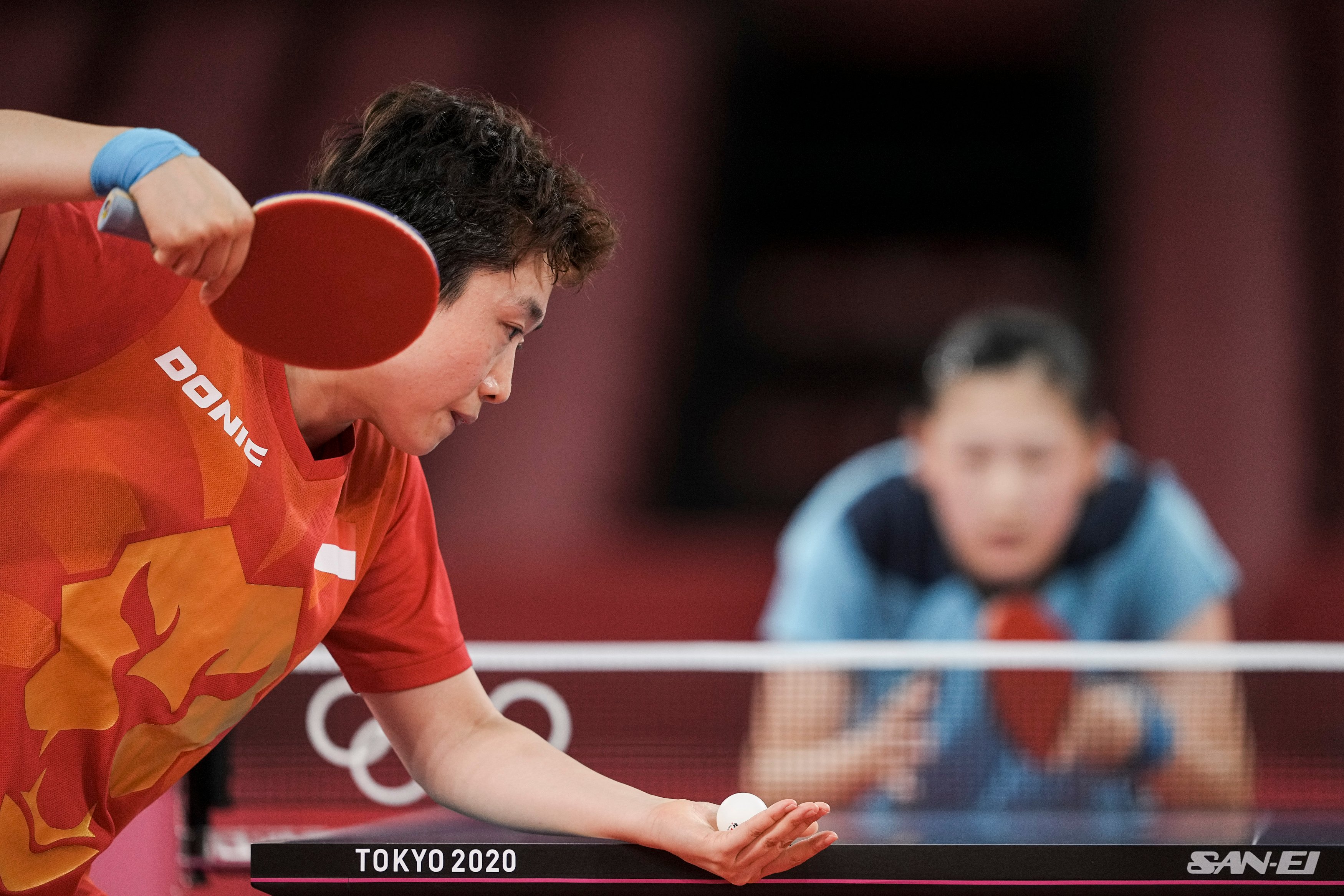 (Feng Tianwei vs Maria Xiao in Rd of 32 at Tokyo 2020 - Photo by Kong Chong Yew/Singapore National Olympic Council)
By Kenneth Tan
She got off to a sluggish start in her 3rd round Women's Singles campaign at Tokyo 2020. But the highly experienced Feng Tianwei dug in and eventually finished off with a flourish, as she defeated Spain's Maria Xiao 4-1 (8-11, 12-10, 11-5, 11-2, 11-4) to advance to the round of 16.
Up against the left-handed Xiao – who had upset 17th-seed Hong Kong's Minnie Soo a day ago to progress to this stage, Tianwei was slow off the blocks in the first game. Over at the Tokyo Metropolitan Gymnasium, it was the Spaniard quickly opening up a 5-1 lead. The Team Singapore paddler then trailed 9-4, before mounting a spirited fightback to reduce the deficit to just 1 point. However, that could not stop the 34 year old from losing 8-11.
(Maria Xiao in Rd of 32 at Tokyo 2020 - Photo by SportSG)
It was a see-saw battle in the 2nd game, with Xiao opening up a 3-0 lead before Tianwei rallied to earn 6 straight points to surge ahead. However, the Singaporean was constantly frustrated by her Spanish opponent, who was more than ready to match her aggressive style of play. Xiao would turn the game around to get match point at 10-9, but Tianwei – who is playing at her 4th Olympiad – dug deep and would eventually earn 3 straight points to win the set 12-10 and level the series at 1-1.
That proved to be the turning point for the former Olympic Silver medallist – ranked 9th in the world and 63 places above Xiao – as she would finally hit her groove in the 3rd game. Unleashing her trademark powerful shots with more regularity and showing an ability to change the angles on her returns, she went on to lead 6-3, before winning it by a difference of six points (11-5).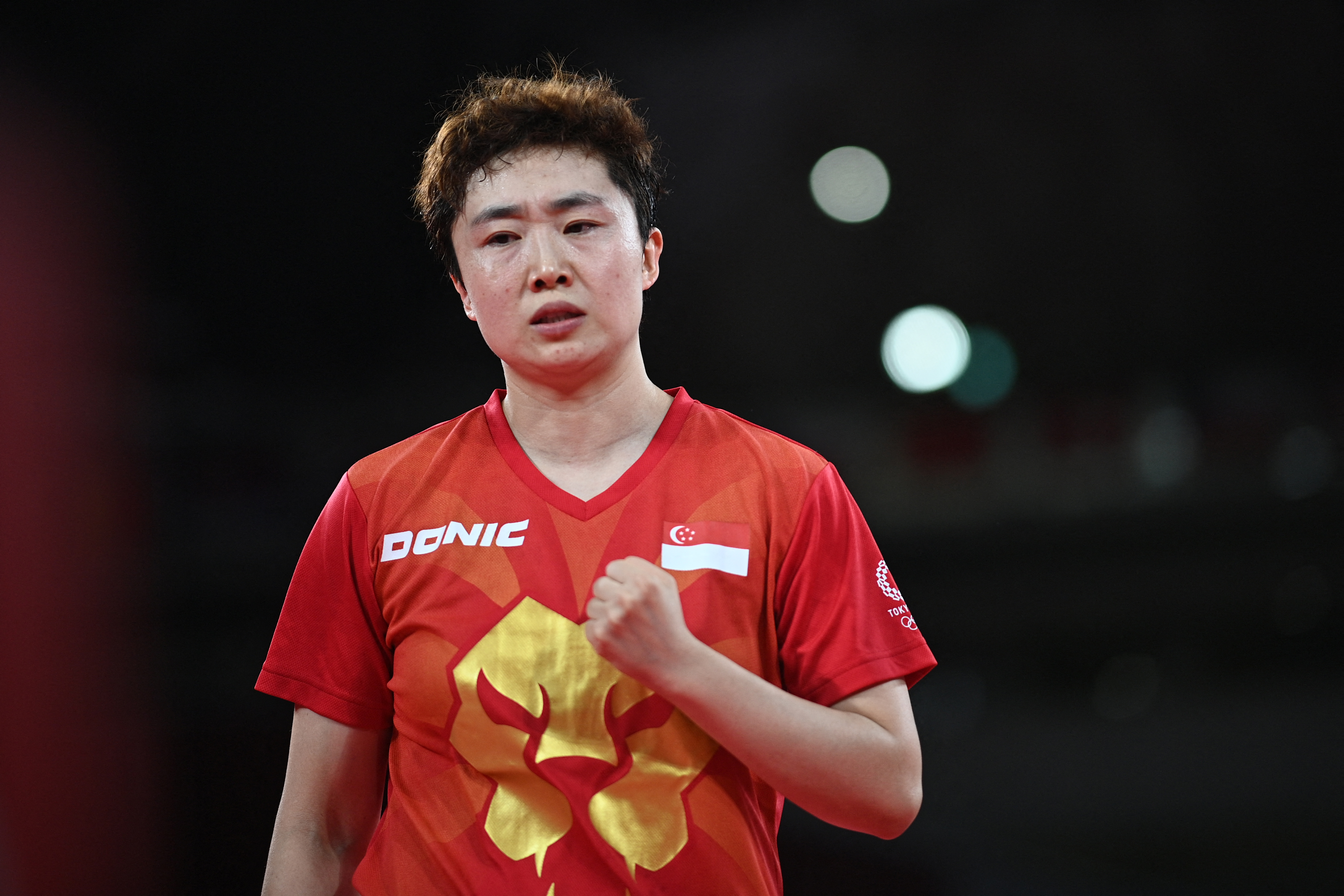 (Feng Tianwei in Rd of 32 at Tokyo 2020 - Photo by SportSG)
By now, there was no stopping the Tianwei juggernaut as the Singaporean star paddler led 3-0 in the 4th game. That's before winning 8 straight points to seal it 11-2. And the victory was sealed in the 5th game, with Tianwei racing into a 5-0 advantage before wrapping it up 11-4.
Singapore's most decorated Olympian with two bronze medals and one silver, Tianwei is determined to make her mark on Tokyo 2020 with this tournament likely to be her last hurrah at this level. The heartbreak of losing in the women's singles quarter-finals to Japan's now-retired Ai Fukuhara in Rio 2016, is something that fuels her to do better this time round.
(Feng Tianwei vs Maria Xiao in Rd of 32 at Tokyo 2020 - Photo by Kong Chong Yew/Singapore National Olympic Council)
Her best finish in the Singles was a bronze medal in London 2012 and there is every reason to believe she can surpass that achievement at this edition. Tianwei has now progressed into the round of 16, where she will meet either 22nd world-ranked Han Ying (Germany) or Australia's Lay Jian Fang (ranked 156) on Tuesday (July 27.)
The 32nd edition of the Olympic Games is from 23 July to 8 Aug 2021. For all coverage and news of the Republic's national athletes who're competing at the Games, check out the official Team Singapore Tokyo 2020 website.
Remember to also Show your support for Team Singapore at the Olympic Games!
Team Singapore athletes have worked tirelessly over the last 12-20 months, especially under strict safety management measures to train and prepare. They've had to step up, pivot and adopt new and innovative methods to train especially with their preparations confined to the Lion City. With no international competitions or training stints, these athletes have had to adopt and maintain a positive mindset as well, throughout this entire journey to reach the grandest stage in Sport!
Simply click here to pledge a few words of encouragement and send positive vibes, as our TeamSG athletes continue to fly the national flag proudly in Tokyo.
Related Events & Programmes