Tokyo 2020 : TeamSG Para-Equestrienne Laurentia Tan reaches grand final, while team-mate Gemma Foo misses out!
by Circle Stories, on August 26, 2021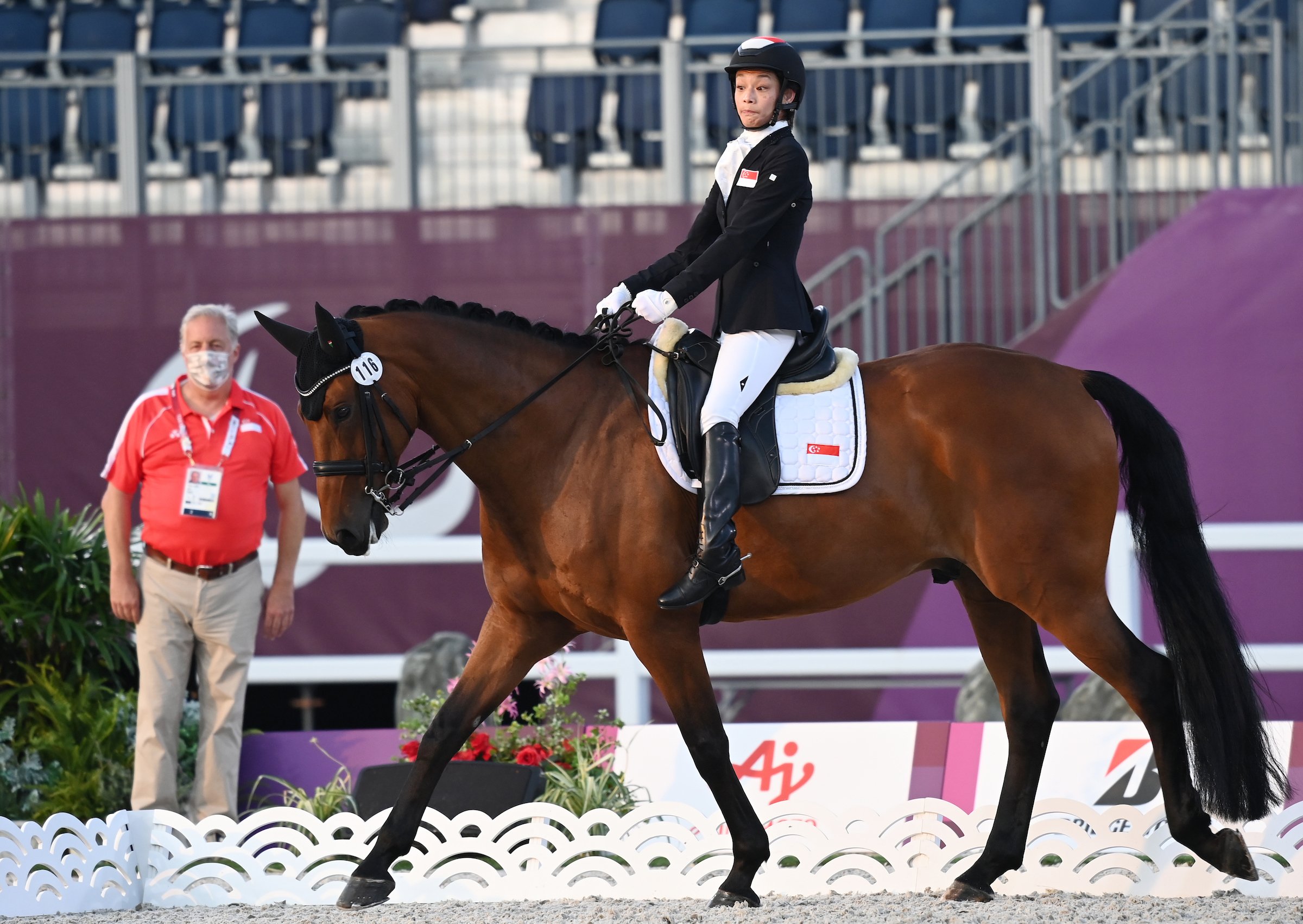 (TeamSG's Laurentia Tan @Tokyo 2020 - Photo by Sport Singapore)
By Kenneth Tan
Experienced Team Singapore para-equestriennes Laurentia Tan and Gemma Foo, put up displays to be proud of, in their opening event at Tokyo 2020. On a Friday afternoon (27 Aug) at the Tokyo Equestrian Park, the duo featured in the Dressage Individual Test (Grade I) event.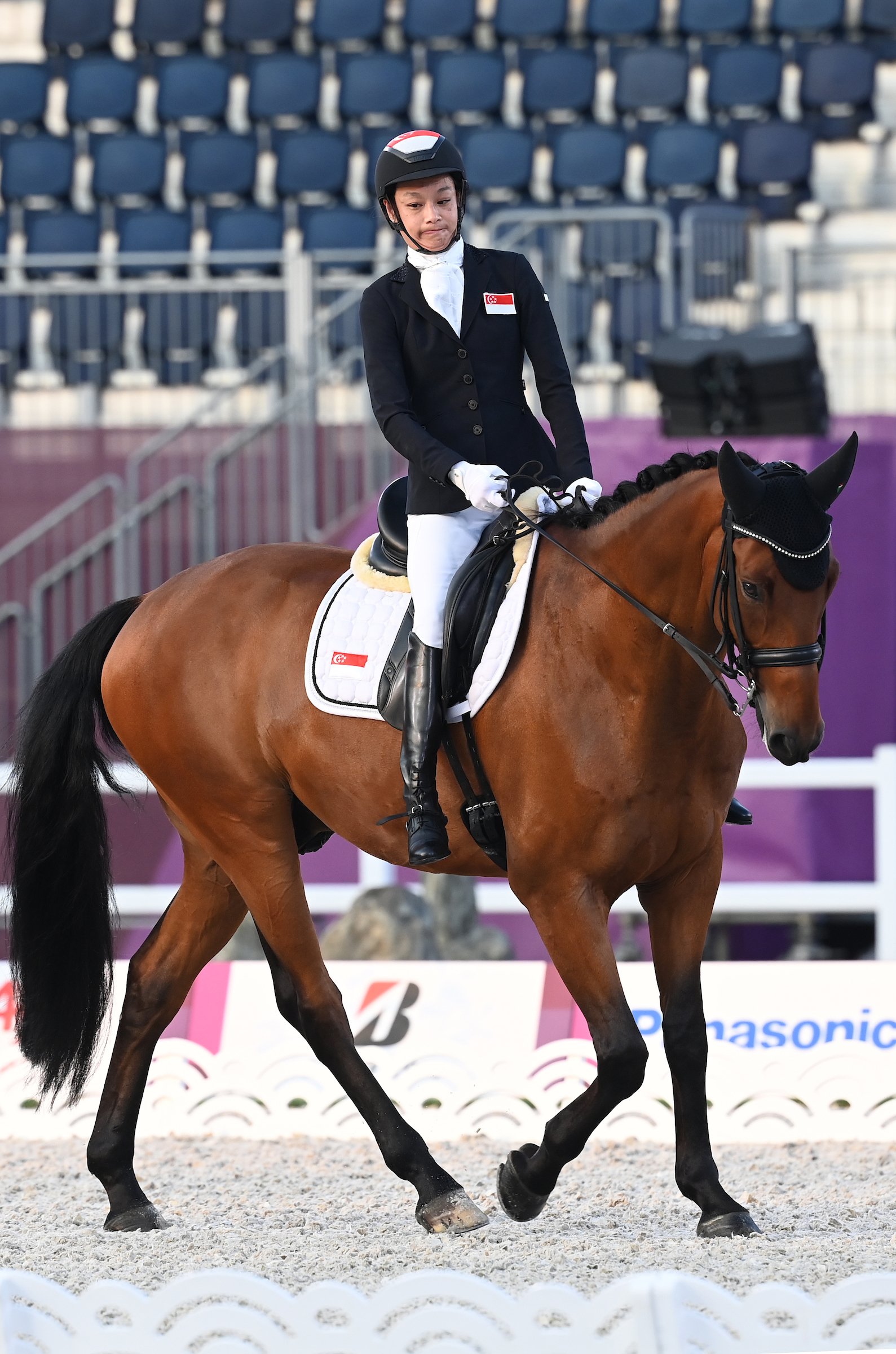 (TeamSG's Laurentia Tan @Tokyo 2020 - Photo by Sport Singapore)
Making her 4th Paralympic appearance, 42 year old Laurentia and her 4-legged partner "Banestro", were given an impressive overall score of 73.964 by a panel of 5 judges. Improving on her Rio 2016 result of 73.522 in Grade Ia, she was ranked 5th out of 18 competitors and advanced from the top 8 into the Individual Freestyle Test next Monday night (30 Aug).
USA's world no. 1 Roxanne Trunnell clinched the gold medal with 81.464, while Latvia's Rihards Snikus scored 80.179 to win silver ahead of Italy's Sara Morganti (76.964).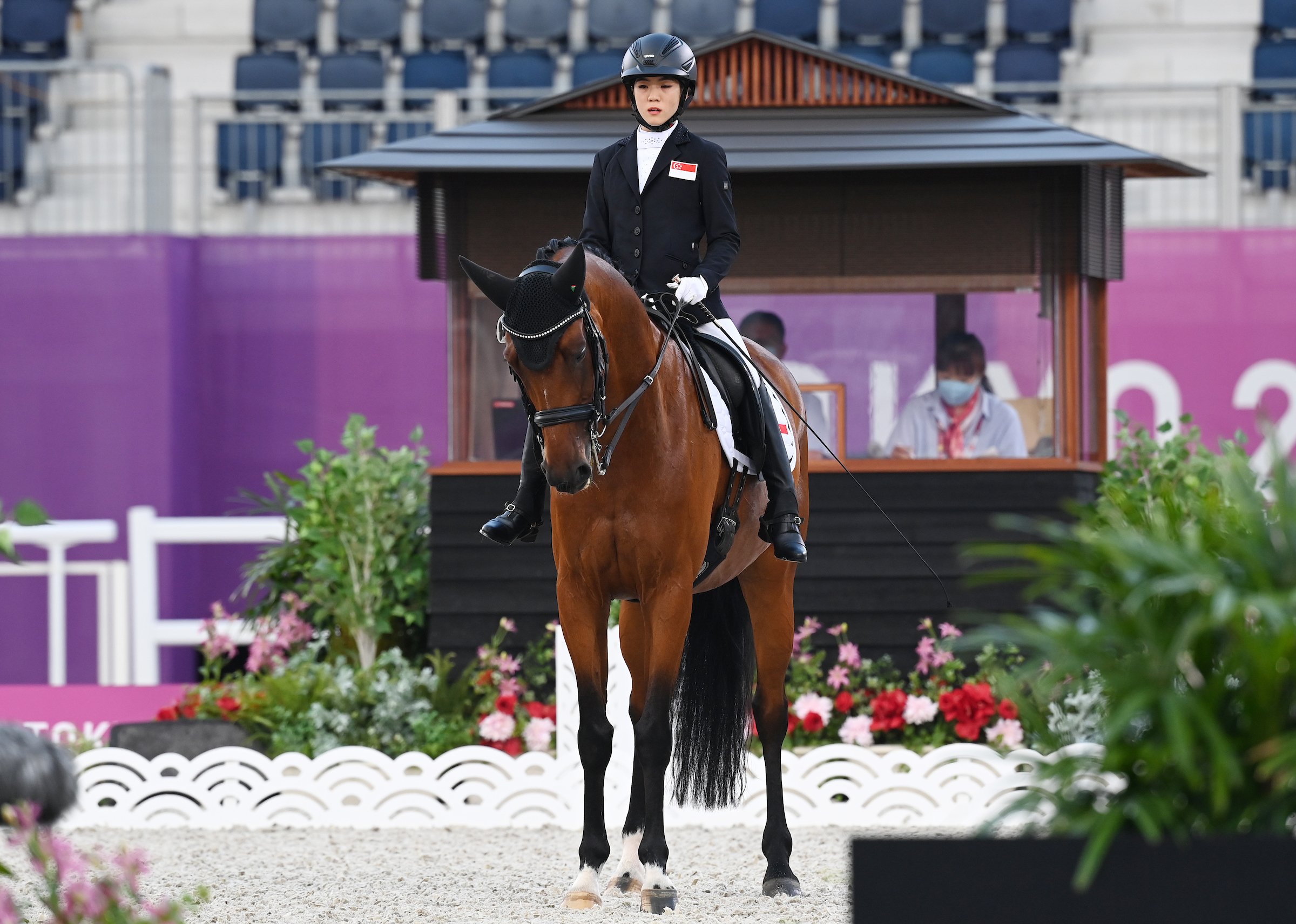 (TeamSG's Gemma Foo @Tokyo 2020 - Photo by Sport Singapore)
As for 25 year old Gemma and her partner "Gambler", they scored 62.750 to be placed 17th on her 3rd Games outing – faring better than the 62 that she achieved 5 years ago in Brazil. Today's performance was 7.679 points behind Russian Paralympic Committee's Vladislav Pronskiy, who took the 8th and last qualifying spot.
Both Singaporean para-equestriennes should be considerably satisfied, as they were not competing with the same horse partners from the last Paralympics.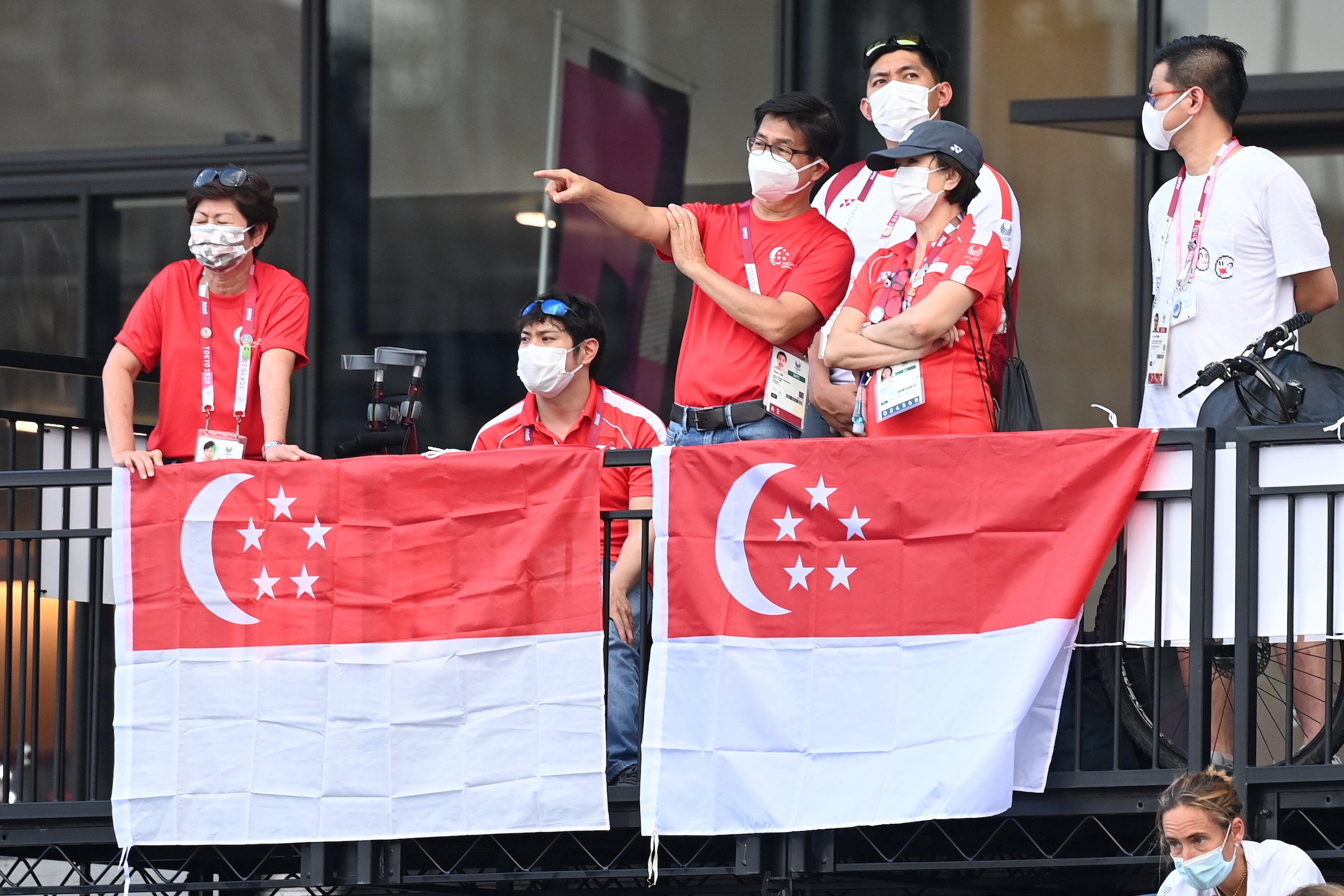 (TeamSG Athlete Gemma Foo's Father - Seen Pointing to the Arena)
Teaming up with 10 year old "Gambler" due to an injury to her long-time partner "Cassius Royal", World No 18 Gemma – who was born with cerebral palsy – faced some initial issues such as, getting into sync with her new horse. With her Father watching on from the sidelines of the arena, she was determined to put up a good showing and gradually began to show better control.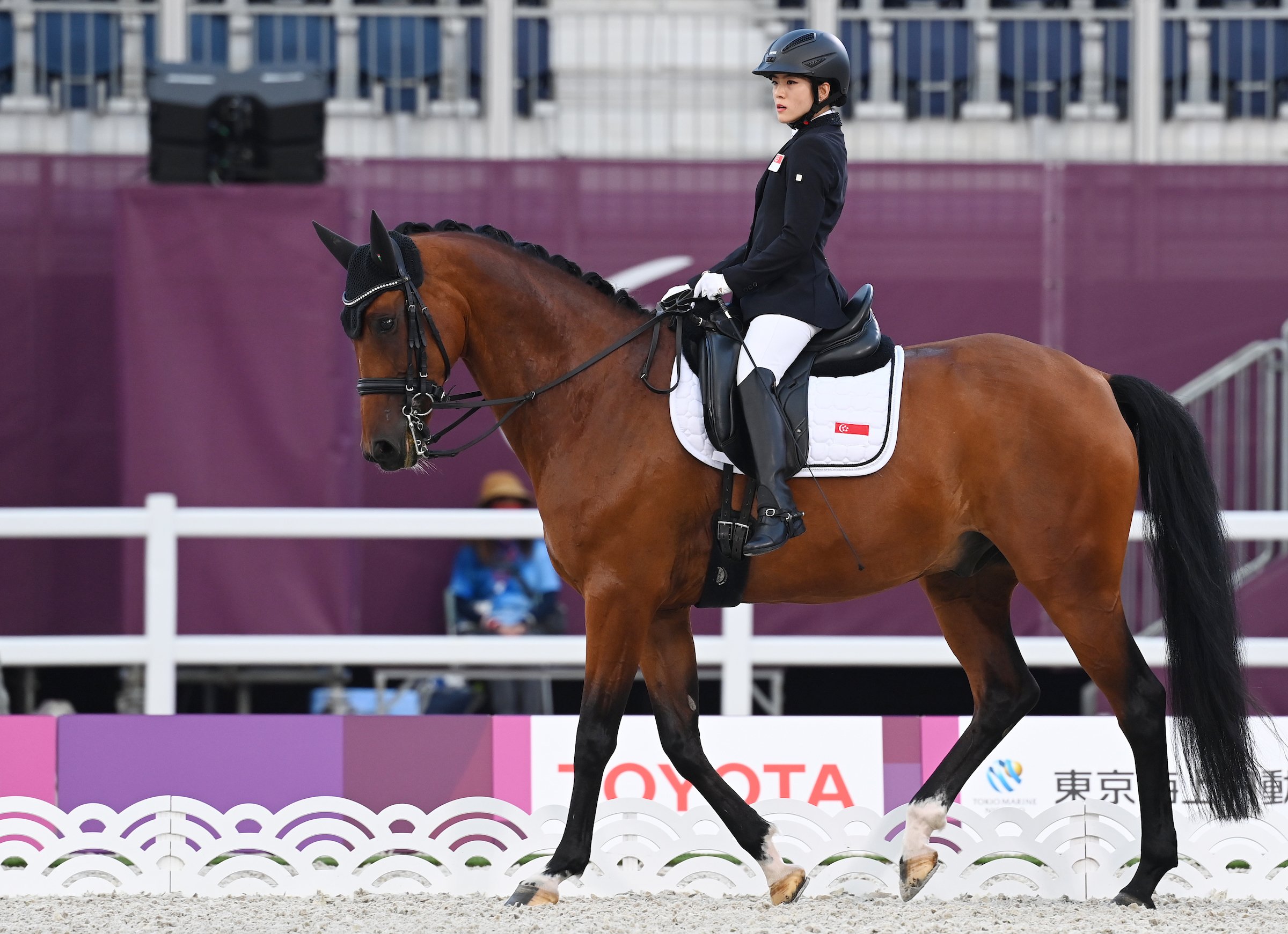 (TeamSG's Gemma Foo @Tokyo 2020 - Photo by Sport Singapore)
Her routine was set to the music instrumental version of Michael Bolton's "When A Man Loves a Woman". And Gemma displayed a couple of good transitions, finished off in a confident manner, although she would have hoped for a better score.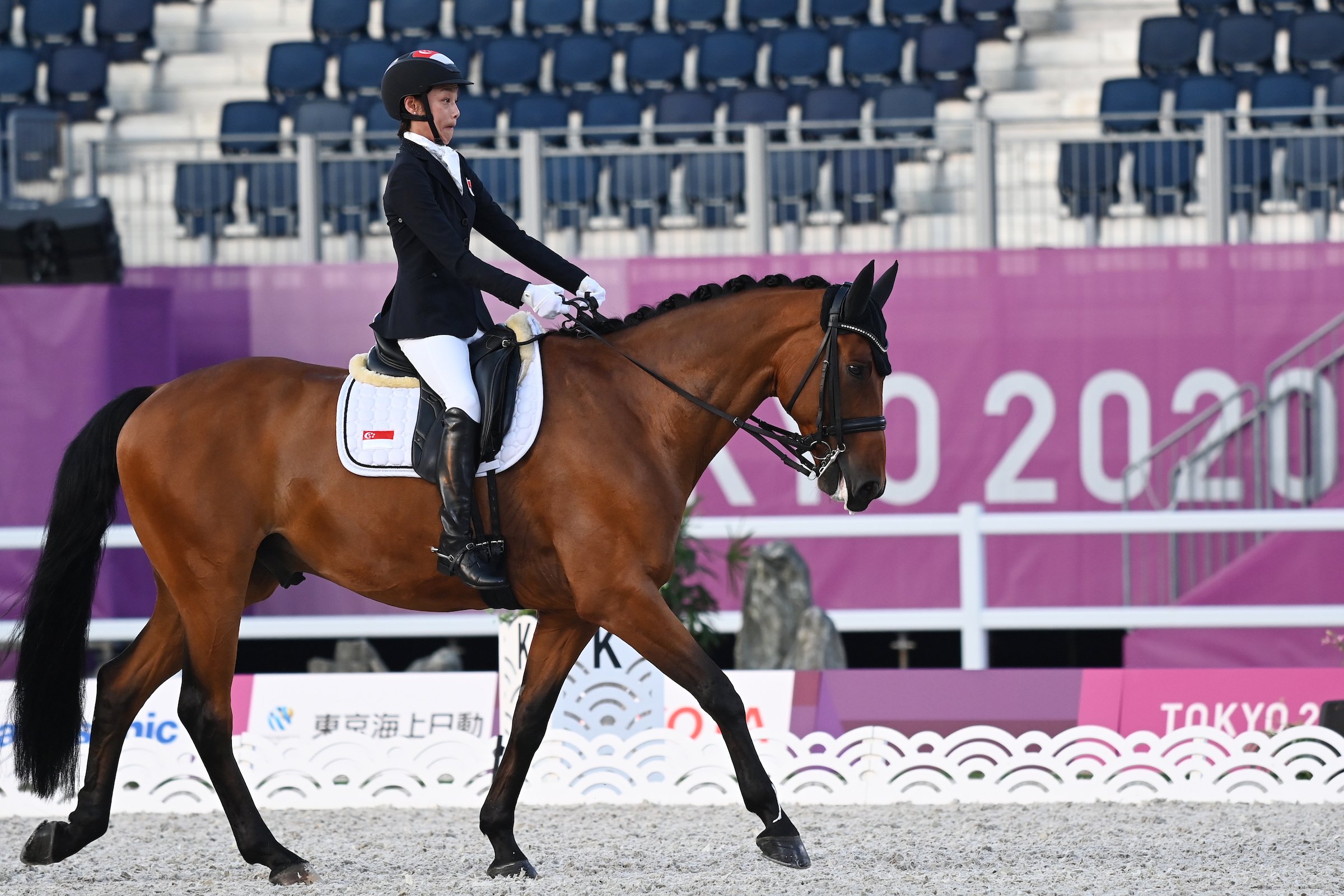 (TeamSG's Laurentia Tan @Tokyo 2020 - Photo by Sport Singapore)
Switching to Laurentia and she formed a new partnership with "Banestro" – which was participating in his first major championship. 11th in the pecking order to take to the arena, the veteran para-equestrienne had to cope with the pressure of seeing, 4 of the first 10 going above at least 75 in their scores.
The world no. 4 however remained confident of her abilities, as she put up a smooth and composed overall performance to impress the judges. Having profound deafness, did not deter her abilities to communicate well with her horse, as they showed good rhythm together in a series of movements. Laurentia completed her set with a flourish, with "Banestro" opening up his strides almost effortlessly before coming to a clean halt.
"I am really proud of Banestro, he went really well for me and was "with me" throughout the whole test. I am really happy and also relieved that we are here and it is happening, considering that the journey to Tokyo has not been easy! It is amazing to be here!" said Laurentia after her event.
While the score of 73.964 was not enough for her to achieve a medal, this confident display will give her the belief that she has a chance to add to her tally of 3 bronzes and one silver (accumulated from Beijing 2008 and London 2012) in the freestyle test on 30 Aug.
First thing though, Laurentia will need to focus on the Team Test to Music (mixed team event) on Saturday afternoon (28 Aug) - where she links up with Gemma and Maximillian Tan.
Now in case, you're still not familiar 25 year old Gemma Foo, she's been preparing for the Tokyo Games since January 2020. And her next major aim is the 2022 World Equestrian Games in Denmark next August. Meanwhile just 3 weeks ago, Gemma was interviewed by SportSG via a Zoom call. And she spoke about the lessons and experience gained from her previous outings at the Paralympics, whilst prepping for Tokyo. Gemma also talked about her support system and the ability to stay focused, plus maintaining a positive outlook in almost everything we do.
(Raj interviewed Gemma on 3 Aug)
The 16th edition of the Paralympic Games is from 24 Aug to 5 Sep 2021. For all coverage and news of the Republic's national athletes who're competing at the Games, check out the official Team Singapore Tokyo 2020 website.
Pledge Your Support here
Show your support for Team Singapore in the Paralympic Games!
Team Singapore athletes have worked hard to qualify for the Paralympics despite the challenges placed in front of them by the pandemic. They've trained relentlessly, all while adapting to the different safety measures throughout their journey, to ensure that they can represent our flag in Tokyo.
Related Events & Programmes