Tokyo 2020 : TeamSG Rower Joan Poh misses out on QF spot, despite decent showing in Repechage
by Circle Stories, on July 23, 2021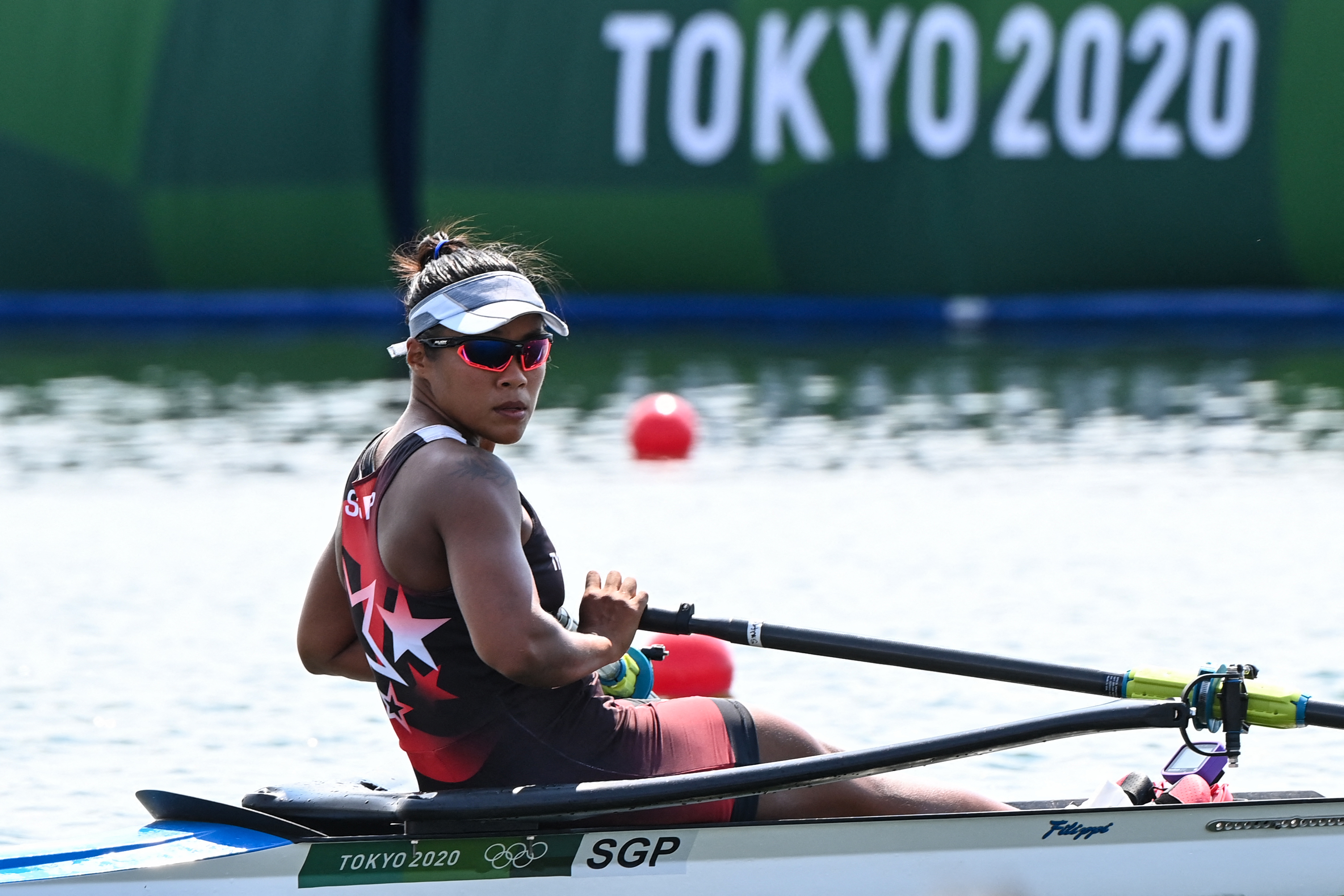 (Joan Poh competing on 23 July - Photo by Sport Singapore)
By Kenneth Tan
Team Singapore rower Joan Poh continued to push hard in her debut Olympic campaign, as she competed in Heat 1 of the Women's Single Sculls Repechage on Saturday morning (July 24).
Returning to the Sea Forest Waterway where she finished sixth in her qualifying heat a day ago, the 30 year old lined up in Lane 1 at 8am local time. And the former sailor was quick off the blocks as she completed the first 500meters in just 1:57.81 – just behind 3.71 seconds behind race leader Alejandra Alonso (Paraguay). At that point, Joan was ranked third in the field of five at that juncture. Only the top 2 finishers would advance to the Quarterfinal stage of the Main draw.
The Singaporean Sculler was however, overtaken by Qatar's Tala Abujbara, as she hit the halfway mark of the 2km race at 4:08.62. By then, she was trailing Chinese Taipei's Huang Yi-ting, who was ahead in second place by 10.02 seconds. Joan then completed 1.5km in 6:25.79, before finishing the overall race in 8:40.06.
Her 4th-place finish timing was slightly slower than yesterday's 8:31.12. And it was also 28.5 seconds off Huang, who progresses into the last 8 along with Alonso – with the latter winning the Repechage with her timing of 8:08.91.
Joan, who qualified for the Summer Games with a 12th-place finish at an Asia and Oceania Olympic Qualification Regatta in May in Tokyo, is now out of medal contention. But the ex-dragonboat 2010 Asian Games athlete, still has every reason to fight on in the competition, with a chance to achieve a solid placing in her first-ever Olympics.
The fulltime staff nurse from Tan Tock Seng Hospital, will be in action on Sunday morning (25 July) from 8.20am (Singapore time) onwards. Joan will be competing in the semi-finals E/F, with the top three boats of each race moving on to the better of the two finals.
It has been a dream come true for Joan, whose road to Tokyo was filled with uncertainties and sacrifices along the way as she took 16 months of no-pay leave to train in various countries in order to prepare herself for the world stage.
The second rower to compete in the Olympics after Saiyidah Aisyah did so in 2016, Joan hopes that her participation can inspire the younger generation in Singapore to take up the sport as she targets to lead a team of 10 women to major tournaments like the Southeast Asian (SEA) Games and Asian Games.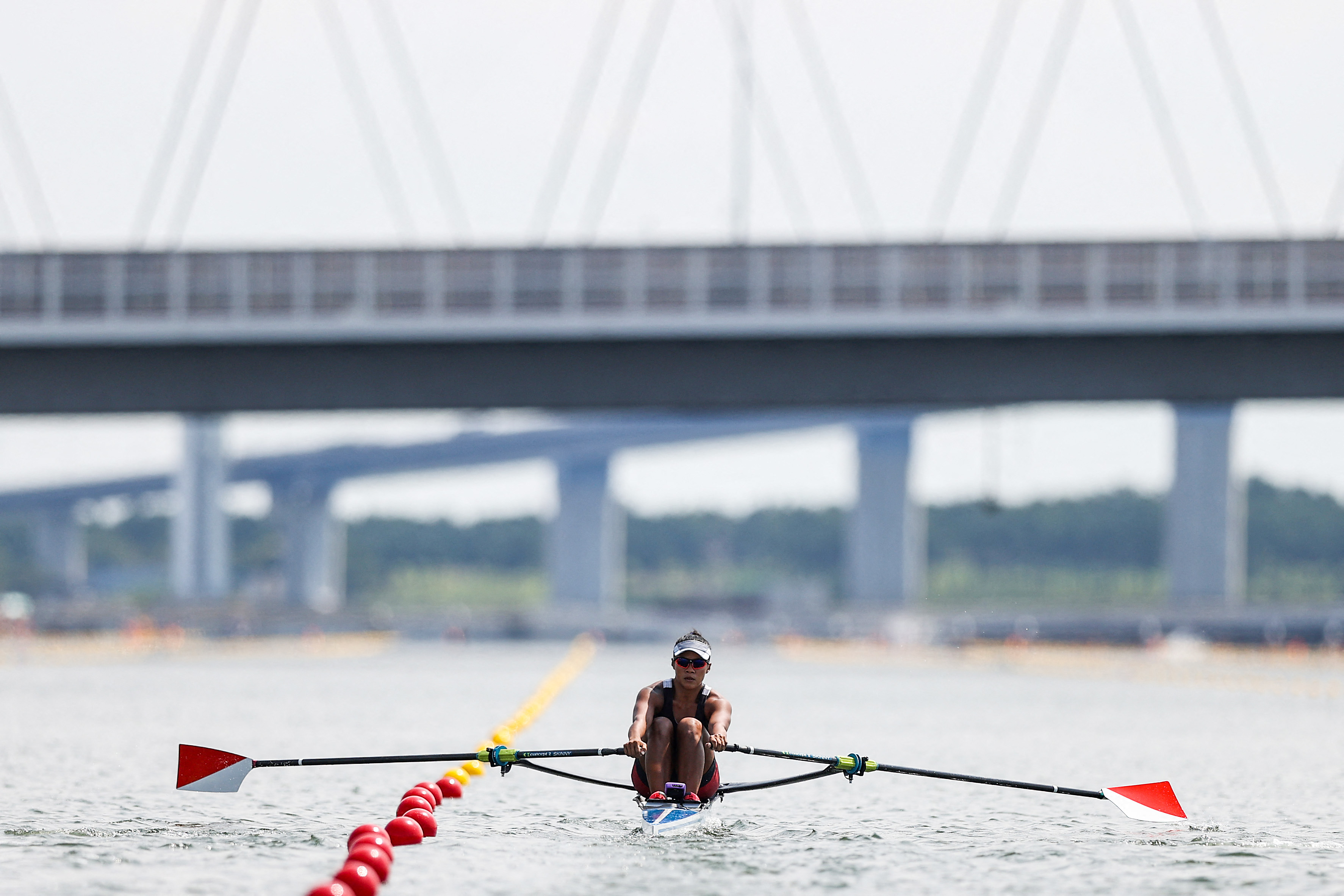 (Joan Poh competing on 23 July - Photo by Sport Singapore)
The 32nd edition of the Olympic Games is from 23 July to 8 Aug 2021. For all coverage and news of the Republic's national athletes who're competing at the Games, check out the official Team Singapore Tokyo 2020 website.
Remember to also Show your support for Team Singapore at the Olympic Games!
Team Singapore athletes have worked tirelessly over the last 12-20 months, especially under strict safety management measures to train and prepare. They've had to step up, pivot and adopt new and innovative methods to train especially with their preparations confined to the Lion City. With no international competitions or training stints, these athletes have had to adopt and maintain a positive mindset as well, throughout this entire journey to reach the grandest stage in Sport!
Simply click here to pledge a few words of encouragement and send positive vibes, as our TeamSG athletes continue to fly the national flag proudly in Tokyo.
Related Events & Programmes