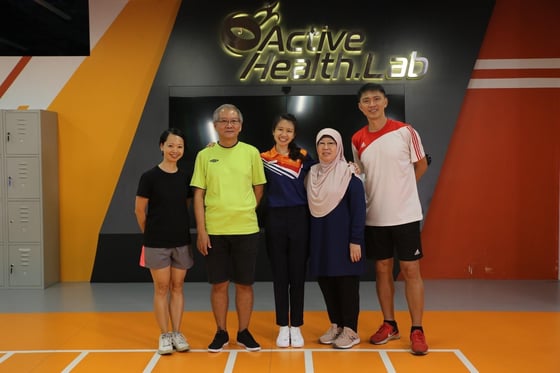 Poh Mun with fellow active seniors and Active Health Coach Christabelle
HealthHub defines active ageing as a holistic approach that helps a person to optimise their physical, mental and social health, be actively engaged in society and have the financial security to lead a good quality of life. Still not quite sure what active ageing is based on that definition? No worries. We caught up with Foong Poh Mun, 59, a retiree, to find out what exactly is active ageing and how she does it so effortlessly.
1) What does active ageing mean to you and why is it important for you to stay active and healthy?
Life is very 'big' and yet can be very short. When you are done with it, you don't want any regrets about your choices. I used to work very long hours in the hospitality industry and was away from home for most of the time as a project manager. While my team and I were chasing to complete and hand over a resort to meet the New Year's Day deadline om Sri Lanka, the 2004 Boxing Day tsunami changed my perspective on the meaning of life.
After surviving an ordeal, you would view the smallest detail of living with huge significance. What I have learned is that life is an honour, a blessing and a privilege. Because of that, I took a two-year sabbatical leave to attend a full-time cooking school, something I originally targeted to do only when I retire.
Thereafter, I returned to the company and went into talent and people development for seven years before retiring in 2016 and returning home to care for my mother who was diagnosed with dementia. My original plan was to work until 65 and eventually retire in Phuket. After surviving the tsunami, my priorities changed, and taking ownership of my health and wellbeing is clearly one of them.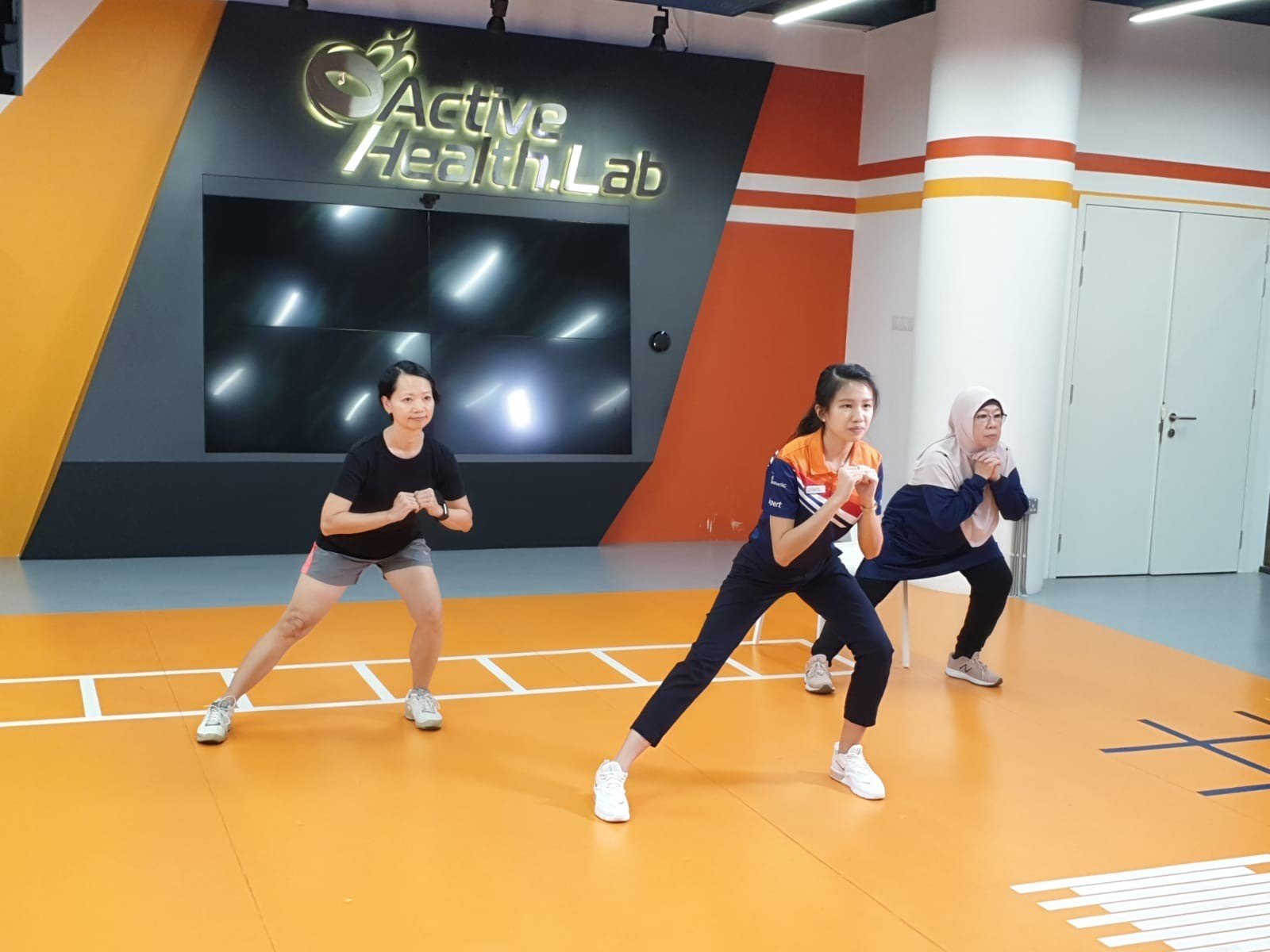 Poh Mun exercising with Active Health Coach Christabelle
Retirement requires some planning before you actually plunge in. For me, it is about comfort in the beauty of simplicity, nature and wholesome living. Whatever one plans to do, it is important to keep fit and healthy to start with. That is the starting point for active ageing.
2) What do you do to stay active currently?
Well, I'm actually doing quite a fair bit to keep active recently and here is a list of the activities:
Weekly exercise sessions with Christabelle and the other Active Health Coaches. Click the link below and follow Poh Mun in a series of workouts that are sepcially curated for masters and seniors.
► WATCH: Easy workouts for masters and seniors
Go for nature walks which is a very powerful way to soothe and heal. I enjoy some solitude exploring new places while I walk alone on weekdays. You will be surprised at the things that you can see when you slow down. On weekends, I walk with my friends and we often look forward to delicious meals after that or catch a bus ride to nowhere. This is how our friendships are forged.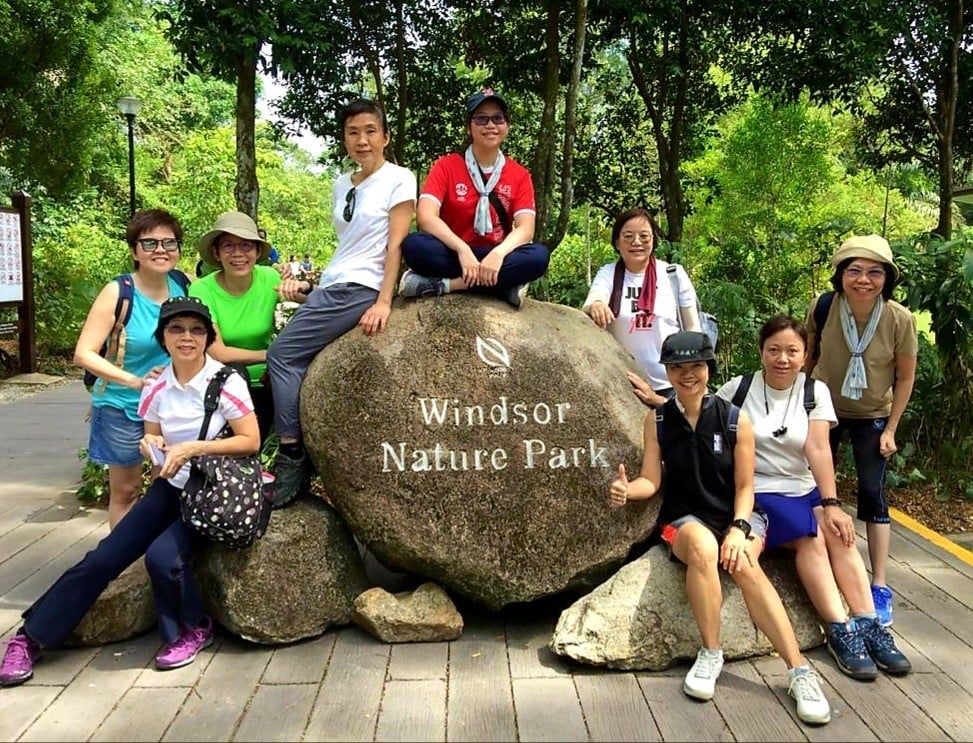 Weekend nature healing with friends
Photography

Reading

Cooking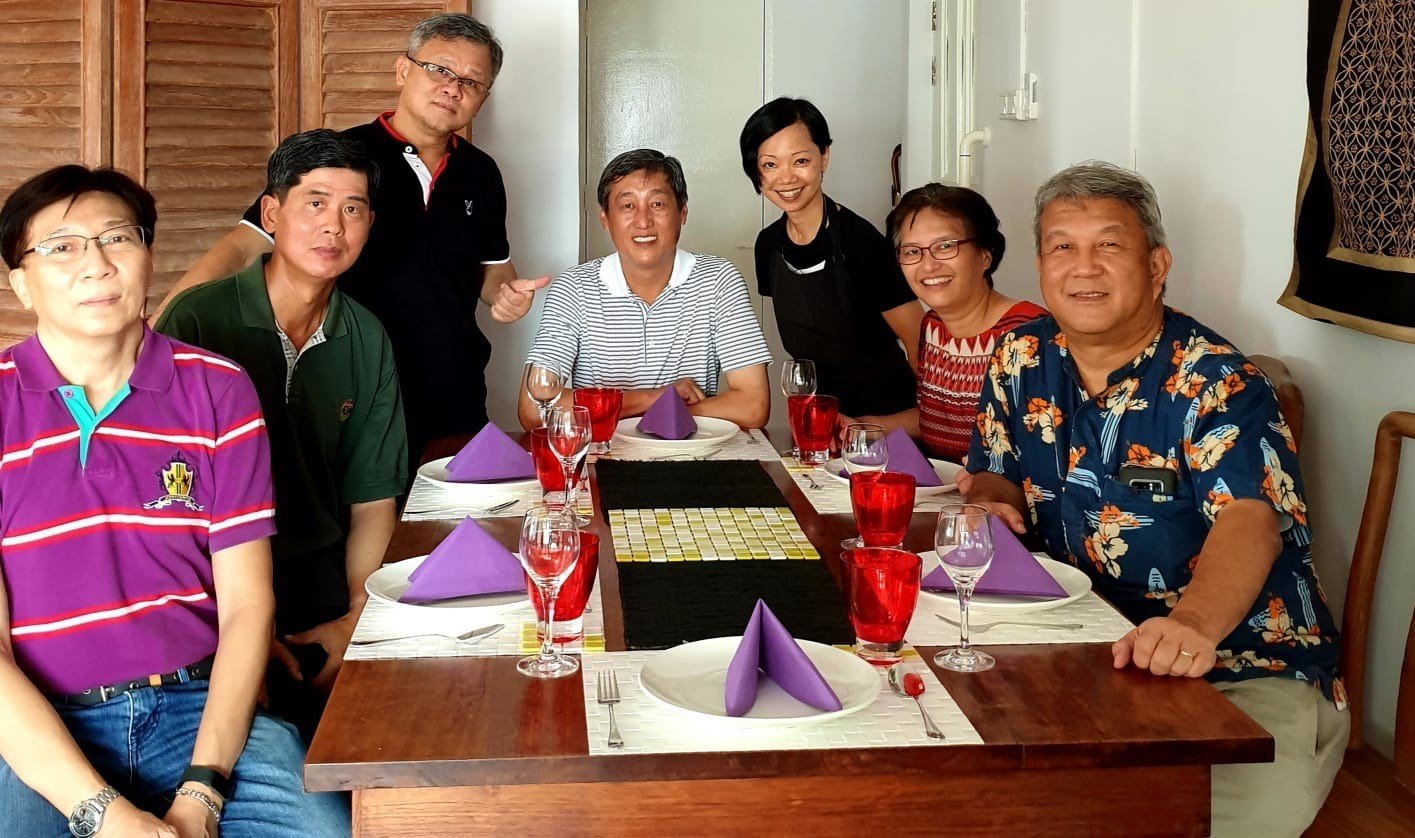 Private dining at home. Photo is taken pre COVID-19.
Being curious and learning continuously. In 2017, I took a course with the Caregivers' Alliance to understand dementia to better care for my mother. You may think that it is typically the case of adult children looking after their senior parents, but there are actually two other categories: spouses looking after spouses and parents looking after children. Dementia is irreversible and it can hit anyone. We need to have an open mind-set to accept it, stay strong and adapt for our loved ones.

I am in in the midst of studying something new, Agri Tech, a short course with Republic Polytechnic. It gets increasingly more challenging to focus as we age, especially when our eyesight is deteriorating. Muscle loss was in a way a timely reminder for me to practise active ageing. So, make the most of your time and good health.
At the Association for Persons with Special Needs (APSN) where I volunteer at, spending meaningful time with the horticulture team, baking class and the APSN Cafe, allows me to gain much more than I give. It has taught me about humility and gratitude for being alive, free and healthy.
► Check out: Fun and meaningful volunteer opportunities with Team Nila
3) How would you encourage seniors to embrace an active ageing lifestyle?
Be positive! Your mind has the power to decide whether you are happy or not.

Let go. To enjoy life, we must learn to touch life lightly.

Be contented and grateful. I keep a gratitude journal which acts as a reminder of stuff I cam grateful for. It is filled with photos of families and friends on special occassions, words of encouragement, acts of kindness that came my way from people who played a role in lifting me up at some point, of which they may not even be aware. Stop complaining

Humour can make a serious difference. Do not take things too seriously. Do not be afraid to be and look silly. A sense of humour can help us cope with difficult times.

Be curious and continue to learn. Do not be hindered by something new or difficult.
Here's a life mantra from Poh Mun. What's yours?
"Life is like a camera. Focus on what's important. Capture the good times. Develop from the negatives. If things don't work out, take another shot!"
4) What are your thoughts of Active Health and COVID-19?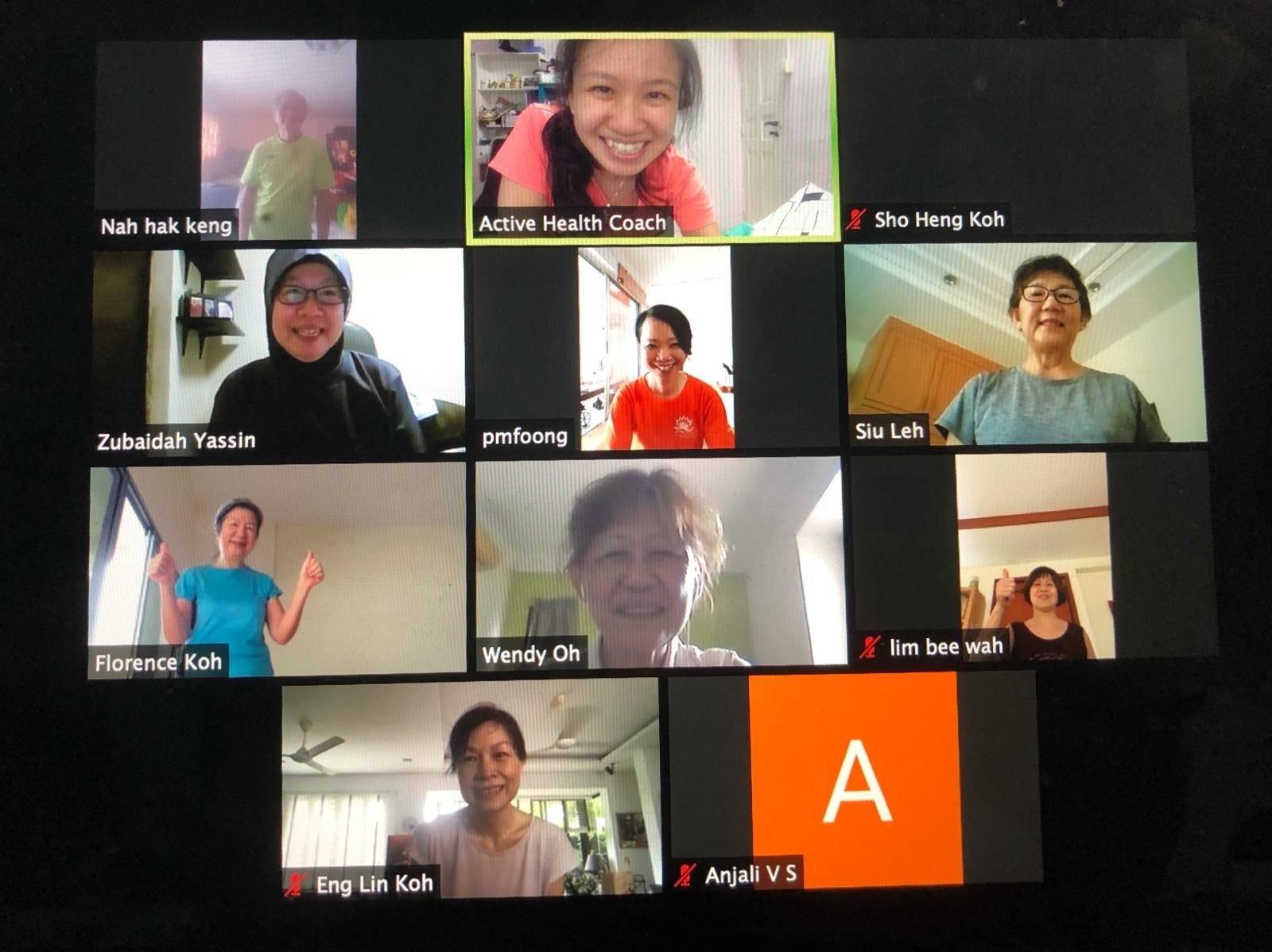 Staying active with Active Health online exercise classes during COVID-19
There is a lot of awareness on Active Health to encourage the public to take the first step towards active ageing. I visit the Active Health Lab at Heartbeat@Bedok which has many amenities such as the library and wonderful food choices. Active Health Coach, Christabelle, is very encouraging during the exercise workshops, even when the pandemic hit our shores. That kept my momentum going. Knowing the importance to stay healthy in order to pursue my hobbies and interests, I joined the weekly Active Health interest group regularly and was trained as a champion to lead the exercises too.
► Check out: Experiential workshops led by Active Health Coaches
COVID-19 opened up lots of free learning resources. Keeping curious and learning continuously is key. Planning for retirement is part of active ageing too, for example, reviewing insurance policies, life plans, and what I want to do. We need to keep active and healthy and not worry about finances, in order to enjoy what we want to do.
"Poh Mun is an active team player in Active Health Heartbeat@Bedok Strength Interest Group. She often shares photographs and photo montages of parks and nature that she captures during her walks. These have greatly encouraged other members who are recovering from injuries or illnesses to stay positive and hopeful, as she looks forward to organising walking sessions. During the COVID-19 period, she took on the role of an advocate for our virtual classes and workout videos on GetActive TV and Lianhe Zaobao. Her spirit of continuous learning is a great inspiration to many others in the group!" - Active Health Coach Christabelle
► Check out: Customised programmes for seniors