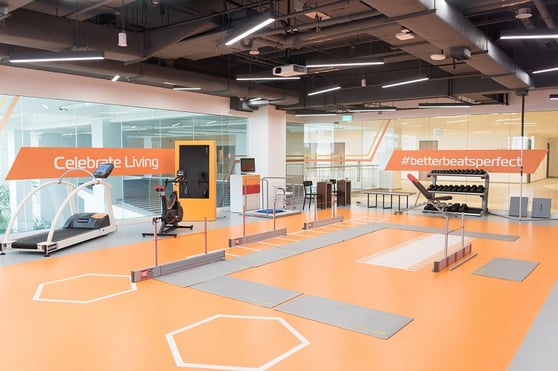 Active Health Lab. Photo: Sport Singapore
23-year-old Brian Kee, a Business Development Executive, decided to take charge of his health and has not looked back since.
Discovering Active Health
Brian first found out about Active Health through an online news article. He recalled that it was about an Active Health success story and after researching about Active Health Lab, he made his way to the lab at Our Tampines Hub.
He was slotted into an onboarding session that was about to start in five minutes' time as there was a vacancy, and the rest was history.
The Active Health experience
During the onboarding, he felt that the Active Health expert was very helpful in helping him understand the intensity of different exercises. Besides that, he also got a clear view of the composition of his body (fat, muscle, bone, etc.), and how he could improve on the assessment results.
From the session, he realised that eating less does not automatically mean weight loss. Rather, eating smart is how you can control your weight. Also, having an eating schedule and sticking to it is how you eat healthily and moderately.
Making a change for the better
Brian's lifestyle habits have definitely changed a lot since the onboarding session. He has adopted a more protein-intensive and lower carbohydrates diet; eating more protein-based food like fish, lean meat and eggs while reducing his intake of rice and bread. He has also been including more vegetables and fruits in his diet.
He has always tried to exercise at least an hour each day, from jogging to doing a workout. He has also started working out at the gym once a week recently as advised by the Active Health expert, a habit he intends to keep up.
Recommending Active Health to others
Brian feels that Active Health helps people who want to lose weight and guides them on how to go about doing it right.
Active Health teaches you how to start and how to maintain your weight loss. For him, the support he received throughout his sessions felt genuine and became one of the factors that pushed him to lose weight the healthy way.
Brian shared: "The expert at the Active Health Lab can give you hundreds of workouts and tons of advice, but eventually it is up to you to carry out these workouts and change your lifestyle. If you are not determined to change, then no matter how many weight loss plans or schemes you subscribe to, it will not change a thing."
What is Active Health?
It's not about looking perfect, eating perfect, or being perfect.
It's simply a journey about trying - taking little steps to form small habits in our daily lives that can make a big impact by focusing on 4 domains - Physical Activity, Nutrition, Screen Time and Sleep.
With Active Health Labs being rolled out island-wide managed by qualified Active Health Experts, an Active Health app to keep track of your fitness progress, and fun community activities, it's never been easier to proactively own your health.
Let's all live life to the fullest. And remember, #BetterBeatsPerfect
For more information, visit www.activehealth.sg
To book an onboarding session, click here.