Screen time makes it even harder to fit in physical activity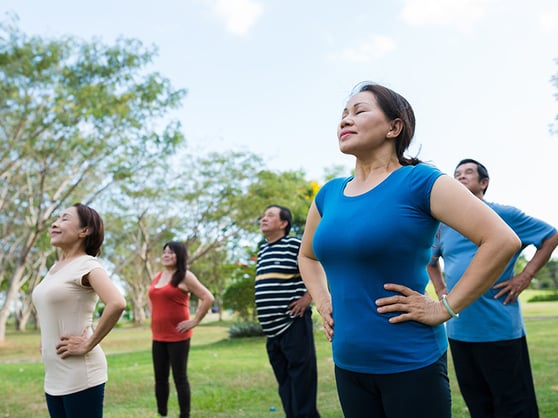 Singapore's adults spend 1,554 minutes of time, every day, on screens for recreational reasons. The minimum amount of physical activity, sport, and exercise needed to significantly improve our health is 150 minutes per week - a measly 10% of the time we spend on screens for recreation every day.
And it's not just that recreational screen usage takes away time right now - it decreases the chances we'll be physically active in the future, too.
This is a very uncomfortable truth. Time is finite. Everyone has the same amount of it on any given day. If we manage our screen time wisely, we can improve our health, enjoyment, and quality of life.
MORE ABOUT DAILY HABIT #4: I WILL NOT LOOK AT SCREENS DURING PHYSICAL ACTIVITY OR EXERCISE
This habit might seem odd at first, but it packs a ton of benefits into one simple change:
Lets you socialize, increasing your enjoyment of the activity.

It will reduce strain on your neck from constantly looking down (yes, text-neck is a thing!)
Increases your enjoyment of physical activity and exercise by letting you feel how your body responds to movement.
How do I build this habit?
If you use your mobile for timing reasons during exercise, start the timer then immediately put your device away.
Keep your phone away when walking places. Look around, smile, and say hello instead.

Commit to this strategy consistently, and remember that better beats perfect!
Sources: