Past Editions of Nurture Kids Campaigns/Festivals
2022 Edition: 57 Kampung Games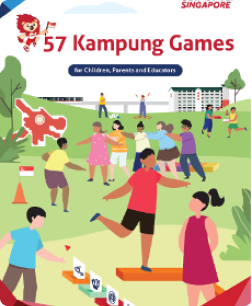 In celebration of Singapore's 57th birthday in 2022, Spore Singapore is proud to present the 57 Kampung Games collection featuring the best ideas from our preschools and sporting communities of how our traditional games can be reimagined and played differently.
The modified games in this collection promote development of fundamental movement skills for young children and incorporate various Singapore-related elements, making it a great activity resource guide for children, parents and EC educators to celebrate National Day while strengthening families and communities through active play.
Let's hear from the students on how they have modified the traditional Kampung Games!
Event Highlights – 5 August 2022
On 5 August 2022, 57,000 preschoolers and educators joined us at Singapore National Stadium and online as we gathered to celebrate our nation's 57th birthday by playing Kampung games with a twist. Check out the photo and video highlights below.
2021 Edition: Kiddolympics
With the Olympic Games that took place in 2021, the Nurture Kids Festival presented a themed Kiddolympics challenge for all preschoolers to become Faster, Higher, and Stronger through the activities. Due to the existing SMMs then, the activities were phygital and consisted of fundamental movement skills and modified sport, suitable for EC educators to conduct in schools for the preschoolers. Altogether, the efforts contributed to the collective goal of 56,000 KM mileage in celebration of Singapore 56's birthday.
Download the collection of 9 resources and watch the demonstration videos to conduct these Kiddolympics challenges in the preschools here:
At the end of the 5-week lead-up challenge was the finale where 56,000 preschoolers and EC educators joined in the virtual celebrations. Check out the photo and video highlights below:
Event Highlights – 5 August 2021
Jane Lee
Principal
M.Y World @ Woodlands Circle
Kiddolympics was an engaging and inclusive event during the GetActive! Singapore 2021 celebration, where we actively involved parents in creating DIY props using recycled materials. This not only fostered creativity but also strengthened the bond between parents and children as they shared meaningful time together. We also took the opportunity to promote sustainability by using recycled materials, instilling in children and parents the value of environmental consciousness. During the Kampung Games event in the 2022 edition, our educators embarked on a nostalgic journey, rediscovering traditional games and their significance. By embracing these games, our educators not only preserved cultural heritage but also imparted valuable lessons to children about the importance of traditions and the joy of simple, time-honoured activities.
Janice Hui
Principal
M.Y World @ Tampines Changkat
Through our participation in GetActive! Singapore 2021 Kiddolympics campaign and the virtual finale, our teachers, children and parents learnt about the importance and benefits of a healthy and active lifestyle.
The teachers gained valuable insights on how to set up activities that enhance children's sporting techniques, including running, sliding, crawling, leaping, jumping and skipping skills. This also elevated the quality of teaching physical and emotional well-being. The step-by-step guides and materials provided for the DIY equipment making were also extremely helpful. Furthermore, the tips for engaging children offered meaningful support to both teachers and parents.
It has been an exceptional experience that inspired us all to embrace a healthy and active lifestyle. Thank you for the wonderful activities!
Shane Yee
Principal
M.Y World @ Woodlands
The collaboration with SportSG for Kiddolympics and Kampung Games festivals during the GetActive! Singapore celebrations has brought immense excitement to our children, teachers, and parents, particularly through the experience of creating our own DIY sports equipment. The games were a delightful fusion of tradition and innovation, as the children embraced their creativity to reinvent the traditional games in their unique ways. What more, our children enjoyed the Dance of the Nation workout so much that it is now part of our daily morning workout song!
Desiree Teo
Teacher
PCF Sparkletots @ Jurong Central Blk 403
I am thrilled to provide my heartfelt testimonial for SportSG - GetActive! Singapore 2022 campaign which my school participated in. The Kampung Games experience made a difference in the way teachers and children engage in physical activities. It was also incredibly easy for teachers to incorporate sports into the lessons and to promote active learning. With a wide range of interactive resources and training materials, the campaign has allowed teachers to create engaging and inclusive sports experiences for children. Thank you SportSG for giving us a memorable experience through our collaboration!
Jayasree Ajayakumar
Principal
M.Y World @ Yishun
SportSG offers preschoolers, educators and families the opportunities to get active with a diverse and exciting line-up of sporting activities suited for all M.Y World @Yishun collaborated with SportSG and participated in GetActive! Singapore Nurture Kids campaign in 2022. The challenge was to re-invent Kampung games that encourage preschoolers to develop their skills in fundamental movement.
Together with the teachers, K2 children brainstormed and came up with 'Reminisce Our Kampong Game'. This opportunity helped children to learn and explore kampong games that included National Icons of Singapore. We came up first within the Top 10 winners of the challenge!
It was a great experience for us as the children were excited and they enjoyed the invented outdoor Kampung games.