No quarters given as Singapore fought tooth and nail with Laos in football. Photo: SNOC/ Lim Weixiang
Singapore came away with a 0-0 draw against Laos tonight (Sat, 6 May), recording the team's best result in the men's football competition at the SEA Games so far.
Following consecutive 3-1 defeats to Thailand and Vietnam, Singapore needed all three points at the Visakha Stadium in Phnom Penh in order to keep alive their chances of advancing from Group B.
But the result effectively rules the Young Lions out of the knockout stage of the competition, meaning Singapore has for the third consecutive Games failed to advance out of the Group Stage.
But no matter. It was a performance full of credit as Singapore put Laos under tremendous pressure for stretches of the match but simply could not find the finishing touch.
Philippe Aw's under-22 team came out full of fire and were determined to put their opening two defeats behind them against a team perceived to be minnows of the Group.
They prodded and probed the Laos defence on many occasions but to no avail although the game could have gone either way with gritty Laos also creating several chances of their own.
In the end, both teams came away with honours even to record the competition's first goalless draw, which also ends Laos' campaign in the competition.
Singapore will wrap up its men's football competition next Thursday (11 May) with the closing match against Malaysia.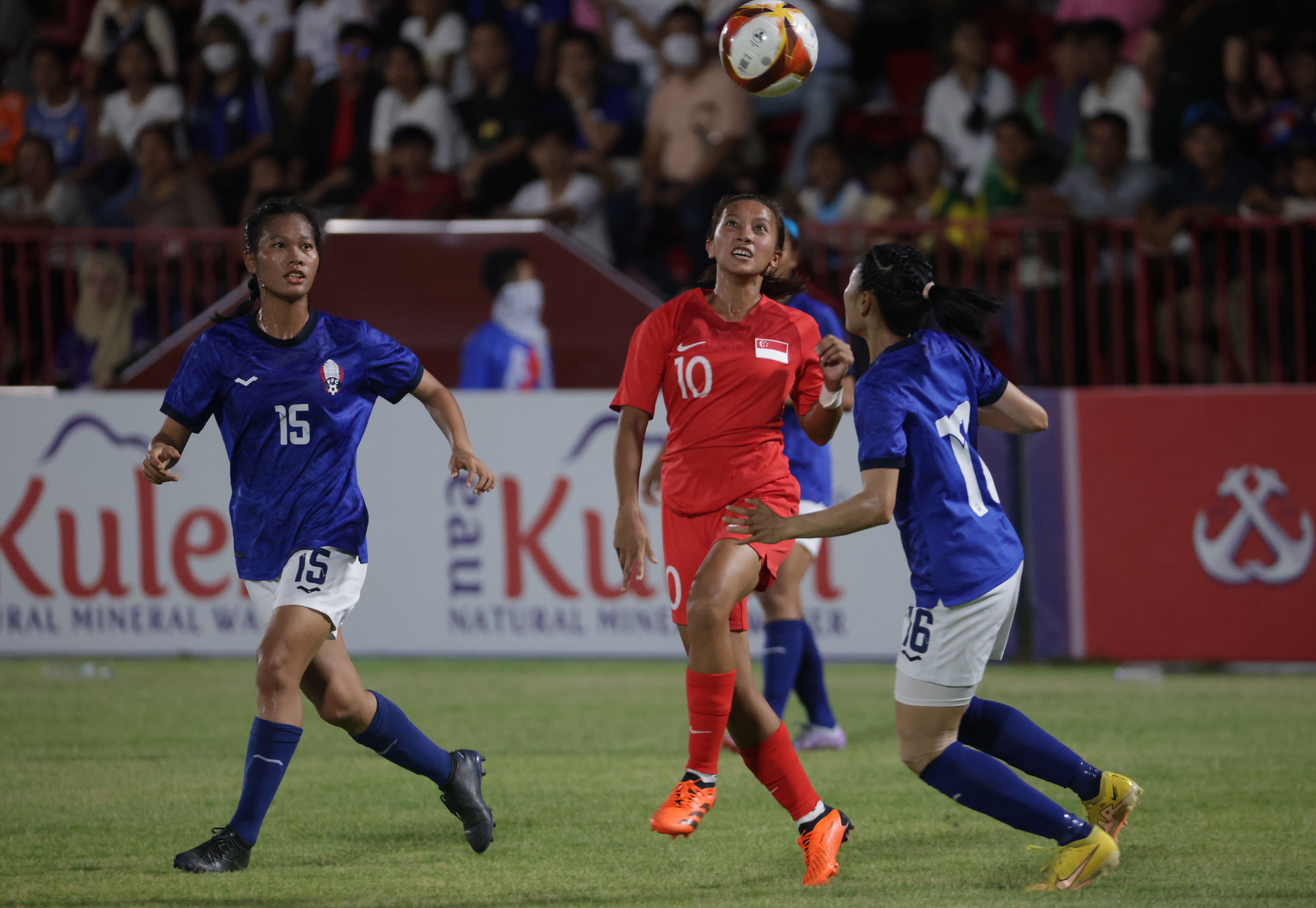 Singapore's striker Nur Izzati Binte Rosni pressing the Cambodian backline. Photo: SportSG/Dawn Chua
In women's football, Singapore fell to their second defeat of the competition, losing 1-0 to Cambodia. The Lionesses looked good to secure a point against the hosts until they were derailed in the 76th minute after conceding a penalty that was expertly put away by Cambodian player Kunthea. Singapore's women will next play Laos on Tuesday (9 May).
The 32nd SEA Games are held in Cambodia from 5 to 17 May 2023. For the latest Team Singapore coverage and news, follow Team Singapore on their social media channels (Facebook, Instagram, TikTok) or visit the official Team Singapore website.
Related Topics
Related Events & Programmes
Related Topics