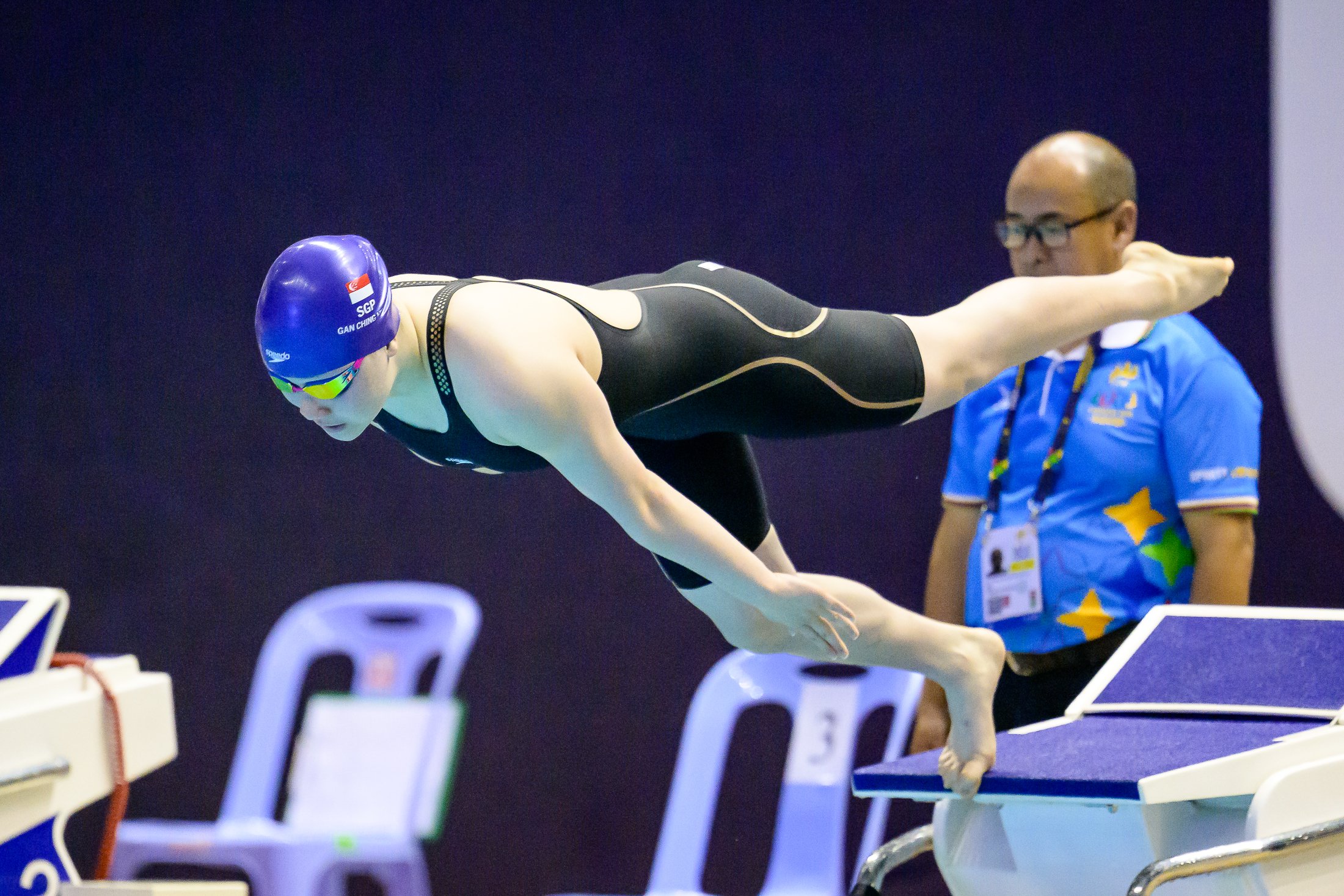 Gan Ching Hwee's gold in the women's 400m freestyle makes her the first Singaporean since Junie Sng in 1983 to retain this title at the SEA Games. Photo: SNOC/Andy Chua
By May Chen
For 40 years, no Singaporean has been able to win back-to-back golds in the 400m freestyle at the SEA Games.
Not any more.
Gan Ching Hwee made sure that changed on Monday night (May 8) at the Morodok Techo National Aquatics Center as she finished in 4min 15.17sec, making it two in a row after winning the event a year ago at the Hanoi Games.
Her teammates ensured Singapore would retain more titles over the night, keeping the men's 4x100m medley relay quartet and women's 100m freestyle titles in the Republic's trophy cabinet.
Gan's time put her ahead of teammate Ashley Lim who clocked 4:17.16, a personal best, to add a silver medal to Team Singapore's haul. The feat means she is the first since Junie Sng at the 1983 SEA Games to win two straight titles in this event.
She said: "I just wanted to control what I can, focus on myself. It's a bit far from my personal best, but I'll take anything I can. I came in with the goal of touching the wall first, and I did that."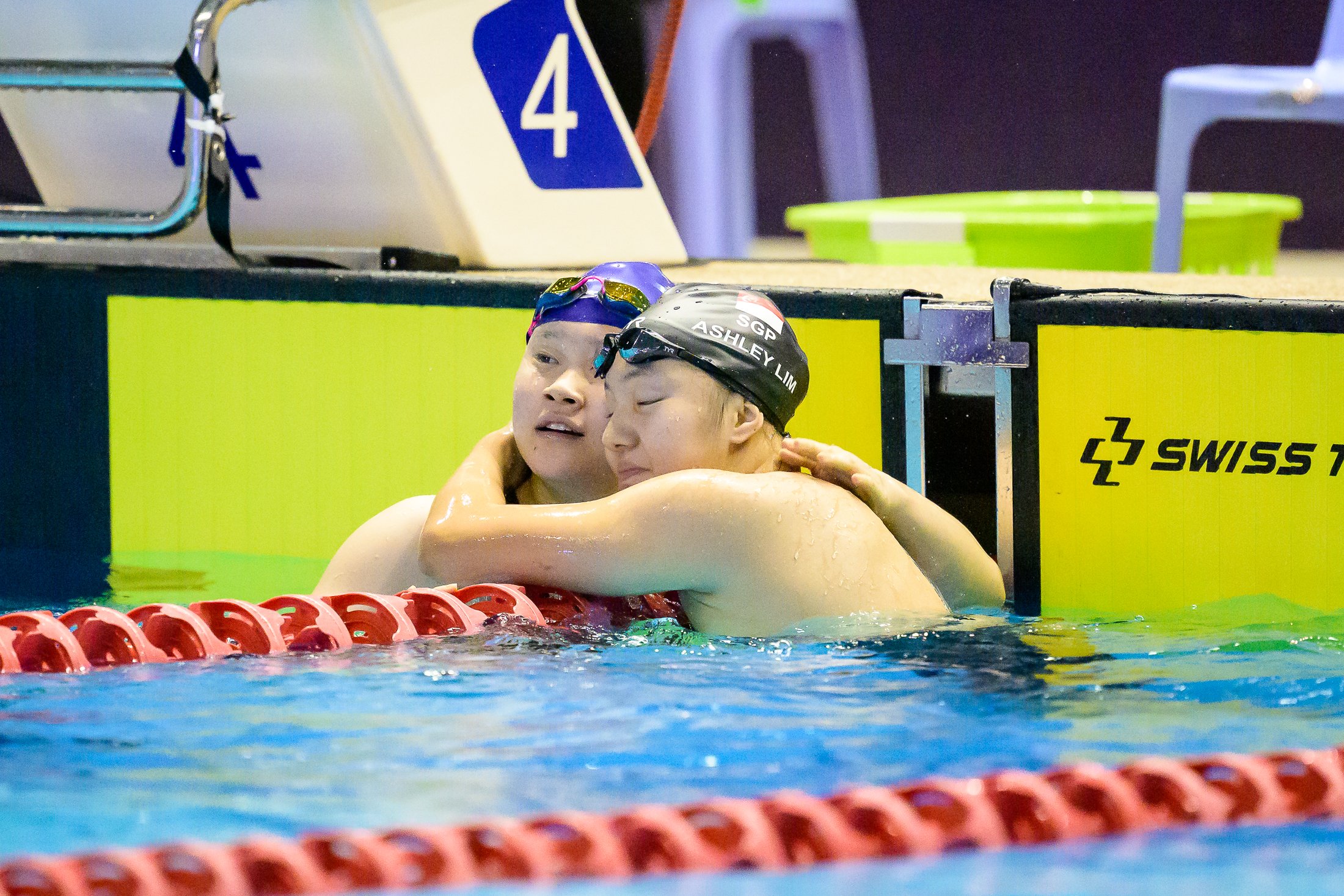 Ashley Lim (right) clocked a new personal best in the 400m freestyle to finish second behind Gan. Photo: SNOC/Andy Chua
In the final event of the night, the men's 4x100m medley relay team of Quah Zheng Wen, Nicholas Mahabir, Teong Tzen Wei and Jonathan Tan won gold in a new Games and national record of 3:37.45.
Their time improved on the meet record set at the 2017 SEA Games, also by Singapore's swimmers, by just 0.01sec.
The Singapore swimmers' speed meant they finished more than four seconds ahead of other nations, which were left to vie for silver. Thailand (3:41.75) pipped Indonesia (3:41.92) to silver.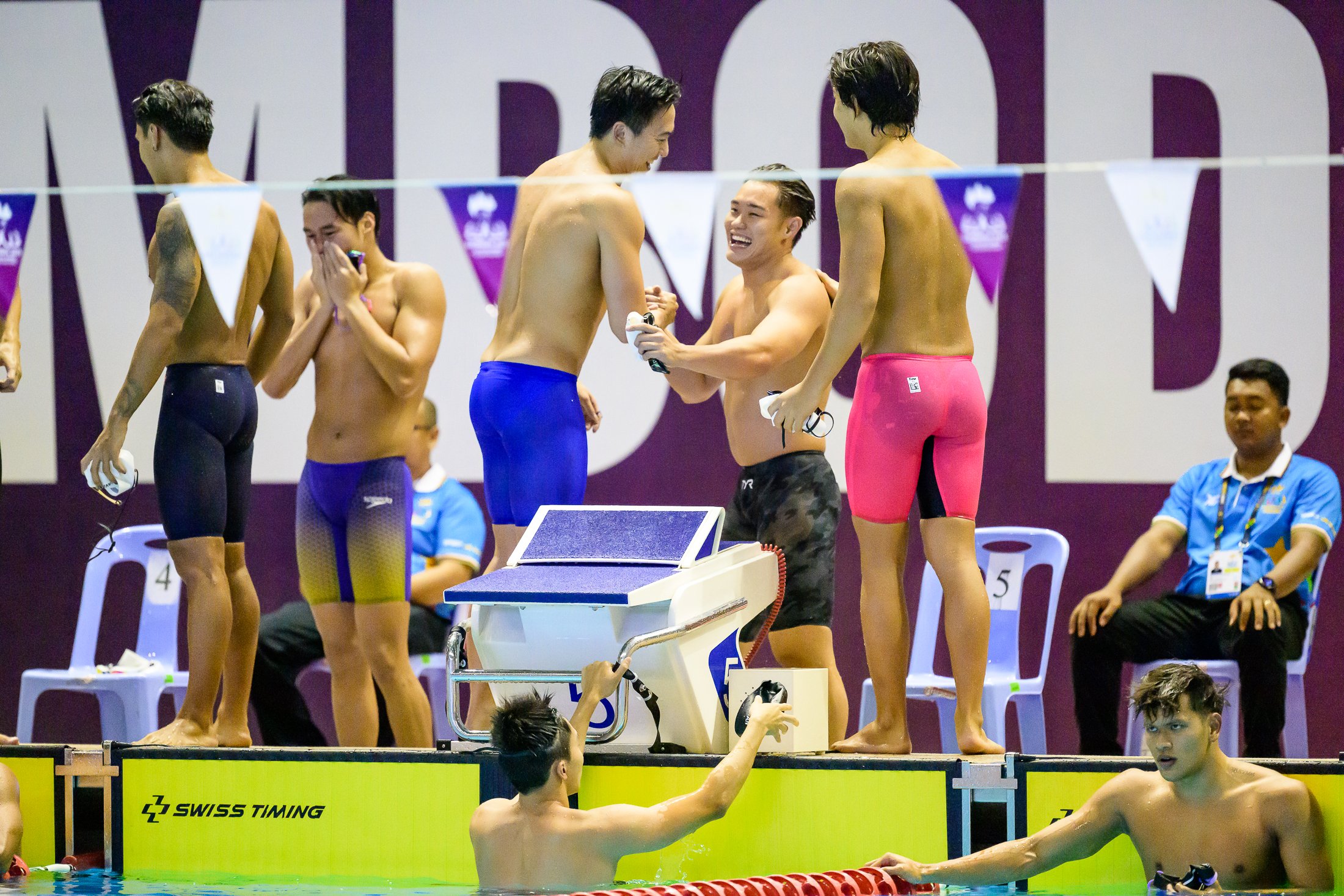 Singapore's time in the men's 4x100m medley relay improved on the previous Games record set in 2017 by 0.01sec. Photo: SNOC/Andy Chua
Said Mahabir, who had to settle for second place in the 100m breaststroke the night before: "It feels really good after last night, which was really tough. It's a really good learning experience, it means a lot.
"I've been training with these guys for the past three to four months. Seeing them every day, for it to finally come together, it's really nice."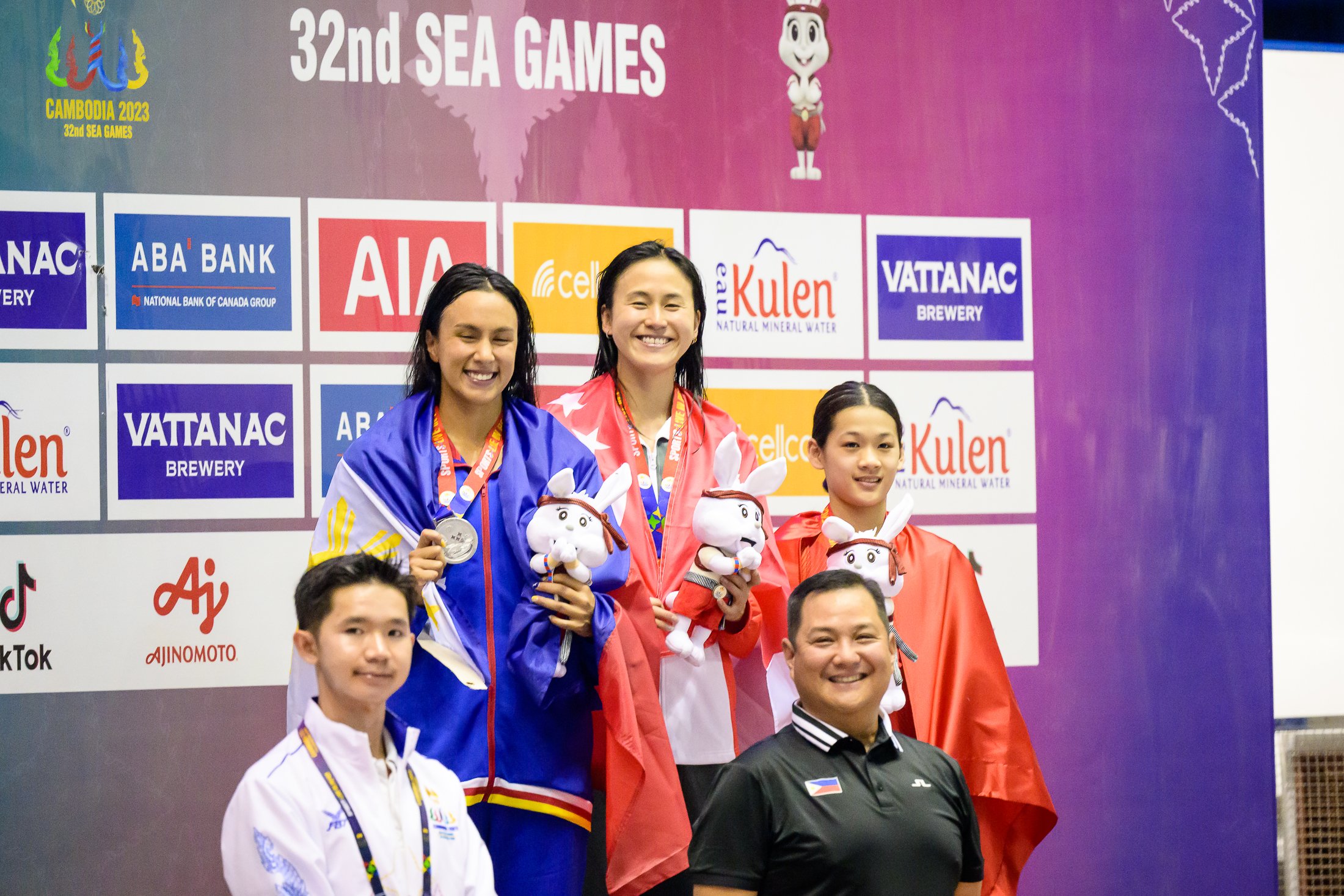 Veteran swimmer Quah Ting Wen (middle) said watching up-and-coming stars like Vietnam's Thuy Hien Nguyen (right) make their mark at the SEA Games made the win all the more special. Photo: SNOC/Andy Chua
Quah Ting Wen, meanwhile, is no stranger to winning the women's 100m freestyle. But she retained gold on Monday – her first individual title of these Games – with unusual emotions while she stood beside Vietnam's 13-year-old Thuy Hien Nguyen, who took bronze.
The Singaporean described their interaction in the call room: "There was a language barrier, so I gestured and said: you, 13? Me, turning 31 this year.
"Watching her as she walked out, I got emotional. It brought me back to my first Games in Manila in 2005. Watching some of these younger kids beginning their careers, no matter what country they come from, it's heartwarming."
The swim team added three golds, one silver and one bronze on Monday, the halfway mark of the swimming competition.

The 32nd SEA Games are held in Cambodia from 5 to 17 May 2023. For the latest Team Singapore coverage and news, follow Team Singapore on their social media channels (Facebook, Instagram, TikTok) or visit the official Team Singapore website.