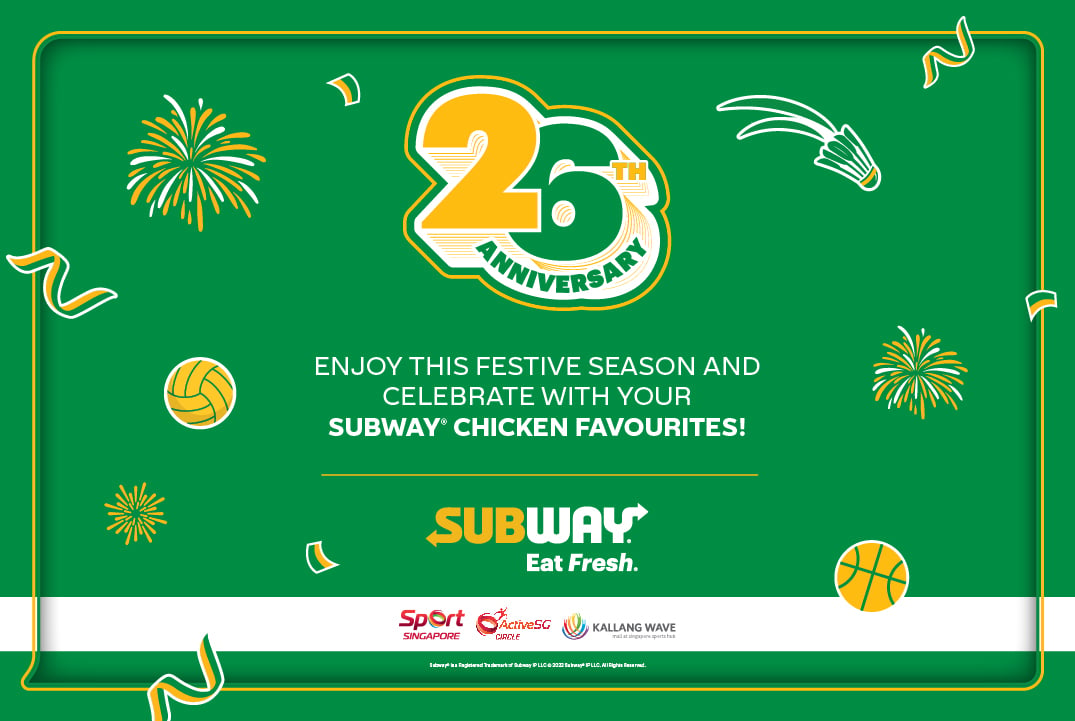 SPORT SINGAPORE AND SUBWAY PRESENTS: COUNT CHICKENS IN A BOWL AND WIN!
As Subway(R) Singapore celebrates its 26th anniversary and year-end festivities, Subway and Sport Singapore (SportSG) have come together to bring to life, a Count-and-Win giant Chicken Bowl activation.
Consistent with Subway and Sport Singapore (SportSG) missions to drive value for the community through impactful and fresh experiences, fans simply need to head down to Kallang Wave Mall and guess the number of toy chickens in the bowl for a chance to win exclusive merchandise from Subway(R) and ActiveSG!
During this festive season, fans will be able to try Subway's Chicken Bowl options: a delectable bowl of Sweet Onion Chicken Teriyaki or a sumptuous bowl of Spicy Mexican. Fans can also look forward to welcoming the well-loved festive Mint Chocolate Chip cookie.
"Over the past 26 years here in Singapore, we have been extremely grateful for the support of our fans, as we look to constantly innovate and create wonderful dining experiences for them. We are thrilled to commemorate this milestone moment via an exciting partnership with SportSG to delight and drive value to the wider community, especially during the festive season. As always, we are committed to showcasing craveable food options and providing unique experiences for our guests as we journey to become a Better Subway," said Samad Mohd Shariff, Country Director, Subway, South East Asia.
That's not all, SportSG is also giving away Subway vouchers for its readers who join our mailing list. Readers just need to click on the banner below and follow the instructions for eligibility:
UPDATE: The Subway vouchers have been fully redeemed. Thank you everyone for your tremendous support. Continue to join our mailing list below and stay updated with fitness happenings!

For more on keeping fit and staying healthy, check out ActiveSG Circle's Read and Watch content.
Click here for: giveaway FAQs / giveaway T&Cs