Ngee Ann Secondary Girls continue giant-killing run in NSG Volleyball!
by Circle Stories, on April 6, 2022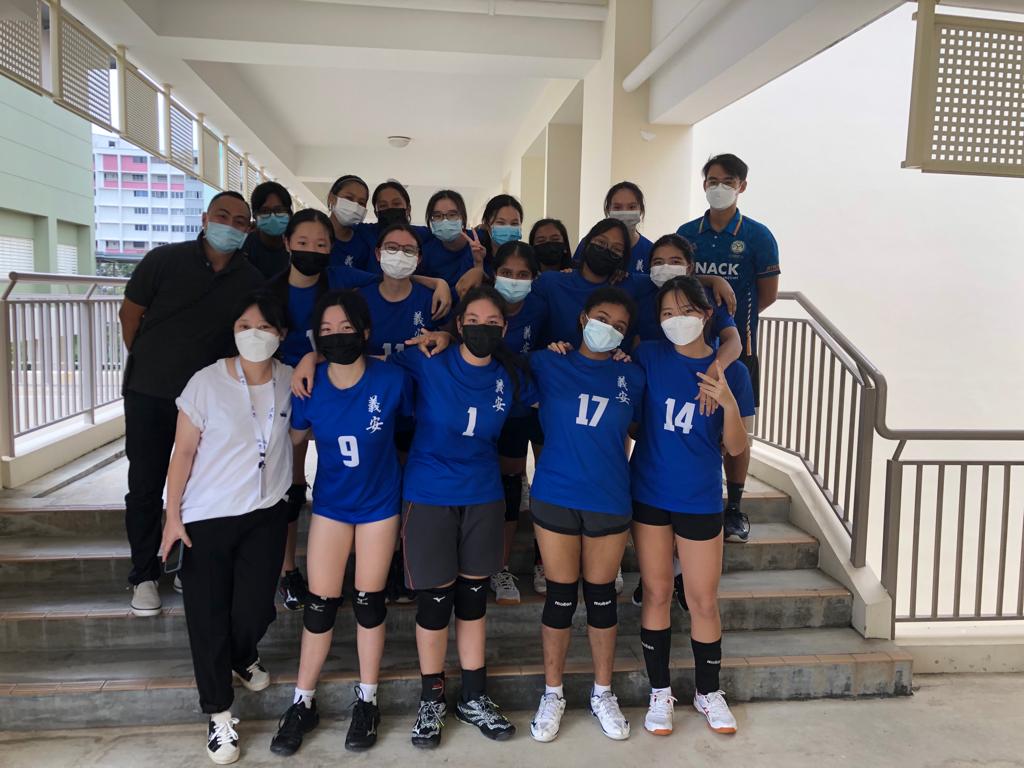 (Ngee Ann Secondary School's squad poses for a photo following their victory over Dunman High School. Photo Credit: Emaad Akhtar)
By Emaad Akhtar
The tension was palpable inside Pasir Ris Secondary's multi-purpose sports hall as Ngee Ann Secondary School and top seeds Dunman High School locked horns in a National School Games Girls B Division East Zone Volleyball clash on 1st April.
The unseeded Ngee Ann girls, clad in dark blue tops and riding high after a straight sets victory in their first round-robin encounter against 4th seeds JunYuan Secondary, raced to a 9-3 lead in the opening stanza against their more fancied opponents in black. The Dunmanians were also coming off the back of a straight sets win over Hai Sing Catholic School.
(For all the news, post-match interview videos, stories, photos, fanzone details and much more from the 2022 National School Games, do visit our website : go.gov.sg/nationalschoolgames)
Elysia Yew set the tone for Ngee Ann with some robust, accurate serving that gave her team-mates plenty of impetus to go on the offensive with some strong hitting. Captain Shrinidhi Sivakumar, sporting the number 8 jersey, was a sea of calm amidst the cacophony of excitable screams on both sides of the court, marshalling her troops efficiently to ensure Ngee Ann's dominant lead did not slip.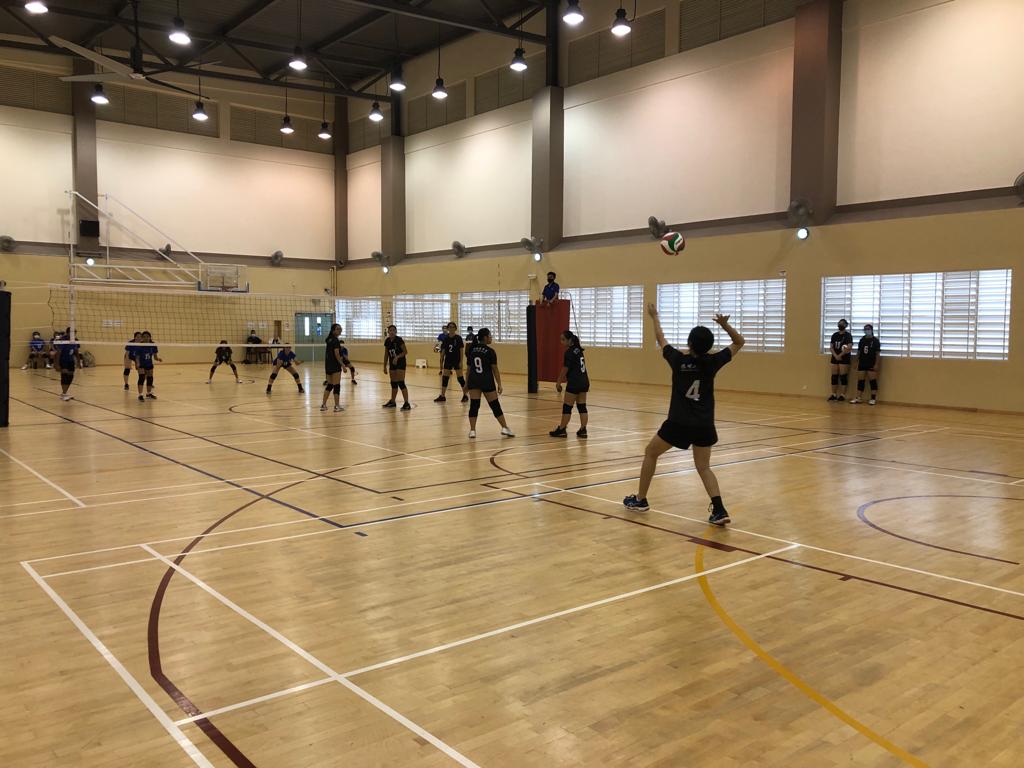 (Dunman High School's Ong Zi Li (near-court) serves as her teammates and Ngee Ann Secondary School opponents look on in anticipation. Photo Credit : Emaad Akhtar)
Dunman High called for a 2nd timeout while trailing 18-9 in an attempt to regroup and upset Ngee Ann's momentum. But the girls in blue maintained their discipline to close out the first set, 25-13, in just 17 minutes.
Ngee Ann Sec picked up where they left off in the 2nd set, displaying solid structured play and backcourt defense to claim a 9-4 advantage. But against the run of play, the Dunmanians led by skipper Charlotte Cheam, roared back into life with versatility and technical prowess to level proceedings at 9-9.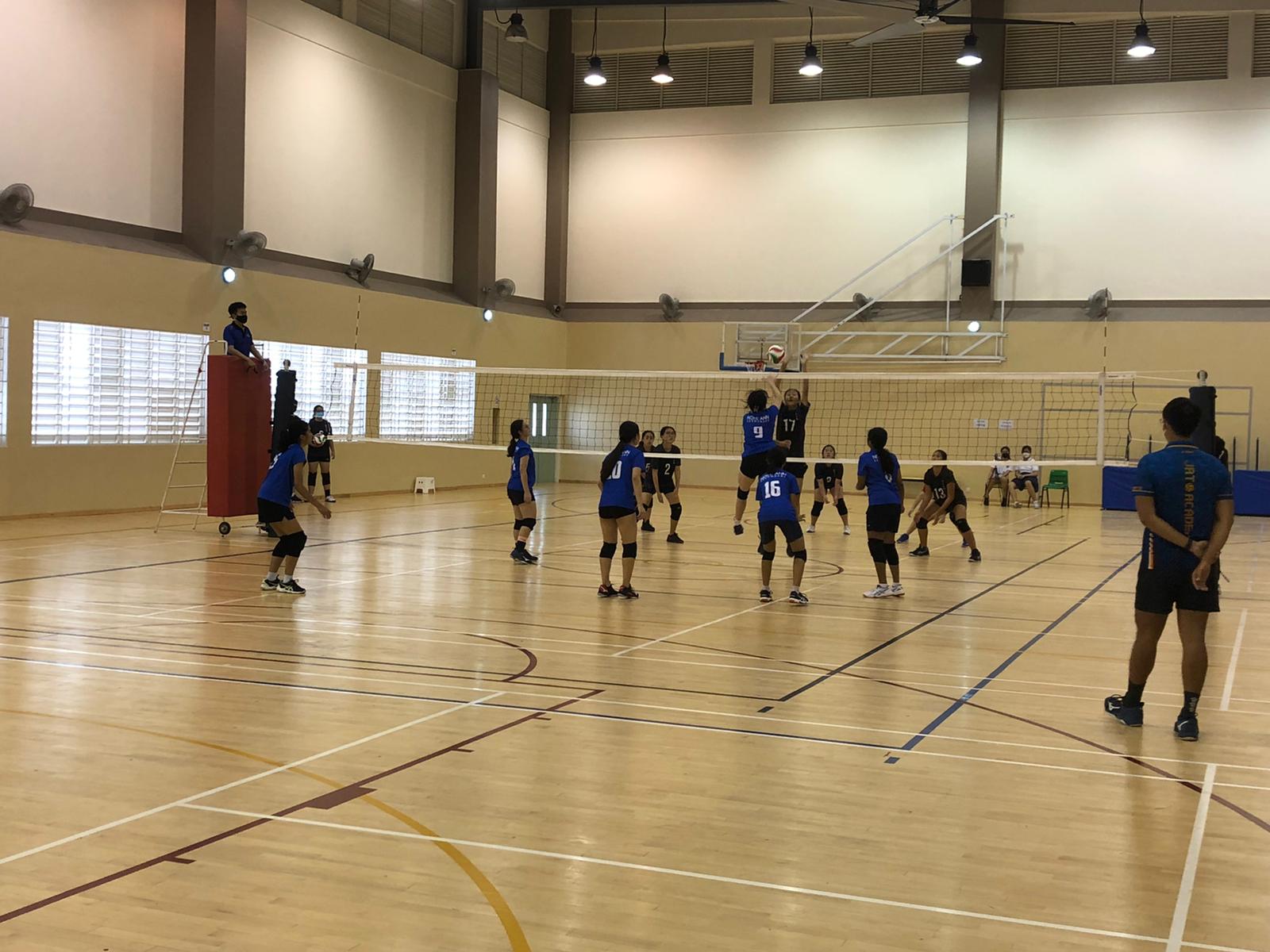 Dunman High School's Zhang Yi Xuan (far-court, number 17) attempts to block an attack by Ngee Ann Secondary School's Victorina Tee Wen Yi (near-court, number 9). Photo Credit: Emaad Akhtar
The set see-sawed with both sets of girls putting their bodies on the line in an attempt to execute kills as the 2 coaches watched on anxiously from the sidelines. A fine battle ensued at the net between Dunman High's Deona Sim and Ngee Ann's Victorina Tee, who utilized their tall frames to execute winning smashes for their respective teams.
Ngee Ann appeared certain for victory at 24-19, but the Dunmanians drew from their last reserves of energy to save 5 match points. In the final analysis, however, Ngee Ann were able to quash any hopes of a Dunman comeback and closed out a pulsating 24-minute set, 26-24 to spring a surprise loss on the number 1 seeds.

(Post-match video interview with Ngee Ann Sec's Captain, Shrinidhi Sivakumar. Video Credit : Emaad Akhtar)
Following their 2-0 victory over the Dunmanians, Ngee Ann Sec went on to beat Hai Sing Catholic School 2-0 (4 Apr) and also defeated Pasir Ris Secondary 2-0 (6 Apr), to stand with 8 points after 4 outings. They will next battle St Hilda's Sec on 8 April, in their final preliminary match.
(For all the news, post-match interview videos, stories, photos, fanzone details and much more from the 2022 National School Games, do visit our website : go.gov.sg/nationalschoolgames)