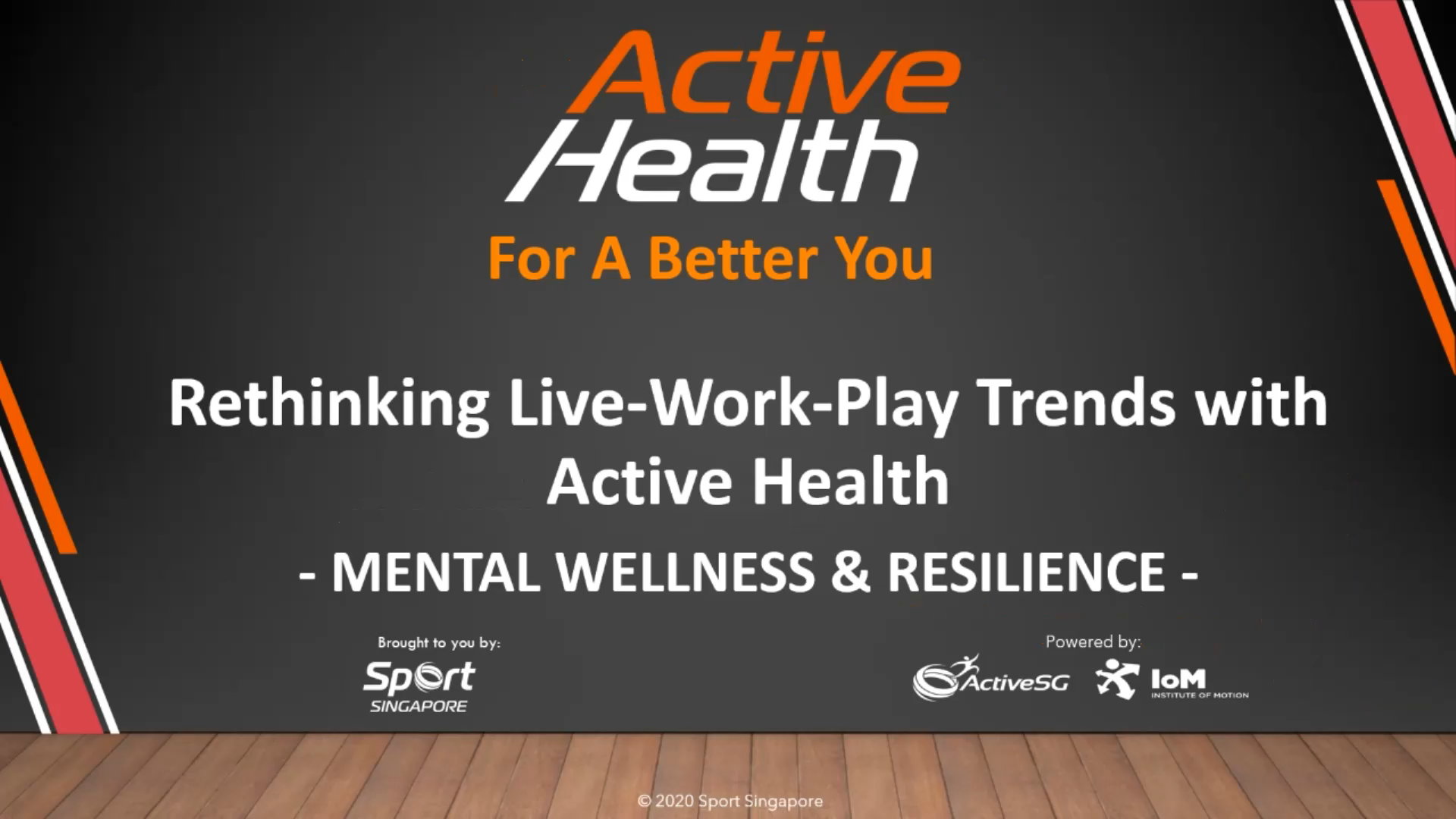 14 December 2021
Framed around the effects of fast-paced change and related challenges on "live-work-play" trends, Active Health's latest series of webinars feature key industry experts and thought leaders as they navigate trending topics to harness health and wellness in building a high performing individual. This webinar, part of a monthly series, focused on mental wellness and resilience. The engaging fireside chat featured Ms Anthea Ong, social entrepreneur, Founder & Chair of WorkWell Leaders and former Nominated Member of Parliament, as well as Mr Stevenson Lai, Senior Sport Psychologist who heads the psychology team at the Singapore Sport Institute and works closely with our TeamSG athletes. During the session, the speakers engaged in a lively discussion centered around harnessing health and wellness in building high performing and resilient corporates and individuals.
Health is not everything, but without health, everything else is nothing
Stevenson noted that conversations surrounding mental wellness are highly important. He recounted his beginnings as a Physical Education teacher thirty years ago, when the Trim and Fit (TAF) Club was an initiative within schools. Not many students were interested in the activities due to the stigma attached to TAF club members being overweight or obese. This inspired Stevenson to form the tagline: "Health is not everything, but without health, everything else is nothing".
Fast forward to the present, his own personal involvement in mental wellness came during the pandemic when he started working with the TeamSG athletes, to look at psychological recovery as well as emotional and mental wellbeing. He shared that a typical sport psychology session with the athletes does not touch on the sport itself. Rather, it is the non-sport related things at the back of the athletes' minds that require management. As Stevenson puts it, a failure to address these issues can cause the athletes to be carrying excess emotional baggage when stepping onto the playing field, which might hamper their sporting performance.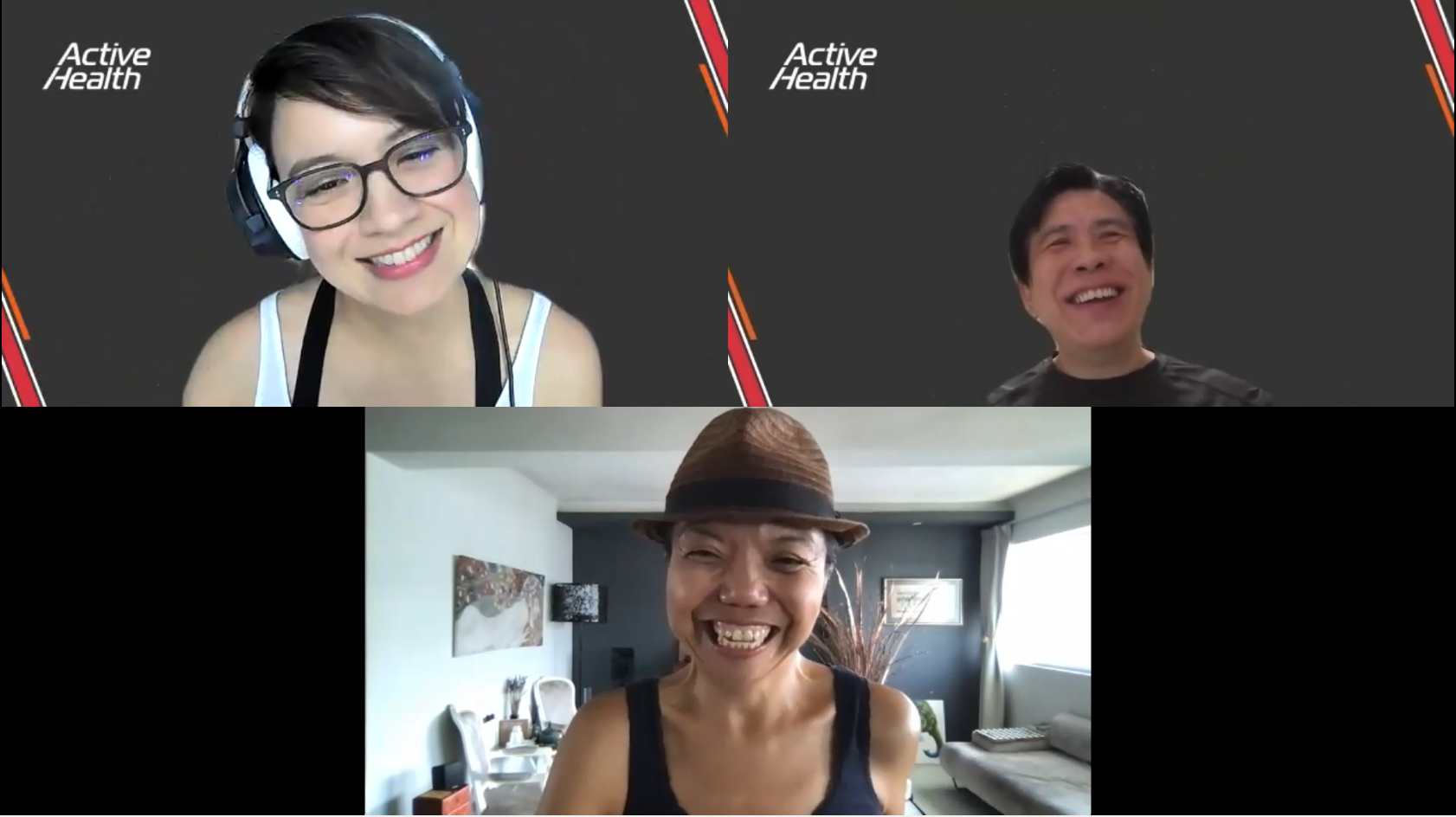 Managing Expectations
A member of the audience asked how one should manage the expectations of others in the age of social media. Stevenson brought up examples from his work with TeamSG athletes, where he would ask them to identify the kinds of expectations that would give them the most non-helpful pressure. As it turns out, what caused these athletes to enter into a spiral is what they think others are expecting of them. The stress from this perception, coupled with their own and their coaches' expectations, can sometimes be overwhelming for someone who is not experienced with managing and controlling their emotions.
In a similar light, Anthea opined that the concept of suffering stems from expectations, not circumstances. Citing her own experiences, she concurred with Stevenson over the issue of one's own expectations of oneself. She shared that a change in mentality, from harping over what she had lost to focusing on what she still had, saved her from her slump.
Addressing Stigma
The stigma surrounding mental health is not isolated to just the sports industry. Anthea firmly believed that mental health should not be carelessly equated to the lack of mental illnesses. As a strong advocate that there is no health without mental health, she clarified that "watching your mental health and wellbeing does not mean that you are naturally sick. It could be certain situations that have happened in your life that are making you feel a bit more challenged both emotionally and mentally."
Anthea further elaborated that an internal Google study examined the important characteristics that produced high-performing teams. It turned out that the top contributor to optimising work performance is psychological safety. Psychological safety is an individual's perceptions of the consequences of taking a risk in sharing or doing something.
Anthea asserted that mental health spans across a continuum, affecting everyone regardless of profession. It is this misconception that gave rise to the stigma around one's mental wellbeing - being weak or lacking in willpower and coming across periods of mental and/or vulnerability. She assured that while one could have episodes of negative emotions, it does not imply being in a consistently poor state of mental health.
The presence of such stigma can cause individuals to be less willing to speak up or seek help when they are struggling. To bridge this gap, Anthea advised that one should just ask, and not jump into providing preconceived solutions. The key is to listen actively. She elaborated that, once someone is being listened to, he/she is less likely to feel alone or invisible.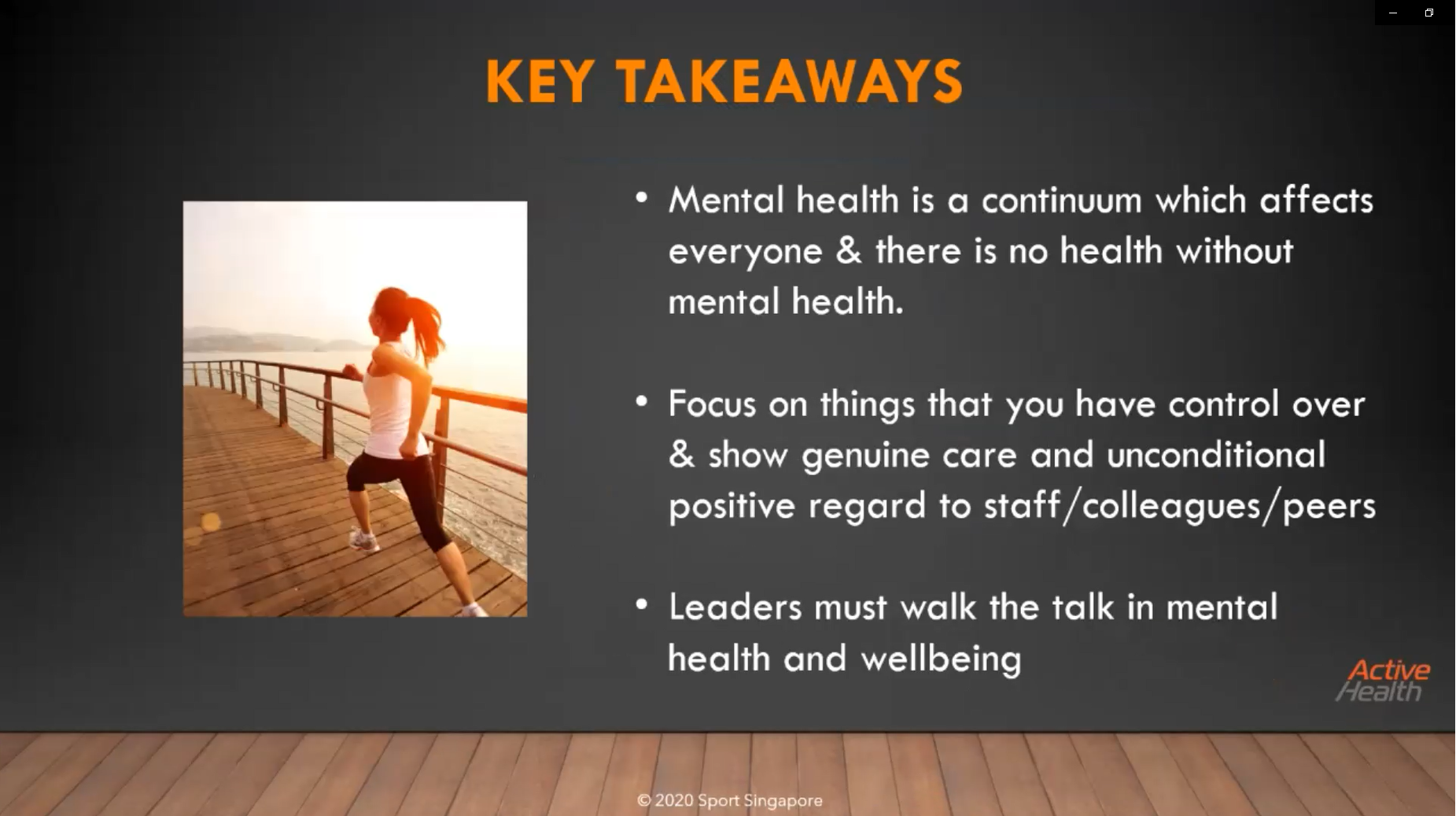 Leaders as role models
Anthea urged the leaders in the audience to walk the talk when it comes to supporting mental health and wellbeing. Stevenson supported that call, adding that having a role model in power sets the tone for mental care, and is very effective in helping employees feel at ease about taking time off properly. This is especially important in the current Work From Home situation, where it might be difficult to define the boundaries of working hours.
➤ Watch the Session Highlights below:
Whether you are a resident, a young family, or someone who is just looking to go on a self-discovery journey, Active Health has a lot of curated programs and tips on how to proactively manage your own health and wellness. Individuals who are interested in finding out how they can start their health and wellness journey with Active Health can sign up for a fitness and health assessment or interactive workshop today.
The latest Active Health Discovery Zone is now open at Decathlon Northshore. Here, one can learn how to move, eat, and rest from Active Health Coaches who are allied health professionals at Active Health Labs located island-wide for preventive healthcare and exercise advisory. Designed to enable Singaporeans to live life to the fullest, Active Health is powered by sports science and principles from the Exercise is Medicine©, a global initiative by the American College of Sports Medicine, around the four health and wellness domains of physical activity, nutrition, sleep and screen time management.
➤ Read More: