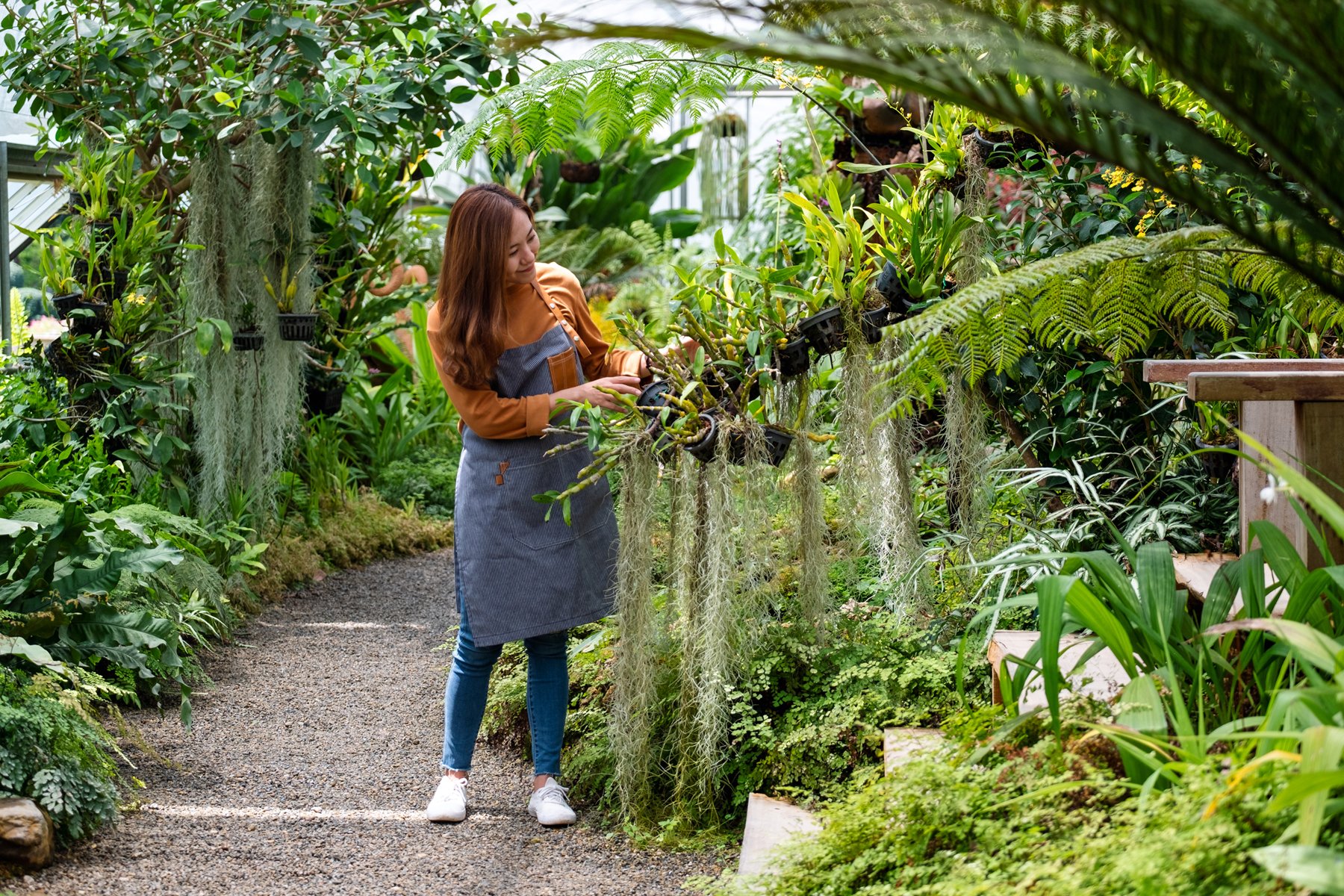 Tuesday, 15 March 2022 - Framed around the effects of fast-paced changes and their related challenges on "live-work-play" trends, Active Health's latest series of webinars feature key industry experts and thought leaders as they navigate trending topics to harness health and wellness in building a high performing individual. This webinar, part of a monthly series, focused on nutrition and sustainability. The engaging fireside chat featured Mr Allan Lim (CEO of ComCrop), Dr Kalpana Bhaskaran (Head, Centre of Applied Nutrition Services, Temasek Polytechnic) and Mr Luke Tan (Health & Wellness Coach, LukeTan.Co). During the session, the panellists discussed nutrition and food sustainability practices, their challenges, opportunities, and impacts.
Nutrition and sustainability as a balancing act
We need to be protective of and respectful towards the ecosystem; as well as being economically fair and adequate, while making sure that our diets are sound nutritionally.
Sustainable Nutrition
Before delving into the topic, Dr Bhaskaran framed the perspective that on a fundamental level, the human body embodies this concept of nutrition sustainability. She elaborated by explaining how the body recycles its nutrients. For example, whatever excess sugar consumed is converted into fat, i.e. nothing is wasted. Yet, while bodies are good at recycling, choosing the wrong food might result in unsustainable health.
Dr Bhaskaran offered a comprehensive and holistic framework for understanding sustainable nutrition:
Firstly, an individual needs a wholesome assortment of food. This includes minimally processed food that is ideally nutrient-dense. Apart from wholesome food, sustainable nutrition also looks at food that is readily accessible (i.e. affordable by the general populace; culturally relevant). Additionally, sustainable nutrition also seeks to preserve the environment. Among the ways to preserve the environment is to support the community by opting for locally grown produce. Dr Bhaskaran noted that while many pay attention to individual health, not many focus on the maintenance of planetary health.
To strike the sweet spot of sustainability, Dr Bhaskaran revealed the 3Ps that an individual can anchor upon: People, Profits, and Planet. If the proposed sustainability idea is not going to be profitable to the consumer or the business owner, the initiation of these programs will likely falter.
She also highlighted that it is not ideal to vilify steak consumption to the extent of exterminating it completely from our diets. Instead, she encouraged us to consider reducing the portion of steak in our meals.
Interestingly, countries like Germany, Qatar, Sweden, and Brazil have already incorporated sustainability as a part of their dietary guidelines.
Encouraging Sustainability
"It's simple - do not eat more than you can lift." As Dr Bhaskaran explained, sustainable nutrition is not about being underweight or overweight, but trying to maintain the ideal body weight. She advised that we eat what is necessary, based on our health conditions. She doesn't believe in a one-size-fits-all dietary guideline. Instead, she promoted the personalization of menu planning to better match the needs of each individual.
The common denominator would be the minimization of food waste. Dr Bhaskaran revealed that per person, 1260 kcal of calories are wasted each day. When one contrasts that with how, on average, one in six people go hungry each day, the issue of food wastage becomes especially apparent. Thus, she believed that any attempt to encourage sustainability has to start by adopting the zero food waste mentality.
A Local Success Story
Mr Allan Lim's first foray into the realm of sustainability could be traced as far back to two decades ago, when he was a shark activist championing the conservation of sharks. As he recounted, the overconsumption of sharks, an apex predator of the seas, would result in devastating consequences to the corresponding ecosystem. Today, our overconsumption of carbon, from energy and other carbon derivatives, is creating havoc in our environment.
ComCrop was started in 2011 because Mr Lim and his team believed that the fundamental start to being more sustainable is with our community. It was not smooth sailing though. Mr Lim remembered that back then, community farming was frowned upon because it was a potential mosquito breeding ground, and was even subjected to internal squabbles over interfering produce.
The way that citizens consume products does impact a small country like Singapore. It was around that same period of time that Mr Lim realized that Singapore imported more than 95% of its food. A late friend of Mr Lim's would quip that "we cannot eat money when we have no food". In essence, one cannot assume that we will always be able to exchange money for food.
For Singapore, the issue is not for a lack of trying - land scarcity is a real issue to grow food on a massive scale. It took extensive collaboration and approval from MND, NParks, and URA to help develop what is now understood as urban agriculture in Singapore. Even in Lim Chu Kang, any development in the agricultural sector would qualify as urban by international standards.
From personal experience, Mr Lim would go on to conclude that sustainability resonates differently between the young and the old. The younger folks view sustainability as a necessity, instead of a bonus as the past generations did.
Mr Lim explained that the push for supporting local produce can be attributed to the carbon cost that food importation would incur. But he would also call for the community to be more realistic as Singapore embarks on its journey as a young agricultural nation. "Surely we will use more energy, we may actually create more wastage, but I think we all have to go through this process in the coming years so that we can arrive at a more sustainable stage."
30 by 30
The Singapore Food Agency (SFA) has a "30 by 30" vision - where 30% of Singapore's nutritional needs will be produced locally by 2030, up from the current level of less than 10%.
Mr Lim expressed his confidence in meeting that vision, a feat that other countries might find daunting. He had not only been leading ComCrop, but also other farmers in varying stages of expansion. There are close to 20 farms for food items from fish to eggs, all pushing to meet that "30 by 30" vision. The only issue that Mr Lim foresaw was whether locals would love the local brands enough to buy from them. While there is no definitive answer, Mr Lim is consoled by the fact that there are enough people who have indicated at least a willingness to try. That said, he remarked that meeting the target also meant conscious substituting of the foreign imports which may be either cheaper or taste better.
More Vegetables
"Everyone benefits from eating more fruits and vegetables - more colours on your plate - because that's where all your phytochemicals, vitamins, minerals, and your antioxidants come from."
Mr Luke Tan observed that people were not lacking protein - rather, he opined that there was an excess of protein intake, which contributed to certain chronic diseases and health conditions. Mr Tan explained that many are lacking in fibre.
As someone who spent much of his earlier career in Australia, Mr Tan admitted that he struggled with finding the vegetables that he used to in the land down under. Concurring with Dr Bhaskaran about sourcing locally-based food, Mr Tan realized that "you don't have to get spinach that is flown all the way from Florida when you can get caixin (choy sum), or bok choy that is grown locally". These locally grown vegetables are often more nutritious than their imported counterparts because they do not have to endure international travel! Thus, Mr Tan advocated for a paradigm shift in focusing overzealously on western-based foods.
When it comes to encouraging vegetable consumption among kids, Mr Tan shared from his own personal experiences that it would be good to start by focusing on the snacks that the kids enjoy. This would then be supplemented by a good cookbook and ample exploration as to what might work. Ultimately, he believed that nothing is more effective than being an example for your kids.
Going vegetarian or vegan does not necessarily equate to health
Mr Tan elaborated that the key to thriving and performance is having sufficient nutrient-dense calories- especially for those on a plant-based diet, as they tend to fall short of their caloric goals. He explained that being a vegetarian or vegan does not necessarily equate to health, but a whole-food, plant-based diet does.
Overall, the session concluded with the following key takeaways: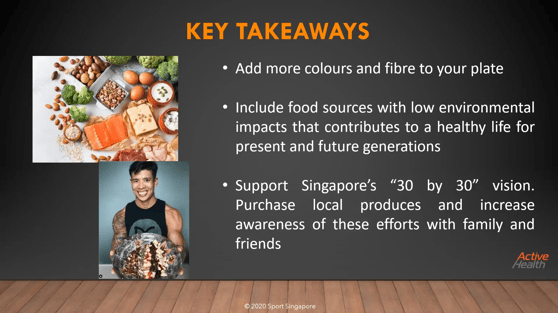 ➤ Watch the Session Highlights here:

➤ Read More: