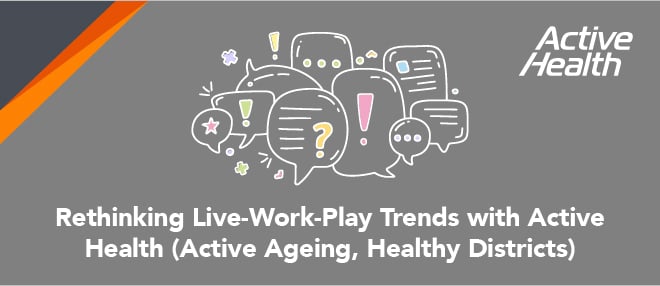 26 August 2021
Framed around the effects of fast-paced change and related challenges on "live-work-play" trends, Active Health's latest series of webinars feature key industry experts and thought leaders as they navigate trending topics to harness health and wellness in building a high performing individual. This webinar, part of a monthly series, focused on self-care and ageing well. The engaging fireside chat featured Team Singapore Olympian Mr C. Kunalan, Chief of Sport Development Group (Sport Singapore) Mr Marcus Tan, and Head of Geriatric Medicine (Khoo Teck Puat Hospital) Dr Angeline Seah. During the session, panelists spoke about the facilitation of successful ageing, the role one's community and environment plays in self-care and active ageing, and the adoption of a healthy lifestyle.


Dr Seah went into detail on how ageing affects the body, exhibiting the physiological changes with age for bone and muscle. "For an older person, there is a lot more fibrous tissue and a lot more thickening - there isn't as much muscle as compared to a younger person." Other deterioration would include (but not be limited to) lower body strength, which "declines more than upper body strength, and power declines faster than strength". What the onset of age-related musculoskeletal decline results in is that "walking speed is slower, the stride length is shorter, reaction time increases, and complex tasks are affected more than simple tasks. This leads to risks such as falling down." In essence, due to our physiological and metabolic changes as we age, our risk of chronic conditions increases.

Mr Kunalan then shared his experiences of how he maintained his active lifestyle despite his age. He explained that much of it was down to work requirements, citing his long history with sport-related work. Yet, he still makes it a deliberate decision to differentiate his routine and adapt it to his schedule and other commitments. When quizzed about how he retains his form, Mr Kunalan reveals that it is really down to self-discipline, forcing himself to get outside and start the physical activity until the endorphins take over. A true inspiration to everyone.

Successful ageing is, according to Dr Seah, "generally regarded as high physical, physiological and social functioning in old age without major diseases, with a positive, subjective self-evaluation based on personal experience and what is culturally/intrinsically important to oneself." She then goes on to explain the four contributing pillars - maintaining a social network, remaining physically active, attention to health, and positive mental strength.

The discussion then focused on the importance of remaining physically active in spite of one's growing age. Dr Seah explained that "regular physical activity actually substantially modifies age-related risks for chronic degenerative disease and it can increase active life expectancy with psychological and cognitive benefits, including reducing the risks (of developing) dementia." It is of utmost importance to start now so as to maintain a higher baseline so as to gain an advantage when one approaches the 70s. As to how much is enough? It is recommended that one participates in at least 150 minutes per week of moderate-intensity aerobic activities, with muscle-strengthening activities performed on two or more days of the week. Dr Seah gave a handy tip of a progressive buildup of one's endurance, strength and power, instead of "chioing-ing", so as to avoid injury setbacks.

All of these exemplify the importance of self-care. To Mr Tan, he emphasized that self-care isn't an individualistic pursuit, but it is also for our loved ones. He asserts that routines and rituals are critical on one's path to successful ageing. "It doesn't have to be complicated. In fact, Active Health has this special program called Start With 60 (SW60). It has a series of simple exercises that one can just pick up and get into it." He believes that emotional well-being is equally important, and it'd be good to set aside time to interact with our loved ones, citing Active Health's recent launch of the PlayMat as the perfect tool to help establish an active and healthy ritual that allows the family to come together.

Mr Tan then spoke about some of the initiatives to promote a healthy and active working environment, especially now that most are working from home. He highlights that it is important to set the structures in place to facilitate active living, citing practices that Sport Singapore has in place for employees like Sporting Friday: "This is to encourage having that protected time, to create that deliberate break from work so that the staff can rest".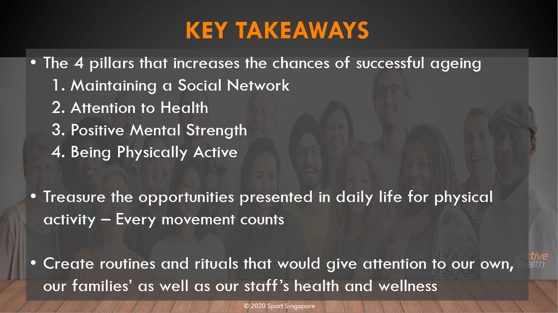 Fireside Chat with Mr Kunalan, Mr Marcus Tan, and Dr Angeline Seah
It is recommended that seniors who are interested in working towards active ageing sign up for Active Health's Combat Age-Related Loss of Muscle (CALM) Package. The package consists of 3 elements:
Assessments (Handgrip strength, walking speed and muscle mass)
Exercises (Using resistance band provided on Week 1)
Domain Sharing (Move Better, Eat Better and Rest Better)
Individuals who are unsure how they should exercise or wish to understand their health, fitness, and wellness status consult the services of the Active Health Coaches who are allied health professionals at Active Health Labs located island-wide for preventive healthcare and exercise advisory. Designed to enable Singaporeans to live life to the fullest, Active Health is powered by sport science and principles from the Exercise is Medicine©, a global initiative by the American College of Sports Medicine, around the four health and wellness domains of physical activity, nutrition, sleep and screen time management.
➤ Watch the Session Replay below:
➤ Read More: