As expected, swimming continues to contribute to Singapore's gold hunt, adding four more on an eventful Day 4 with the Quah siblings combining for three of the four gold medals of the night, including the newly-introduced mixed 4x100m medley relay which saw the siblings swimming in the same race for the first time, together with breaststroke specialist Nicholas Mahabir (or Nic Quah, as he henceforth will be known).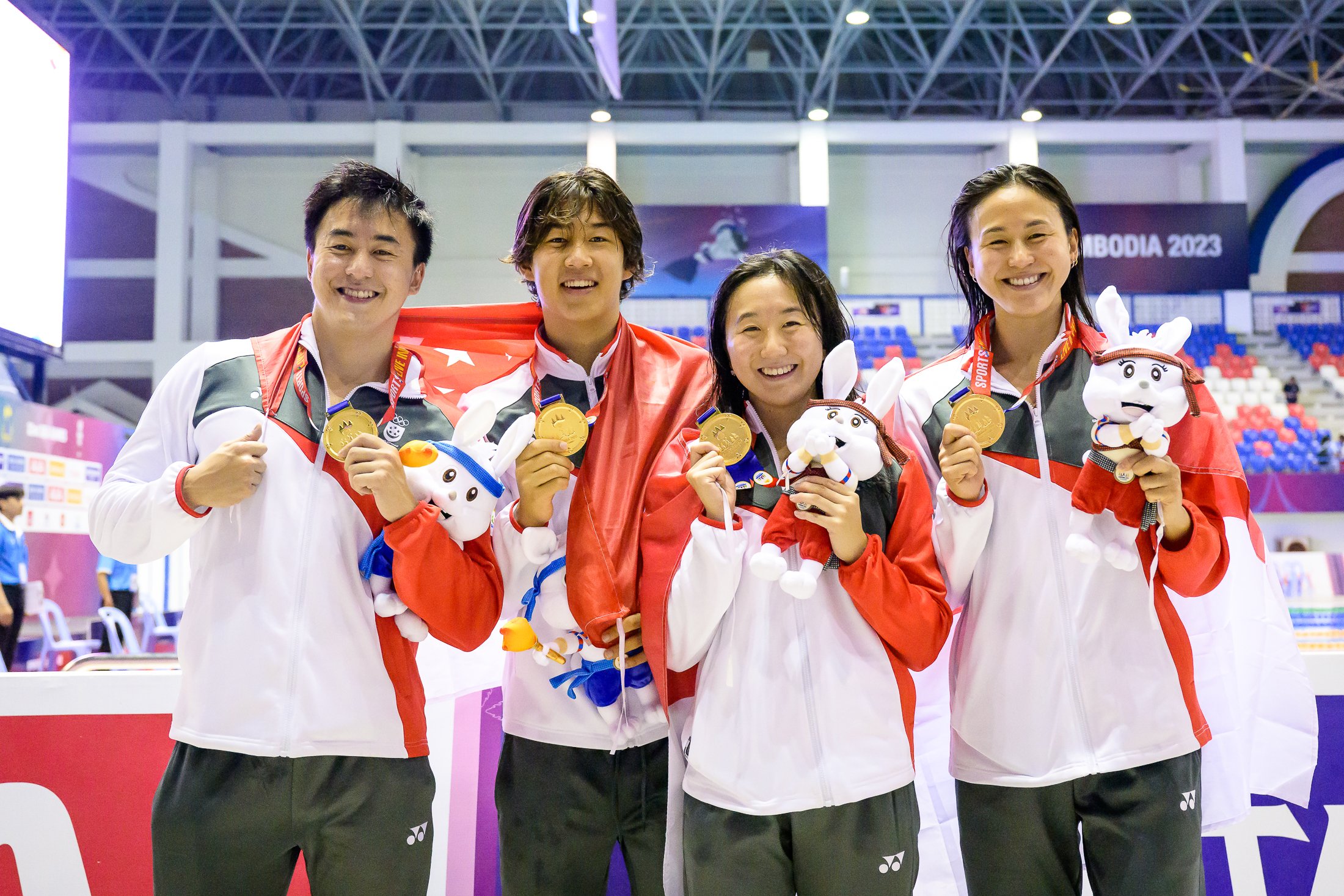 Relay gold puts an exclamation mark on a special day for the Quahs. Photo: SNOC/Andy Chua
Apart from that, athletics delivered two bronze medals from the ladies, with Michelle Sng and Goh Chui Ling scoring in the high jump and 1,500m respectively. Soh Rui Yong, meanwhile, ran just 4 seconds out of his personal best in the men's 5,000m final and finished just out of the medals.
Determination and grit earned Goh the 1,500m medal and a National Record mark. Photo: SNOC/Eng Chin An
Silver again for Gilchrist
On the felt table, Peter Gilchrist couldn't find his rhythm and lost the men's English Billiards final again to Myanmar's Pauk Sa for a second time, while team-mate Aloysius Yapp goes through to the semi-finals of the 9-Ball Pool.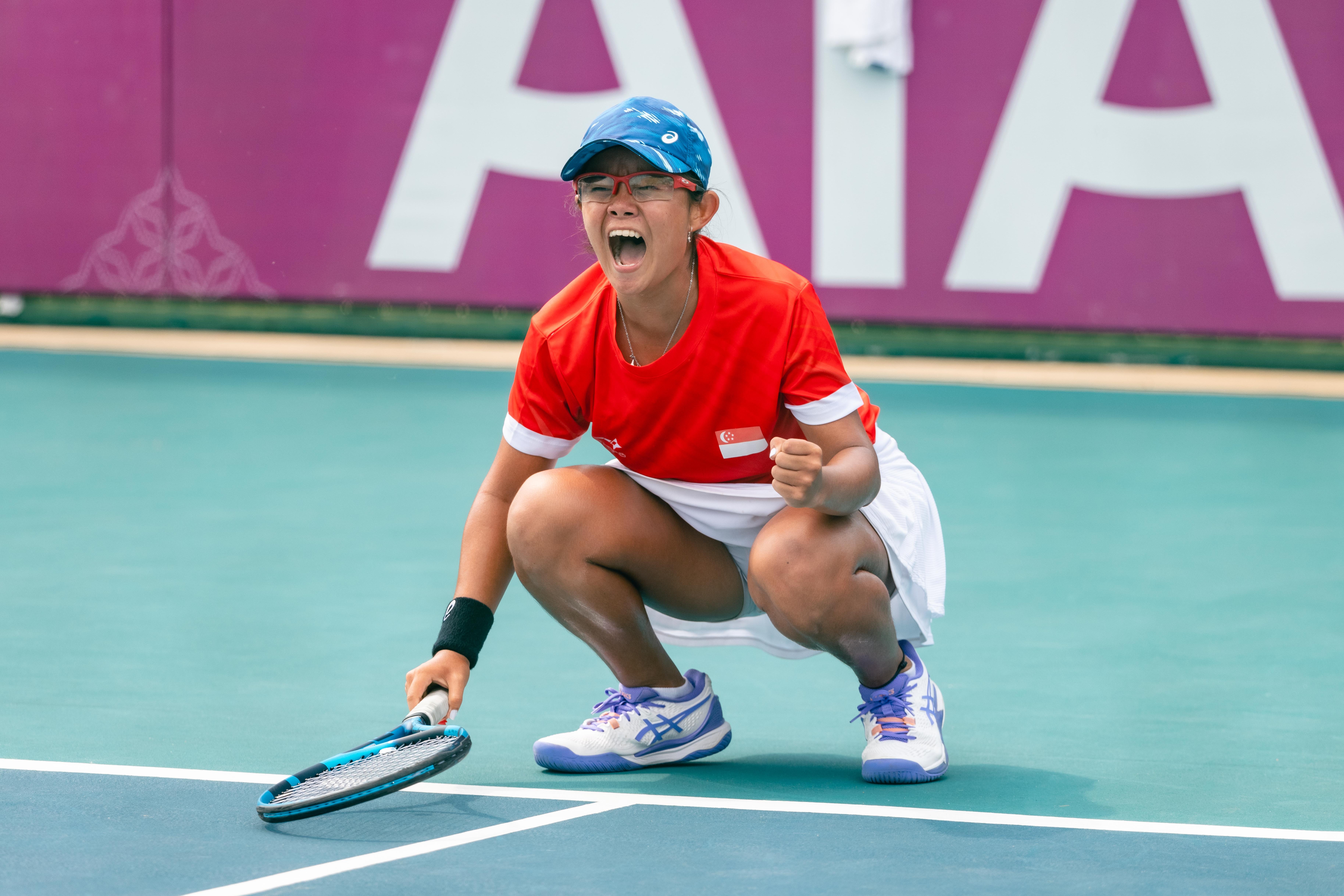 Audrey Tong and Tan Sue Yan made it a good day at tennis. Photo: SNOC/Eng Chin An
Over in tennis, Audrey Tong advanced to the quarter-finals of the women's singles after a 2-1 win over Vietnam's Pham Diem Quynh, as did Tan Sue Yan who beat Malayack Delilah Pathummakuronen from Laos in straight sets. The pairing of Alexis Chua and Michelle Yeo lost 2-0 to their Filipina opponents in the doubles, ending their campaign.
In field hockey, both the men's and women's teams came away with 2-2 draws against Indonesia, and come up against Malaysia next.
Table tennis on course for semi-finals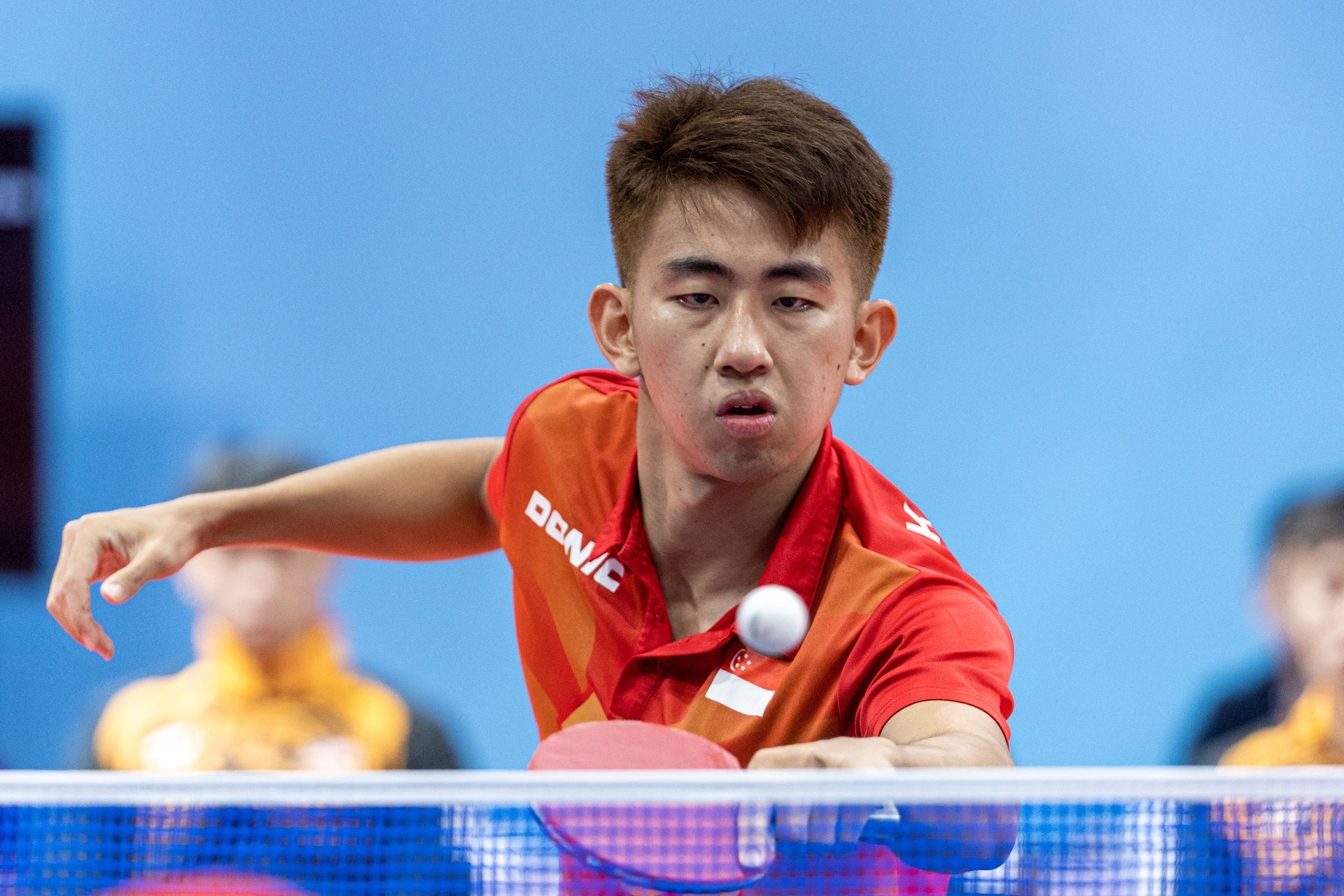 The men's team recorded two wins to stay on course for gold. Photo: SportSG/Dyan Tjhia
In table tennis, the men's team duly delivered two wins to stay on course for the medals. They started with a 3-0 win over Laos before defeating Malaysia by a similar margin. The women's team suffered a hiccup after an opening 3-0 win over Cambodia. In their second match, they stumbled to a 3-0 loss against Malaysia in a surprising upset. The team remains on course for the semi-finals and gold medal remains within reach.
Diving saw Avvir Tham delivering a bronze medal in the Men's 3m springboard event with a final score of 360.40, while Kaeson Lim scored a silver medal in the Men's Pommel Horse final in Artistic Gymnastics, bringing Singapore's first medal in this event since 2015.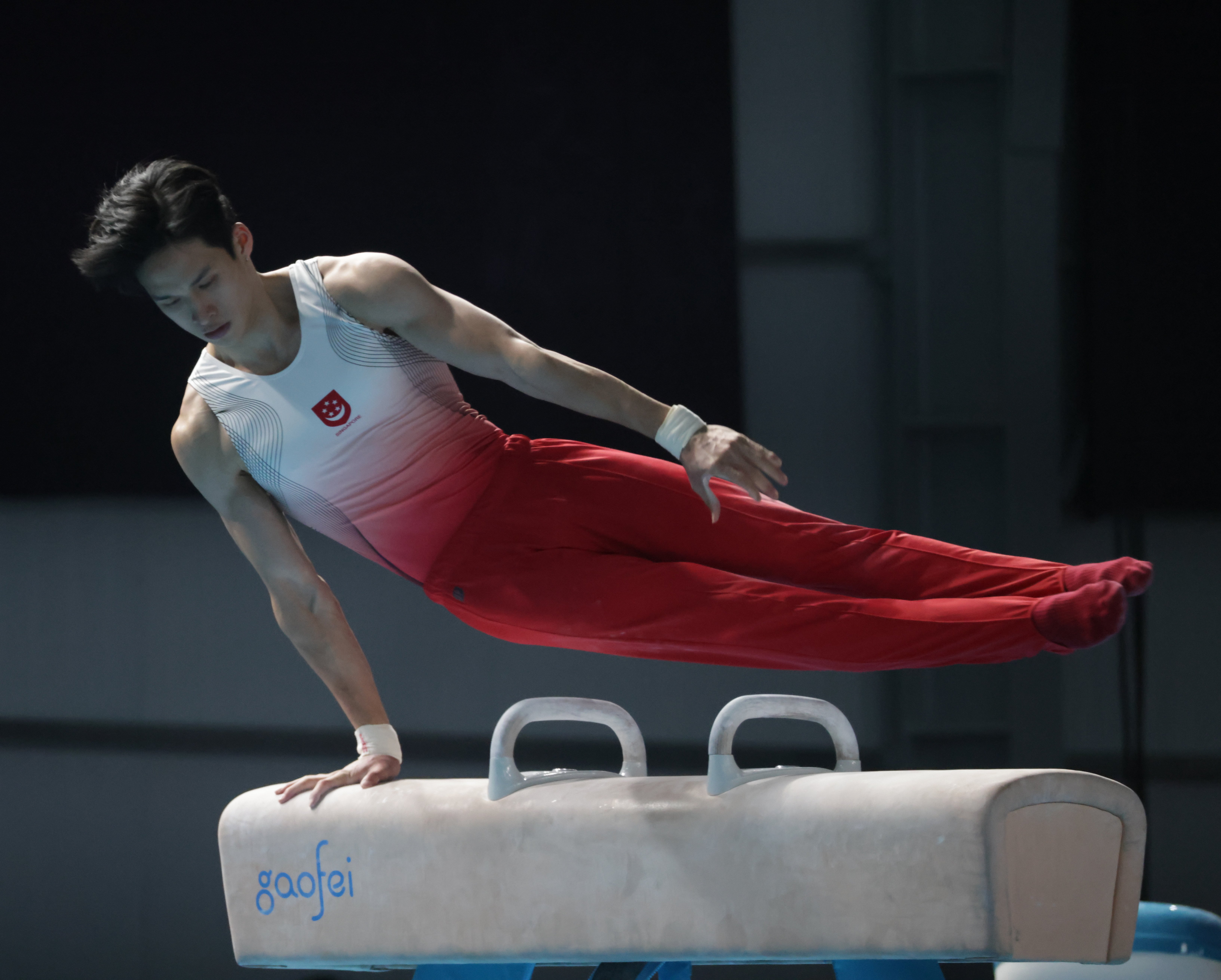 Kaeson Lim proved to be the silver lining for Singapore securing a silver in the men's pommel horse. Photo: SportSG/Dawn Chua
Silat exponents seal spots in final
Pencak Silat delivered better news compared to the previous day, starting with the Women's Tanding A (45-50kg) semi-finals which saw Nadhrah Sahrin overcoming Angeline Abordo Virina 57-26 to advance to the final against Nor Farah Mazlan on Wednesday (10 May). The Men's Tanding G (75-80kg) event saw Sheik Ferdous advancing after a 28-13 win over Malaysia's Afiq Aniq Fazly. Ferdous will face Vietnam's Nguyen Tan Sang in Wednesday's (10 May) final. He is joined by his world champion brother Sheik Farhan who edged out Indonesia's Ronaldo Neno 21-20 in the Men's Tanding I (85-90kg) event. Farhan competes against Malaysia's Muhammad Robial Sobri in Wednesday's gold medal decider.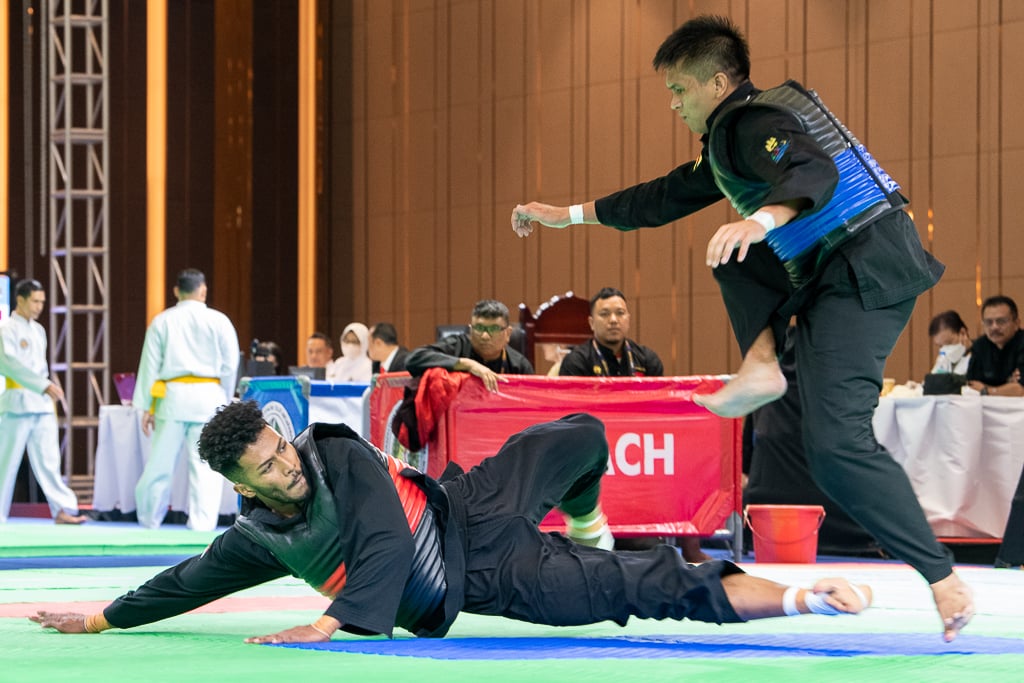 Silat bounced back with several athletes advancing to finals. Photo: SportSG/Flona Hakim
Also through to the final on Wednesday is Muhammad Nurshahfareeq Shahrudin who defeated Thailand's Pimpirat Tonkhieo 57-47 in the Men's Tanding H (80-85kg) event. But luck was not on their side for Nurul Suhaila Mohamed Saiful and Nur Tuhfah Izzah Md Roslan in the Women's Tanding E (65-70kg) and Below 45kg events respectively. Both settled for bronze medals as Suhaila lost 26-10 to Vietnam's Thi Thu Nghia Quang, while Nur Tuhfah Izzah fell 6-0 to Malaysia's Norsyakirah Muksin.
Golfers stay in the hunt
Our golfers improved on their showing, with Aloysa Atienza shooting a second round 4-under 68 to be at 5-under 139 and is third in the women's individual rankings, and in the medal hunt. Teammate Hailey Loh carded a 2-under 70 to take her score to 144, and is ranked 9th. Jaymie Ng shot a 1-over 73 and is currently joint 14th at 151.
Ryan John Ang leads the charge for the men's carding a solid 6-under 66 for a total score of 1-under 143, and is sharing 13th spot overall. Daryl Low shot 71 and is joint-15th on 144. Brandon Han shot a 2-over 74 to sit at 148, and it ranked 21st out of the 32-strong field. While Justin Kuk wraps up the tail, shooting 10-over par and is last on the leaderboard.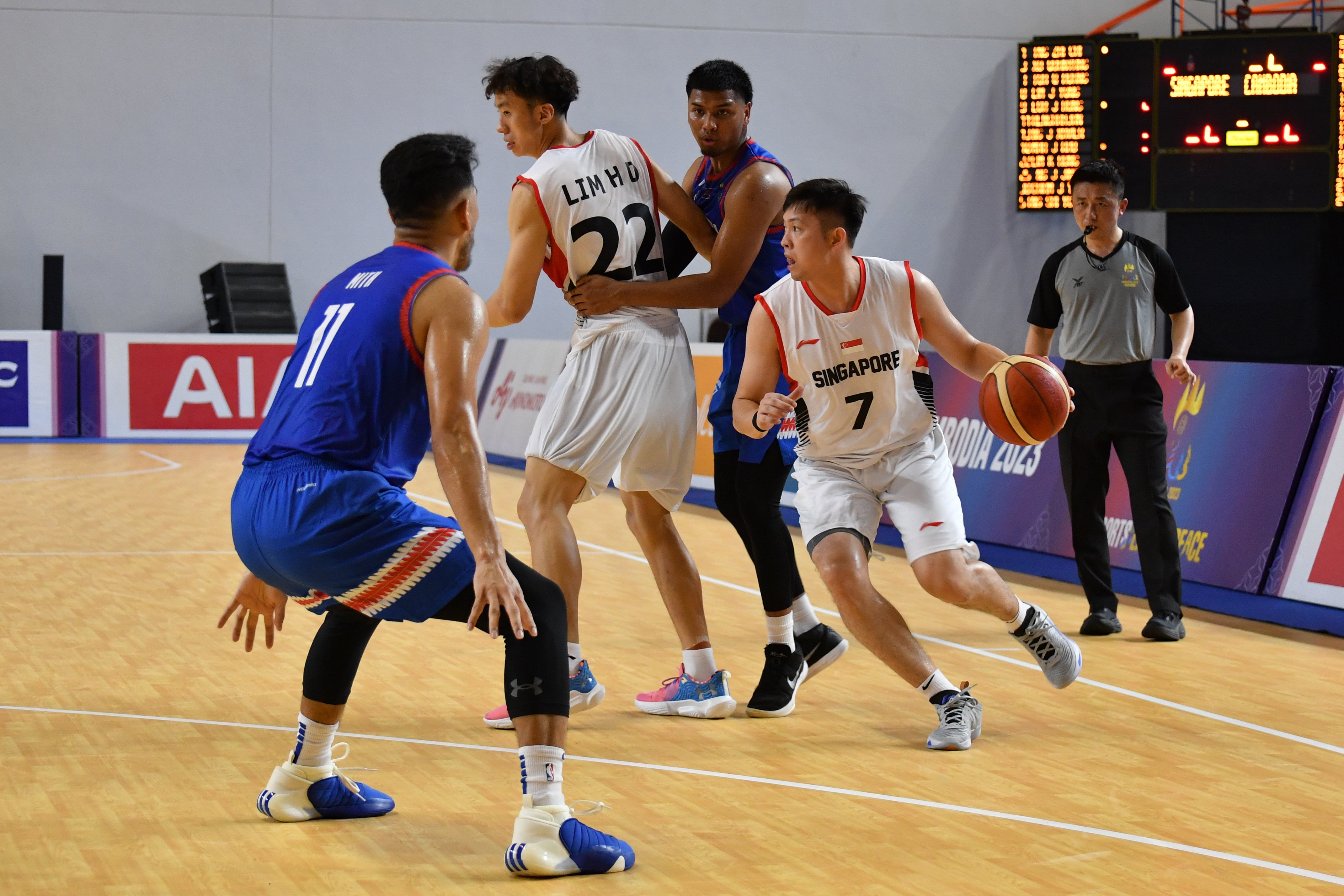 Both men's and women's teams found the going tough in basketball. Photo: SportSG/Alfie Lee
In 5x5 basketball, the women's team lost 78-26 to Thailand while the men's team lost 85-60 to Cambodia. In indoor volleyball, the women's team succumbed 3-0 to Vietnam.
In boxing, Singapore picked up a joint-bronze in the women's 63kg event after Nur Sabrina Mohd Faizal lost her semi-final bout 4-1 against Riza Legaspi Pasuit of the Philippines.
Better news from eSports where the Mixed Valorant team completed their group stage with a 13-7 win over Malaysia before losing 13-8 to the Philippines. Those results gave Singapore passage into the semi-finals where they will be fighting out for a medal.
At the end of Day 4, Singapore stays sixth in the medal standings with 20 Gold, 16 Silver and 21 Bronze medals.
The 32nd SEA Games are held in Cambodia from 5 to 17 May 2023. For the latest Team Singapore coverage and news, follow Team Singapore on their social media channels (Facebook, Instagram, TikTok) or visit the official Team Singapore website.
Related Topics
Related Events & Programmes
Related Topics